Grilled Portobello and Cheese Melts with Smoky Red Pepper Mayonnaise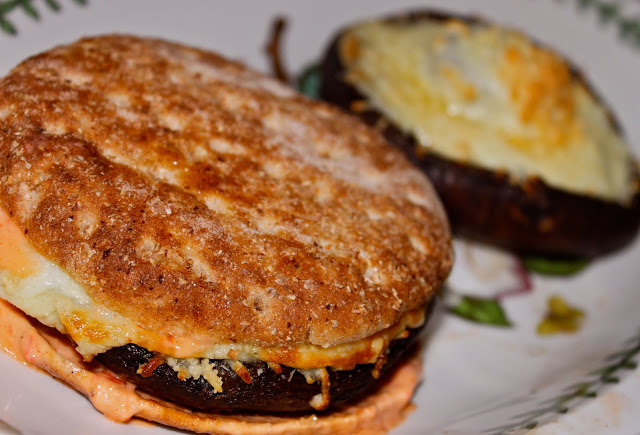 Eating healthier is such a challenge when it comes to preparing delightfully tasting, non-boring, and still good-for-you recipes. Compound that frustration with the daily demands of university teaching, I need recipes that are not only delicious and exciting, I'd like them to be easy and fairly quick to prepare on weekdays after my hour and a half commute home. After all, time is precious whether you work outside the home or not! Plus, I just cannot wait to sit down and eat with my hubby!
In answer to that need, I picked up a wonderful cookbook that caught my eye last week. The book is published by Cooking Light and seriously, I have not been able to put it down! This paperback gem is titled "fresh food fast ~ ~ weeknight meals" for 5-ingredient, 15 minute recipes. I just didn't know where to begin cooking!
One other thing that I've been trying (with much difficulty) to do is decrease the amount of meat in my nutrition and increase my vegetable-based entrees. I am not a vegetarian, and really have no plans of ever adopting that type of diet, but simply want to increase my fruits and veggies as recommended. After all, if you look at some of the healthiest cultures in the world, such as the Mediterranean where my Italian ancestors are from, you'd find that they eat with less meat. On top of that, my relatives lived in the mountains in northern Italy and were quite poor as a result. It's funny how risotto and polenta, which were staples on both my parents' and my plates growing up, were once considered food for the poor in Italy, and which now are considered gourmet cuisine! But little meat was ever on their plate, and super healthy they were!
.
As usual, I have made a few of my own Roz-alterations to the original recipe, so this is what many call an "adapted" recipe. I hope you enjoy this sandwich as much as I do.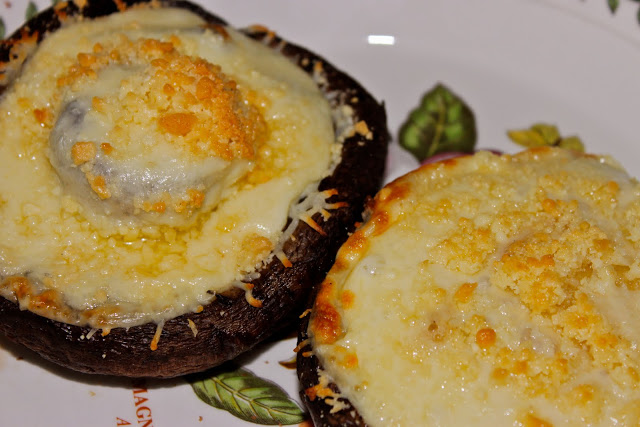 Print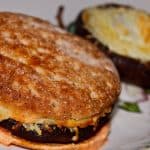 Grilled Portobello & Cheese Melts with Smoky Red Pepper Mayo
Author:
Prep Time: 0 hours
Additional Time: 0 hours
Cook Time: 0 hours
Total Time: 0 hours
---
4 large Portobello Mushroom caps
Olive oil cooking spray
4 slices Provolone cheese (I added this and used low-sodium)
Finely shredded Mozzarella cheese
6 – 8 Tbsp. freshly grated Parmigiano-Regiano cheese (I increased this from 2 Tbsp.)
Smoky Red Pepper Mayo
4 whole-grain Wheat Sandwich Thins (I used wheat instead of white as used in the recipe)
Smoky Red Pepper Mayo
1/2 cup light Mayonnaise
3 Tbsp. bottled roasted Red Peppers (I increased this from 2 Tbsp.)
1 teaspoon freshly squeezed Lemon juice
1/ tsp. smoked Paprika
1 tsp. freshly minced Garlic (I increased this from 1/2 tsp.)
---
Instructions
Heat up the grill.
Coat both sides of the mushroom caps with cooking spray.
Place mushroom caps, 'gill' side down, on grill rack also coated with cooking spray.
Grill for 7 minutes (not 5 as the recipe states) on this side and then turn the mushroom caps over.
With the 'gill' side now facing up, place a slice of Provolone on top of each mushroom cap.
Generously sprinkle the shredded Mozzarella cheese on top of the provolone cheese.
Generously sprinkle the Parmigiano cheese on top of the Mozzarella cheese.
Grill for 10 minutes (not 5 as the recipe states) or until cheese is golden and melted.
While the mushrooms are grilling, prepare the Smoky Red Pepper Mayo
Combine all the ingredients in a deep bowl.
With an immersion blender, thoroughly blend them all together.
Assembling the sandwiches
Thoroughly and generously spread the Smoky Red Pepper Mayo on each inner side of the sandwich thins.
Place the mushroom caps, cheese side up, on the bottom sandwich thin and then cover with the top sandwich thin.
Serve with forks and sharp knives, because these are HUGE and can be fairly messy!
---