Blackberry and Blueberry Bread Pudding with Limoncello Glaze

Summertime . . . and the livin' is eeeeeeeasy!
Summer always brings to mind fresh berries in vivid bright colors. And this delicious bread pudding shows off the colors of summer: bright blue skies along with yellow sunshine.
We just can't seem to get enough fresh blueberries and blackberries in our tummies lately! We're just obsessed with these berries, especially in how they compliment another obsession in our family: lemon!
I am unapologetic about this current craze going on my kitchen. My husband is also very grateful, gobbling down each of my berry-lemon/limoncello creations.
This is one of those recipes that you will seriously stand by the counter and eat directly out of the pan before any of it ever makes it to a plate!
I'm SO guilty-bad about that!
I created this delicious, lemony, tart-sweet bread pudding using a lemon cake from my local bakery where everything is baked fresh and without any preservatives. That step really simplifies this recipe.
The flavors combine beautifully, there's no overpowering of any flavor, but rather everything sings together in perfect harmony of complimenting each other.
The tangy sweet Limoncello glaze is so good that it should be bottled!
Hope you enjoy . . . and that you grab a BIG spoon!
Doesn't the glaze just make your mouth water? It's simply crazy good!
.
Print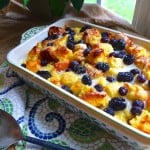 Blackberry and Blueberry Bread Pudding w/ Limoncello Glaze
Author:
Prep Time: 0 hours
Additional Time: 0 hours
Cook Time: 0 hours
Total Time: 0 hours
---
1 large, round lemon cake with glaze (either your own cake or one purchased from local bakery)
1 cup heavy cream
1 cup whole milk
1/2 cup sugar
1 teaspoon vanilla
3 jumbo eggs
dash of salt
1 tub of fresh blueberries
1 tub of fresh blackberries
1/3 cup sugar
For The Glaze
1/2 cup whole milk
zest and juice of 1/2 lemon
1/2 tsp. Limoncello
1–1/2 cups powdered sugar
---
Instructions
For The Bread Pudding
Instructions
Preheat oven to 350 F degrees.
Spray cooking oil all over a 13 X 9″ baking pan.
In a large bowl, mix the cream, milk, sugar, eggs, vanilla and salt.
Slice and cube the lemon cake.
Combine the blackberries, blueberries and sugar; carefully toss the berries in the sugar to coat.
Add the cake cubes into the large mixing bowl with the cream mixture, allow to soak for 10 minutes.
Layer half of the soaked cake cubes on the bottom of the baking pan.
Layer half of the sugar coated berries on top of the soaked bread crumbs.
Layer the remaining soaked cake cubes on top of the berries.
Bake for 45 minutes or until the bread pudding begins to brown and the custard is cooked and set.
Combine all ingredients.
When the bread pudding is removed from the oven and allowed to cool a little bit (but not to get completely cold), pour the Limoncello glaze all over the top of the bread pudding.
---