Blueberry and Limoncello Cream Parfaits
.
As temperatures continue to rise to a boiling point (too early) for June, it's time for some easy breezy, chilled, no-bake recipes. This recipe is perfect for doing just that: Blueberry and Limoncello Cream Parfaits !
BLUEBERRIES!
Nothing pairs with blueberries better than lemons . . . nothing! And nothing screams lemon any better than Italian limoncello! So I decided to create these cute little blueberry parfaits with some sweet mascarpone cheese, limoncello, and lemon curd! Oh YUM!
Plus oh so pretty to look at . . . good food eye candy, huh?
To make these even easier and not use a hot oven, I buy a high-quality lemon pound cake . . . hey, why not? If it's made in my local bakery, that's good enough for me!
Topping off these creamy, dreamy parfaits, I crumbled buttery shortbread cookies and sprinkled them all over the top for a little extra sweet texture.
Enjoy!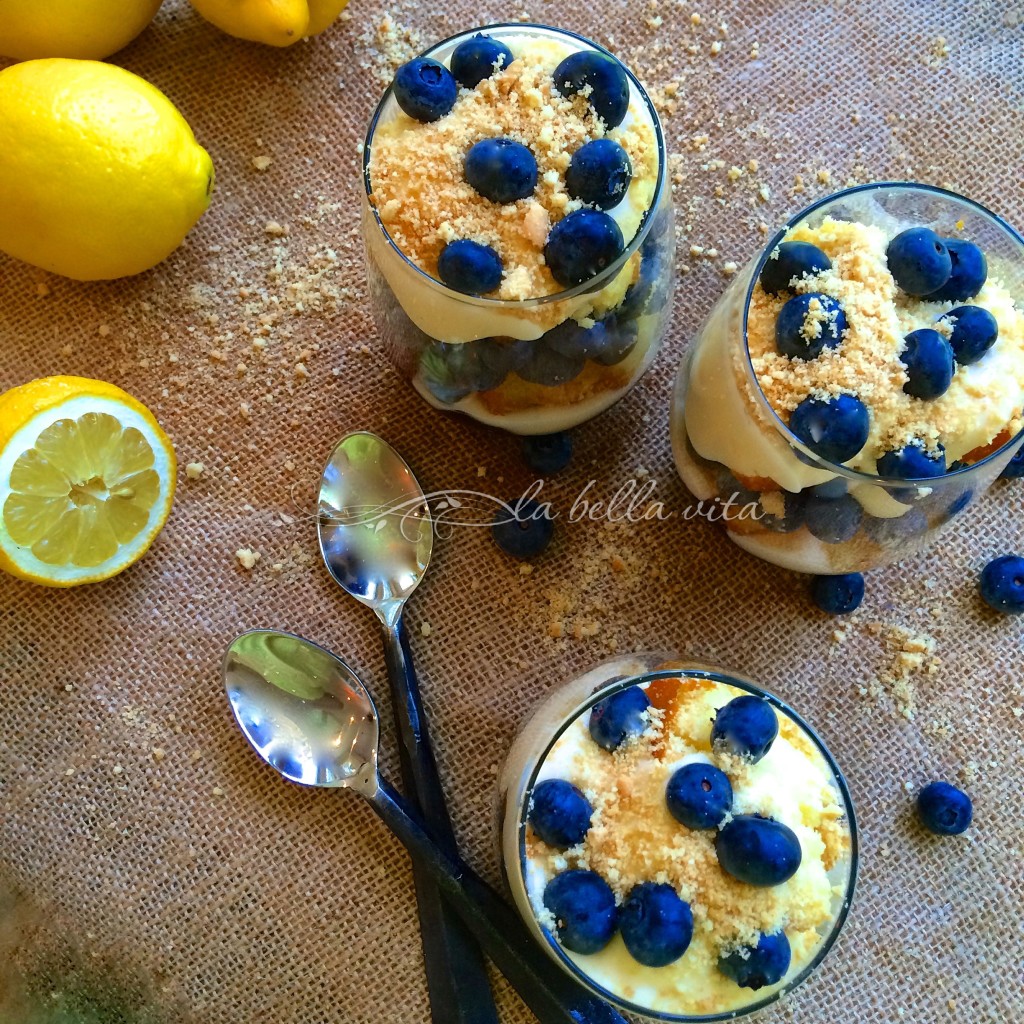 .Eev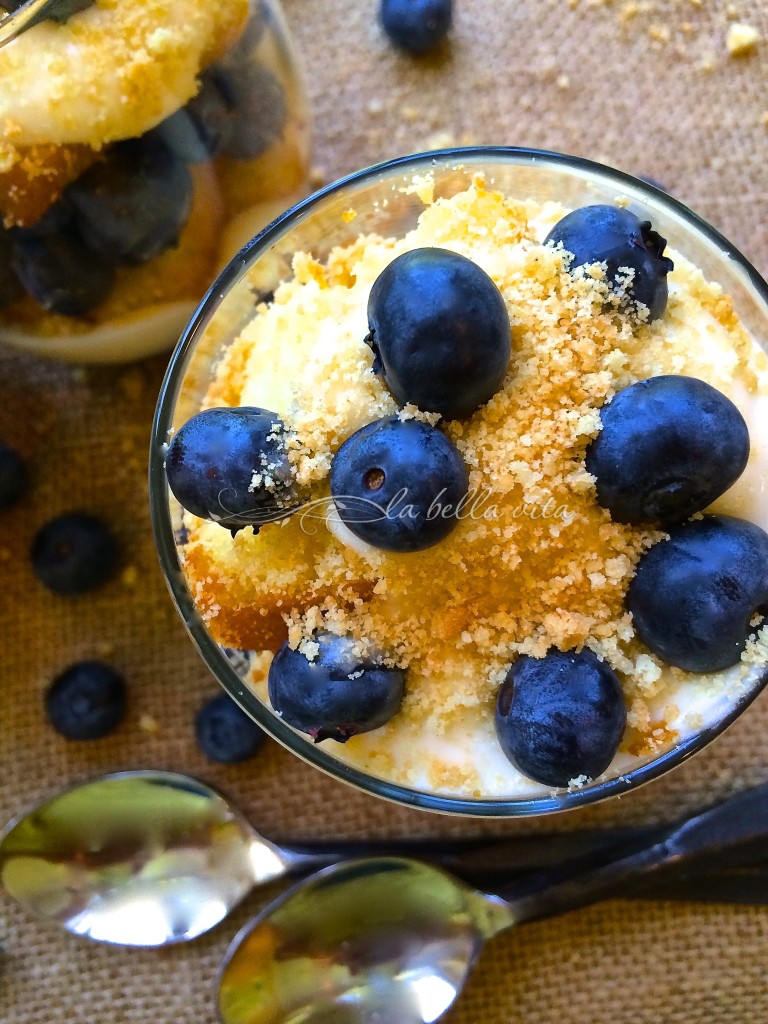 .
Print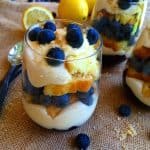 Blueberry with Limoncello Cream Parfaits
Author:
Prep Time: 0 hours
Additional Time: 0 hours
Cook Time: 0 hours
Total Time: 0 hours
---
1 tub mascarpone cheese
1 small jar lemon curd
1 Tbsp. limoncello
1 tsp. freshly-squeezed lemon juice
1 cup heavy cream
1/4 cup sugar
lemon pound cake, sliced or cubed
3 cups fresh blueberries
2 cups blueberry sauce or pie filling
20 shortbread cookies
---
Instructions
In a medium-sized bowl, blend mascarpone cheese, lemon curd, limoncello, lemon juice, cream, and sugar.
In a small-bowl, gently mix 1 cup blueberries with blueberry sauce or pie filling.
Put shortbread cookies In a heavy plastic freezer bag; using a rolling pin, roll over the cookies and crumble them . . . or use a mini-food processor.
Assemble Parfaits
On the bottom of each glass, place 2 – 3 heaping spoonfuls of blueberry sauce/pie filling mixed with fresh blueberries.
Next place 2 – 3 heaping spoonfuls of limoncello cream on top of blueberry sauce/pie filling.
Place a layer of lemon pound cake slices/cubes on next.
Layer fresh blueberries on top of cake layer.
Layer slices/cubes of lemon pound cake again.
Layer more fresh blueberries.
Layer more limoncello cream on next.
Garnish with fresh blueberries and shortbread cookie crumbles.
---
You're very welcome Nancy! Thanks for sharing your photo and thoughts about Blueberry and Limoncello Cream Parfaits! Keep 'em coming!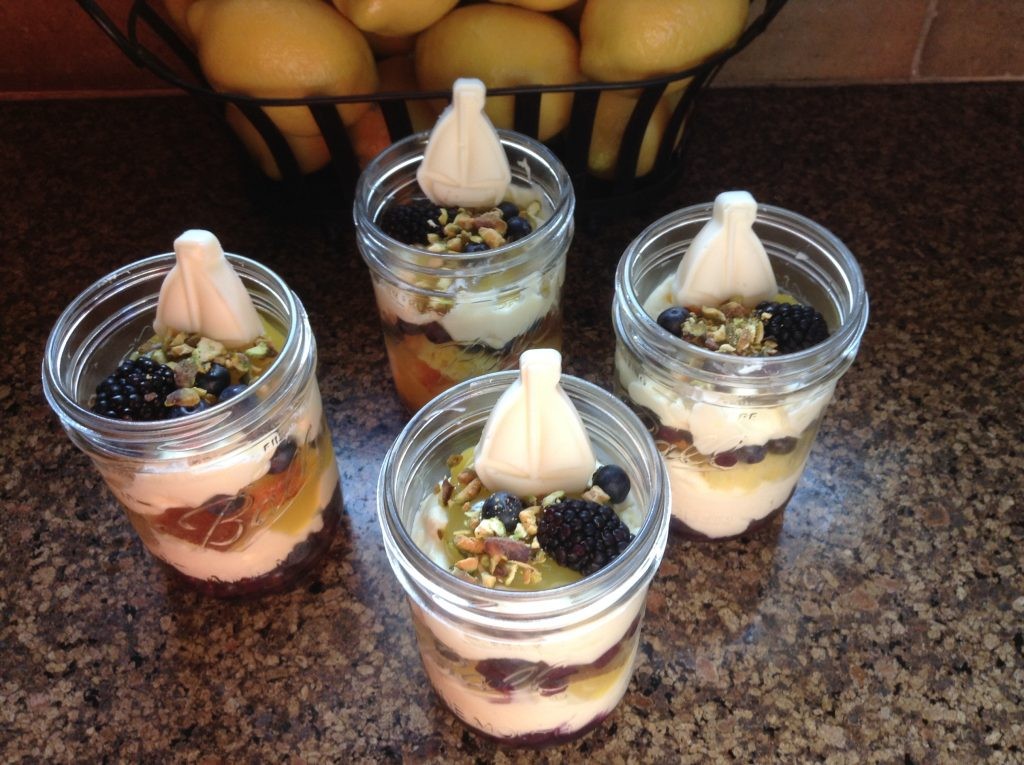 .
We hope that you enjoy this recipe . . . with 'amore' from our cucina and acreage to you.


Do you enjoy La Bella Vita Cucina? ❤
We'd love to have you as part of our community!
Subscribe below to receive the latest recipes, travel tips and gardening ideas straight into your inbox!