Baja Fish Tacos with Chipotle, Cilantro & Lime Crema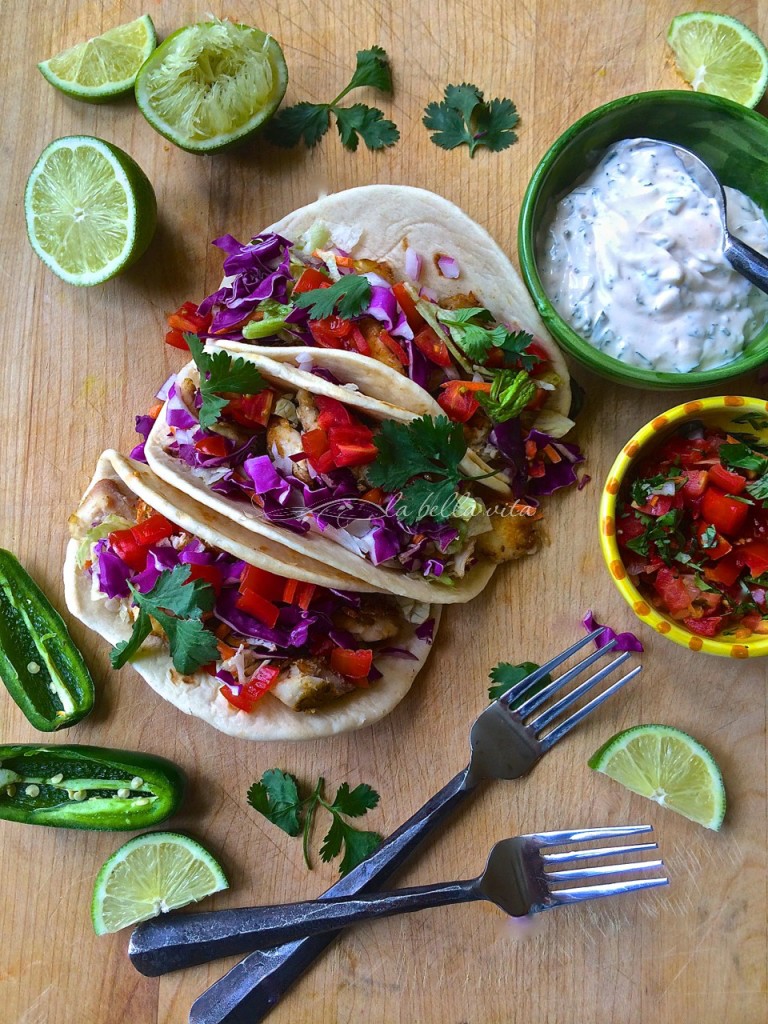 brilliant colors invite you to dig into these amazing fish tacos!!![/caption]
In my quest for the perfect Fish Tacos recipe, I've finally tweaked a gazillion recipes to find it!
Even my fish-averse husband devoured these Fish Tacos in intense fervor!
Yea, these fish tacos are that dang good!
I took the red snapper from a previous recipe on Caribbean Fried Red Snapper that was marinated the day before in the traditional Caribbean Green Seasoning Marinade, sautéed the left-over fish in a skillet for about 5 minutes, created a crazy-outstanding creamy sauce for topping the tacos, and wah-lah!
Baja Fish Tacos with Chipotle, Cilantro & Lime Crema!
Just like most of my recipes, I like to make a LOT of things in advance, being a busy career person and mother, it's how I roll!
So prepare the fish ahead of time . . . it will keep for a day, OK?
Chop up everything ahead of time if you wish, it will also keep covered in the frig for a day. Clean up the mess at this time, so you don't have to clean up tomorrow. Doing this makes a BIG difference in the enjoyment of cooking!
Assemble the fish tacos the next day when you're ready.
And now? Get ready for the "I want another one, please!" comments and praises from those you love!
Plus be prepared to share the recipe! My pleasure . . . thank you!
.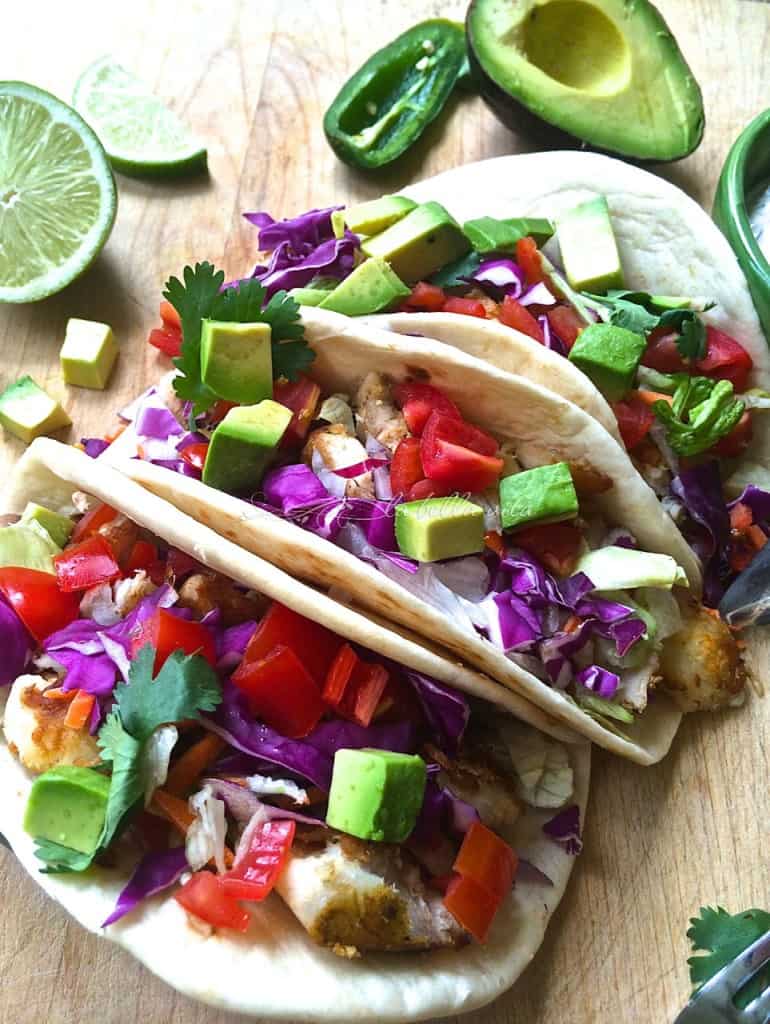 tons of bright, VIVID color to wet anyone's appetite! Tons of flavor too!
Please stop by and visit my recipes for "La Bella Vita Cucina" on Yummly . . . and add some of my very own favorites to your recipe box.
Happy saving and sharing!
YUM!
.
Print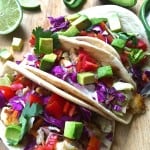 Baja Fish Tacos with Chipotle, Cilantro and Lime Cream
Author:
Prep Time: 0 hours
Additional Time: 0 hours
Cook Time: 0 hours
Total Time: 0 hours
Yield: 4 1x
---
---
:
1 box spicy Spanish rice, prepared according to package instructions
2 cans spicy black beans, drained and rinsed
cilantro
crema
chipotle
1 cup ranch dressing (Ready-Made Chipotle)
1 cup sour cream
1/2 cup fresh cilantro (finely minced)
1/2 lime
spanish rice
black beans (Spicy)
Caribbean Green Seasoning Marinade
2 – 3 Tbsp. olive oil for frying the marinated fish
2 cups red cabbage (finely sliced)
3 avocados (cut into small cubes)
5 tomatoes (diced)
1 red onion (diced)
2 cups cilantro (chopped)
pico de gallo (Fresh, or Salsa)
sour cream
lime wedges
tortillas
---
Instructions
Marinate the red snapper the day before in the traditional Caribbean Green Seasoning Marinade.
After marinating, cut up the fish into chunks to fit into soft tortillas.
Chop, slice, and prepare all of the toppings for the tacos.
Before serving time, sauté the marinated fish in a skillet for about 5 minutes in 2 – 3 Tbsp. of olive oil.
Slightly warm and soften the tortillas in the microwave for about 25 seconds each.
Prepare chipotle, cilantro and lime crema simply by combining all of the ingredients.
Serve the fish tacos either completely assembled as shown in the photos OR present toppings and the crema in separate attractive serving bowls and allow guests to prepare their own fish taco and toppings according to their preferences.
---
.
Do you enjoy La Bella Vita Cucina?
We'd love to have you as part of our community!
Click here: La Bella Vita Cucina to receive a FREE e-cookbook and all the latest recipes,
travel tips and gardening ideas straight into your inbox!