Peach Caprese Salad

It's just way too hot to cook in this heat!
Everything cool or cold, iced, frozen, or chilled is all that is on my mind in the clutches of this July heatwave!   I've gone on strike using a stove, oven, or even a grill!  But that doesn't mean we have to stop enjoying delicious recipes.
With super fresh South Carolina peaches that we picked up at our favorite roadside fruit stand this weekend, along with the freshest tomatoes hanging on the vine begging to be plucked in my gardens, I couldn't resist this unique and over-the-top, flavor-intense salad!  PEACH CAPRESE SALAD!
It certainly is not your conventional Caprese Salad, but man, is it good!  You simply partner ultra-fresh sweet peaches with the savory-sweet tomatoes, add some fresh basil leaves, and then drizzle a balsamic vinaigrette all over . . . and you've got a summer feast in front of you!
Oh my goodness, we are in love with this flavor combination — it is so darn good!
The second bonus (the flavor is the first bonus) is that there is no oven, no stove, not even an outdoor grill to turn on any heat!  Just cool, refreshing, and super fresh deliciousness!
Super FRESH FRESH FRESH, and perfectly RIPE peaches and tomatoes are a must to enjoy this flavor blast!
Don't ever buy peaches that have been shipped from more than one state away from where you live.  You will be biting into hard, dry, tastelessness.  When I lived in Iowa, I would wait for the Missouri peaches to be picked and driven THROUGH the night sky to the nearby fruit stand and sold that very next morning.  They were heavenly.
I never buy any peaches outside of South Carolina anymore.  They have become known as the sweetest variety on the market today.  South Carolina even produces more peaches than Georgia now.  It's sort of a state rivalry bone of contention, but that's life as they say.  We may not have the sweetest corn in this state, nor the best beef or pork either, but nothing can compare to the peaches of the Palmetto state!  Nothing!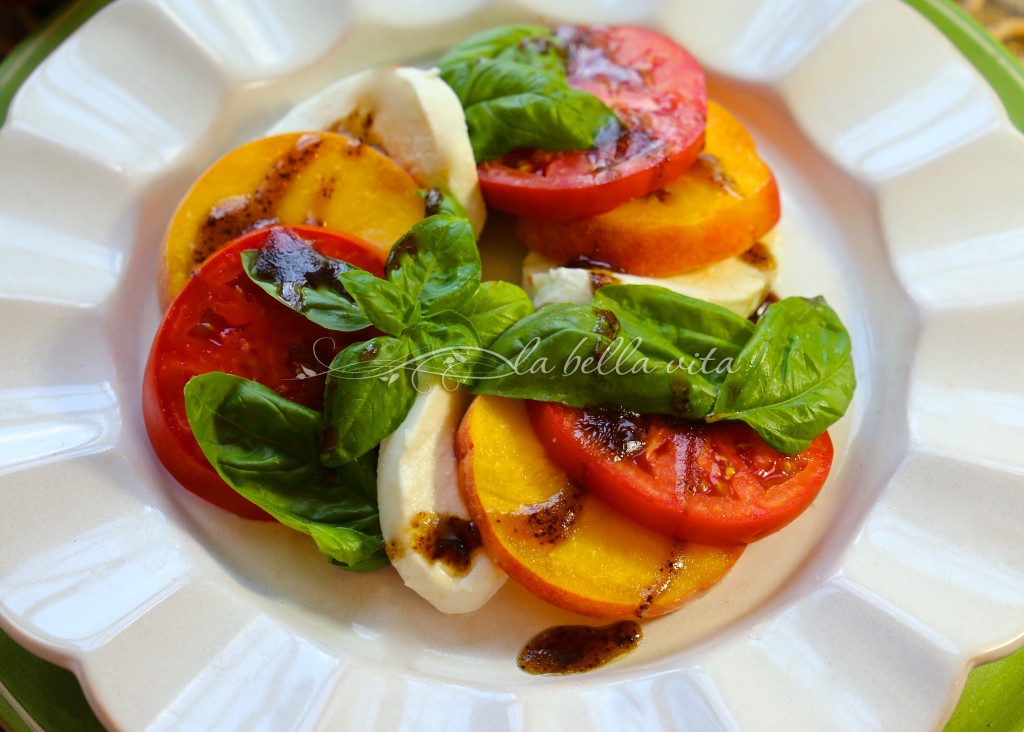 .
Using thick slices of each ingredient, layer each in a pretty presentation, alternating peach slice with tomato slices, then a generous layer of basil leaves, and a big, moist slice of bufalo di mozzarella (you know, the authentic stuff that isn't rubber!).  If you're near a Whole Foods and you are lucky, now and then you can find the real imported bufalo di mozzarella . . . but here's a tip, it's all gone off the shelves by Friday for those smart foodies who want to have some on hand for weekend entertaining!  They will always hold a few bags of it if you ask in advance.  Just make sure you show up and pick it up, or they'll not wait and someone luckier will take the mozzarella home.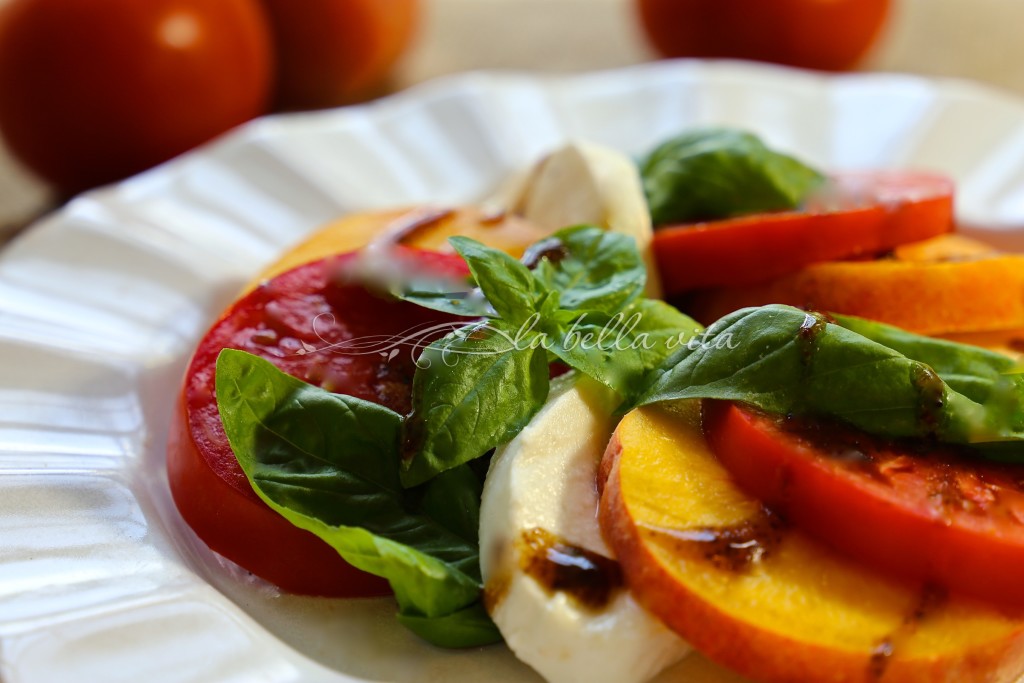 .Aica
After I posted this Peach Caprese Salad on Instagram, I was so honored when Domenica Marchetti was inspired to prepare the salad and with another beautiful presentation!  Dominique wrote to me and said that her family LOVED it!  Now for those of you who are new to the world of Italian cooking, Domenica is one of the most up and coming Italian cooking authors today!  Her cookbooks are chock-full of wonderful recipes . . . so run out and get a copy of any of her books!  You can also check out her great web-site:  Domenica Cooks
.
.