Six Cheese Pasta with Truffles and Prosciutto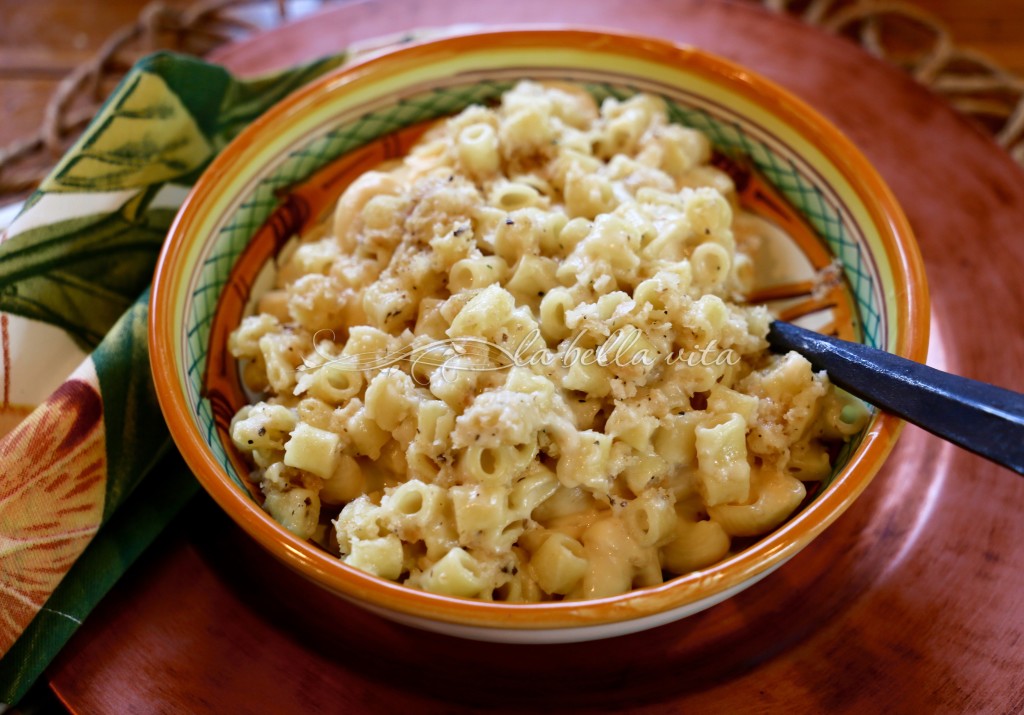 .
Ready to bite into something so simple, yet so decadent that you might just SCREAM?
If you're a cheese fanatic, this Six-Cheese Pasta with Truffles will blow your mind!
S.I.X. types of luscious cheeses!
Seriously?
You bet!
Just add some seasonal imported Italian truffles and/or truffle oil to take an ordinary mac and cheese recipe over the top to make something extraordinary . . .and even to a GOURMET level! Talk about impressing your family and guests! (Tip: you only need a little bit of truffle oil and/or truffles, especially given how potent AND expensive that 'hard-to-find' authentic Italian truffles are! Don't settle for anything less then the REAL ITALIAN TRUFFLE DEAL; there are a lot of imitation Japanese truffles out there "appearing as Italian truffles" on the market . . . so don't be fooled!)
White OR black truffle oil and truffles have intense earthy flavors that will wake up your average dreary mac and cheese recipes or truly
. . . ANY savory recipe for that matter!
Well, let me just tell you that this recipe for macaroni and cheese is truly . . . INSANE!
But you know, one simply has to splurge every once in a while, right? Hey, why not?
So move over regular macaroni and cheese, this is THE ONE now!
Doesn't it look and sound just yummy?
Well it was, and it is!
Print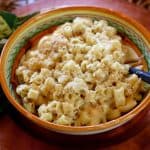 Six Italian Cheese Pasta with Truffles
Author:
Prep Time: 0 hours
Additional Time: 0 hours
Cook Time: 0 hours
Total Time: 0 hours
---
1 pound pasta (penne, orichette, cavatoppi, etc.)
5 Tbsp. butter
2 cups heavy cream (added to your preference of consistency in liquid)
1 – 2 Tbsp. White or Black Truffle Oil or 3 ounces white truffle butter (add to your level of taste preference)
1/2 cup Italian Fontina cheese, grated
1/2 cup Gruyere cheese. grated
1 cup sharp, aged [b]Yellow[/b] Cheddar cheese, grated
1 cup extra-sharp [b]White[/b] Cheddar Cheese, grated
1/2 cup Italian Asiago cheese, grated
3/4 cup fresh, soft imported Italian Mozzarella cheese. grated
1/2 cup freshly-grated, imported Italian Parmigianno-Regianno cheese (no substituting the fake Parmesan made in the U.S.A. for this or any of the recipes on La Bella Vita Cucina)
ADD MORE OF ANY OF THE CHEESES above to your desired taste preferences
Salute prosciutto or pancetta until crispy brown; then mince.
3 freshly-minced garlic cloves
1–1/2 cups Italian herb Panko crumbs
Garnish: Ground Paprika and 3 Tbsp. freshly-diced chives OR Italian Parsley
Optional: Add 4 ounces sautéed and minced Italian prosciutto or pancetta,
Optional: 4 ounces sautéed porcini mushrooms, finely diced.
---
Instructions
Preheat an oven to 375°F.
Butter or spread olive oil in a 9-by-13-inch baking dish.
Bring a large pot of salted water to a boil over high heat.
Add a splash of olive oil (optional that I enjoy adding, but it is entirely up to you).
Add pasta and cook [b]until not quite al dente[/b], about 2 minutes less than the package instructions.
Stir occasionally during this time.
Drain and transfer to a large bowl.
While the pasta is still warm, drizzle with the truffle oil or add the truffle butter and stir well.
Place large saucepan on the stove on medium-high heat and melt the 4 Tbs. butter.
Whisk in the cream.
Simmer, whisking frequently for about 5 minutes.
Remove from the heat.
Add the cheeses one at a time with a good stir until smooth after each addition (off of the stove heat).
Add the minced garlic.
Pour the cheese sauce onto the pasta.
Add the minced prosciutto or pancetta
OPTIONAL: If adding sautéed porcini mushrooms, this is the point to add them.
Transfer the pasta and cheese mixture to the prepared baking dish.
In a small bowl, mix the minced chives/Italian parsley with Italian-flavored Panko crumbs.
Stir well.
Sprinkle the herb-flavored crumbs all over the pasta and cheese mixture.
Bake until the top is lightly browned and the sauce is bubbly, 35 to 45 minutes.
Remove from the oven and let stand for 5 minutes.
Drizzle pasta and cheese mixture with a little more truffle oil.
Broil for 2 minutes longer or until golden brown.
---