Grilled Buffalo Chicken Drummies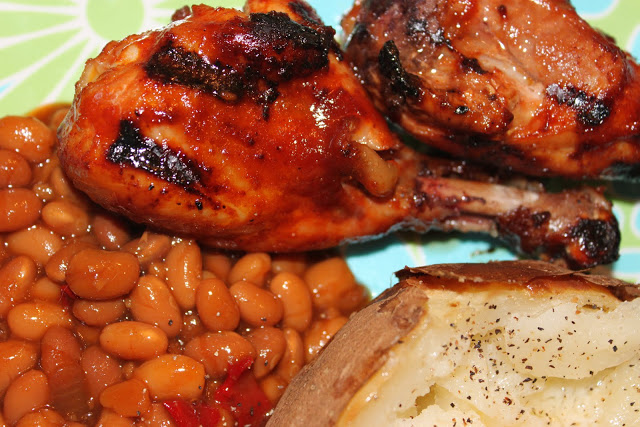 "Very, very good!" were the first words that my husband used after tasting the chicken drumsticks that I prepared tonight using a marinade recipe from Jessica of Kitchen Belleicious for Buffalo Chicken Skewers.
These words are not spoken every day, peeps! Mr. M and P (meat and potatoes) is a hard one to please when it comes to trying new recipes!
Last week we made the oh-so-scrumptious Grilled Thai Chicken, so this weekend we felt it was time to try a twist on a beloved American flavored-chicken: BUFFALO!
Although I much prefer white chicken meat, all I had on hand in the freezer were dark meat drumsticks/drummies that I was saving to make buffalo drummies (I'm just not crazy about the greasiness of dark chicken meat). But I'm a firm believer in using up what is on hand!
I made a few personal adjustments to Jessica's excellent recipe, simply from wanting a more fiery hot taste. To enjoy Buffalo chicken, we like to have steam coming out of our mouths and ears, along with tears streaming from our eyes! That level of heat is the only change that was made to her great marinade!
As I was mixing up the marinade, the aroma was drifting through the kitchen and family room, just teasing us for what flavor was to come! This is a winning recipe!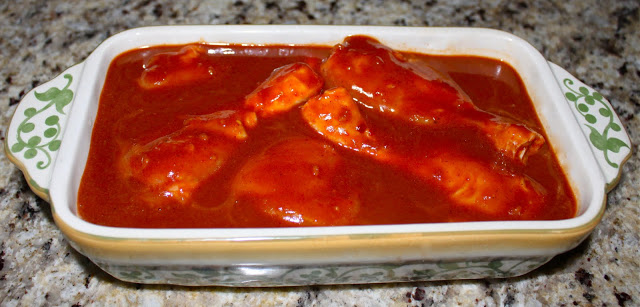 Drummies singing in their bath of zingy marinade!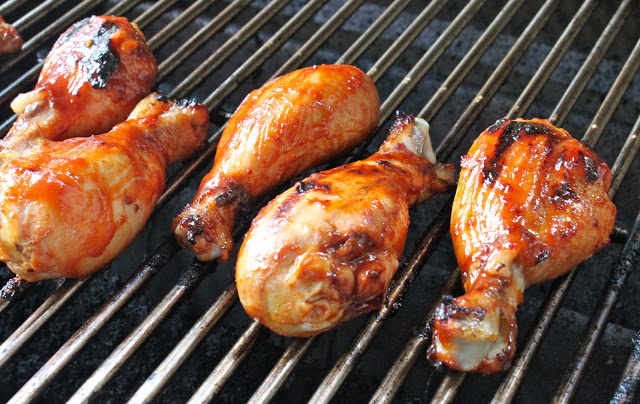 Print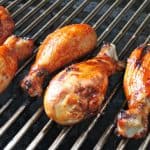 Bellecious" Buffalo Chicken on the Hot Side
Author:
Prep Time: 0 hours
Additional Time: 0 hours
Cook Time: 0 hours
Total Time: 0 hours
---
8 chicken drummies / drumsticks (skin removed)
1 stick of butter
1/4 cup soy sauce
5 Tbsp. tomato paste
2 Tbsp. brown sugar (decreased from 5 Tbsp. in original recipe)
2 Tbsp. Worchetshire sauce (increased from 1 Tbsp. in original recipe)
2 Tbsp. apple cider vinegar
1 Tbsp. spicy brown mustard
1 – 2 Tbsp. Texas Pete hot sauce (increased from 1 dash in original recipe)
2 Tbsp. beer
1 Tbsp. freshly squeezed lemon juice
1/2 tsp. sea salt
3 garlic cloves, minced (increased from 1 clove in original recipe)
1/2 tsp. paprika
1/2 tsp. chili powder
1 tsp. cayenne pepper (increased from 1/4 tsp. in original recipe)
---
Instructions
Place the chicken in a sea salt brine bath for 30 minutes or more.
Season the chicken with salt and pepper.
Melt the butter on medium heat in a medium-sized saucepan.
Add the brown sugar and blend well.
Add the remaining ingredients and adding the beer at the very last.
Blend all ingredients well.
Place the chicken drummies/drumsticks in a shallow or deep narrow baking pan.
Pour 3/4ths of the marinade sauce over the chicken.
Set aside the remaining 1/4 of the sauce to use for basting the chicken on the grill.
Marinate for at least 2 hours.
Grill for approximately 8 minutes on each side or until completely cooked (our drumsticks were quite large and needed the extra cooking time).
Baste the chicken again during the last 2 to 3 minutes of grilling.
Serve warm!
---
.