Fussen, Bavaria, Germany — The Village By Neuschwanstein Castle
When you visit Bavaria and the famous castles from kings of long past, you truly should make it a point to stay overnight in the town of Fussen, Bavaria, Germany . . . what is considered by many travel experts to be an overlooked gem in the shadows of the castles.
My husband and I chose to take a slow way to enjoy Bavaria and not just go from place to place that draws the majority of tourists . . . instead, we always choose to find places that display what daily life is like in each destination besides the 'main attraction'.
So before we visited the famous Bavarian castle of the mad King Ludwig's Neuschwanstein, we decided to stay overnight in the quaint and beautiful town of Fussen.
After arriving from our 1-½ hour train ride from Munich to Fussen, we were literally within 5 minutes walking distance from the train station to everything in town . . . . including hotels, restaurants, shops, and the "Old Town" of Fussen.
We checked into the funky, eclectic Hotel Sonne first, dropped off our luggage, and then walked around the cobblestone streets. We were amazed at the beautiful medieval German architecture and just how quaint and dreamy this small Alpine town is.
In the shops of the "Old Town" we bought some absolutely gorgeous German table-linens for Christmas, strolled along the ancient, stone-paved streets, and then stopped for lunch in a recommended local-favorite German tavern.
.
.
.
.
.
.
.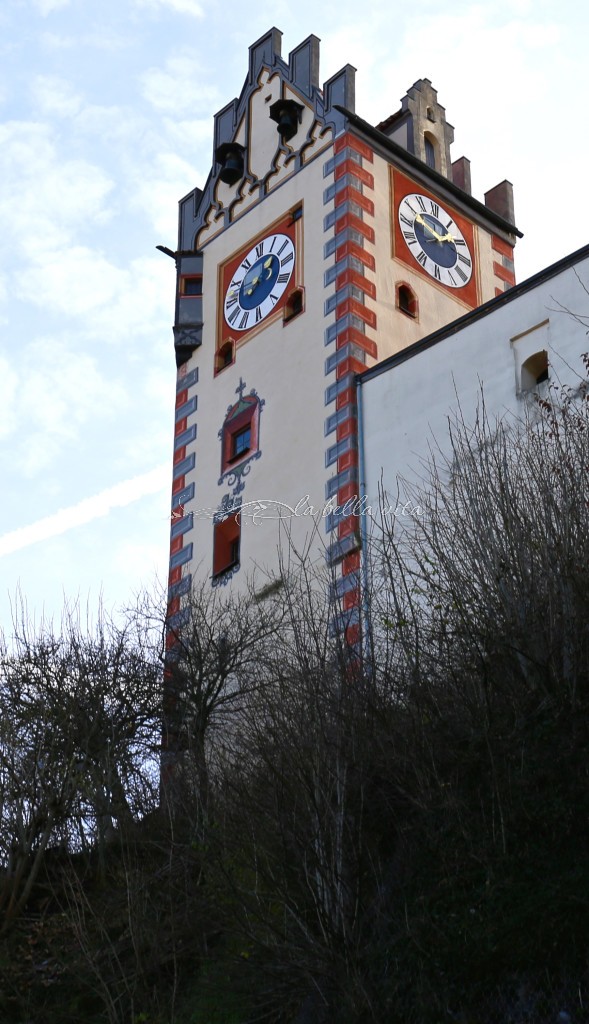 The Hohes Schloss is a late-Gothic palace filled with regional paintings and sculpture from dating back to the year 1499.
.
.
.
.
.
.
.
.
.
.
.
.
So let's go shopping!
.
.
.
From the linens shop in the photo above, I bought this beautiful Christmas table runner (below photo). . . I love neutrals and with the pop of red and green so simplistically embroidered on this linen, I just fell in love with it . . . and it came home in my luggage!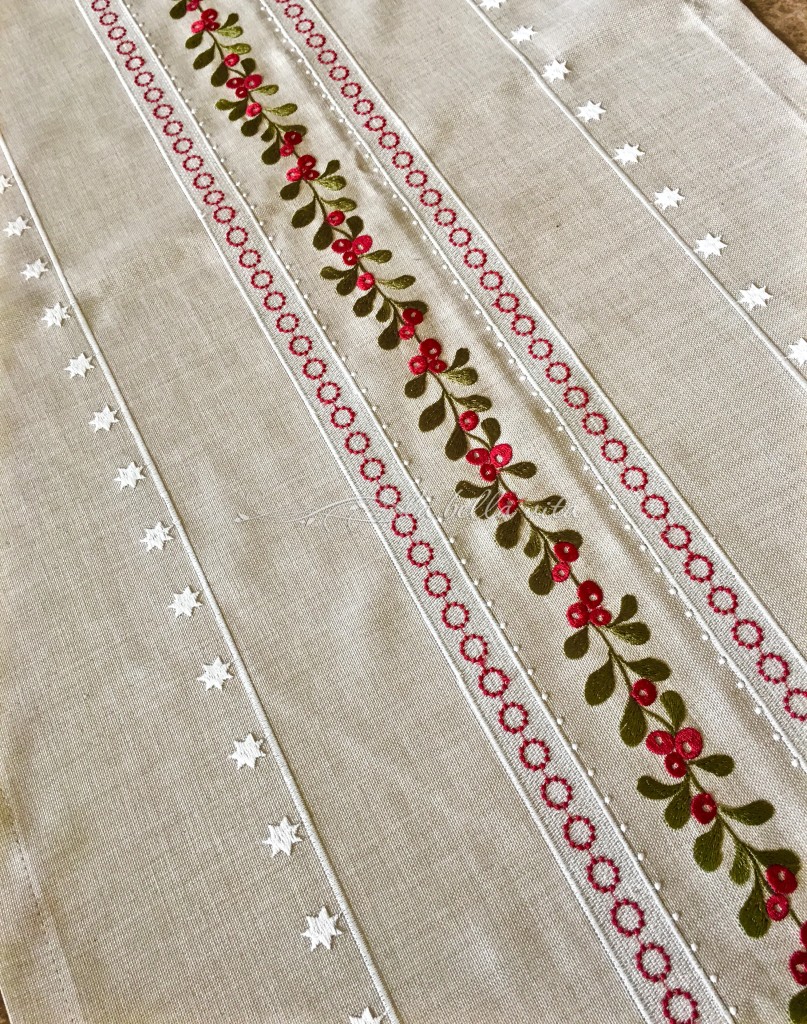 .
.
.
.
Here is a recipe for Roasted Pork Knuckle that needs to be tried at home: Roasted Pork Knuckle with Crispy Skin
This jagerschnitzel was so delicious that I have to make this soon. Here's a recipe for Jagerschnitzel (Bavarian Schnitzel with Mushroom Sauce – Hunter's Style) recipe I found this recipe from Food Network and has a 4.8 rating from over 91 reviews, with comments that say that this recipe tastes very authentic! I made it and have to agree!
To complete this post on our one-day visit to Fussen, Bavaria, here are a few shots of our delightful hotel that we stayed in and that we definitely recommend: Hotel Sonne
This hotel is very eclectic and funky to say the least! We just loved it with all of the creative and amusing decor. If you're looking for a unique, high quality lodging experience, than the Hotel Sonne will truly deliver. We highly recommend this hotel.
If you are looking for a cookie-cutter chain hotel, then this is hotel is not for you. But if you want unique elegance with superb attention to service and the absolute, hands-down best breakfast buffet, than this wonderful boutique hotel is perfect for you.
Here are just a few photos from this lovely, modern, joyful hotel in Fussen, Bavaria, Germany:
After the huge lunch that we had in the tavern, we decided to share a hamburger. It was massive in size, so we were really glad that we shared it. Several people have asked me why we had 'hamburgers' in Germany. Well, there is a debate about the origin of the hamburger. And many claim the origin of the hamburger traces to Hamburg, Germany, where it was first prepared by Otto Kuase. Who knows. But this was a really yummy burger and we're glad that we tried a German burger.
.
And what better way to end the day then with another piece of apple strudel! We ordered this dessert in every place that offered it and they were all amazing. I'll have to find a good recipe and make this at home soon.
Coming up next is our next stop "The Church of The Meadows" and "Linderhoff Palace". I hope you'll continue to follow along my posts and photos of this wonderful trip to Bavaria!
.
.