Best Breakfasts on Aruba Dutch Pancakes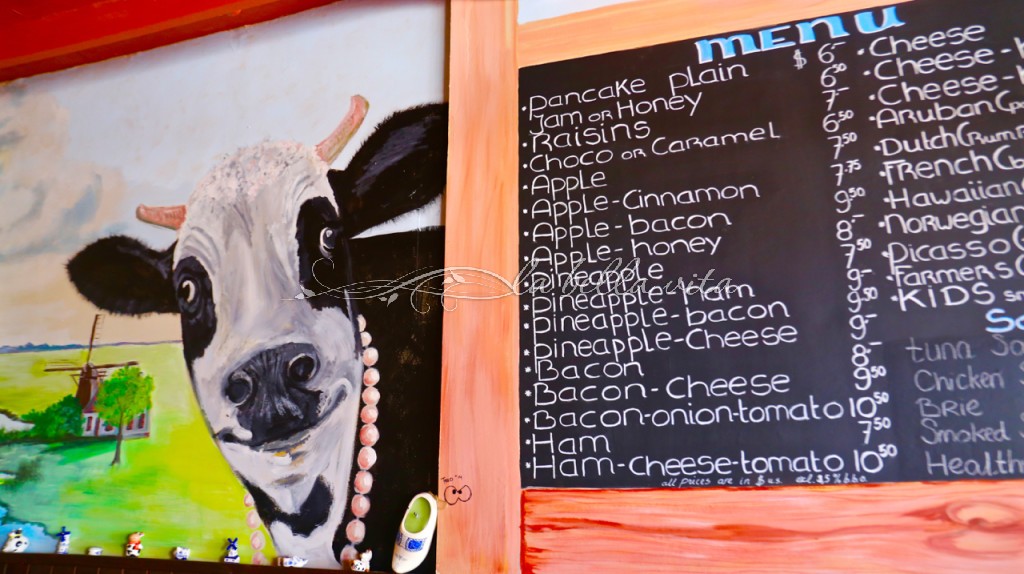 Travelers to Aruba know that it is part of the Netherlands (Holland) and are aware of the delightful Dutch influence everywhere. Not only in the food, hospitality and friendliness, but also in the architecture on the island!
To start each of your days on the "Happy Island" you need to enjoy a local specialty brought over from Holland that will help you become even more happy: Dutch Pancakes!
These immensely, almost pizza-size pancakes are nothing close to what Americans customarily think of for pancakes.
Not at all! Dutch pancakes are very wide (the size of a large dinner plate, even more the size of a charger plate) and extremely thin (almost like the thinness of a crêpe). On each pancake or possibly inside each pancake is a wide assortment of fresh fruit available for those who prefer sweet pancakes and a large variety of veggies and meats as options for those (like me) who swing towards savory breakfasts.
Those of you have been so kind to read my little ol' blog for so many years, know that my husband and I always seek (or shall I say 'sniff') out the most local, mom-and-pop type places to eat before we'll ever step foot in a chain eatery that we can easily find in the States. So the very minute we get up from our jet-lag slumber, we jet out to wherever the locals go.
In this case, the first breakfast stop we indulged in these gigantic pancakes was a darling little place off the beaten track (which is always a good sign!), "Diana's Pancake Place". Here's out how successful this 2-woman (plus a guy cook) show is: They've only been open for 2 years and they are ranked as one of the top restaurants on the entire island of Aruba on TripAdvisor.
That is one huge accomplishment and recognition on an island that is known for its fantastic restaurants!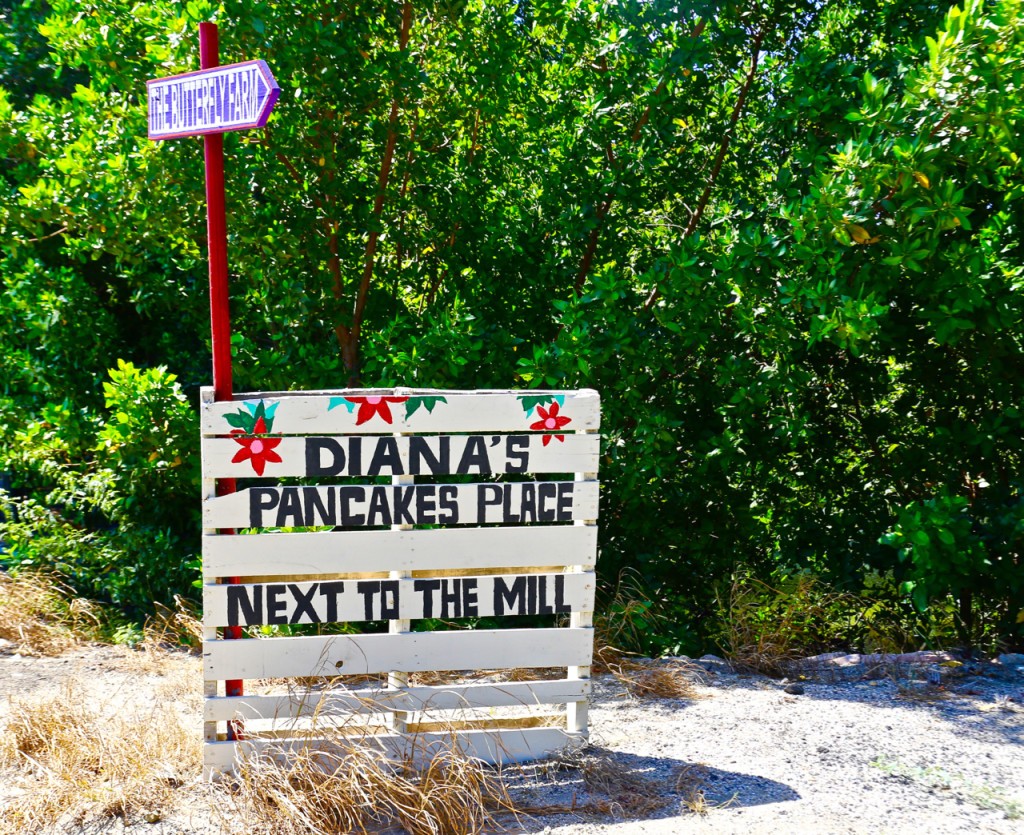 .
With minimal signage for places such as Diana's (wonderfully and quietly, off the tourist beaten path), you have to keep your eyes peeled for signs such as these to find, well, most anything in Aruba. Truly, if you're an American, you need to get used to the lack of street name signs, etc. as you find your way about on this island!
Remember, you're on island time here and need to slow it WAY down! People are not being lazy or rude here. The people are simply engaging in the every day slower pace of island life.
Isn't that why we visit these places for after all?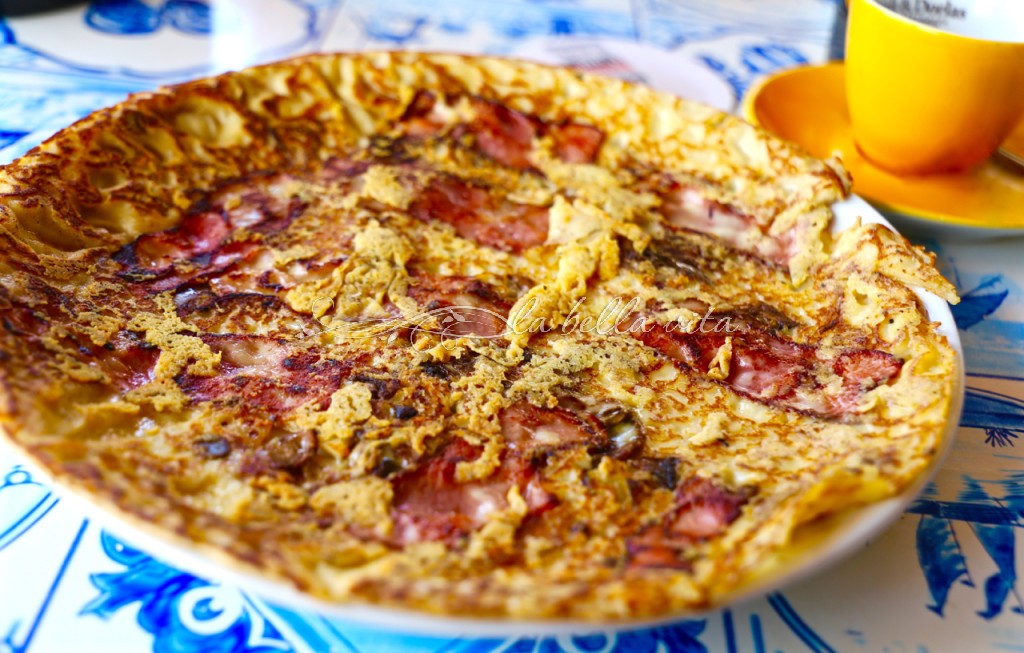 .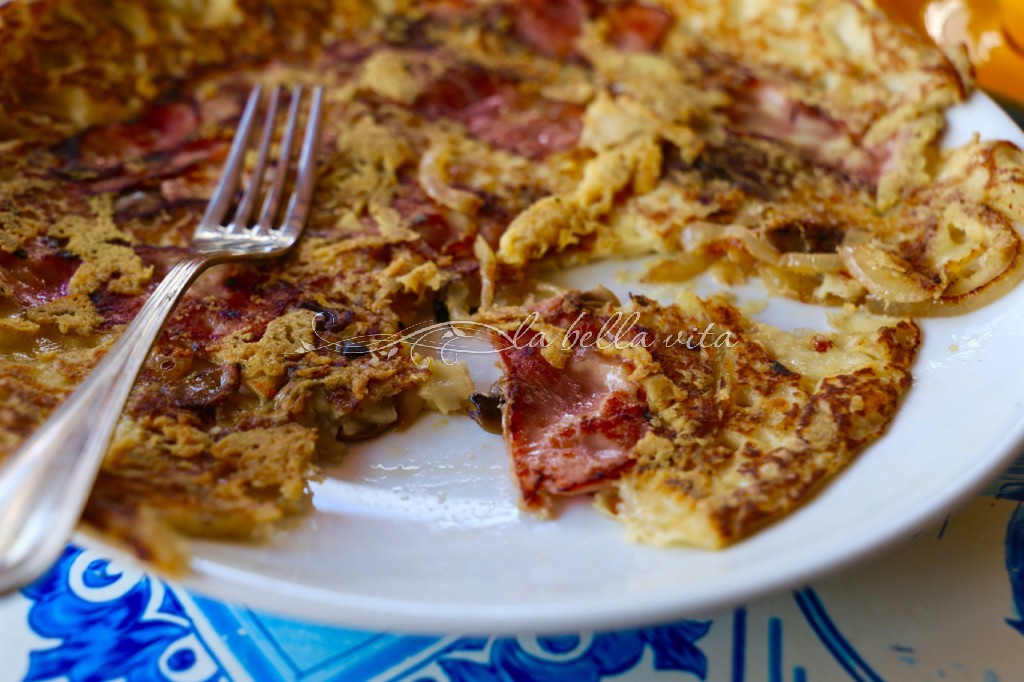 .
Above, I ordered the 'savory' "Farmer's Dutch Pancake" full of an amazing creamy Dutch cheese, Dutch ham, and mushrooms. This was two meals in one. Little did we know that we were eating breakfast AND lunch combined. Our pancakes were so large and filling (in our tummies) that we skipped lunch and almost had no appetite for dinner.
And that's hard for me to ever accomplish! So that's really saying something about the portion size and THE VALUE!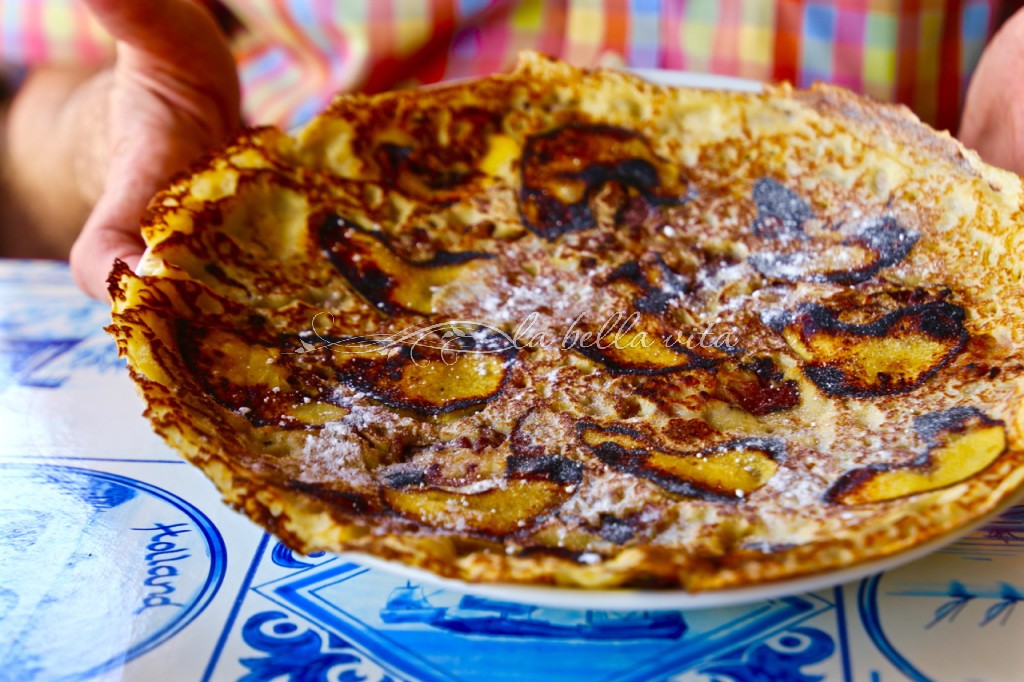 My husband only eats sweet breakfasts and above is the "Apple Cinnamon Banana" pancake that he ordered. Similar to my pancake, it was huge and simply delicious. Thank goodness for the powdered sugar and syrup offered, because it made this pancake not only doubly, but triply-sweet for my sweet-toothed guy!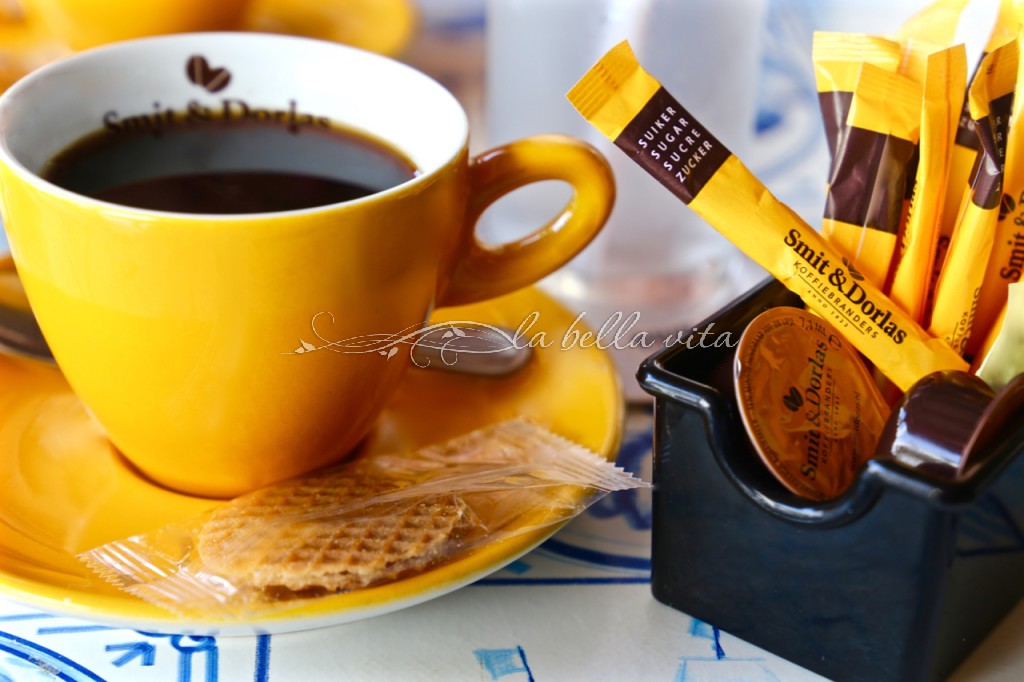 .
The coffee served at Diane's Pancake Place is so delicious! Seriously, move over Italy, you've got some real competition with a rich cup of java! The Dutch brand is available to order here, but it is SUPER expensive –> Smit & Dorlas Caribbean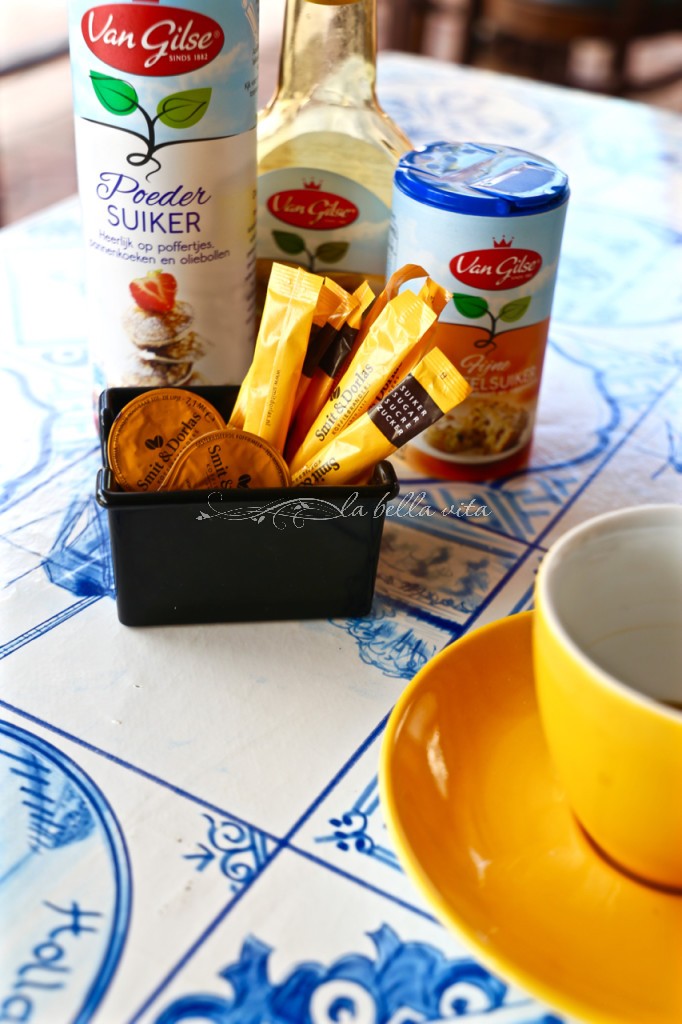 At Diane's guests are offered imported Dutch sugars, coffee, creamers, and syrup (that has no preservatives). American maple pancake syrup is also offered.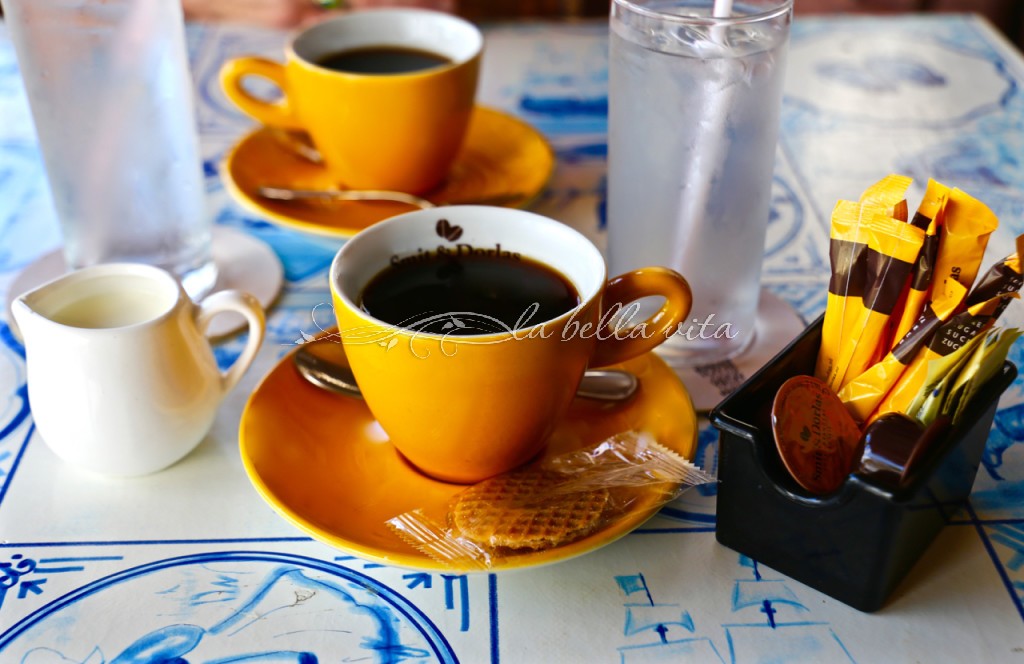 Served on top of very quaint blue and white Dutch plastic table 'cloths', the blue and yellow colors are so pretty and uplifting . . . matching the jolly personalities of the pancake house owners themselves!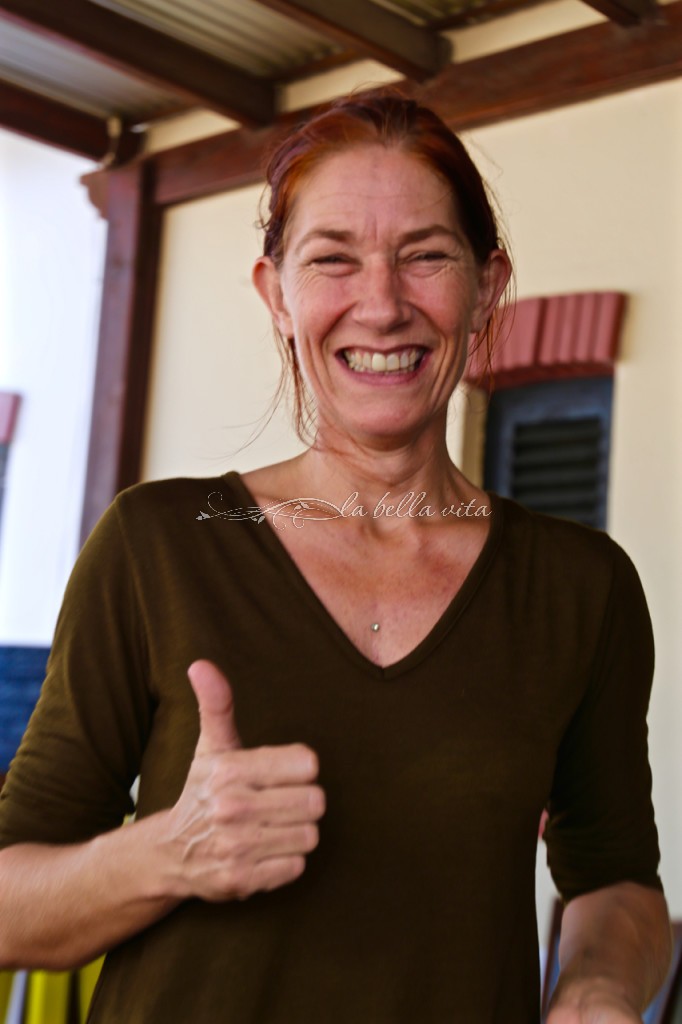 We noticed on Aruba that in every establishment (except Diane's Pancake Place) that we literally had to ask for more of anything that we might need: more coffee refills, more ice water, the tab/check, etc. It was like waving down a ship in disaster to get anyone's attention. Were they really that busy, or was that normal for Aruba?
We guess that for most places on Aruba, we had to remember that we were on 'island time' and needed to slow down accordingly. Keep that in mind!
But not at Diane's, this was seriously the best service that we received on Aruba. We never had to ask for anything! The coffee pot was almost walking around by itself asking if you needed a refill (complimentary too). We never had to flag or wave one of the ladies for anything. Both of these super-friendly ladies are right there to serve you with a wide, hospitible smile and a strong 'thumbs up' (is that hand gesture Dutch, because everyone was doing that on Aruba)? Just wonderin'!
.
Brightly painted wooden Dutch shoes are on display inside the restaurant where seating is also available. We felt as if we were more in The Netherlands than on a desert island as a result of the efforts put forth by the owners to enhance the 'Dutch' environment of the restaurant. This makes a big POSITIVE difference to us while we travel!
These small attention to details to enhance the feeling and experience of Dutch cuisine and hospitality is what sets Diane's Pancake Place apart from 'the other' Dutch pancake places. We loved these added visual touches!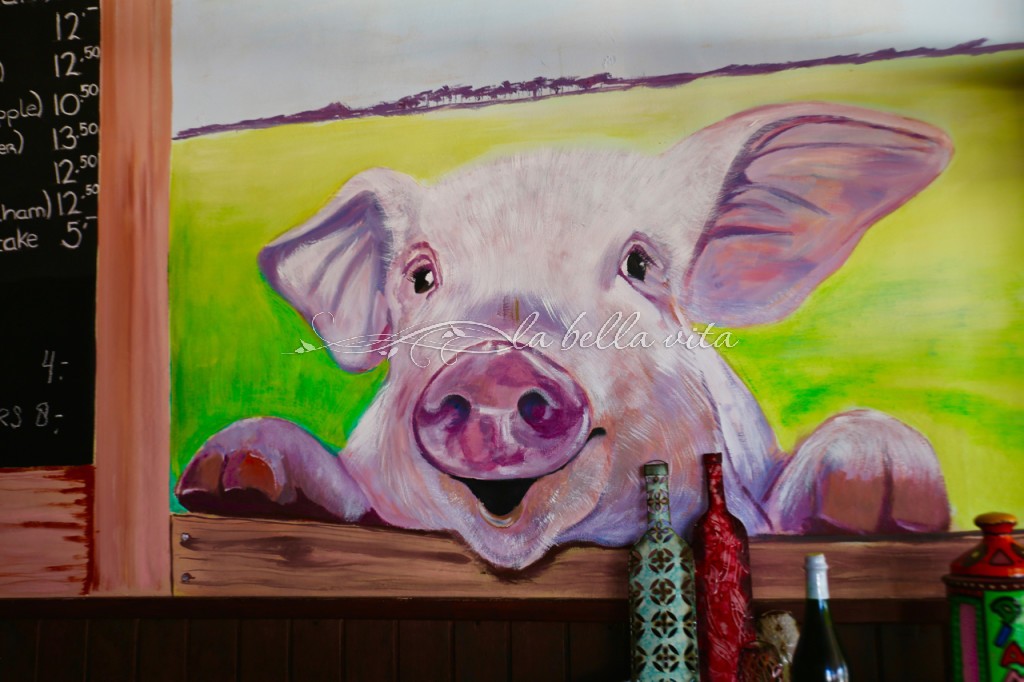 .
Adding even more whimsical character and charm to Diane's Pancake Place are the hand-painted walls depicting farm animals of smiling cows and pigs that compels anyone to smile!
We gravitate towards eateries with these personal, non-commercialized added visual treats and touches!
.
You're even given a little glimpse of Dutch art shown on the walls inside! Is that possibly a Van Gogh? Hmm?
Such a nice touch, especially if you are an art aficionado, such as myself!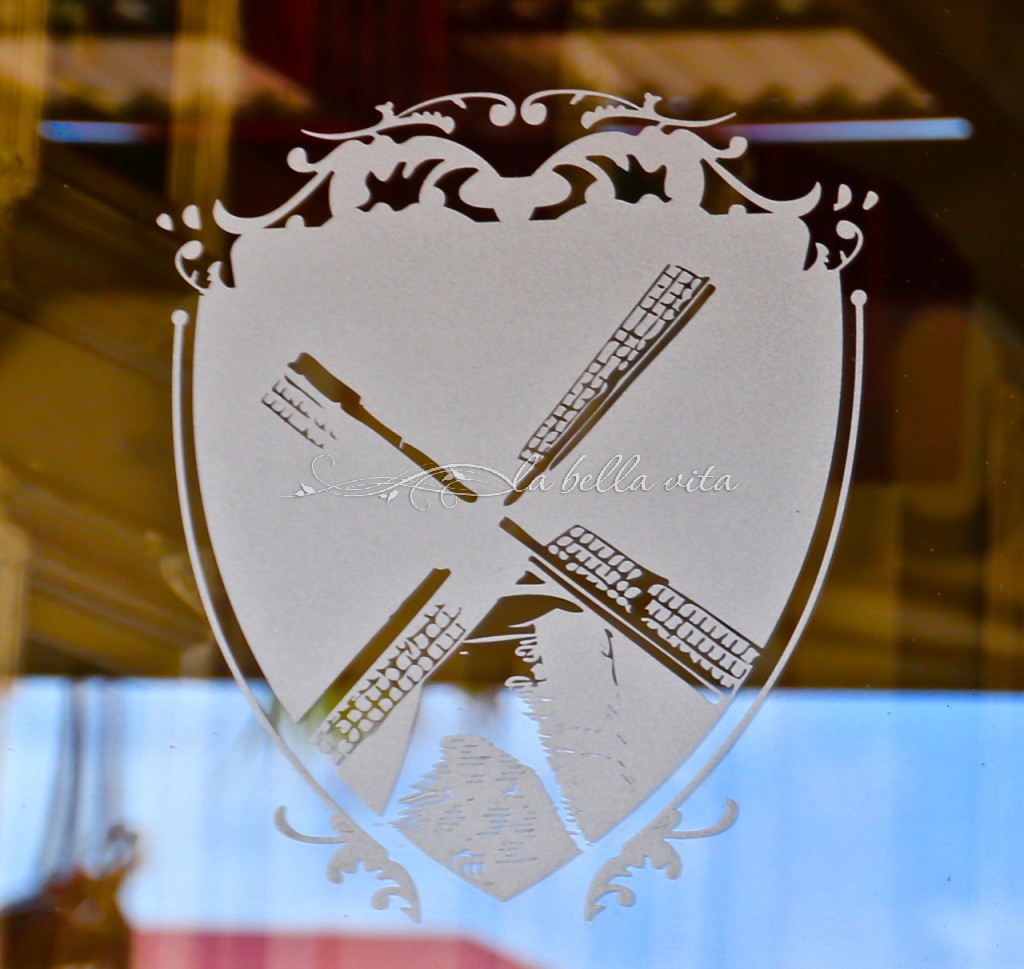 .
Etched into the front window's glass is a symbol of an old Dutch windmill.
So as you're driving north along the main highway (and there's only about two highways in Aruba) . . . look off and over to the west as you're driving north along the main highway . . . spot your eyes on the old mill in the distance and there, you will find Diane's Pancake Place on Aruba!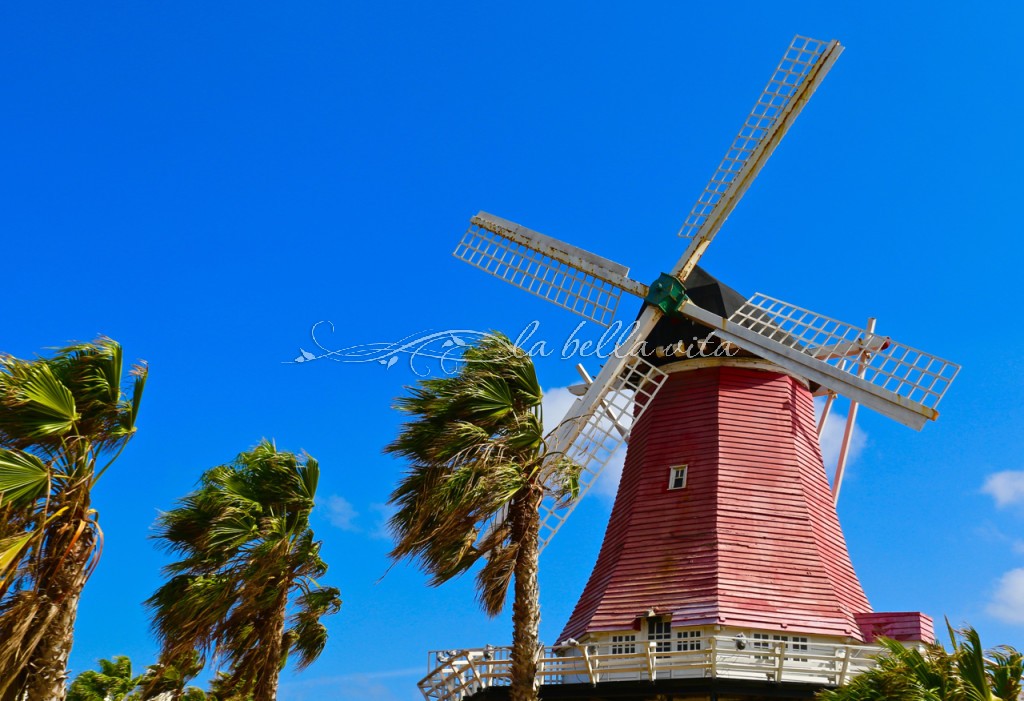 .
Now we'd be completely remiss (and we believe that Miss Diane would also agree) if we didn't also mention the 'other place' on Aruba that serves extraordinary Dutch pancakes . . . pancakes like no other on Aruba!
That place is: "The Dutch Pancakehouse Restaurant" in the city center of Aruba where all of the 'touristy action' is.
Seriously, this is not only the opposite of the quiet and quaint atmosphere of Diane's Pancake House in Aruba, but it has the most unbelievable, lengthy and extensive menu that includes not only breakfast selections that suit both international and American preferences, but also lunch items. Once again, my husband preferred the 'sweet' menu options of this eatery the best. And truly, I have to admit that my savory "Farmer's" Dutch pancake won my heart over the pancake offered at Diane's . . . (we're just being honest). We did return a second time to this restaurant to experience the delicious food. Yet each time we found an endless 'line of patrons' (new or continual) that you have to tolerate whenever the monster cruise ships sail in (that we believe is a negative element of The Dutch Pancake House).
Our recommendation: Arrive early to get a seat at The Dutch Pancake House located in an overly touristy strip mall, and avoid this place on the days that the monstrous-sized cruise ships (that we despise) arrive with hundreds and HUNDREDS of crowds of demanding tourists that are literally unloaded and unleashed onto the island (we unapologetically don't get into, nor subscribe to, nor support massive tourism efforts that destroy authentic and local cultures). But we DO support local sole-owner entrepreneurs. And if this is what contributes to their success (location and fabulous food), we FULLY support their marketing strategies!
.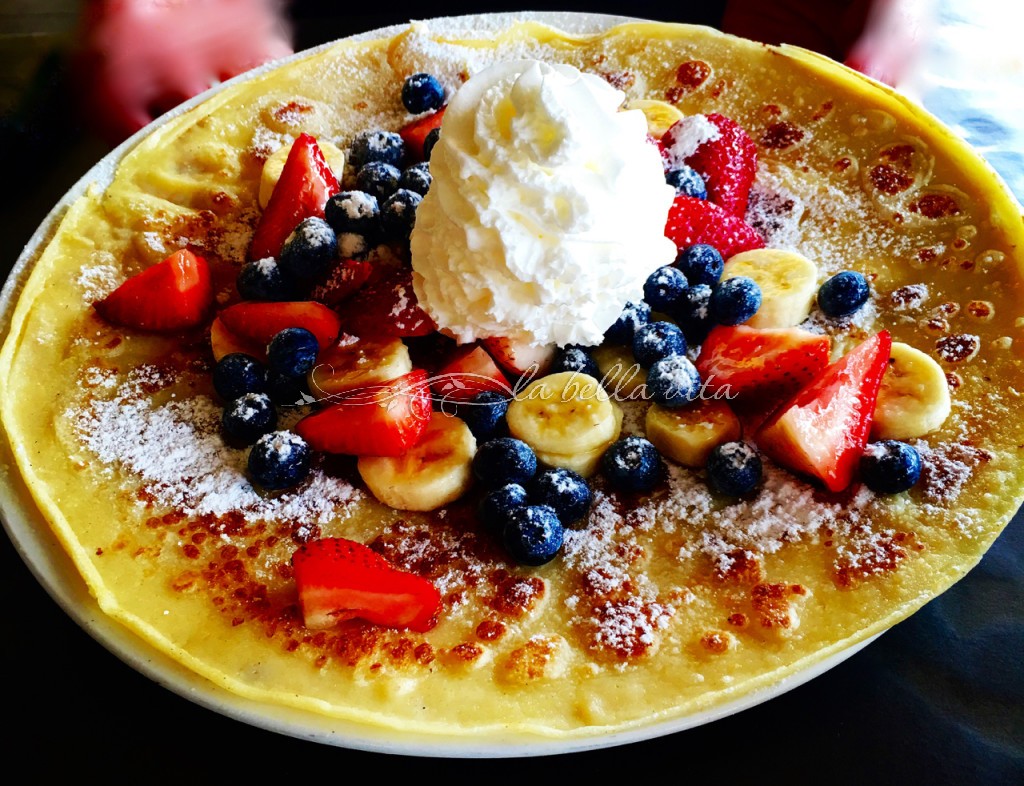 CompCompare the fruit pancake to the one above to see the difference (we taste with our eyes first)..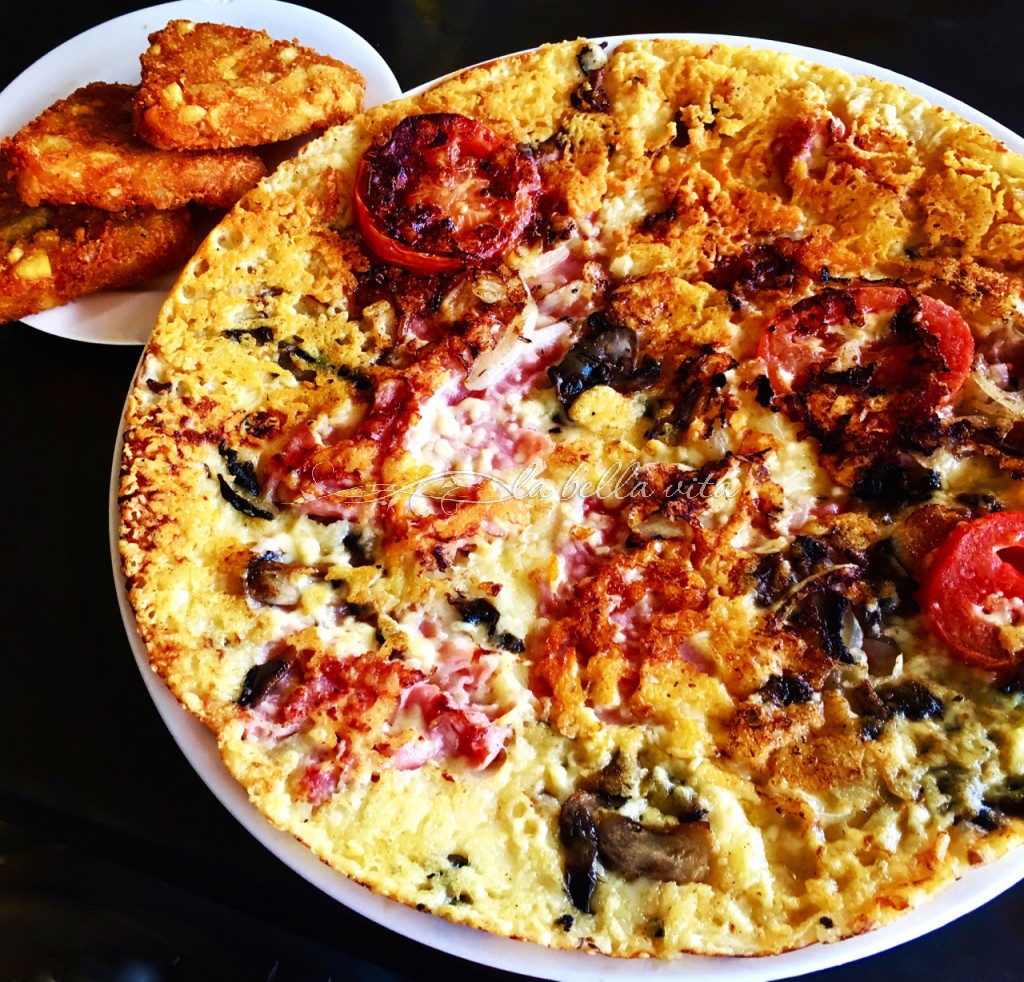 Compare this Farmer's Dutch pancake to the one above . . . again, we taste with our eyes first.
Above is the "Farmer's Pancake" . . . this was so incredibly delicious, it truly trumped any Dutch pancake that we experienced on the entire island of Aruba. Both of our Dutch pancakes at The Dutch Pancake House were so delicious that we came back TWICE and ordered the exact same pancakes . . . but before those damn cruise ships arrived! The pancakes here also come with a side of hash browns! Mmmmmm! Coffee was superb, even if the service was slow due to the amount of people they were attempting to serve. Be prepared to wave for your server to come to you for anything: cream, sugar, ketchup, etc.! They are slammed here and you are just another notch in the crowd — forget personalized service here.
Here's a glimpse (below) of two pages of the immense menu at The Dutch Pancake House on Aruba . . . just two pages . . . there were seriously about 6 pages of options, including items for lunch on the menu!
Talk about offering a selection to satisfy endless preferences!
We'd show you photos of the interiors of this restaurant (The Dutch Pancake House), but SADLY, there is no environment to speak of in which to show you: it is simply a food court restaurant atmosphere and nothing more but the delicious food. So if you have expectations of some sort of special Aruban-Dutch environment, you will not get any feeling whatsoever of that in this basic strip mall eatery. You could feel the same as dining in your own local strip mall of your home town! Disappointing to say the least.
TWO TOTALLY DIFFERENT DUTCH PANCAKE RESTAURANTS to experience on Aruba!
SUMMARY: If you're looking for a peace and quiet, off the beaten path spot, with LOADS delightful Dutch atmospherics and with native Dutch serving you while you to enjoy your meal and tons of one-on-one friendly service, but with a limited, yet good menu: Diane's Pancakes is a must! However, if you're looking for an extensive menu of superb Dutch pancakes and other foods in the middle of a highly, over-touristy-packed-have-to-stand-in-line hectic plain-as-day environment in the middle of an overly touristy strip mall: The Dutch Pancake House is your best bet.
We recommend BOTH restaurants to experience Dutch pancakes while on the island of Aruba. These restaurants are totally different and both were wonderful dining experiences on Aruba for a Dutch – Aruban breakfast: One is better for authenticity and one is better for variety. You be the judge for your own preferences for vacation dining experiences. We would return to both!
Oh and please do write to us and ask any question that you'd like us to answer about visiting Aruba!
We'd love to help you!
"BON BINI" (Hello in Aruba!)
.
.While visiting Aruba, here's a super-cheap (the price of your rental car and gas for a few hours) way to experience the beautiful Dutch influence and culture on the island's architecture:
Aruba's Colorful and Unique Architecture!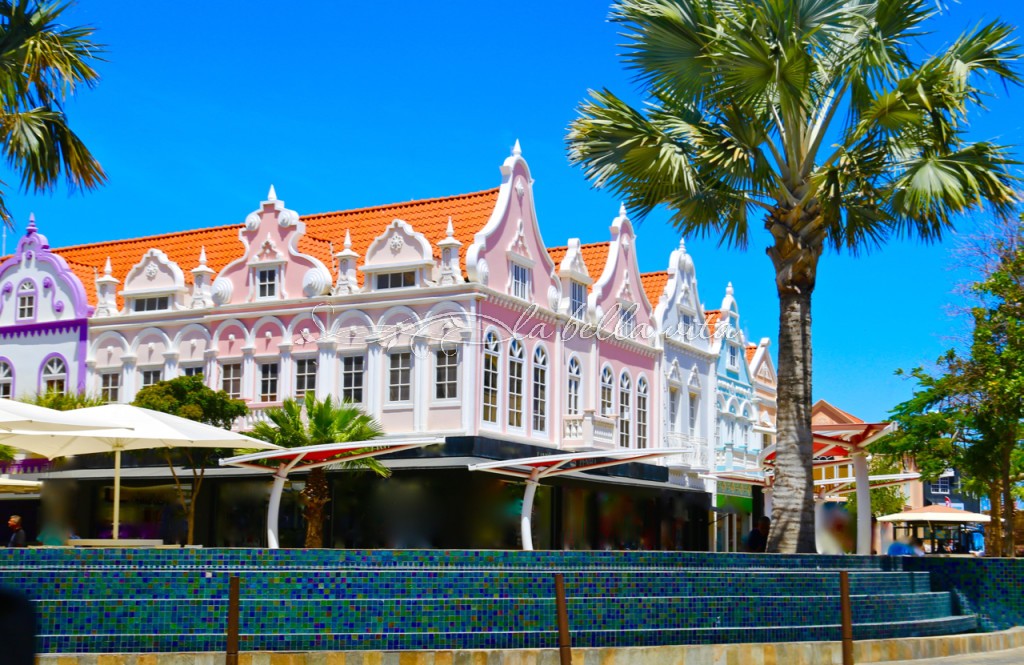 .
.