Italian Roasted Rosemary and Garlic Potatoes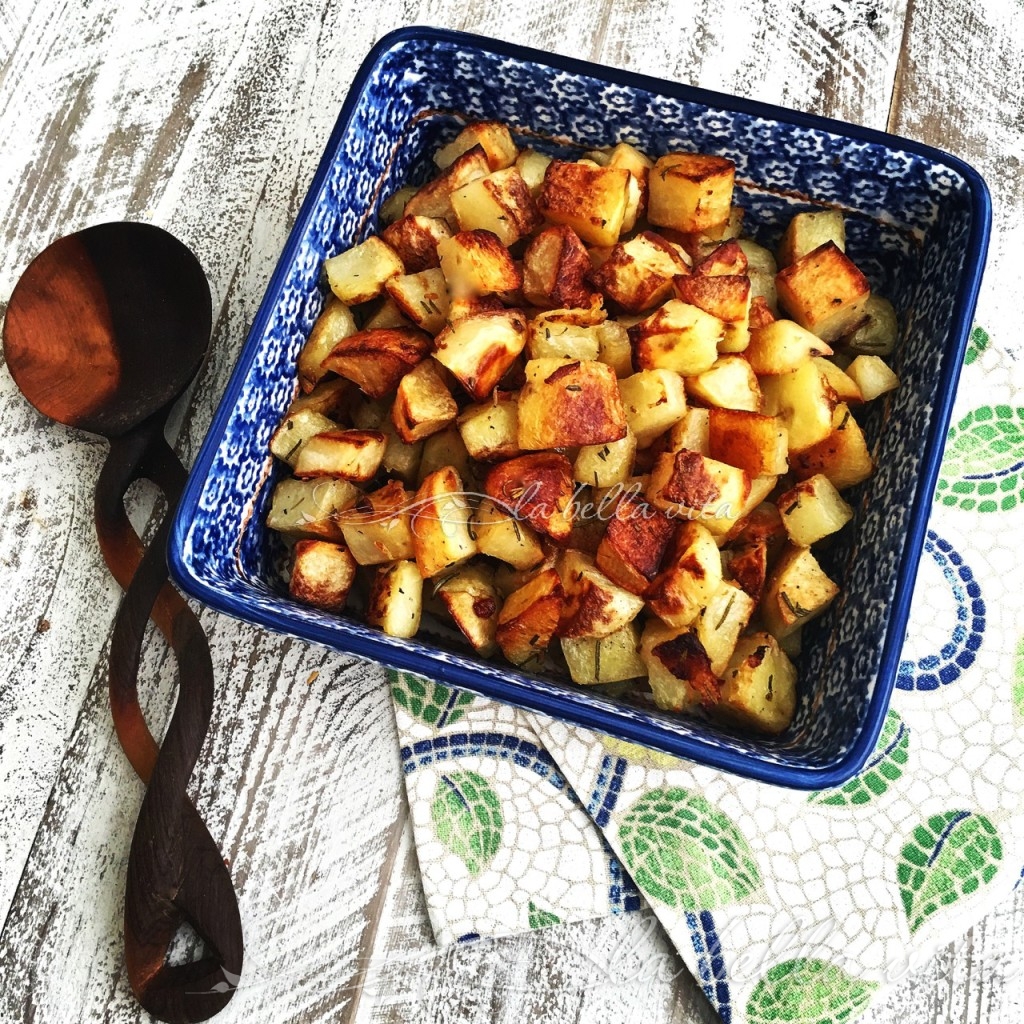 Most people only think of pasta and pizza recipes when it comes to authentic Italian cuisine. I'll bet that you don't think of Italians for one of the most delicious and beautiful potato recipes. The Irish and Germans have the edge on delicious potatoes, that's for sure. But seriously, potatoes are very beloved in Italy too.
I have even read on the web that there are some 'Italian food experts' (from outside Italy, and who are neither Italian, nor from Italian descent) who have long tried to figure out just HOW Italians prepare potatoes so deliciously!
My dear friends, you don't have to look any further. I am sharing my family's cherished recipe for Italian Roasted Rosemary and Garlic Potatoes that are so super easy to make. And you won't find this recipe in any Italian cookbook.
Growing up in the very non-Italian, home state of Iowa, my friends would come over to my house and get a strong whiff of my mother's Roasted Rosemary and Garlic Potatoes, prepared from her family's recipe brought over from Italy.
"What smells so good?" my friends would ask!
It would always be my mother's Roasted Rosemary and Garlic Potatoes . . . probably roasting alongside a delicious, succulent pork or beef roast.
When you make this recipe for potatoes, you'll experience the same amazing and intoxicating aroma in your own kitchen. And I guarantee that anyone who comes anywhere near your house will catch the scent of these potatoes and ask you, "What smells so good?"
..
With their golden brown color, you'll feast on these potatoes with your eyes first!
..
Perfectly browned on the edges, the secret? Only turn them ONCE in the oven, half-way through cooking!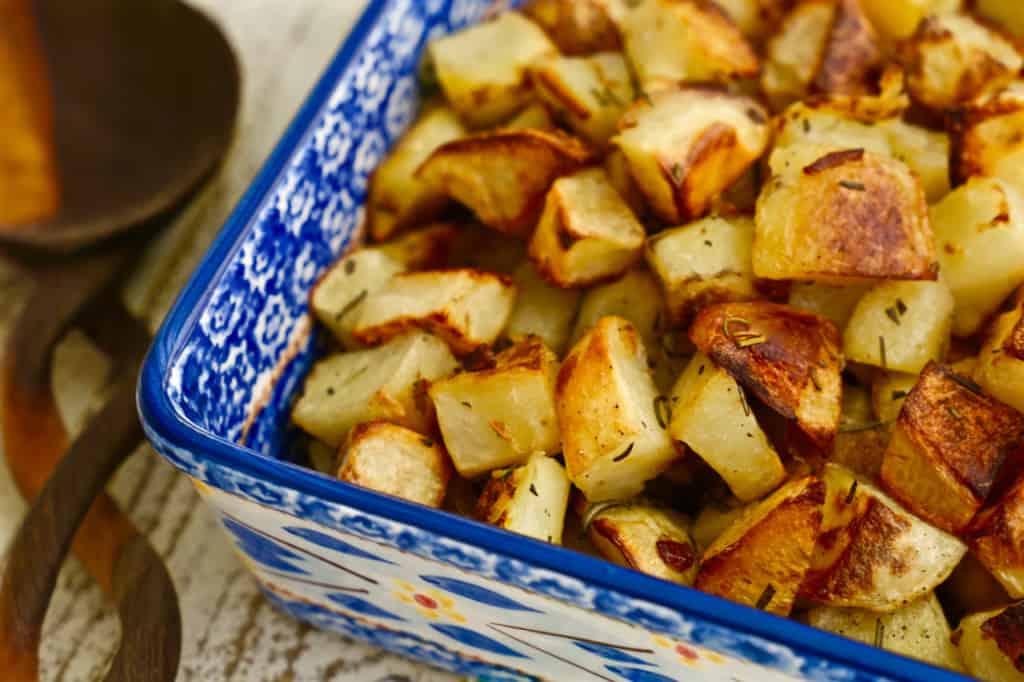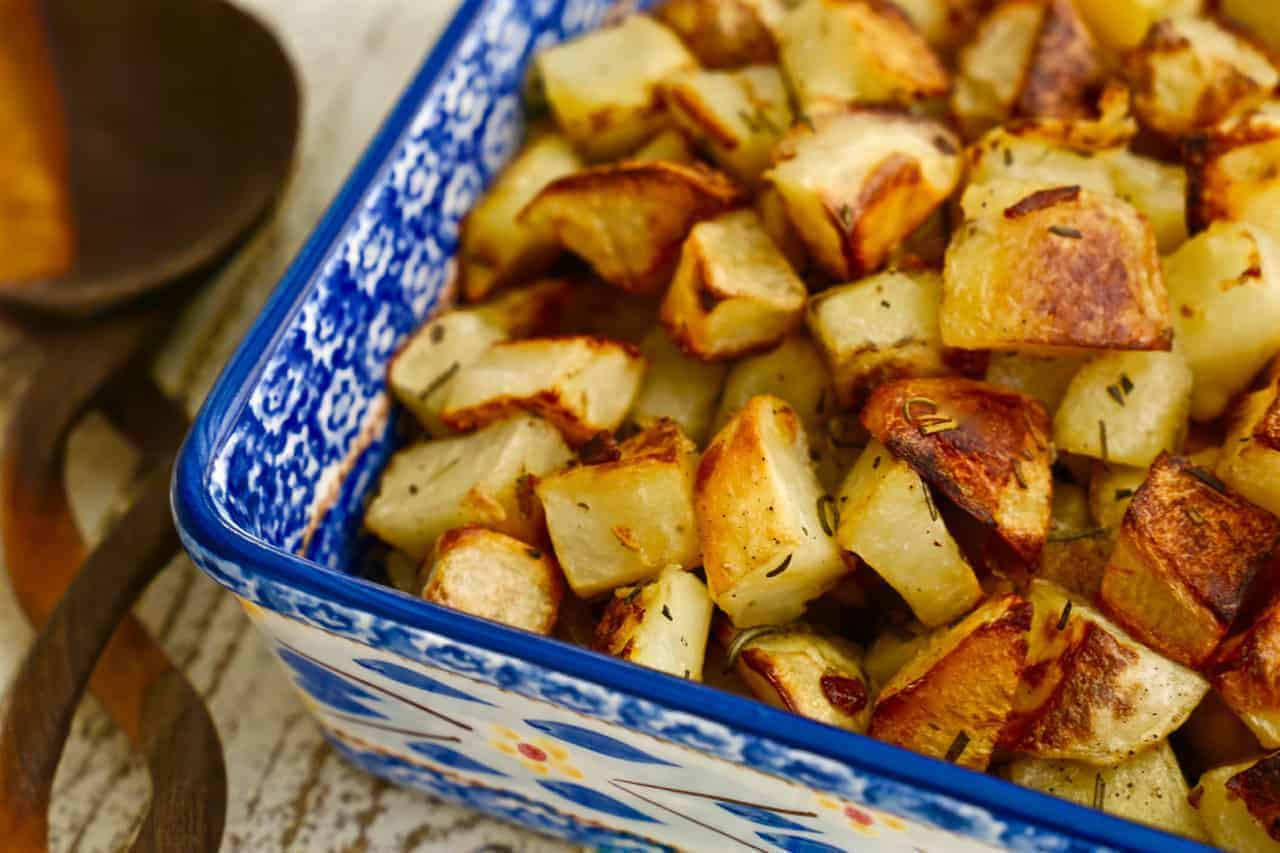 .
I hope that you enjoy this authentic, classic Italian recipe that not only my ancestors in Modena, Italy prepared, but that my grandparents brought with them to America, that my mother lovingly prepared . . . and that my own family continues to enjoy today!
I am happy to share it with you!
Please share the love and pin this vertical image:

Italian Roasted Rosemary and Garlic Potatoes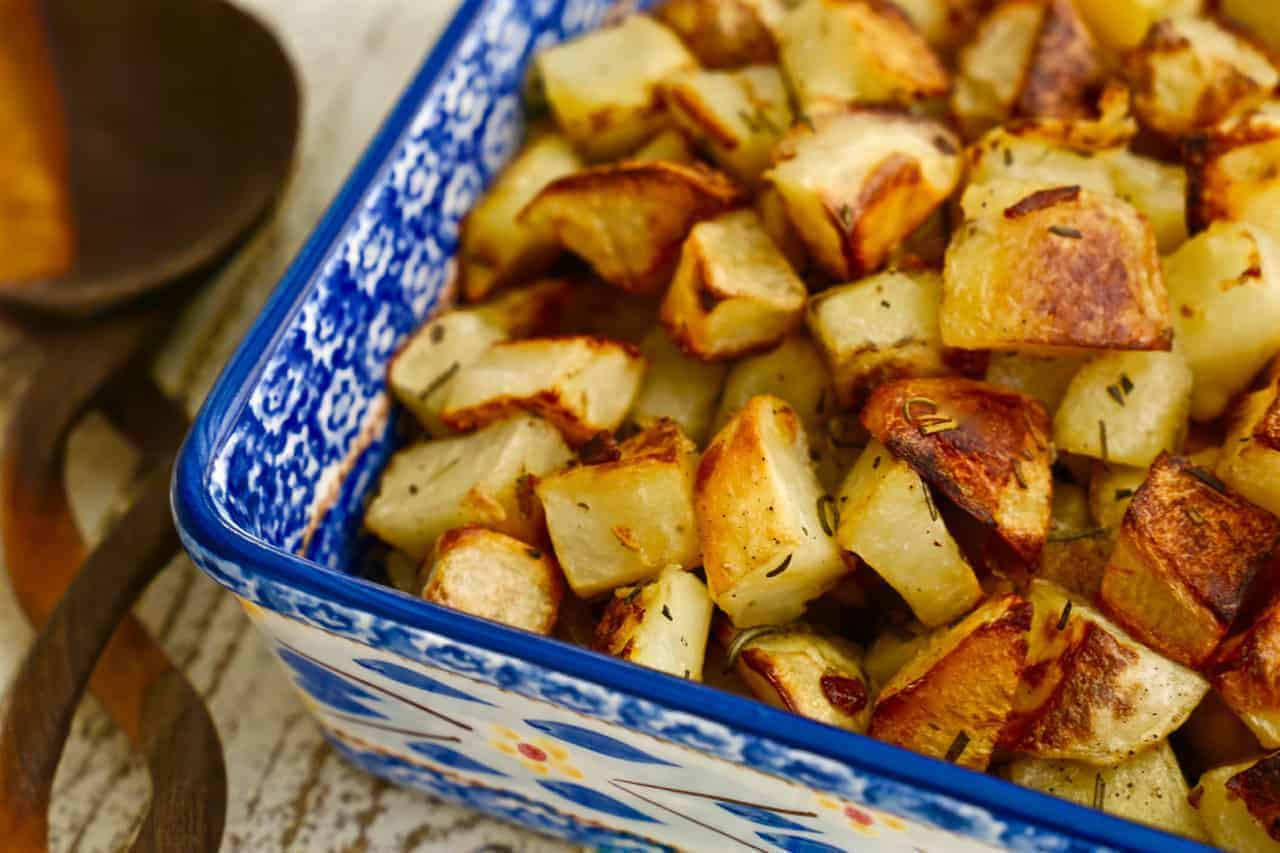 Ingredients
5 - 6 very large Idaho russet potatoes, peeled
4 - 6 Tbsp. olive oil
4 very large cloves of garlic, minced (more if you desire)
4 Tbsp. fresh-cut rosemary, chopped
fresh cracked sea salt and black pepper
Instructions
Pre-heat oven to 350 degrees F.
Slice the peeled potatoes lengthwise into thirds.
Holding the sliced potatoes together, slice horizontally into 1" slices.
Cut each of these slices of potatoes into 1" cubes.
In a very large mixing bowl, toss the potato cubes with olive oil to cover completely.
Add the minced garlic, fresh chopped rosemary, salt and pepper.
Toss well.
Place on a baking sheet with 1" sides.
Bake on the middle rack for 45 minutes.
With a sharp metal spatula, turn the potatoes over ONCE and once only.
Turn up the oven heat to 450 degrees F.
Continue baking on the top rack of the oven for 15 - 30 minutes, keeping a very close eye on the potatoes so that they do not burn, but yet turn a golden-brown color.
If you are not satisfied with the color of the potatoes at this point, turn the oven onto 'Broil' and bake for another 5 - 10 minutes, once again keeping a very close eye on the potatoes so that they do not burn.
Enjoy the amazing aroma in your kitchen!
Enjoy the delicious Italian potatoes!
As much as I know that you'll love these roasted potatoes with rosemary and garlic, I am also certain that you'd really enjoy this recipe for The Creamiest, Dreamiest Mashed Potatoes!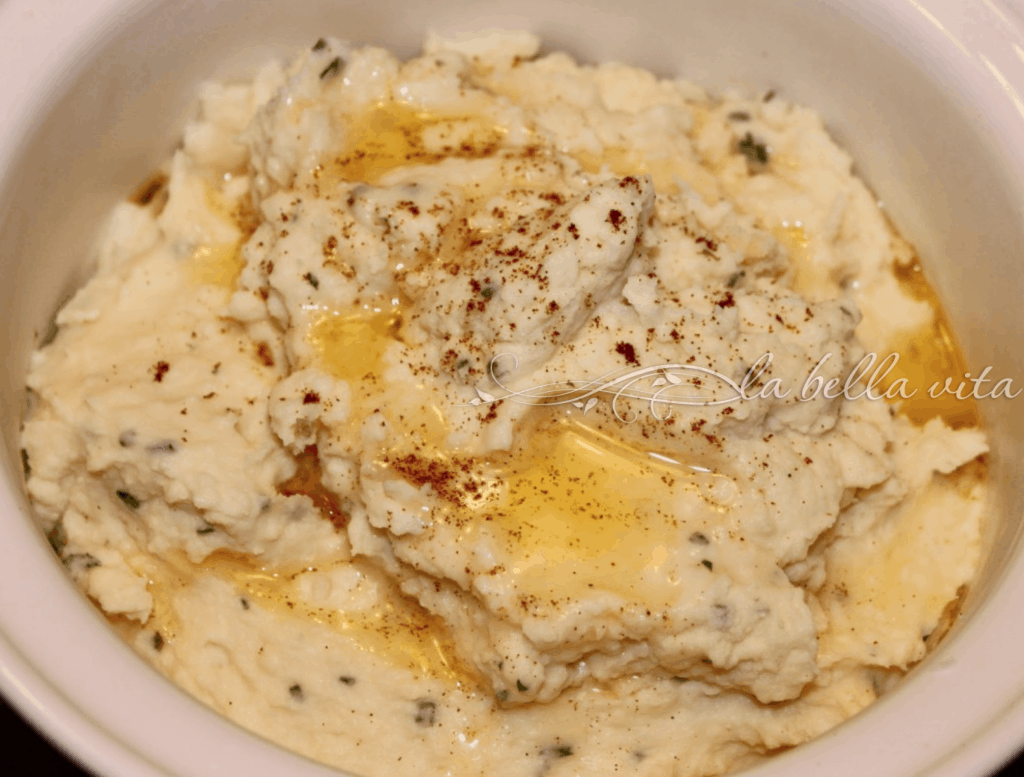 Or maybe you'd like classic Twice-Baked Potatoes but with a modern twist with the addition of Fontina cheese . . . Mmmm!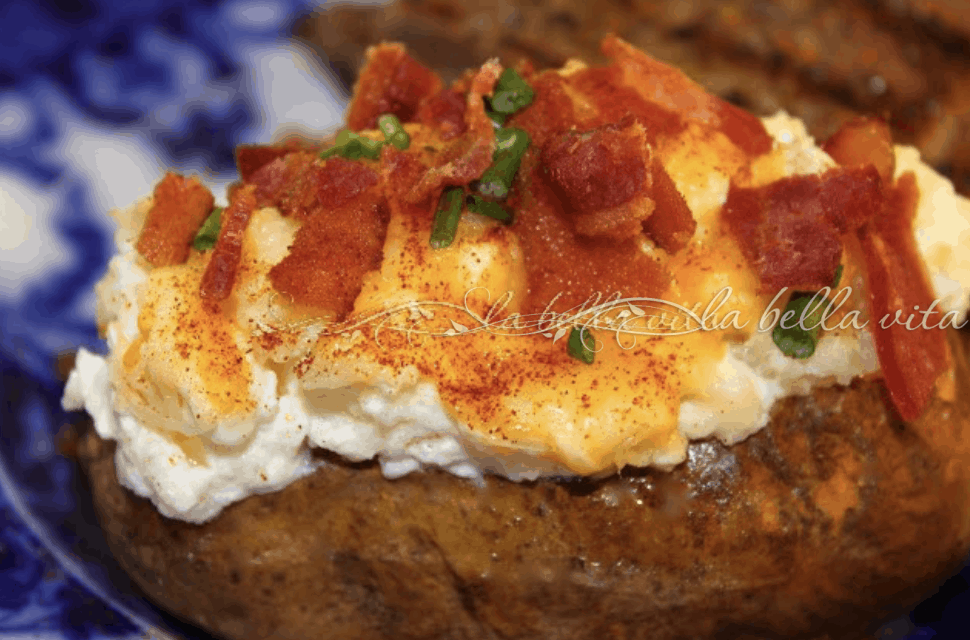 With 'amore' from our cucina and acreage to you.

Do you enjoy La Bella Vita Cucina?
We'd love to have you as part of our little community!
Click here: La Bella Vita Cucina to get new recipes, travel tips and gardening ideas straight into your inbox!