Grilled Stuffed Portobello Mushrooms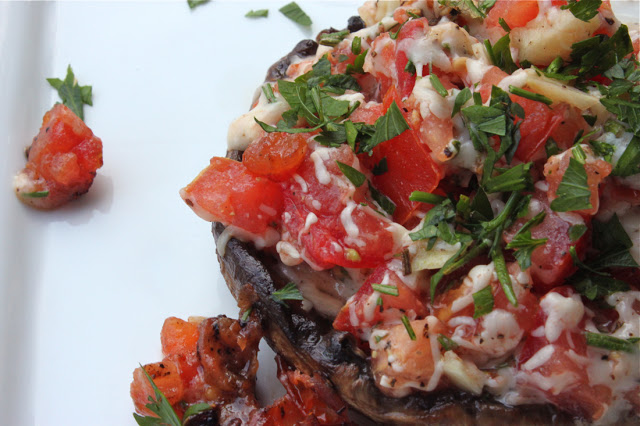 Thank goodness for delicious light and meatless recipes. And with the temperature hitting a record 98 degrees today, thank heaven for the ability to get out of a hot kitchen and out onto the deck to use the grill (even though it was cooler in the house with the A/C on!). After the beef gluttony of a previous evening of grilled steaks, I needed to return to lighter repertoire of yummy foods in the worst way. This absolutely, wonderful, endorsed-by-my-meat-and-potatoes-husband, was just perfect for a hot day to 'get out of the kitchen'!
I didn't even have to ask Bill (Mr. Meat and Potatoes, now aka "Mr. M & P") how the mushrooms tasted. Taking his first bite before my asking how they tasted, he said " These are really good!" That's saying a lot for a man who dislikes mushrooms. It was truly a moment of glee for me! I was ecstatic and couldn't wait to dig in. WOW! Yummy! Perfect and oh so easy and fast. I made these right after I got home from work today. Seriously a 20-minute or less recipe….move over Rachel Ray! This is a true keeper for a side or a meal.
Print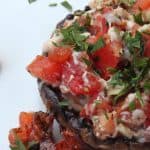 Grilled Stuffed Portabello Mushrooms
Author:
Prep Time: 0 hours
Additional Time: 0 hours
Cook Time: 0 hours
Total Time: 0 hours
---
2/3 cup chopped plum tomato
1/4 cup (1 ounce) shredded part-skim mozzarella cheese
1 teaspoon olive oil, divided
1/2 teaspoon finely chopped fresh rosemary (I doubled this to 1 tsp.)
1/8 teaspoon coarsely ground black pepper
1 garlic clove, crushed (I doubled this to 2 large garlic cloves as usual)
4 (5-inch) portobello mushroom caps
2 tablespoons fresh lemon juice
2 teaspoons low-sodium soy sauce
Cooking spray
2 teaspoons minced fresh Italian parsley
---
Instructions
Prepare grill.
Combine the tomato, cheese, 1/2 teaspoon oil, rosemary, pepper, and garlic in a small bowl.
Remove brown gills from the undersides of mushroom caps using a spoon, and discard gills.
Remove stems; discard.
Combine 1/2 teaspoon oil, juice, and soy sauce in a small bowl; brush over both sides of mushroom caps.
Place the mushroom caps, stem sides down, on grill rack coated with cooking spray, and grill for 5 minutes on each side or until soft.
Grill the mushrooms stem sides down first, so that when they're turned they'll be in the right position to be filled.
Spoon 1/4 cup tomato mixture into each mushroom cap.
Cover and grill 3 minutes or until cheese is melted.
Sprinkle with parsley.
---
Notes
Since the garlic isn't really cooked, the mushrooms have a strong garlic flavor.