Nonna's Italian Stew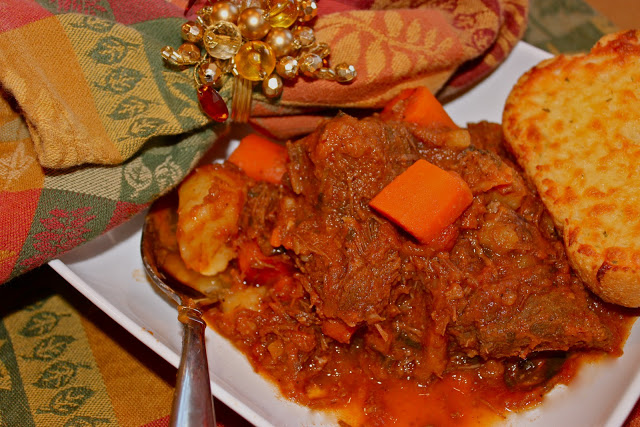 As the weather continues to change in November, we're ready for some heartier comfort food.
Finally, we're able to enjoy a break in the intense heat of this past summer. All of these welcomed cooler days and chilly evenings officially ring in the time of year to prepare delicious, rib-sticking, hearty soups and stews. So today, with lower daytime temps and chilly nighttime temperatures, it's a perfect time to prepare my mother's treasured stew.
Although we enjoy this stew throughout fall and winter, it is very special to my family because we traditionally serve this stew every Christmas eve, ladled on top of creamy polenta and thick slices of cheese. Since my family is from the northern mountains of Italy, they do not live near the sea. My relatives weren't even aware of the Italian 'Feast of the Seven Fishes' on Christmas eve. So this stew, polenta and cheese is our holiday tradition, yet enjoyed during any cold weather time of year.
Now this is definitely an Italian version of beef and vegetable stew. It's thick tomato base and garlic give this stew it's distinctive difference. Here is the recipe for our beloved Italian stew:
Print Author:
Prep Time: 0 hours
Additional Time: 0 hours
Cook Time: 0 hours
Total Time: 0 hours
Even Coco, our Siamese, was able to sneak in the kitchen and lick up some of the sauce! Yup . . . that good!
.