Strawberry Bellini for The Love of Cocktails Event in Las Vegas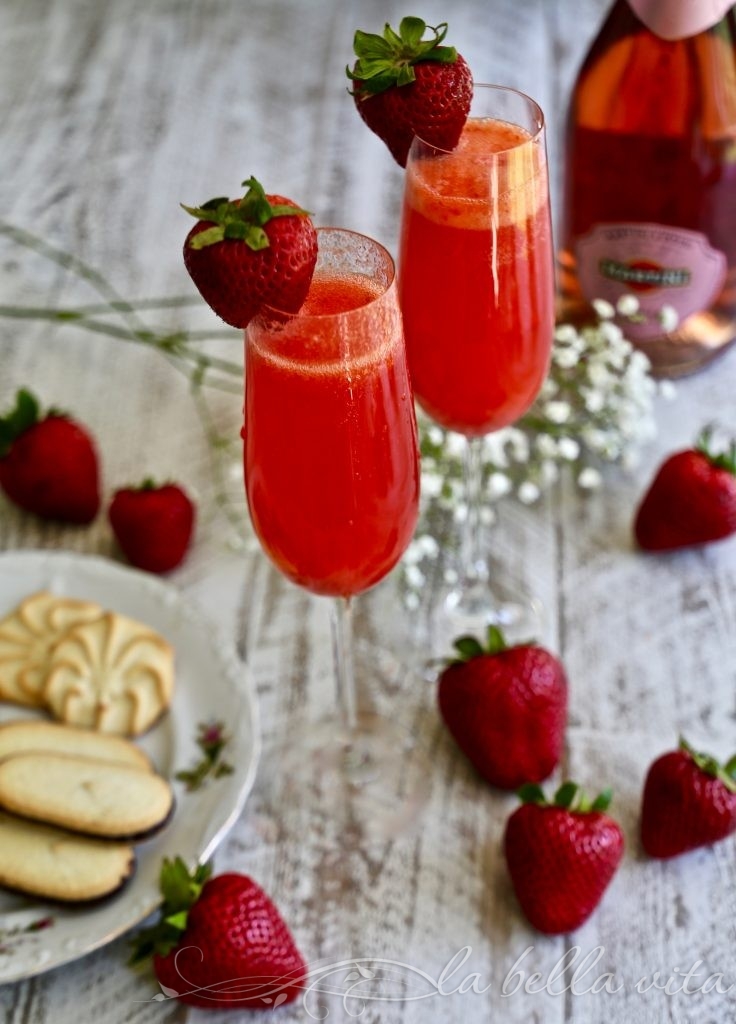 Most cocktail enthusiasts are aware of the famous bellini made famous by Harry's Bar in Venice, Italy. You know! That delicious, bubbly combination of white peach juice and Italian prosecco.
Now, in springtime, it's fairly difficult to get your hands on some white peaches to mix up the infamous, classic bellini recipe. So now that we're in the midst of spring, we can go to a local strawberry patch and/or farmers' market to pick up a basket of fresh, sweet strawberries! So I decided to switch out the peach nectar with freshly blended strawberries and add them to the prosecco instead. The combination of the bubbly effervescence in the prosecco with the sweetness of the strawberries is simply delightful.
In addition to fresh strawberries appearing in gardens and farms everywhere, every spring a great event to help increase breast cancer awareness takes place in Las Vegas:
For The Love of Cocktails!
For this event the most talented mixologists, chefs, and cocktail bars come together in support of a great cause. The event is an epic 3-day fundraiser filled with parties and events that bring together some of the best mixologists to showcase their premier craft cocktails. The event supports the Helen David Bartender Relief Fund (an organization honoring its namesake Michigan bar owner–who defeated breast cancer twice in her life) that provides bartenders in need with pre-cancer screenings and support.
I have been honored to help celebrate the occasion by including a delicious cocktail that I have created in helping spread the word about the event and philanthropy.
This Strawberry Bellini is a perfect celebratory drink for this event as well as for spring luncheons, Mother's Day, and weddings. And this Strawberry Bellini recipe is so easy to prepare!
It would be so amazing if Harry's Bar in Venice could send one of the mixologists to the Love of Cocktails event in Vegas. But if that can't be possible, then I'd love to see one of the greatest American cocktail bars represented: Anvil Bar and Refuge from Houston, Texas. Anvil is a famous destination in the cocktail world of mixologists and cocktail connoisseurs.
If you're interested in experiencing this amazing event, here is a list of super
Las Vegas travel deals
that offer excellent airfare and special packages.
Cheers and Salute'!
Strawberry Bellini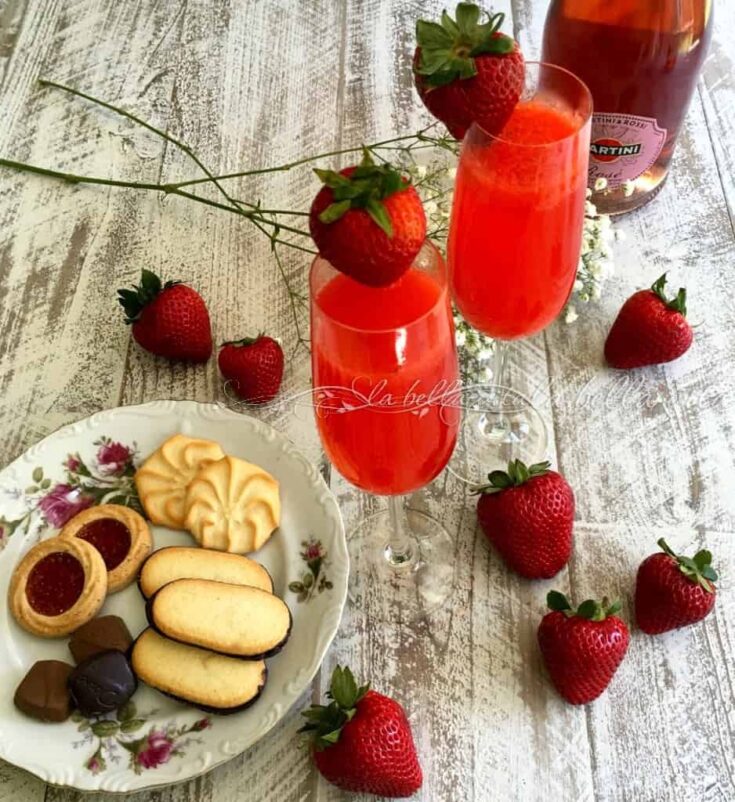 Ingredients
3 c. strawberries
1/4 c. powdered sugar
2 Tbsp strawberry Moscato
2 c. rose champagne or prosecco
Additional Strawberries for Garnish
Instructions
Puree strawberries in a blender or food processor.
Strain through a sieve.
Save pulp for using in smoothies or for a sauce to serve over ice cream.
In a blender blend together strained strawberry juice, powdered sugar and strawberry moscato until smooth.
Chill in the refrigerator for a half hour to an hour.
Pour the strawberry mixture evenly among 4 champagne flute glasses.
Top each with 1/2 c. champagne or prosseco.
Serve with chocolates and dainty cookies.