Caprese Salad with a Fresh New Presentation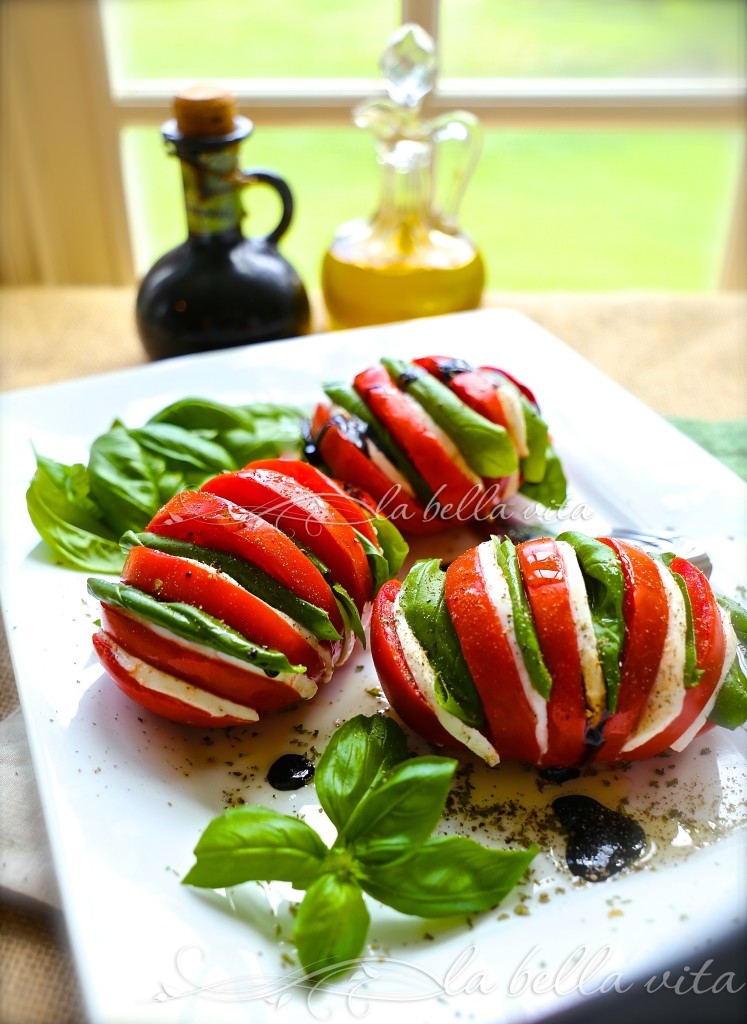 Tomatoes are ripe on the vine!
The simple summer classics are always the first dishes that we prepare . . . those that fully initiate the fresh bounty of the season!
Bacon, Lettuce, and Tomato Sandwiches . . . even Tomato Sandwiches with nothing but tomatoes between two slices of artisanal bread! Even the pure and simple enjoyment of savoring tomatoes shining on their own in a humble vinaigrette!
But the king (or queen if you prefer) of all fresh Italian tomato recipes is Caprese Salad!
No other fresh summer tomato recipe can compare as fresh basil grows alongside tomatoes in the garden. With the addition of some soft, delicate, and creamy bufalo mozzarella and a drizzle of balsamic vinegar and olive oil, you've got a feast bursting with flavor!
After looking at new ways to use my garden's tomatoes, I came across a beautiful and simple presentation for Caprese Salad: Horizontally sliced whole tomatoes stuffed with bufalo mozzarella and fresh basil leaves in between layers of ripe, ruby red summer tomatoes!
This presentation is so genius and oh so pretty on the plate!
All your guests need to do is pull off a layer or two. Plus this is a great way to sit around the "tavola" and share!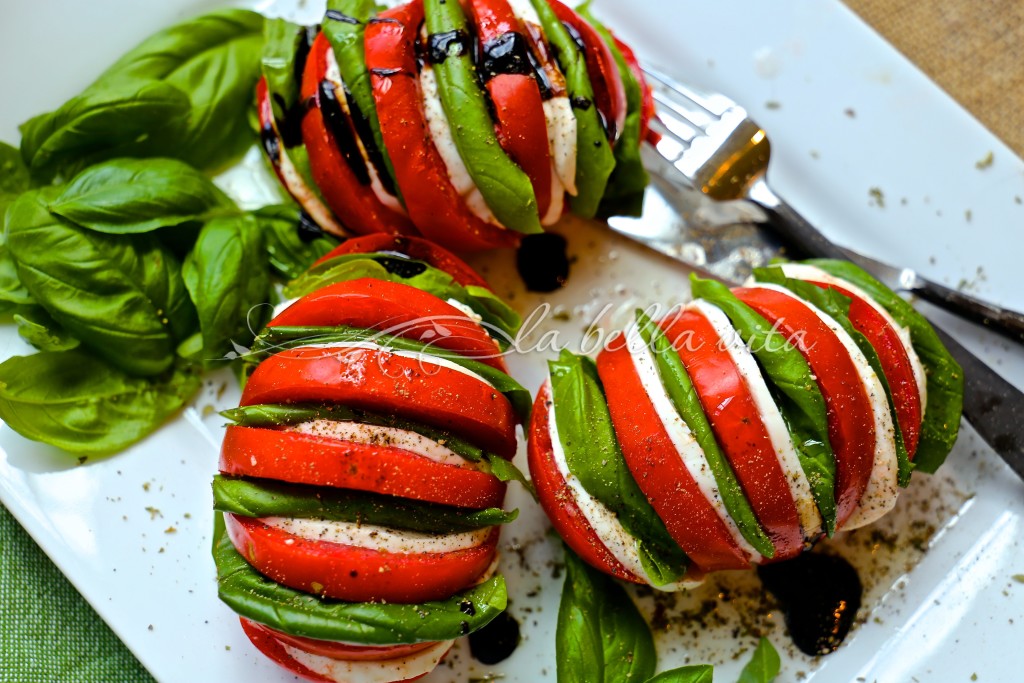 On the platter, I've included one Caprese Tomato drizzled with balsamic vinegar and two Caprese Tomatoes drizzled only with olive oil to give guests a choice to select from. My Scottish husband doesn't prefer balsamic vinegar, so I bow to appease his taste preferences (as difficult as that is for me to do!) while at the same time satisfying my own Italian taste preferences . . . . . this way everyone SMILES!
Crack some fresh black pepper and sea salt all over the top of the Caprese Tomatoes. I also like to sprinkle the platter with a blend of Italian herbs that you can pick up at any food store. Garnish the presentations with more fresh basil leaves and that's it! You've got a beautiful presentation — we eat with our eyes first!
The color is so vivid when summer tomatoes are used! None of those dull pink, rubbery winter tomatoes will do for this delicious recipe!
Caprese Salad with Fresh New Presentation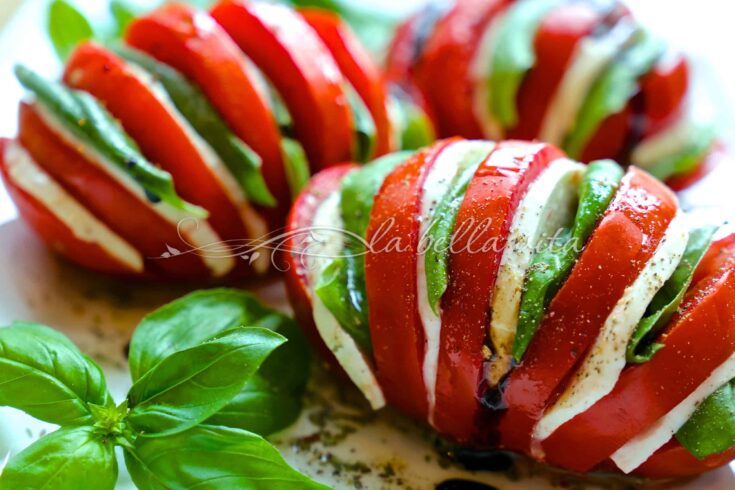 Ingredients
3 - 4 ripe tomatoes
2 - 3 balls of imported Italian Bufalo Mozzarella
15 - 20 large, fresh basil leaves
Balsamic vinegar and/or glaze
Instructions
Slice tomatoes about 1/4" thick, but NOT ALL THE WAY THROUGH, leave a tiny bit unsliced. You want the tomatoes to open up like a fan and intack as one tomato.
Slice the bufalo mozzarella in the same width as what you sliced the tomatoes . . . about 1/4" thick
Notes
On a serving platter
Place slices of bufalo mozzarela in between each tomato slice.
Place one large basil leaf next to each slice of mozzarella cheese.
Drizzle with balsamic vinegar or glaze.
Garnish with fresh sprigs of basil.
This post is in loving memory of my mother and father . . . and our trip to the Amalfi Coast of Italy, in Otobre, 2012, during which we enjoyed the exquisite, fresh Bufalo di Mozzarella and tomatoes grown in Italy's rich volcanic soil. Nothing that I do in my American soil gardens can ever compare!
Viva la dolce vita di Italia!
Enjoy this Caprese Salad with a Fresh Presentation !
Other nice rendition of Caprese Salad: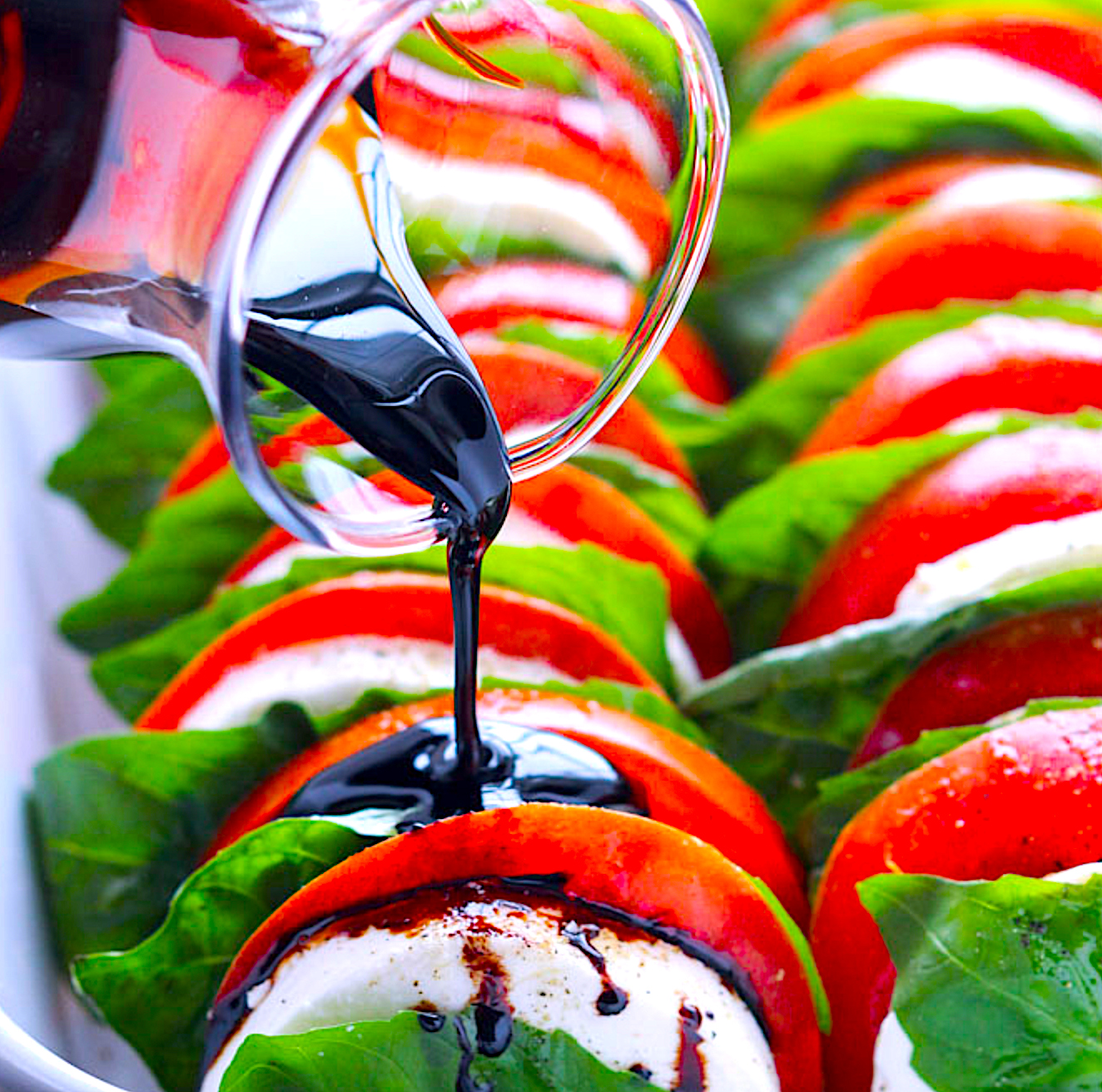 Tomato Mozzarella Salad from Little Broken