Fresh Tomato Basil Bisque Soup
A hot bowl of soup on a hot summer day is not for me! However, while tomatoes are ripe and now in the peak of their season, this is the time to make a big batch of tomato soup and to can or freeze it. So in the midst of our 95+ degree weather day, that's just what I did today. If you have ever had the pleasure of sipping fresh tomato soup or any flavor of soup for that matter, you'll never go back to the canned varieties! You also know that there are no additives, artificial flavorings, and not so much salt/sodium in your homemade soups! Plus there's no fat in this, unless of course you add the good mono fats of the olive oil (and we still need that for our skin, you know).
Fresh, chopped basil and garlic mingle with sautéed onions and carrots to make this soup's flavor explode! In the cold days of fall and winter, we'll add cream to this for our favorite version of tomato soup along some grilled cheese panini! Now that's where the fat will come in, but hey, you have to indulge now and then! All this sweaty, hard work in the kitchen will be appreciated when the chilly weather arrives and we'll be enjoying some summer flavors in a bowl.
For this recipe, I don't have exact amounts of tomatoes listed, because I just throw in as many as my taste palate prefers. I recommend that you do the same. Start off with at least 10 tomatoes though.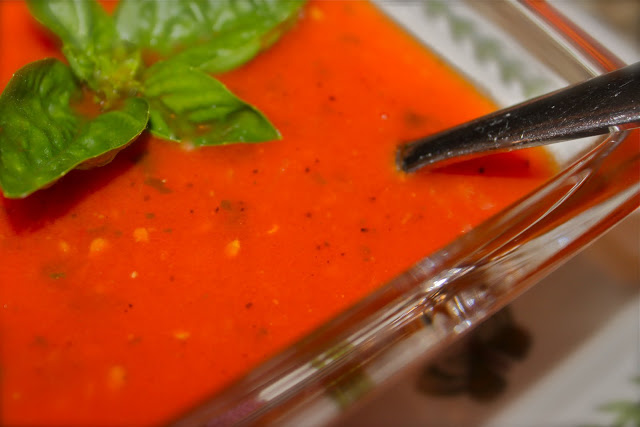 Fresh Tomato Basil Bisque Soup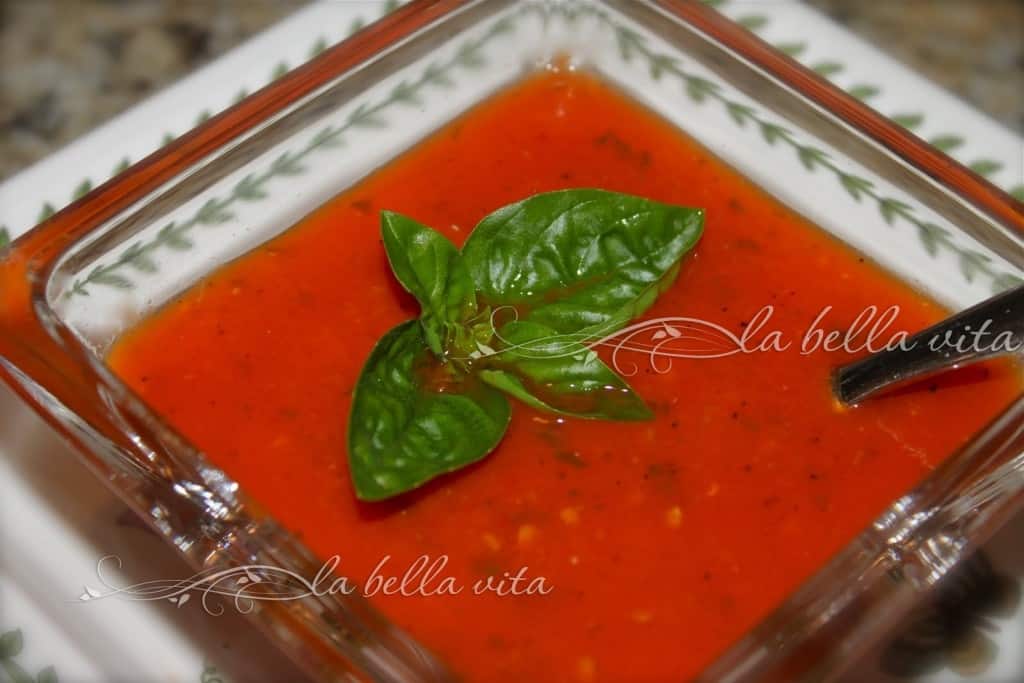 Ingredients
4 Tbsp. olive oil
2 cups red onion, chopped
2 carrots, chopped
4 cloves of garlic, minced
10 large, very ripe tomatoes, peels and stems/core removed, seeded if possible
(start with this amount and taste to see if you want a stronger tomato flavor).
1/4 - 1/3 cup of fresh basil, chopped fine
1 Tbsp. sugar
4 cups of chicken broth (or vegetable if you're vegetarian), homemade is best (which I also freeze large batches of to use in soups).
1 Tbsp. sea salt
1 Tbsp. freshly ground black pepper
1 cup of cream, if cream of tomato soup is desired.
Instructions
In a big soup pot, pour in the olive oil with the stove heat set to low.
Add the onions and carrots to saute until soft, about 5 minutes.
Add the minced garlic and saute for one more minute.
For the tomatoes, I blanch them, let them cool, then remove the peels and stem/cores.
Place the peeled tomatoes into a food mill (on top of a medium/large bowl to catch the juice) and turn them around until all of the seeds remain inside the mill and all of the tomato puree comes out into a bowl.
(I do this for about half of my tomatoes because it is so tiring; the seeds don't damage the flavor).
Pour all of the tomato puree and juice into the big soup pot.
Add the basil, sugar, salt and pepper, and chicken broth. Stir.
Cook on very low (with a sheet pan underneath the pot to prevent burning), for about 45 minutes.
Taste and add whatever you prefer.
Add the cream and heat up if you prefer cream of tomato soup.
Notes
I do not freeze this soup with the cream in it, but rather add the cream when I thaw out and heat up the soup.
Enjoy this Fresh Tomato Basil Bisque Soup!
.
.