Peach Caprese Salad with Balsamic Syrup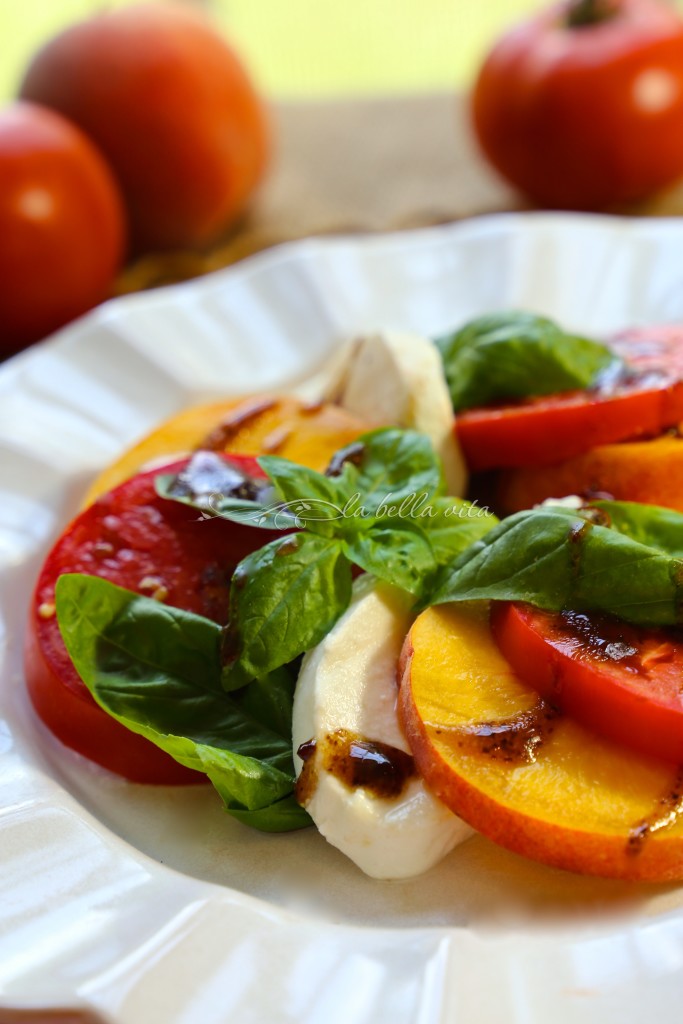 Simple, fresh, beautiful and fuzzy peaches are a long-awaited summer treat for my family! This recipe for Peach Caprese Salad with Balsamic Syrup is not only delicious with tree-ripe peaches, it is amazingly easy and no cooking is required!
Isn't it just piping hot in your neck of the woods?
Everything cold, frozen or chilled is all that is on my mind in the midst of summer's heat! My stove has gone on strike (literally, it has broken down in need of repair)! And you just can't pay me to turn on my oven. But that doesn't mean we have to stop enjoying delicious recipes.
With super fresh South Carolina peaches that we picked up at our favorite roadside fruit stand, along with the freshest tomatoes hanging on the vine begging to be plucked in my gardens, I couldn't resist this unique and over-the-top, flavor-intense salad!
Now this is definitely not your conventional Caprese Salad, but oh, is it good! You simply partner tree-ripe-fresh sweet peaches with the ripe, freshsavory-sweet tomatoes, add some fresh basil leaves, and then drizzle a thick honey-thickened balsamic syrup or glaze all over . . . and you've got a summer feast ready to serve!
Oh my goodness, we are in love with this flavor combination — it' amazing!
The second bonus (the flavor is the first bonus) is that there is no oven, no stove, not even an outdoor grill to turn on any heat! Just cool, refreshing, and super fresh deliciousness!
Super FRESH, FRESH, FRESH, and perfectly RIPE peaches and tomatoes are a must to enjoy this flavor blast!
Never buy peaches that have been shipped from more than one state further away from where you live. You will be biting into hard, dry, tasteless rubber. When I lived in Iowa, I would wait for the Missouri peaches to be picked and driven through the dark of night to a nearby fruit stand and sold the very next morning. Those peaches were simply heavenly!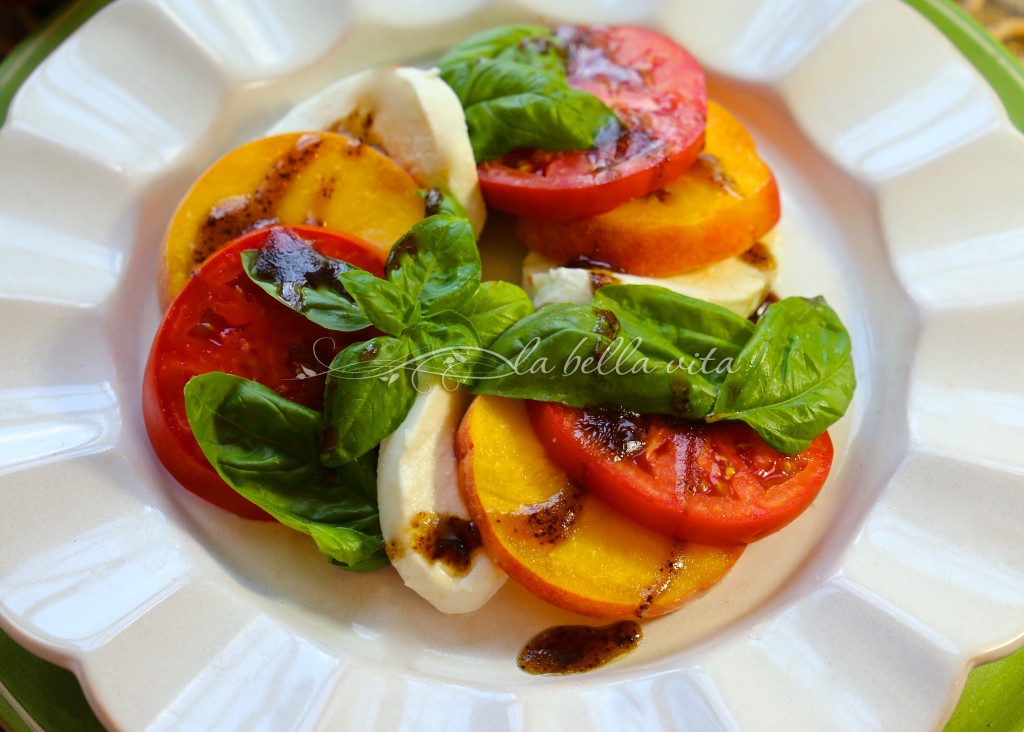 You have to admit that the color combination of peaches and tomatoes are also perfect! The opposites of fuzzy and smooth textures contribute more interest to the salad as well!
** Please Pin This Image Below **


After I posted this Peach Caprese Salad on Instagram, I was so honored when Domenica Marchetti was inspired to prepare the salad and with another beautiful presentation! Dominique wrote to me and said that her family LOVED it! Now for those of you who are new to the world of Italian cooking, Domenica is one of the most up and coming Italian cooking authors today! Her cookbooks are chock-full of wonderful recipes . . . so run out and get a copy of any of her books! You can also check out her great web-site: Domenica Cooks
Peach Caprese Salad with Balsamic Syrup
Ingredients
1 - 2 freshest peaches possible, leave skin on, sliced
1 - 2 freshest tomatoes possible, sliced thick
1 - 2 balls of fresh, soft bufalo di mozzarella (imported from Italy if possible)
about 12 large, fresh basil leaves
Balsamic Syrup
½ cup Balsamic Vinegar
1 - 2 Tbsp. honey
Instructions
Slice the tomatoes, peaches, and cheese nice and thick.
Layer on a platter, alternating each.
Balsamic Syrup
In a very small pan, mix the balsamic vinegar with the honey.
Warm up the vinegar and honey until thickened nicely.
Set syrup aside to cool.
Drizzle over the top of the salad.
Serve and enjoy!
.
Enjoy this Peach Caprese Salad with Balsamic Syrup!