Spaghetti with Toasted Garlic Breadcrumbs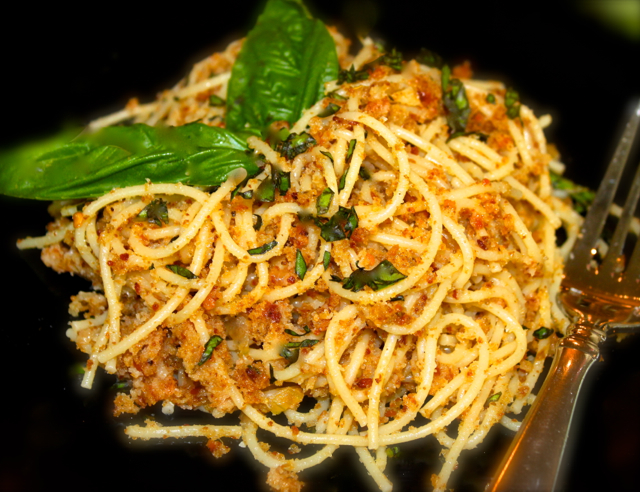 Who doesn't love bread? Who doesn't love pasta?
Well if you've got some old bread that you hate to see go to waste and some pasta in the house, here's a classic Italian recipe for you. This pasta dish is easy and delicious while not tossing out that old bread or feeding it to the birds (although feeding it to the birds is OK too)! Spaghetti with Toasted Garlic Breadcrumbs is a delicious and economical way to use them in an entree!
Or maybe you've been looking for some new meatless, yet tasty and filling recipes?
This recipe is for a mild-flavored pasta that is seriously 'cucina povera' (food of the poor). You'll never find this on a menu in a restaurant, that's for sure!
This dish has a delicious and pleasing crunch with the toasted, garlic-y breadcrumbs plus a tiny bit of heat with the dried red chili pepper flakes (of course if you don't like heat, you can eliminate the chili pepper flakes). Many people add anchovies (which I love, but my husband does not), so it's any easy recipe to add whatever you like, even green and/or black olives have been added to this pasta.
To add more of an intense flavor to this mild-flavored pasta, blend in some basil pesto to the taste level that you or your guests prefer (store-bought is OK too; here's an easy link for pesto). My husband isn't a fan of pesto, so he doesn't add any it at all.
Me, on the other hand? I just love basil pesto, so I really enjoy amping up the flavor with it. I've provided a link 'fresh basil pesto' to take you directly to the recipe and the how-to's of making home-made basil pesto.
.
.
This pasta recipe is from the Southern Italian provence of Calabria and is quite common in the 'toe' area of the boot-shaped country. As I mentioned above, it typifies the foods prepared by those who could not afford other ingredients, thus it is truly peasant food. This meatless dish is traditionally eaten on Fridays in Lent and/or Christmas Eve in Italy when Catholics are not supposed to eat meat.
.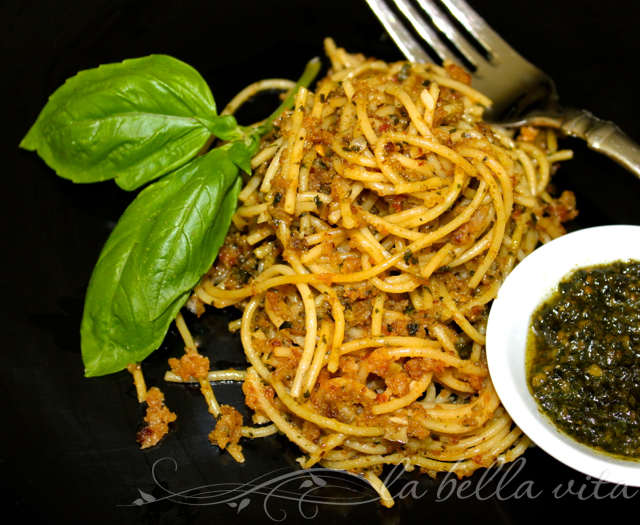 .
Being close to the sea, anchovies are commonly added in Calabria. If you love anchovies as much as I do, always buy the best imported anchovies that you can find. Here's a link to help you buy Italian anchovies. While on the Amalfi Coast, I bought the freshest and most delicious anchovies fresh from the sea!
Oh my goodness, I cannot tell you what a difference it makes to buy the real deal that is so straight out of the sea FRESH!
.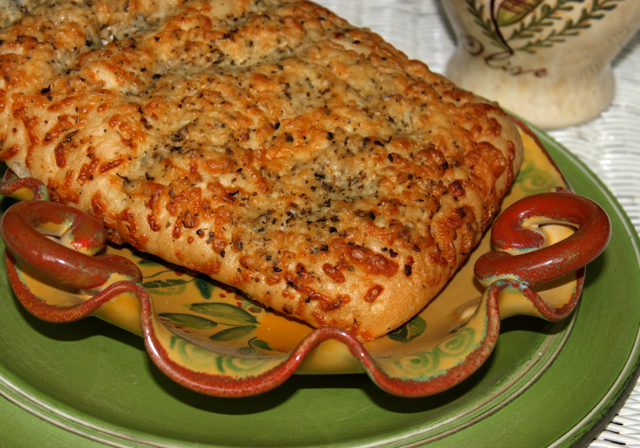 .
Take a dried out loaf of bread (in this case I used some dried focaccia bread).
.

.
This foccacia was already seasoned very nicely!
.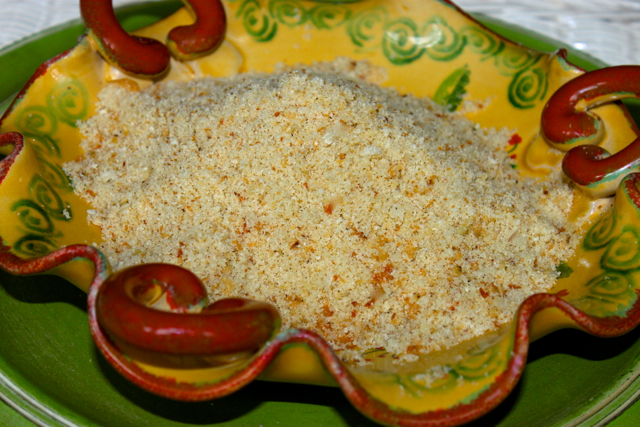 .
Using a food processor, chop the bread until nice breadcrumbs form.
.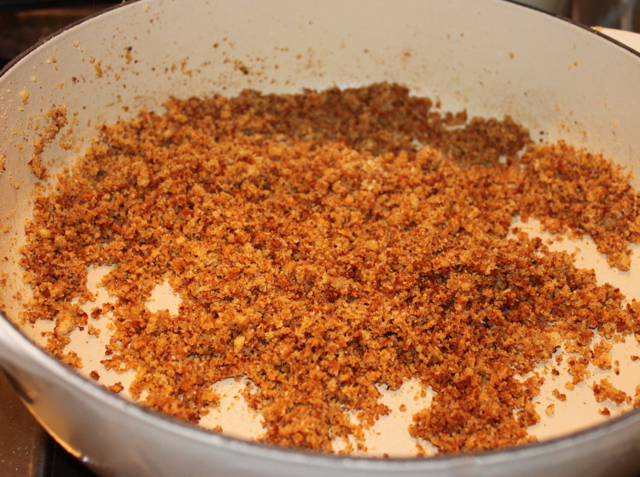 .Toast the breadcrumbs until a beautiful golden brown color is achieved
.And now here is the full recipe for you; remember to always add more or less of any ingredient to suit your taste preferences!
Please share the love and pin the vertical photo below:

xxxXXXXXX
Print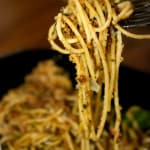 Spaghetti with Toasted Garlic Breadcrumbs
Author:
Prep Time: 0 hours
Additional Time: 0 hours
Cook Time: 0 hours
Total Time: 0 hours
---
1 lb. thin spaghettini
1 tsp. salt for the pasta
3/4 cup extra virgin olive oil
a small onion, finely chopped
4 garlic cloves, minced
1/2 tsp. salt
1 pinch oregano
1/4 tsp. freshly cracked black pepper
1–1/2 cups seasoned and dried breadcrumbs
1 Tbsp. butter
1/4 cup freshly grated parmesan cheese
1/4 tsp. dried red chili pepper flakes (pepperoncini)
small fresh basil leaves and shaved parmesan to garnish
1/4 cup basil pesto (homemade or store-bought) to pass around and offer to guests to mix into their pasta if desired.
---
Instructions
Cook the pasta in a large pot of boiling, salted water (1-1/2 tsp), until AL DENTE.
Drain, reserving 1 cup of the pasta water.
Gently heat 3 Tbsp. of olive oil in a large, heavy frying pan over medium (do not burn).
Add the onion and garlic. cooking until fragrant, about a minute or two (do not burn).
Mix in another 1/2 tsp. salt and the oregano, black pepper, and red chili pepper flakes.
Remove from the heat and set aside.
In the same frying pan, add the remaining olive oil and butter and gently heat on medium.
Add the breadcrumbs and cook until toasted golden brown and fragrant, stirring frequently so they do not burn, about 2 – 3 minutes.
Turn off the stove burner.
Mix into the toasted breadcrumbs: the sauteed garlic, onion, oregano, chili pepper, salt and pepper mixture.
Mix in the parmesan cheese.
When the pasta is finished cooking, toss the pasta into the frying pan with the breadcrumb mixture gently tossing to coat the pasta evenly.
Add some reserved pasta water OR olive oil if needed to loosen the pasta, adding about 1/4 cup at a time until your preferred consistency is achieved (I used a whole cup of the reserved pasta water and another 1/4 cup of extra virgin olive oil.
Transfer to a large pasta platter and garnish with basil leaves and shaved Parmesan cheese.
Offer basil pesto to guests to add to their pasta if desired.
---
.
TThis is one of my most popular recipes of all times and has been pinned over 10,000 times.
We hope that you enjoy it as much as our family and friends do . . . it's truly a classic Italian recipe that we're sharing with 'amore' from our cucina and acreage to you.