Corn and Black-Eyed Pea Salad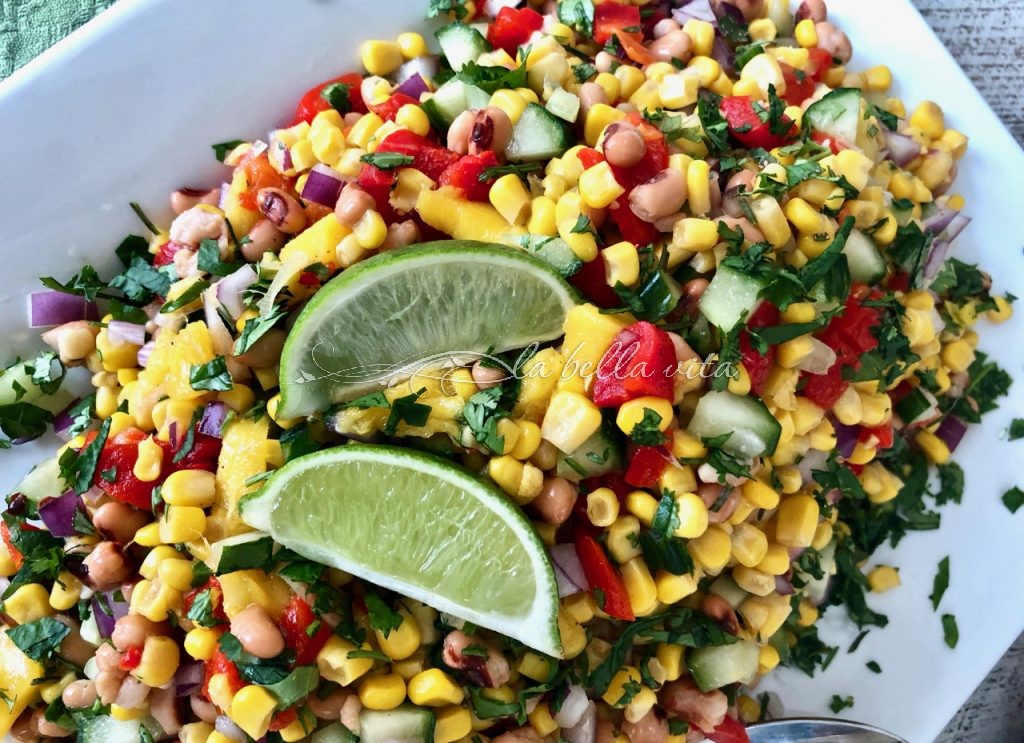 You've heard the old saying "When in Rome, do as the Romans do". Here in the South, my husband and I have come to love "most" of the traditional and most beloved foods that are cherished in the states south of the Mason-Dixon line. We gobble up fried chicken, dumplings, peach cobbler, fried okra, barbecued pulled pork, biscuits, grits, to name just a few. We never could quite get into collard greens, but we're working on that due to their health benefits (think 'kale'). Another classic food that is considered to bring the best of luck, prosperity, and good health when eaten on New Year's Day are black-eyed peas. When prepared in this Corn and Black-Eyed Pea Salad, you'll crave for more and adopt the same tradition!
As I always say to everyone who write to me with questions (keep 'em coming!): Add whatever ingredients that you like and make any inspiring recipe your own unique version! That's one of the most rewarding and fun parts of cooking and baking!
This couldn't be easier to put together. Here's a simple photo step-by-step guide for you:
Grab a nice large mixing bowl and throw in the corn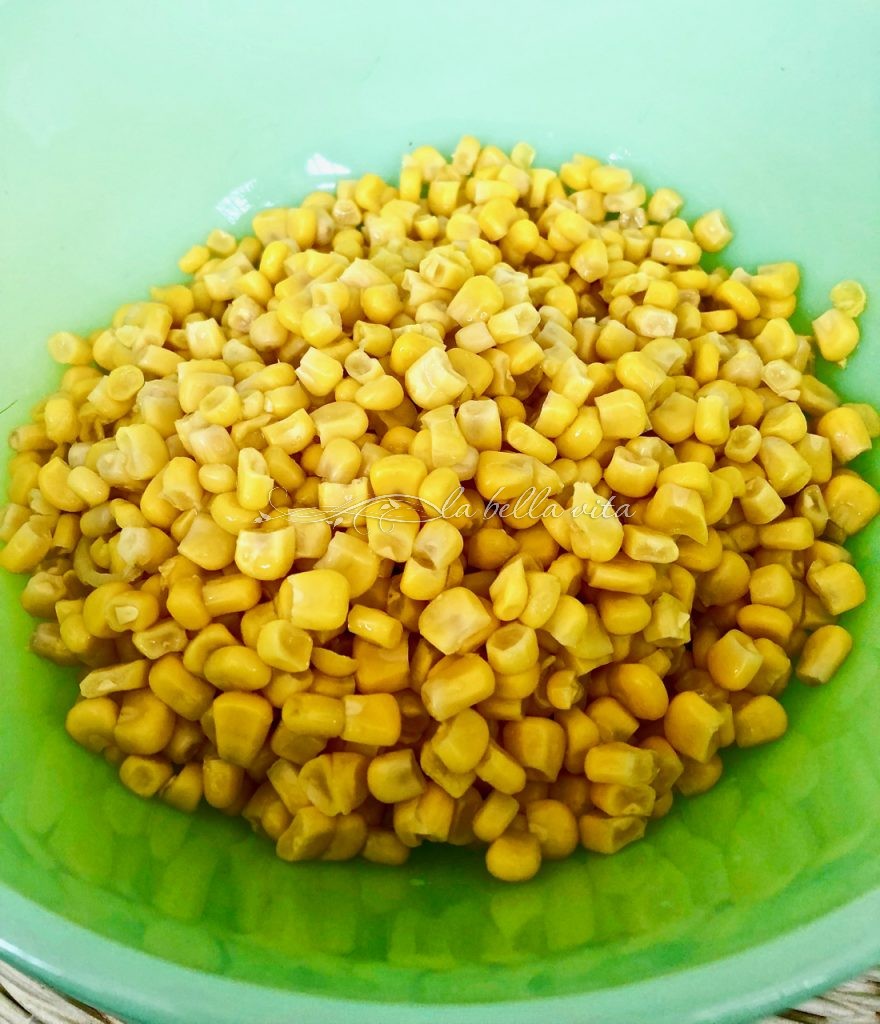 Add the drained and very rinsed black-eyed peas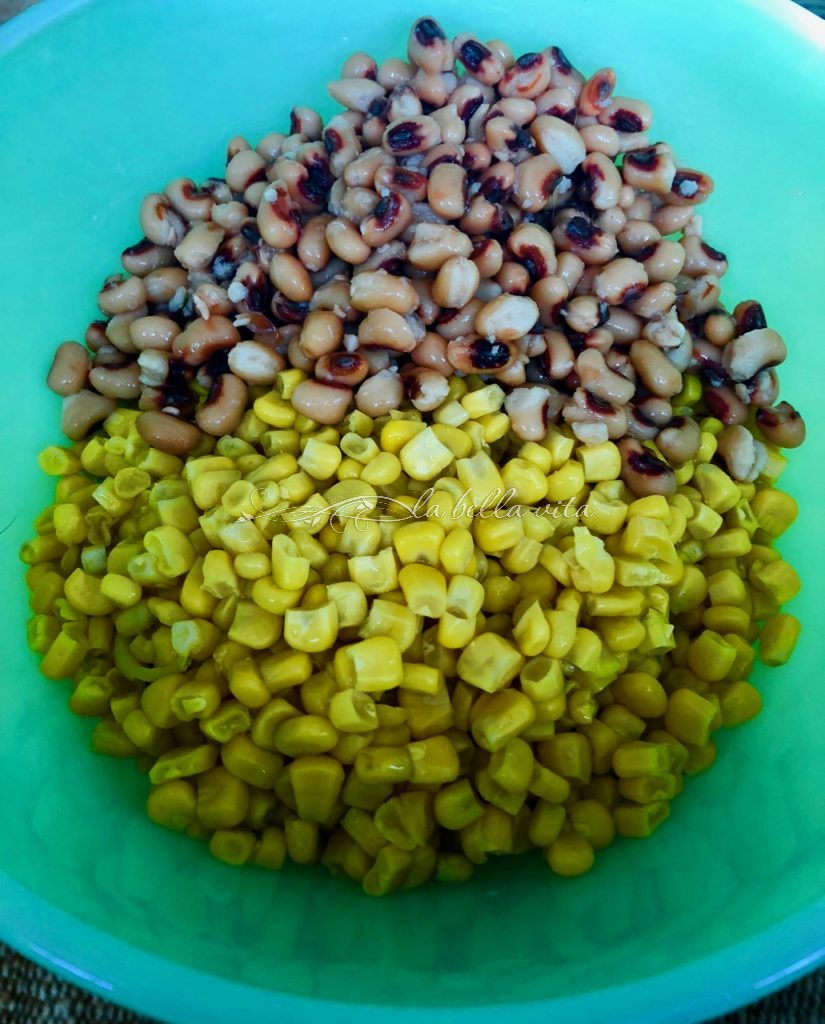 Take a roasted red pepper and . . .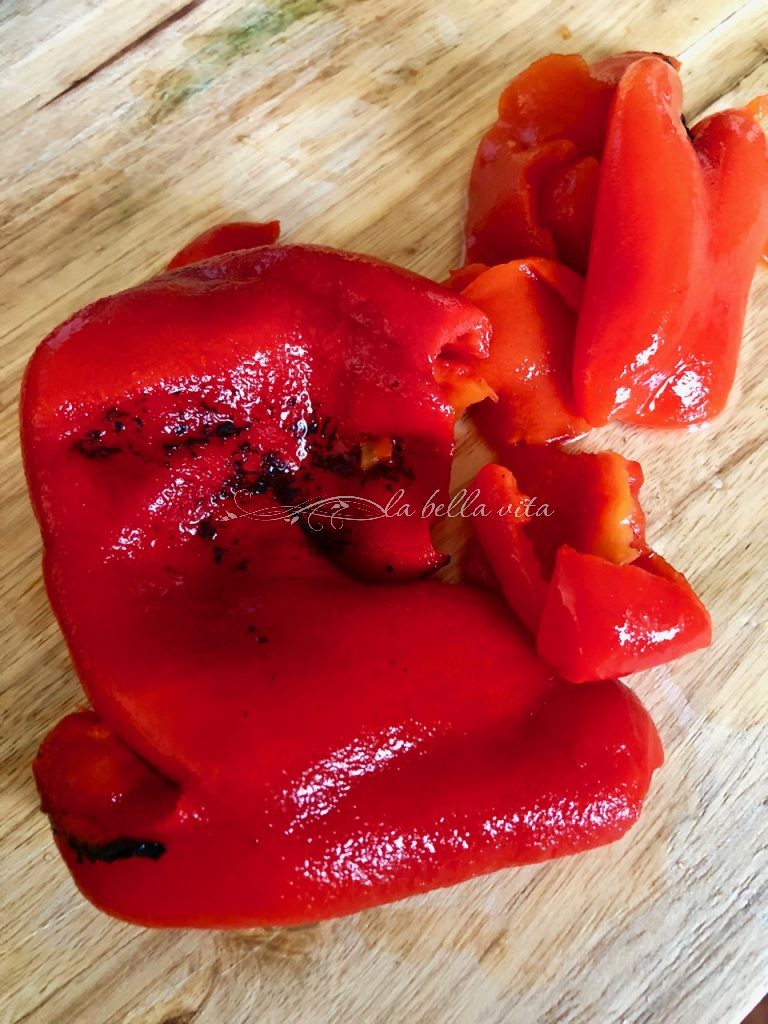 dice it up and throw in the bowl with the corn and peas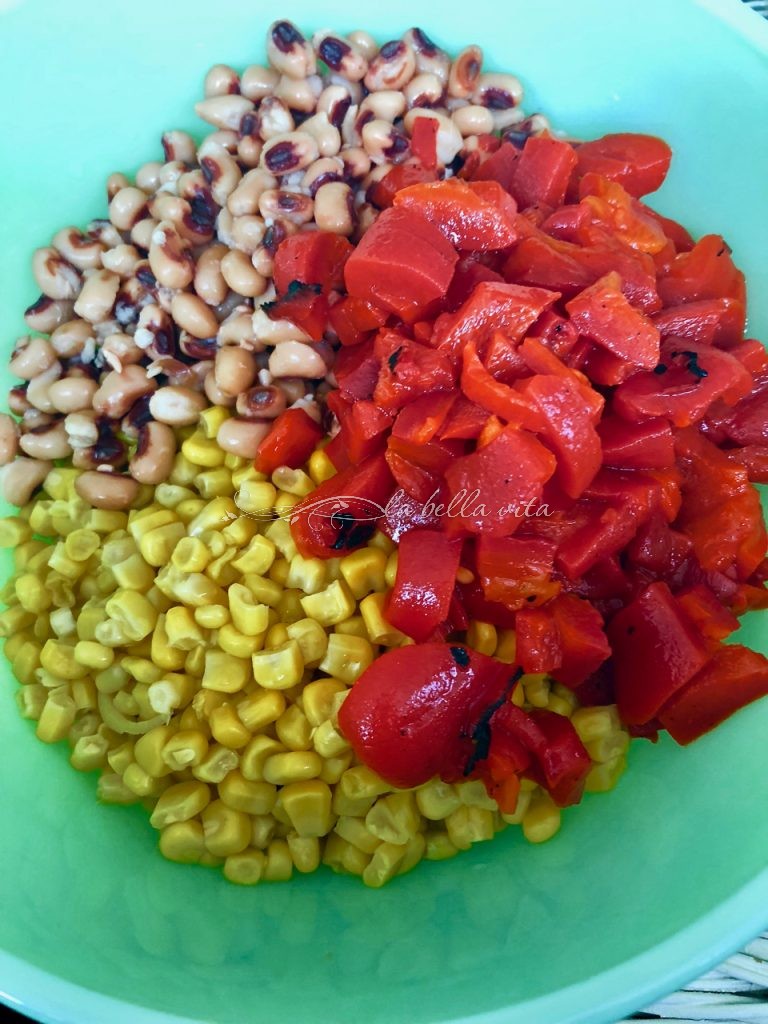 add chopped mango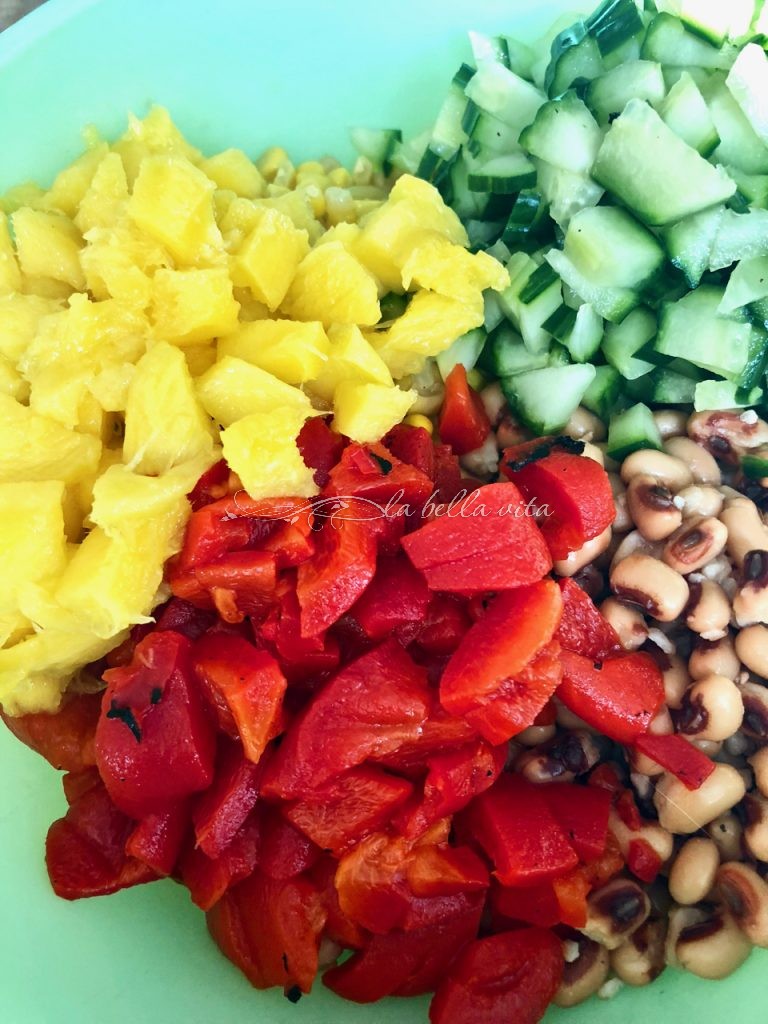 add chopped seedless cucumber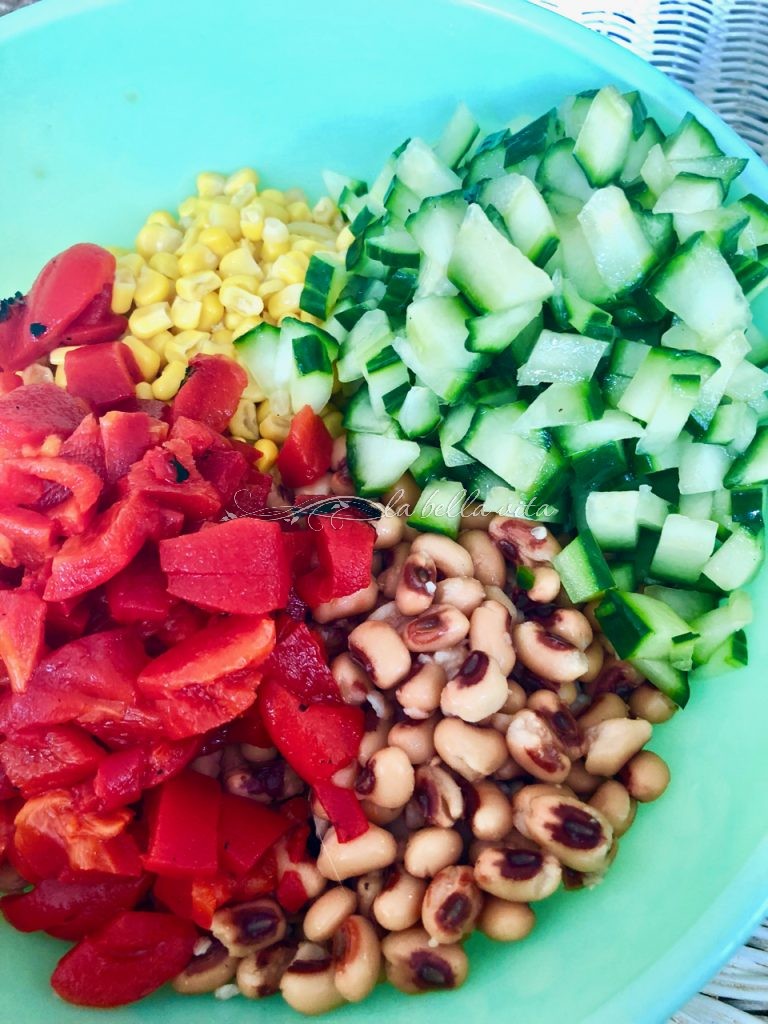 add diced red onion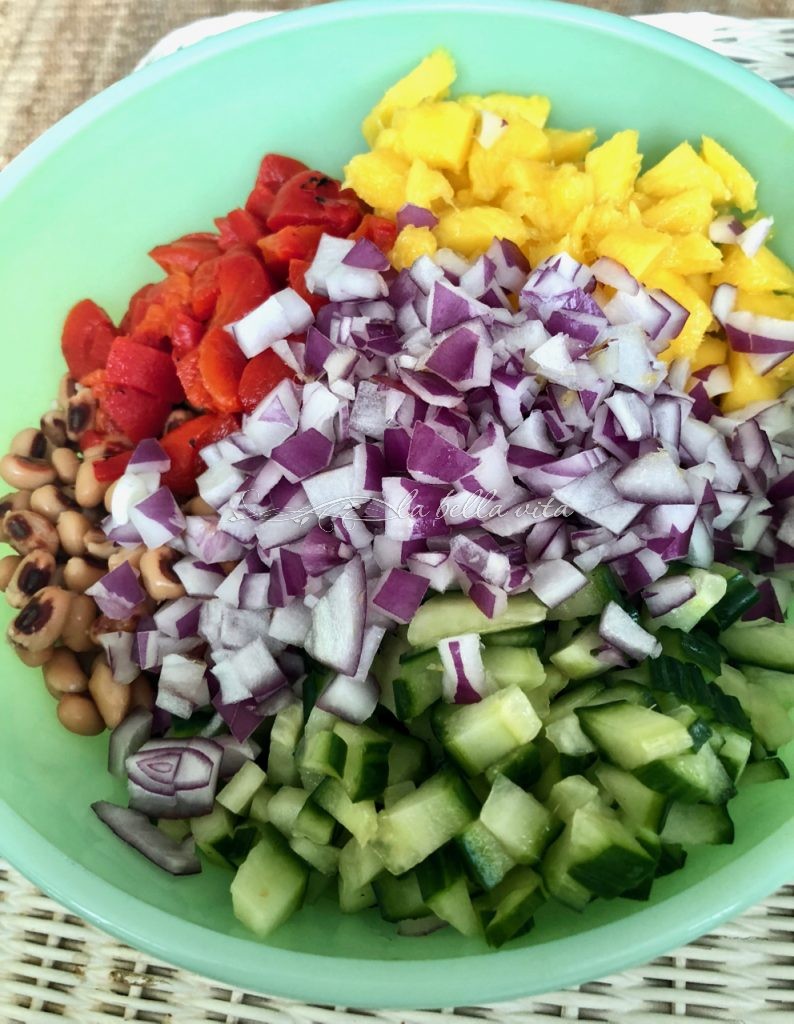 add diced cilantro and Rotel tomatoes and chili
squeeze in the juice of at least 1 wedge of lime (add more lime juice if desired)
gently toss everything together . . . refrigerate for at least one hour
Serve with tortilla chips or as a side dish . . . and thoroughly ENJOY!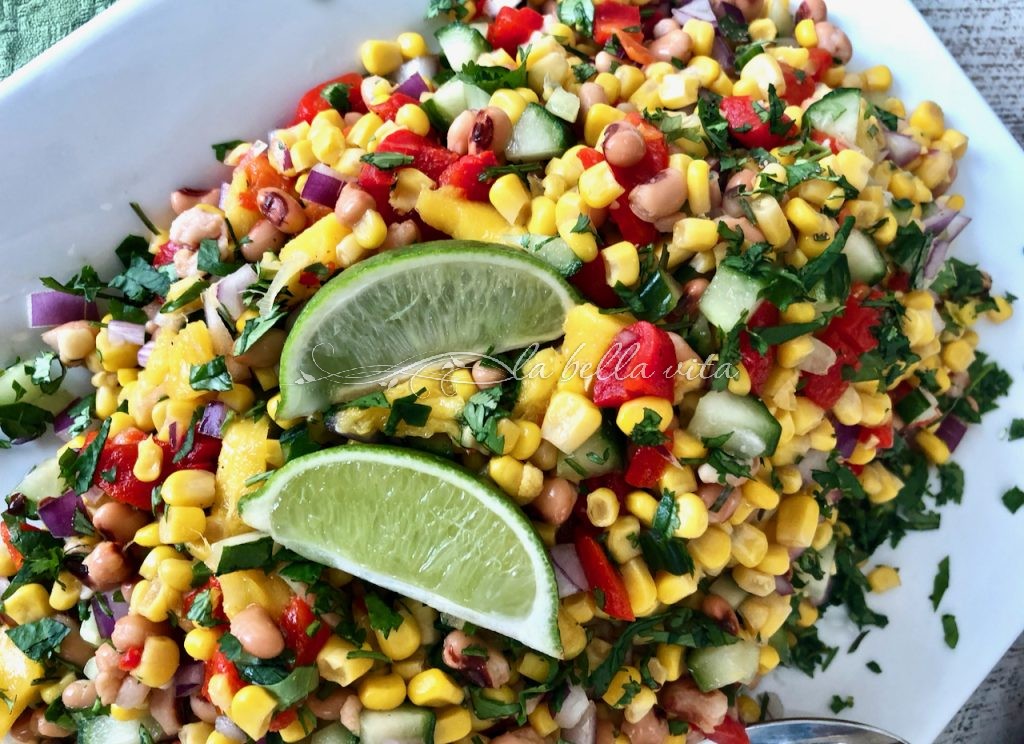 We wish you the happiest, healthiest and most prosperous new year. With lots of love, we are grateful for your friendship and happy to share beautiful and delicious recipes with you since 2008!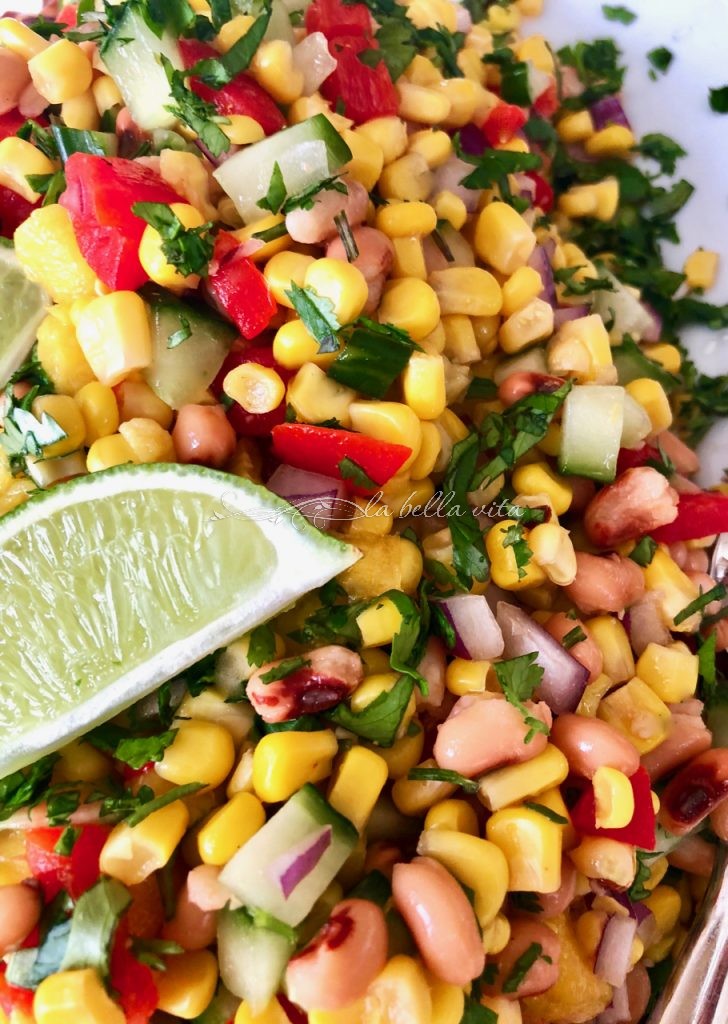 If you enjoyed this recipe, please consider pinning it and/or sharing it on Instagram. Thank you for the love!
Corn and Black Eyed Pea Salad
Ingredients
1 15.5- ounce cans black-eyed peas rinsed and drained
2 11- ounce can crisp canned corn rinsed and drained (see Café Tips above)
1 large roasted red pepper finely diced
1 medium English seedless cucumbers, finely diced
1 medium mango finely diced (about 1 cup)
½ medium red onion finely diced
2 cans Rotel spicy tomato and green chili
zest of 2 medium limes
3/4 cup finely chopped fresh cilantro
Instructions
Combine all ingredients in a large bowl.
Gently toss everything together.
Store any leftovers in an airtight storage container in the refrigerator.
Notes
Red peppers, whether roasted or non-roasted, are perfectly fine to use.
Add whatever fresh vegetable you prefer to this salad and make it your own!
Enjoy!!!