Italian Pork Ribs with Garlic Rosemary Sauce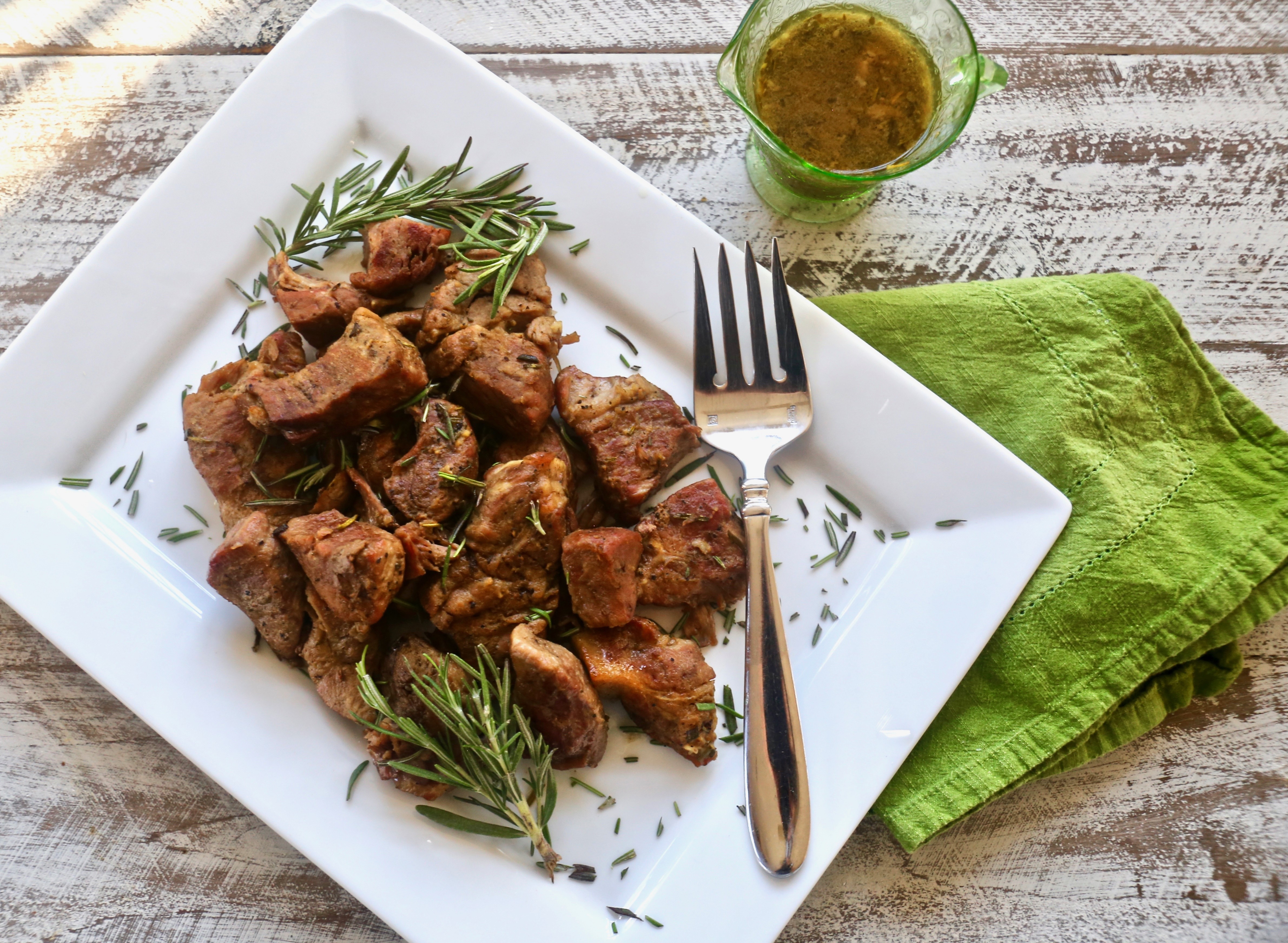 If you're looking for a pork recipe that is incredibly easy and amazingly delicious, here it is! My mother's Italian Pork Ribs with Garlic Rosemary Sauce.
This recipe is literally from my family's private recipe collection and was never on the menus of our restaurants. These ribs are very special, very comforting, and I kid you not, perfectly flavored and slow-cooked.
When you take your first bite into these fork-tender, fall-off-the-bone pork ribs, you'll experience the intense flavor the ribs! This results from the sheer simplicity of classic Italian cooking. And I do mean simple and packed with yum!
I've included a step-by-step photo tutorial shared here so you can simply and easily scroll through each photo while you're cooking. As always, the recipe can be found at the bottom of this post for you to print if you like.
So let's get to the kitchen!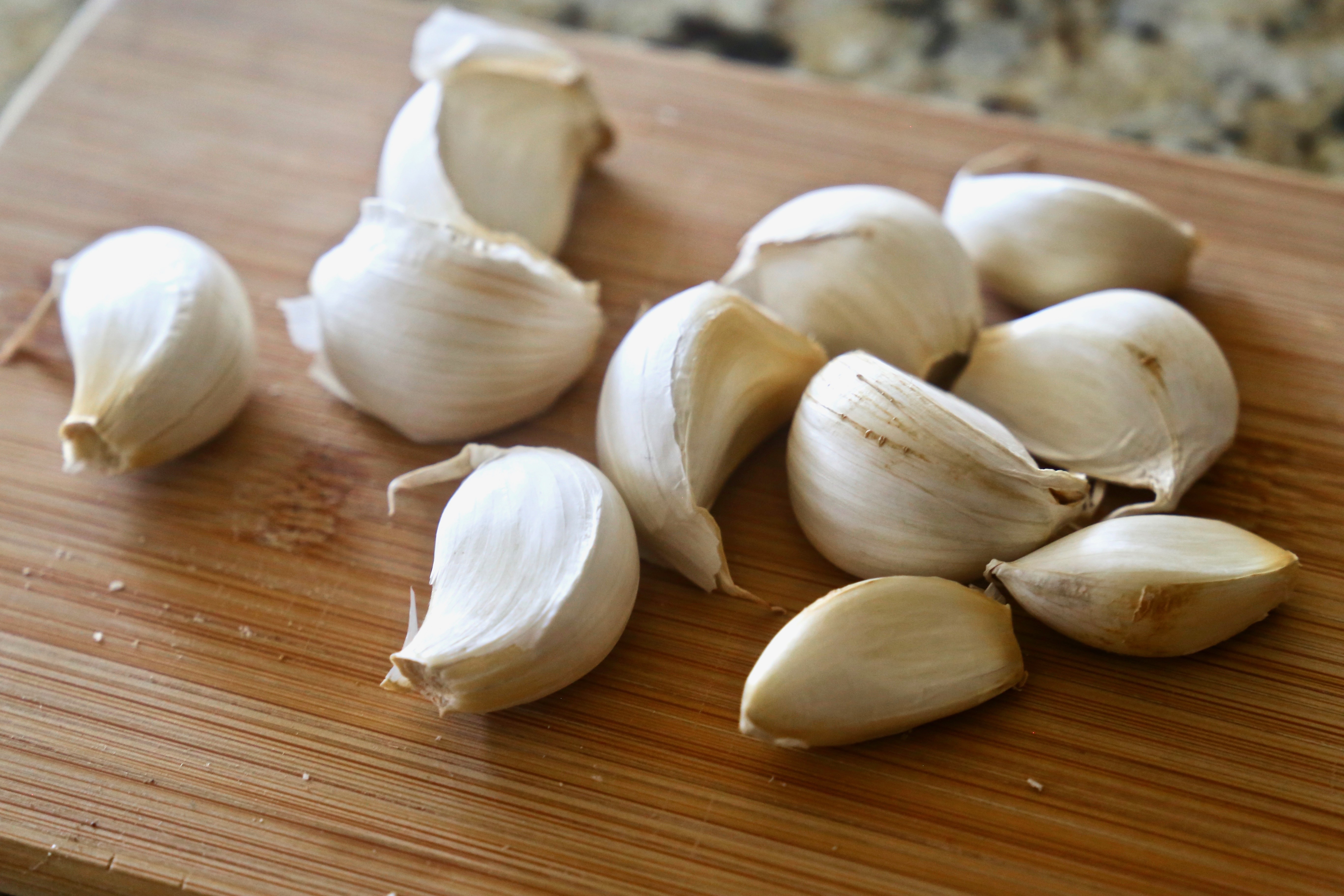 Take a WHOLE BULB of garlic (not one or two cloves, but the whole bulb)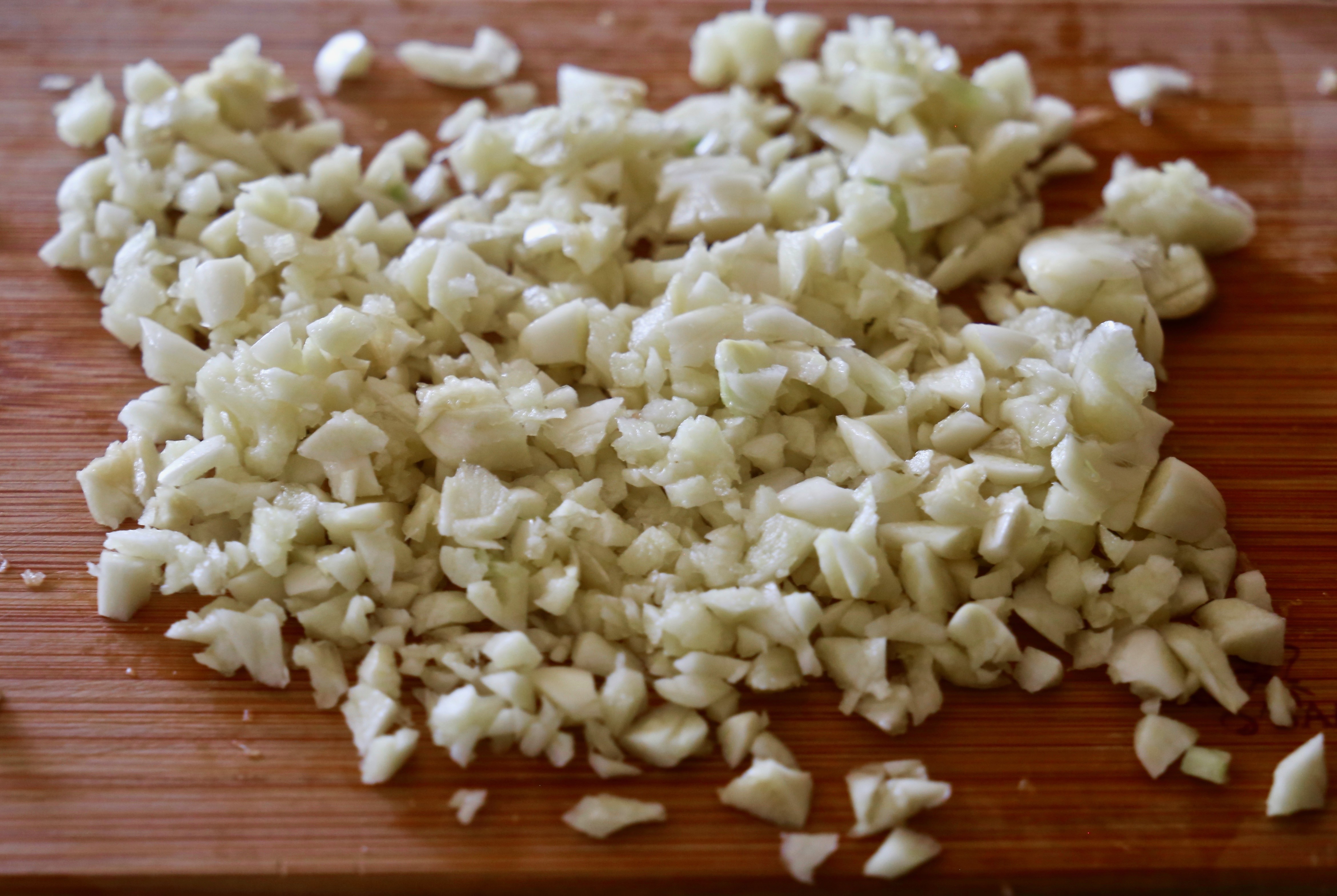 Remove the garlic skin and mince the garlic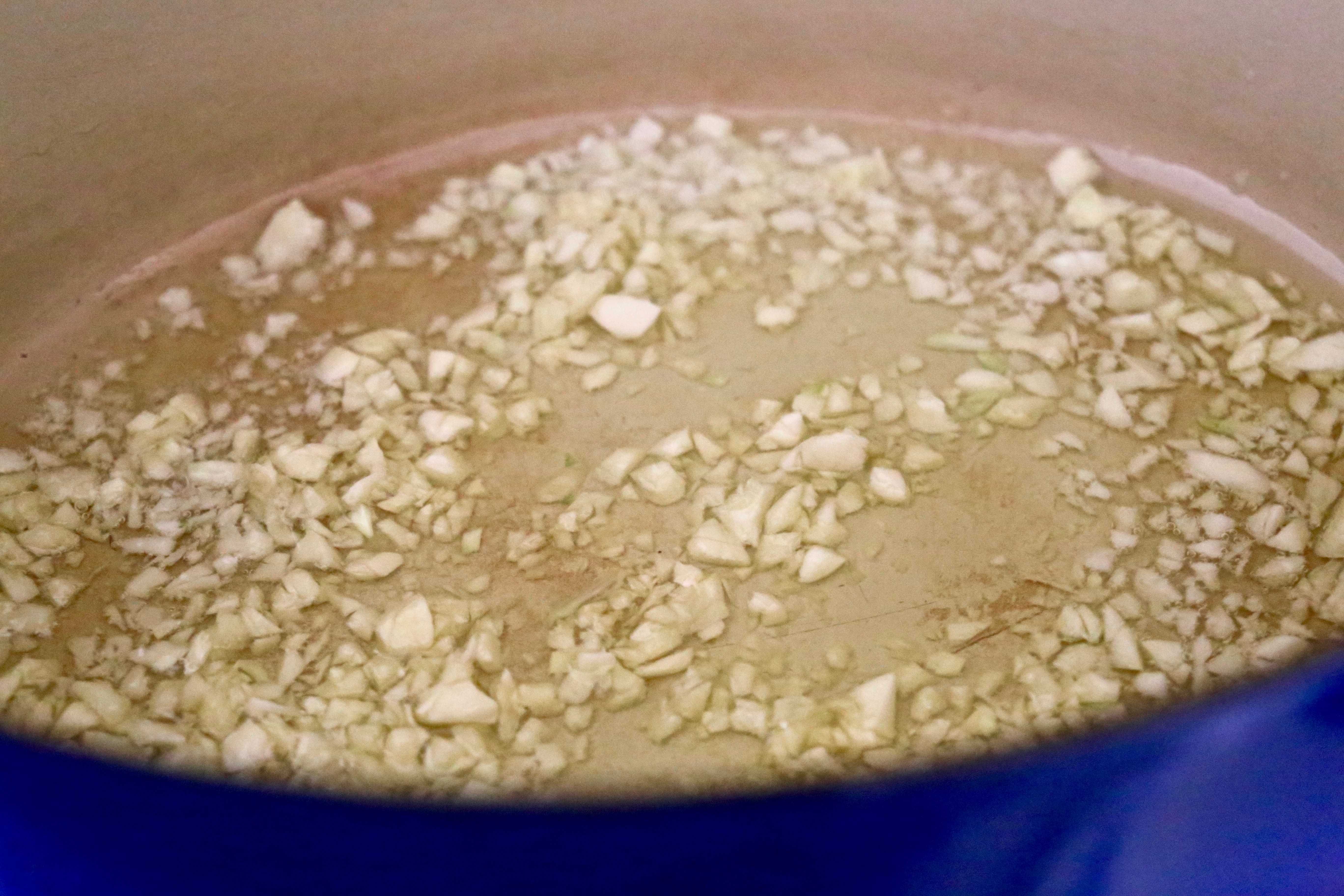 Gently heat ¼ cup olive oil; saute' minced garlic for 2 – 3 minutes on low to medium heat. Do not burn the garlic. I sometimes add more minced garlic later on, but it's entirely up to you.
When golden brown, remove garlic from the oil and set aside in a small bowl; you'll add this back in later.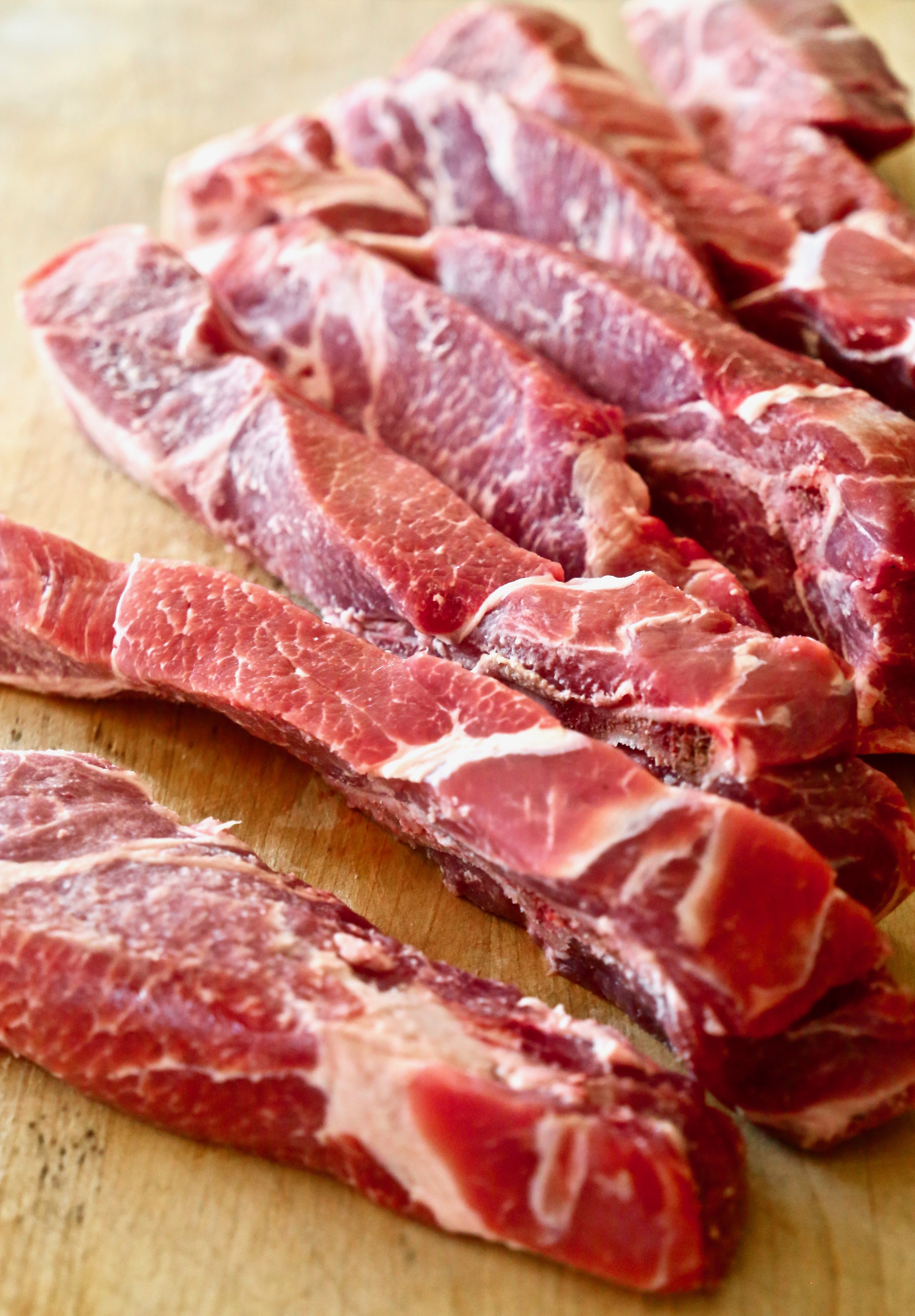 These pork ribs are so long that they needed to be cut in half.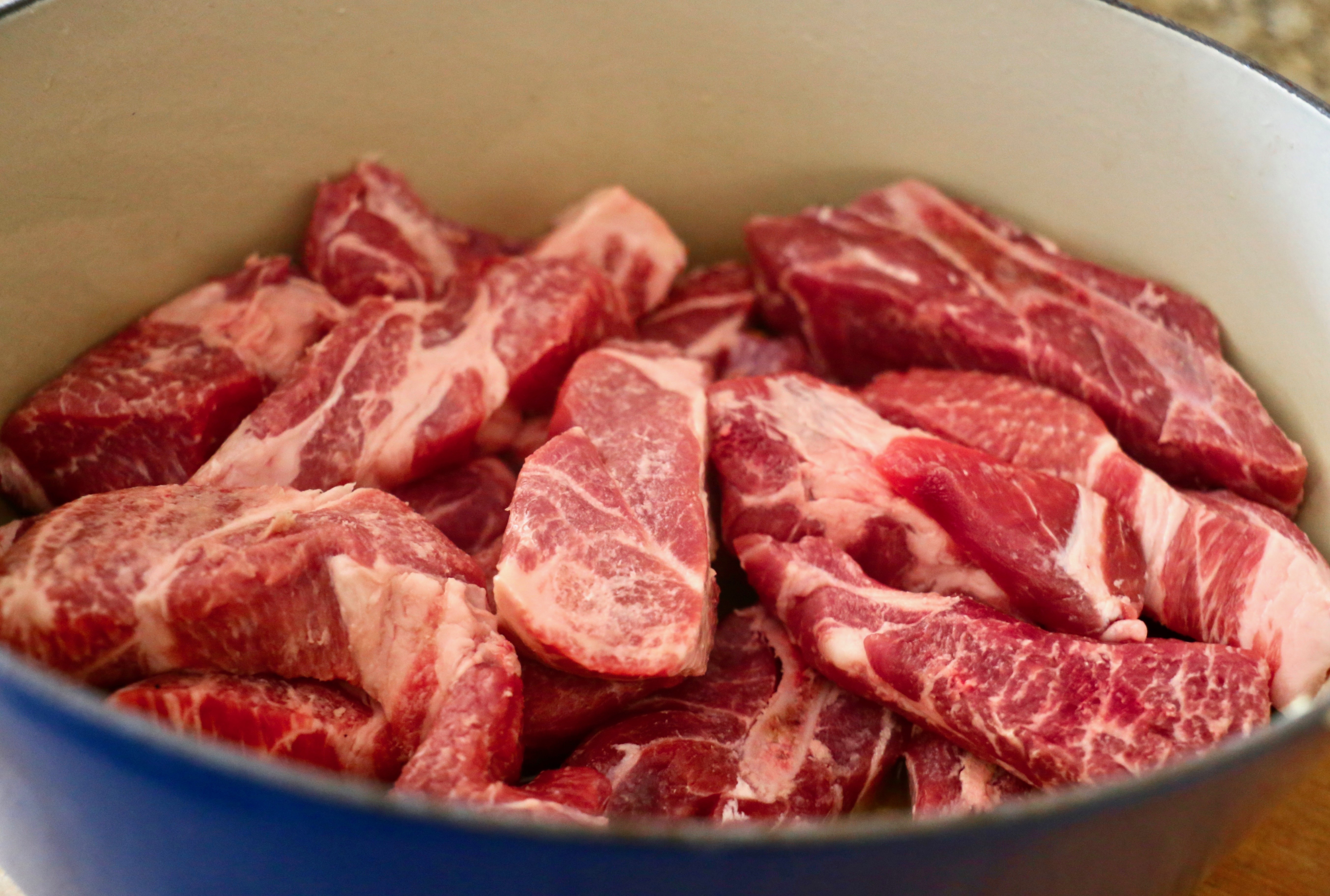 With olive oil still in the heavy pan (garlic was removed earlier), place the pork ribs in and seer until a nice brown appears.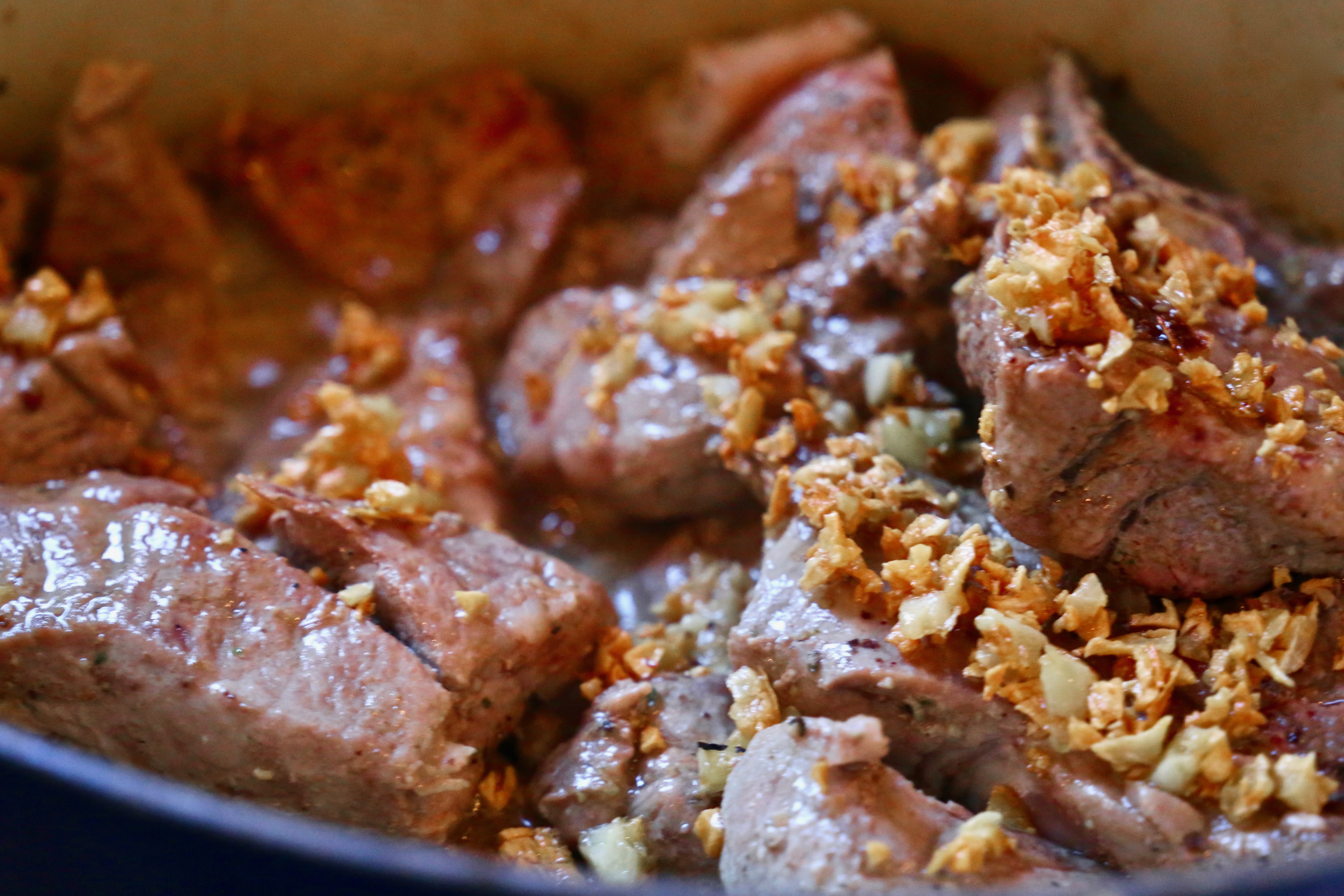 Return the sautéed garlic back into the pan with the pork ribs.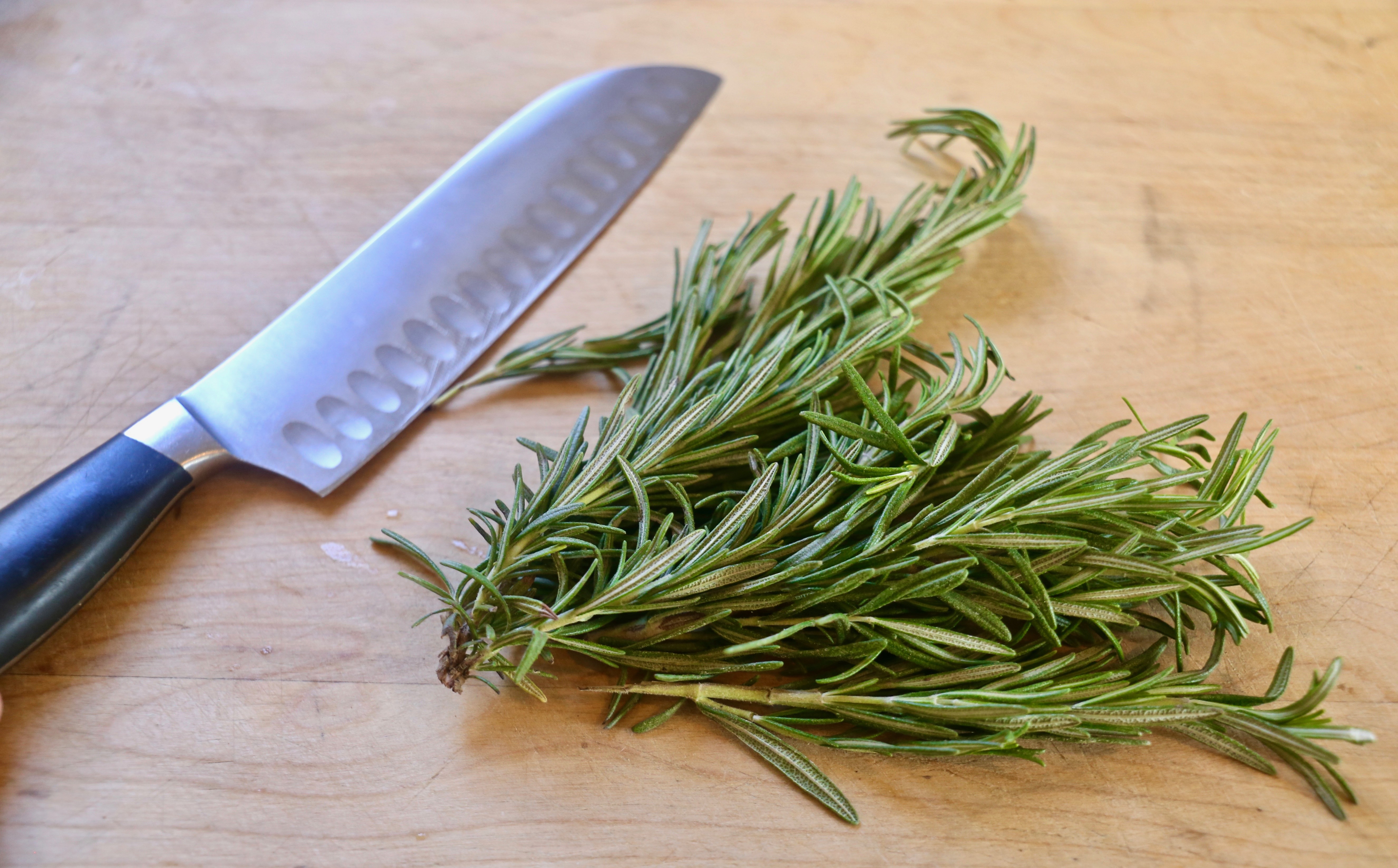 Mince ⅓ cup fresh rosemary and add to the pan of ribs.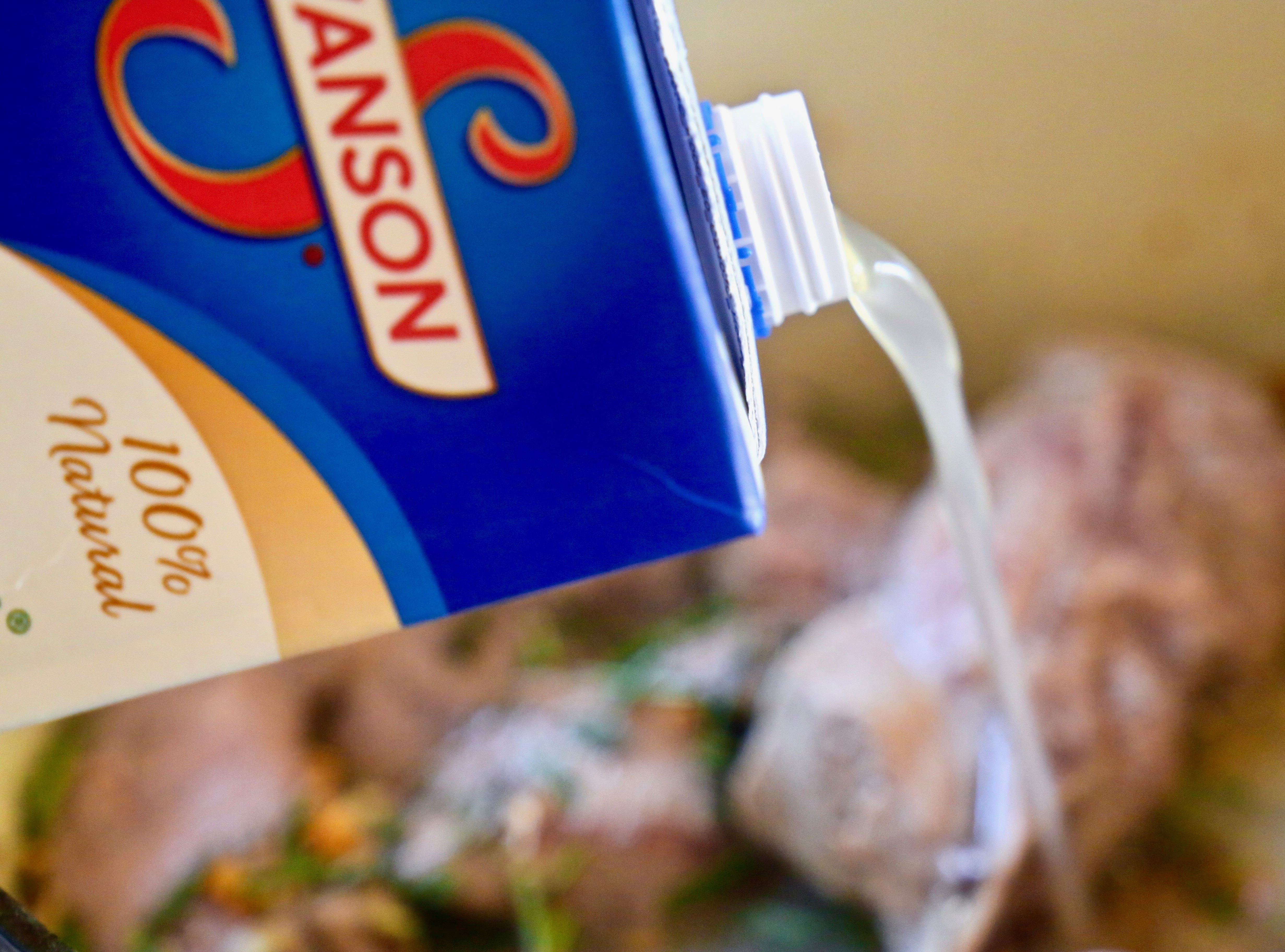 Add 1 – 2 cups chicken broth to the pork ribs (use low-sodium if salt is a concern in your diet).
Make sure that the garlic and rosemary are well-blended into the ribs.
Simmer on low heat (with a pizza pan placed underneath the pot to prevent burning the pork as it simmers) for another hour and a half.
If you believe it needs salt and pepper, then now is the time to add it.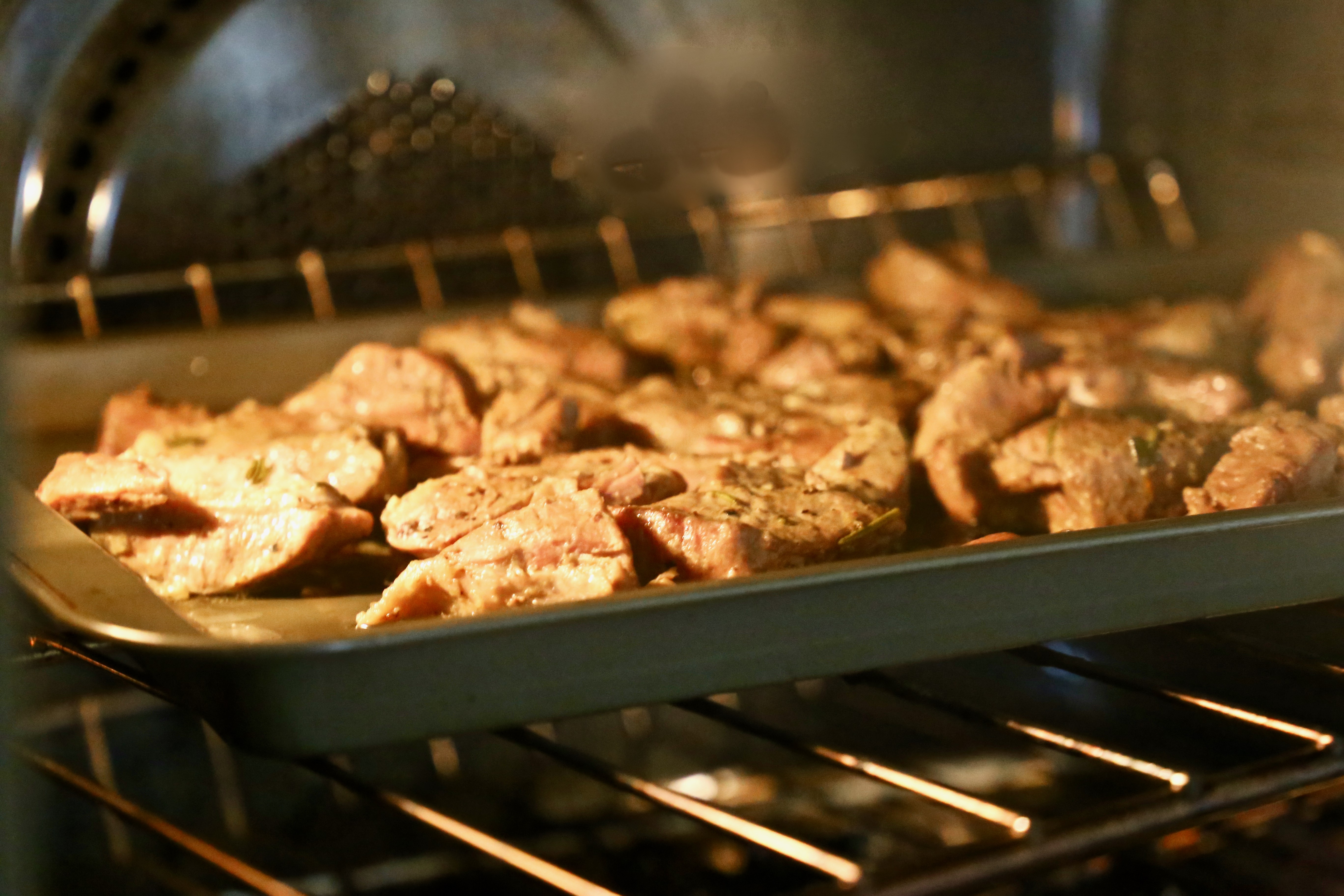 Once finished on the stove, if you want your pork ribs to be a little darker or redder, turn the oven on 'broil' and set the time for 10 minutes.
Keep a very close eye on this step too, so you don't ruin what you've just spent over an hour preparing.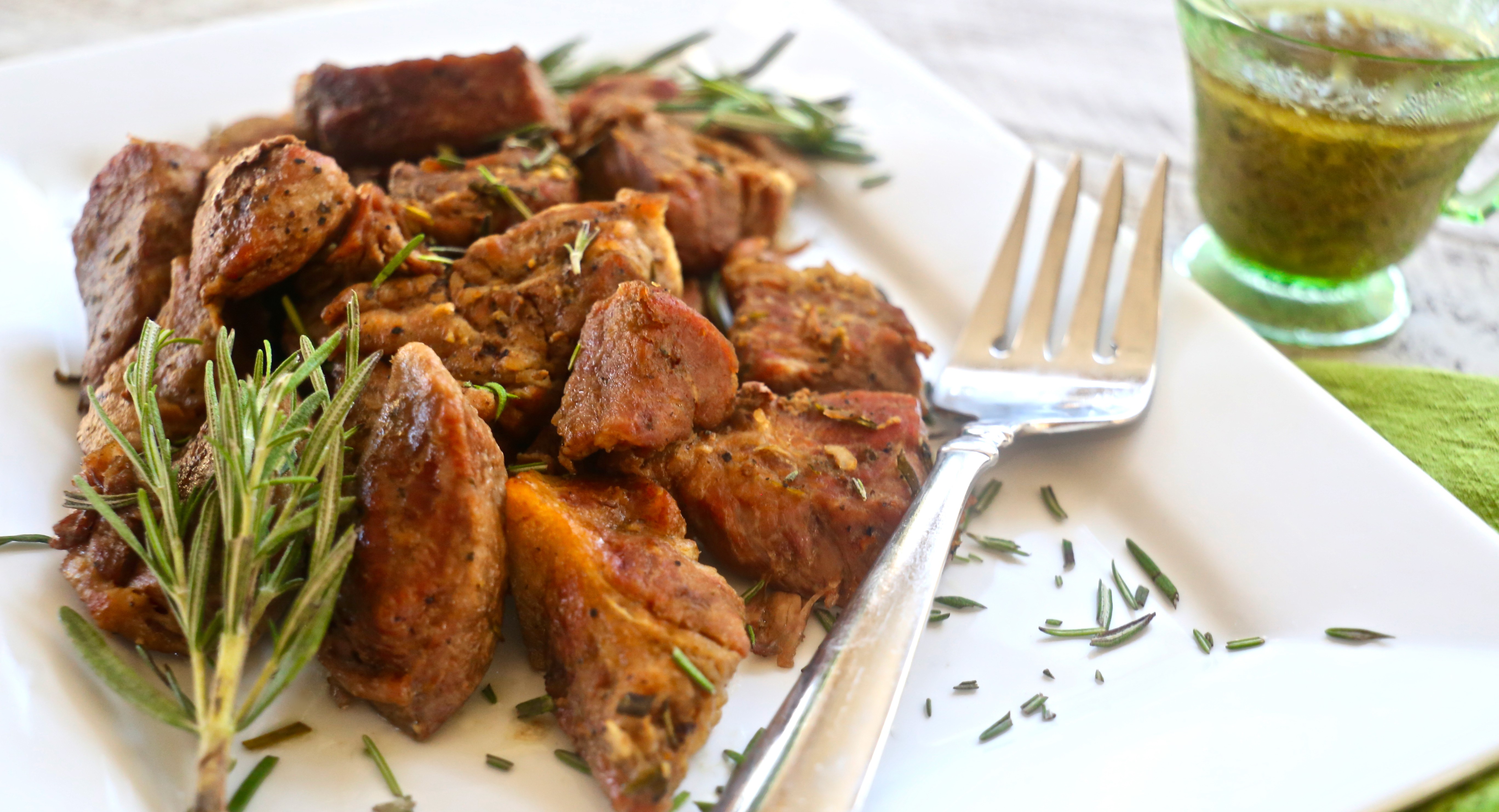 Select a nice platter to serve the pork ribs on, garnish with minced rosemary and a twig of fresh rosemary. Serve with the garlic rosemary sauce in a pretty serving dish to pass around to your guests.
Serve with either the Creamiest Garlic Mashed Potatoes OR Roasted Italian Potatoes with Rosemary and Garlic (also my mother's recipe).
Your family and friends will just LOVE these ribs! Let me know what everyone thinks after you prepare these super easy and incredibly delicious ribs!
Please kindly share this pin on Pinterest! Your share love is so appreciated!

Print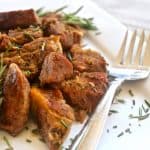 Italian Pork Ribs with Garlic Rosemary Sauce
Author:
Prep Time: 0 hours
Additional Time: 0 hours
Cook Time: 0 hours
Total Time: 0 hours
---
Description
The most fork-tender, fall-off-the-bone pork short ribs. Perfectly flavored with garlic and rosemary with an incredible sauce to ladle over the ribs and vegetables. You'll LOVE this recipe from my mother!
---
2 lbs. boneless, country-style (thick) pork ribs (strips) — Bone-in ribs are fine if you can't find boneless.
1/4 cup olive oil
1 entire bulb of garlic, minced
1/4 cup fresh rosemary, minced
1 – 2 cans low-sodium chicken broth
salt and pepper to taste (freshly grated is best)
---
Instructions
Here's what you need to do (besides smelling a wonderful aroma while the following takes place)
In a large, deep frying pan, saute' the minced garlic in warm-hot olive oil (you don't want to get olive oil too hot or it will burn and just plain get icky-tasting).
After about 3 minutes, strain the garlic out of the olive oil and set aside in a small bowl (you will put this back in later).
Leaving the olive oil in the pan, place the ribs in the hot oil to brown thoroughly on all sides.
Add a can or two of low-sodium chicken broth.
Put the sautéed garlic back into the pan with the ribs and chicken broth.
Add the minced rosemary; salt and pepper to taste.
Simmer everything on low for about 1-1/2 hours or until the pork is fork tender.
If the ribs are not browned enough for you, place them under a hot broiler for about 5 – 10 minutes, keeping an eye on them so they do not burn.
Pour the sauce into a nice serving dish.
Place the ribs on a platter and garnish with rosemary.
---
Notes
This Italian pork entree is wonderful served with potatoes prepared as a baked potato, garlic mashed, or roasted. A good, fresh loaf of Italian bread will be appreciated by your guests who will want to sop up the sauce instead of licking the plate!
Mangia!