Salmon, Peas and Asparagus with Pasta in Lemon Cream Sauce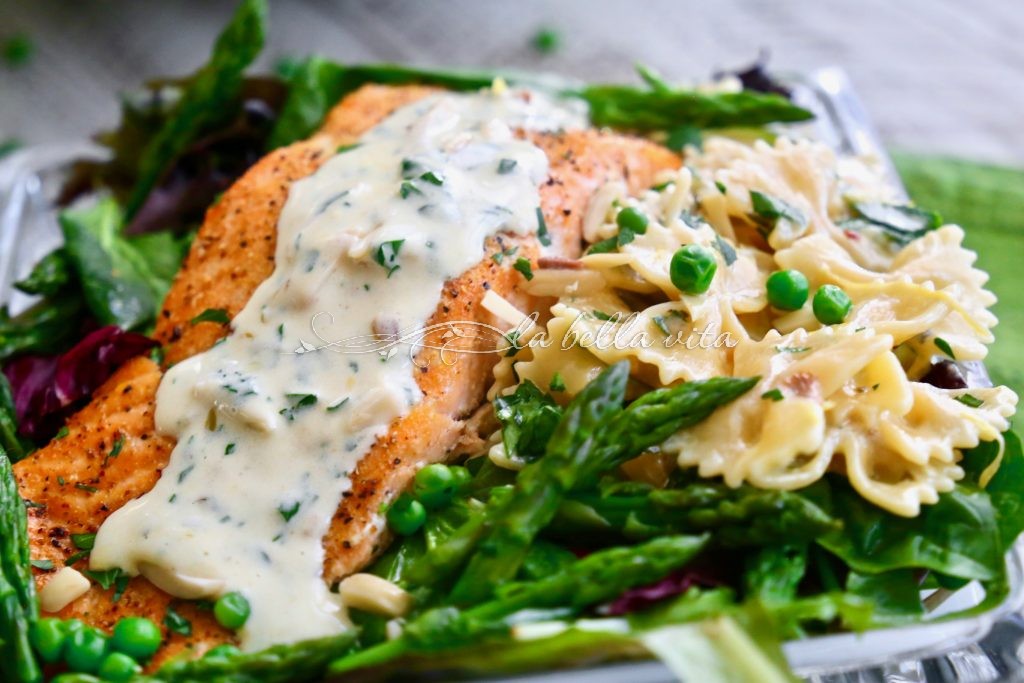 Here's a new recipe that's just bursting with flavor, brilliant hues of green and vivid pops of red and orange: Fresh Salmon, Peas and Asparagus with Pasta in Lemon Cream Sauce ! This main dish salad is loaded with peas and asparagus alongside buttery salmon filets . . . it almost sounds too healthy! Gorgeous meets healthy in a one-dish meal!
One downfall about this recipe, well, it's not really a bad thing, is that I munch on it while making it. Am I the only one who secretly does that while cooking? Popping the creamy and cheesy-sauced pasta in my mouth while putting it all together is irresistible. I'm not great at packing creative lunches to take to work. But when there are leftovers from something like this, an awesome lunch is in store to take to the office!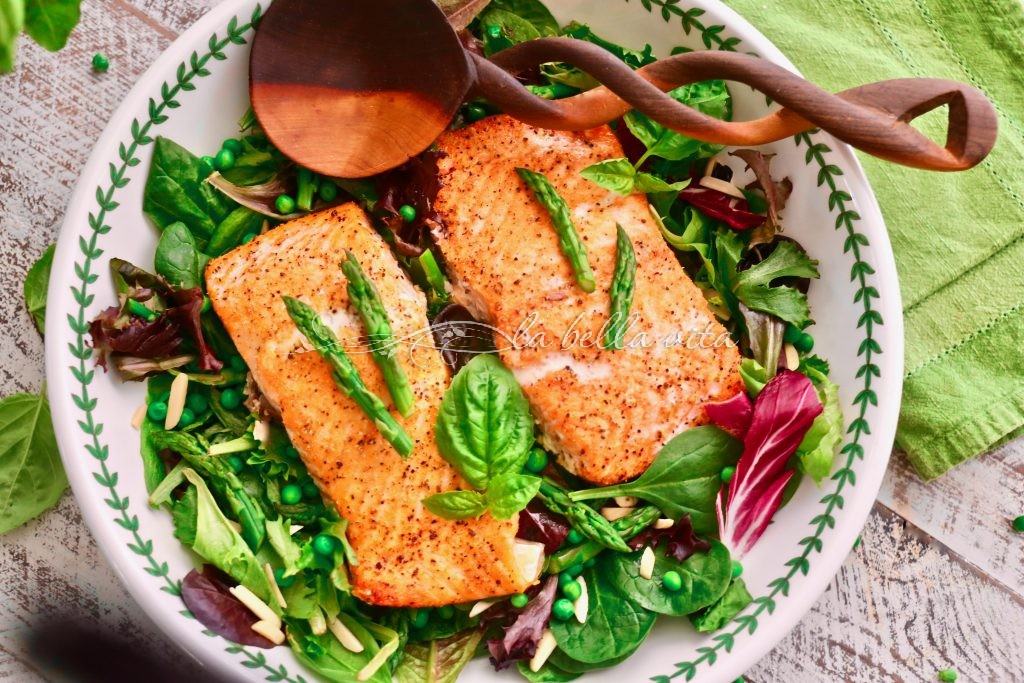 We just love sweet baby spring peas and fresh asparagus. They're just so packed with flavor and healthy goodness with their anti-inflammatory and antioxidant benefits! Some of our favorite ways to enjoy these emerald jewels are Farfalle With Asparagus, Peas And Pancetta In Cream Sauce and Tortellini Alla Panna With Prosciutto And Peas
Doesn't this just make you think of spring or summer? And yet this can be prepared any time of year.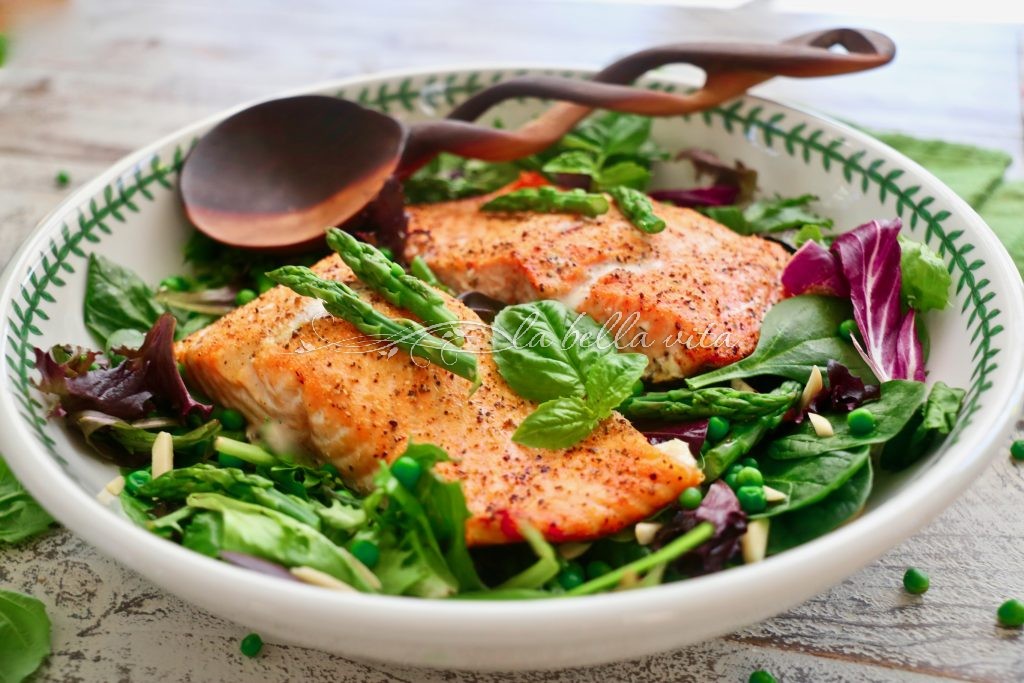 While you're cooking the pasta and preparing the salad, you need to bake the salmon filets. Sprinkle garlic powder (not garlic salt) and lemon pepper all over the top of the salmon filets.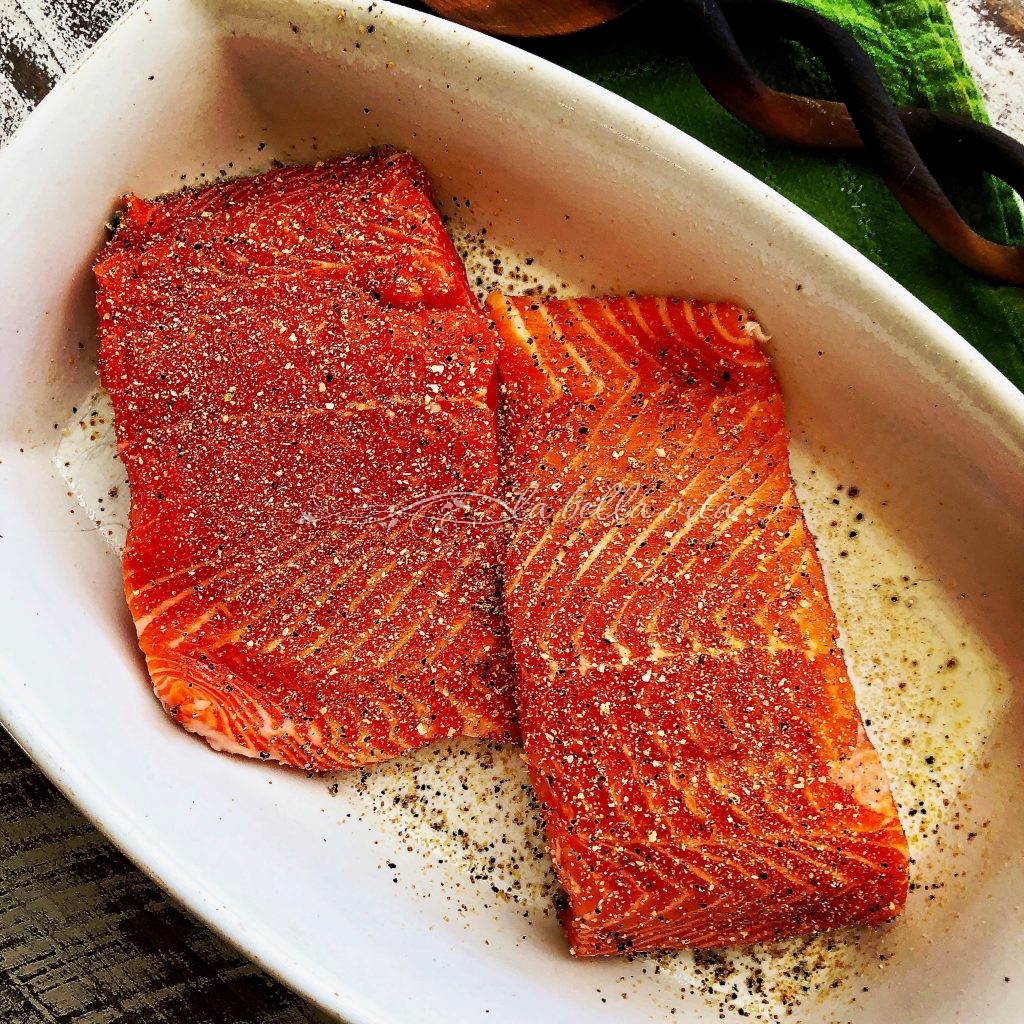 Bake salmon at 350 F degrees for about 40 minutes . . . we like our fish medium-well done, nothing rare or soft inside. We enjoy sushi and ahi tuna, but this is better when thoroughly cooked. You want a nice flakiness of texture on your fork, not something soft and mushy.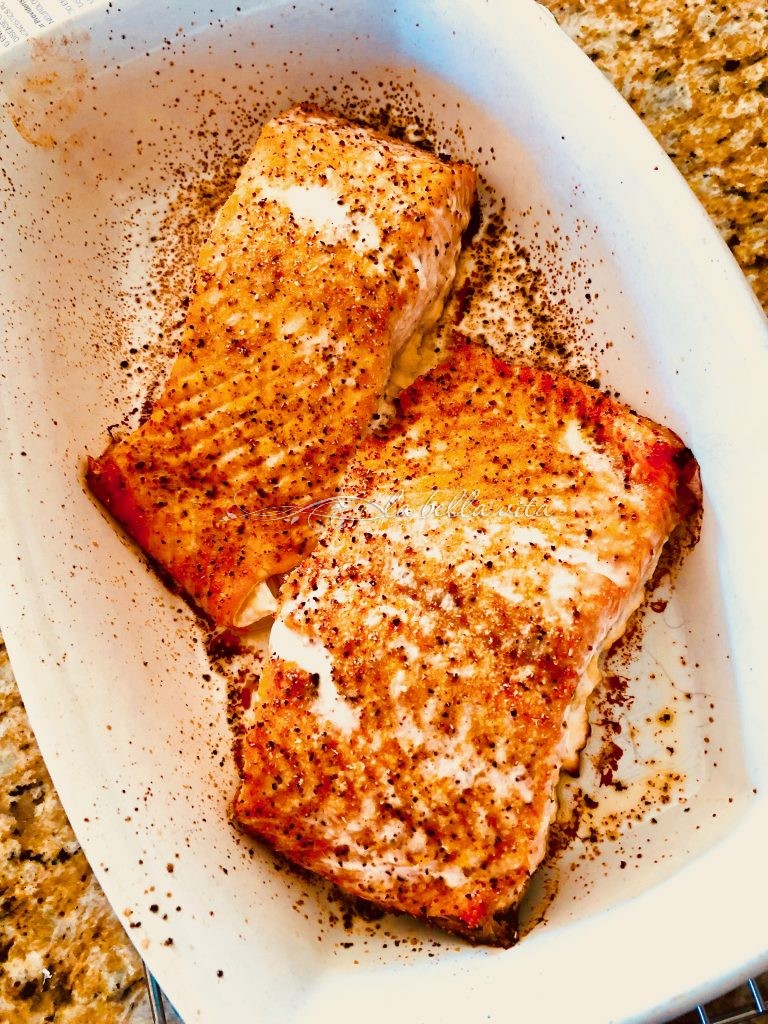 Meanwhile, get the lemon cream sauce going. Saute the freshly minced garlic in butter and olive oil, add the cream, freshly squeezed lemon juice, and lemon zest.
Add the capers, rinsed thoroughly and the Italian parsley.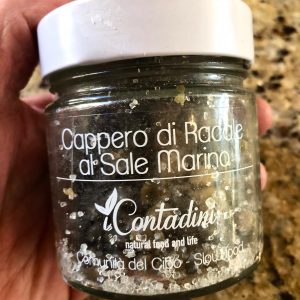 See how much sea salt is packed inside this small jar of imported Italian capers? Make sure you rinse the salt off of the capers as best as you can or the sauce will be ruined from having too much salt that cannot be taken back out.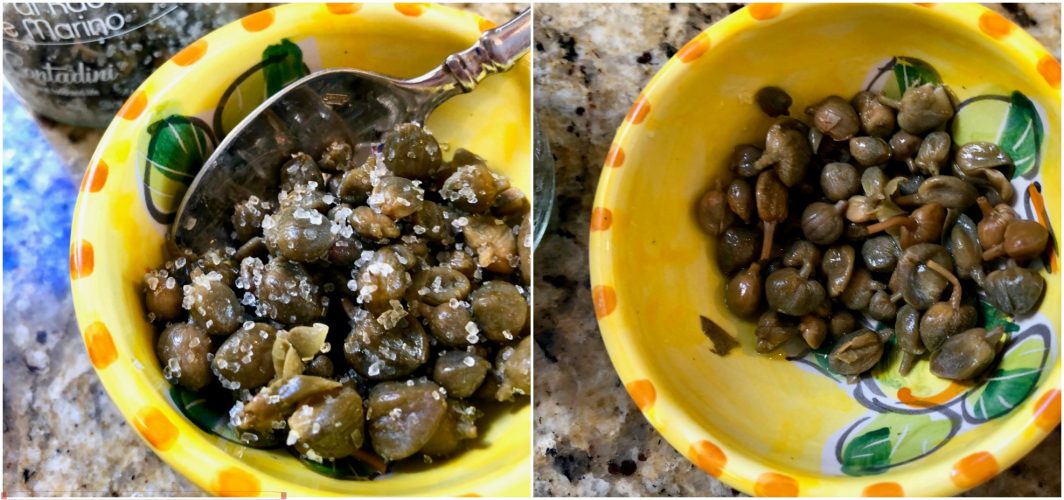 Before rinsing off all of the salt (left) and after rinsing off all of the salt (right).
Adjust the ingredients in the sauce according to your preferences. Do you like more butter . . . add another tablespoon or two. Or perhaps you prefer more cream? Add in a dash or two more. Also if you want salt and pepper in this meal, then this is the time to do so.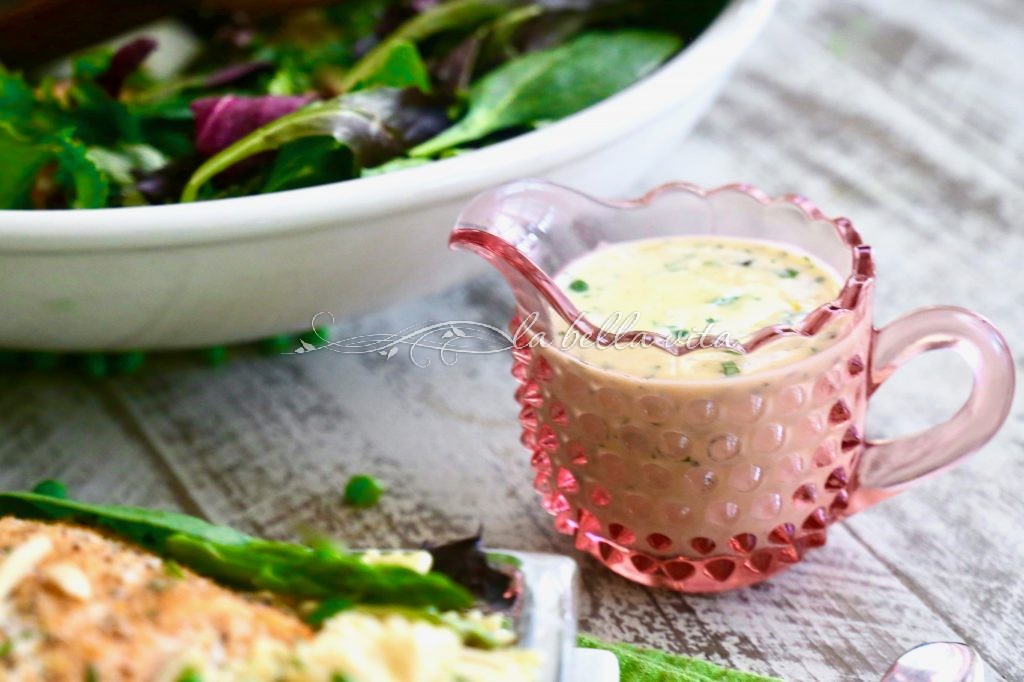 Pour about a cup or so of the sauce in a nice gravy or cream dish with a spout. Place it on the table or buffet to be passed around to guests.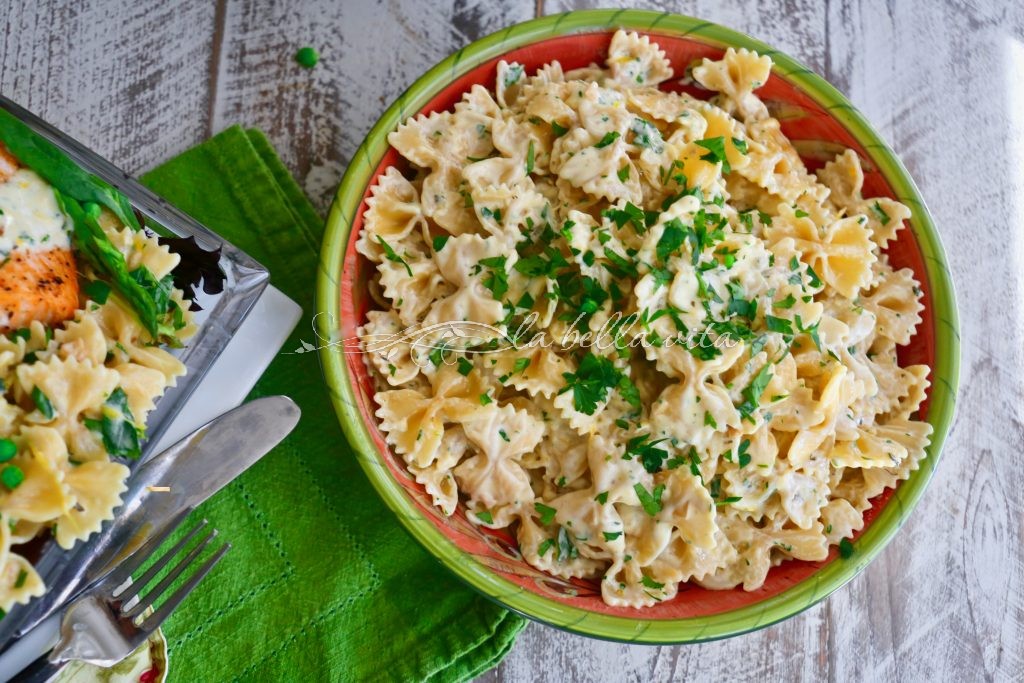 After the pasta is cooked to a very firm 'al dente' firmness, take some of the sauce and toss it with the pasta, reserving some to pass around to your guests. Garnish with freshly chopped Italian parsley. Place it in a nice bowl to serve.
The garlic, lemon, cream, cheese, and capers come together perfectly to form a fabulous creamy base for the pasta! Don't forget to also ladle this creamy sauce on top of the salmon. My husband said while eating with his mouth full, "I want more sauce for the salmon please"!
Music to my ears!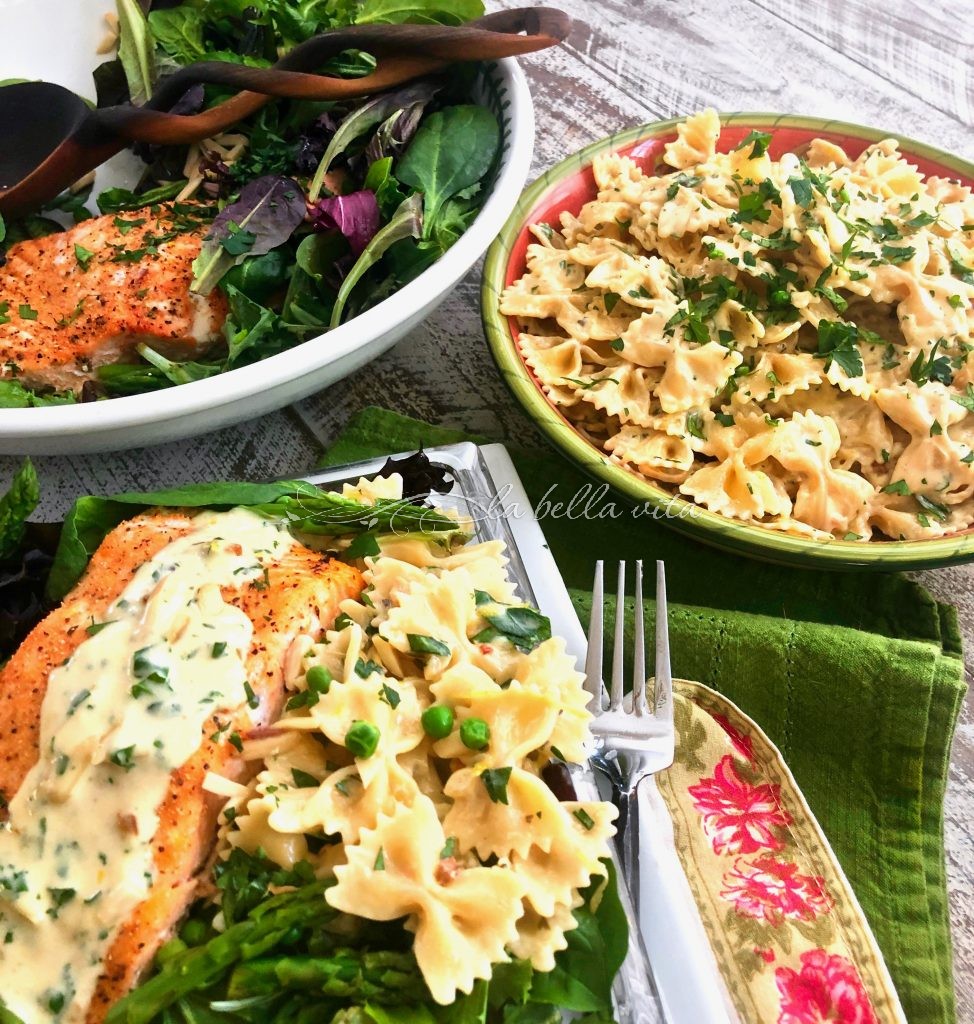 There you go!
The pasta is tossed in a light, lemony cream sauce.
A fresh mixed lettuce salad with peas and asparagus complements the pasta.
And salmon filets baked to perfection make this a delicious meal.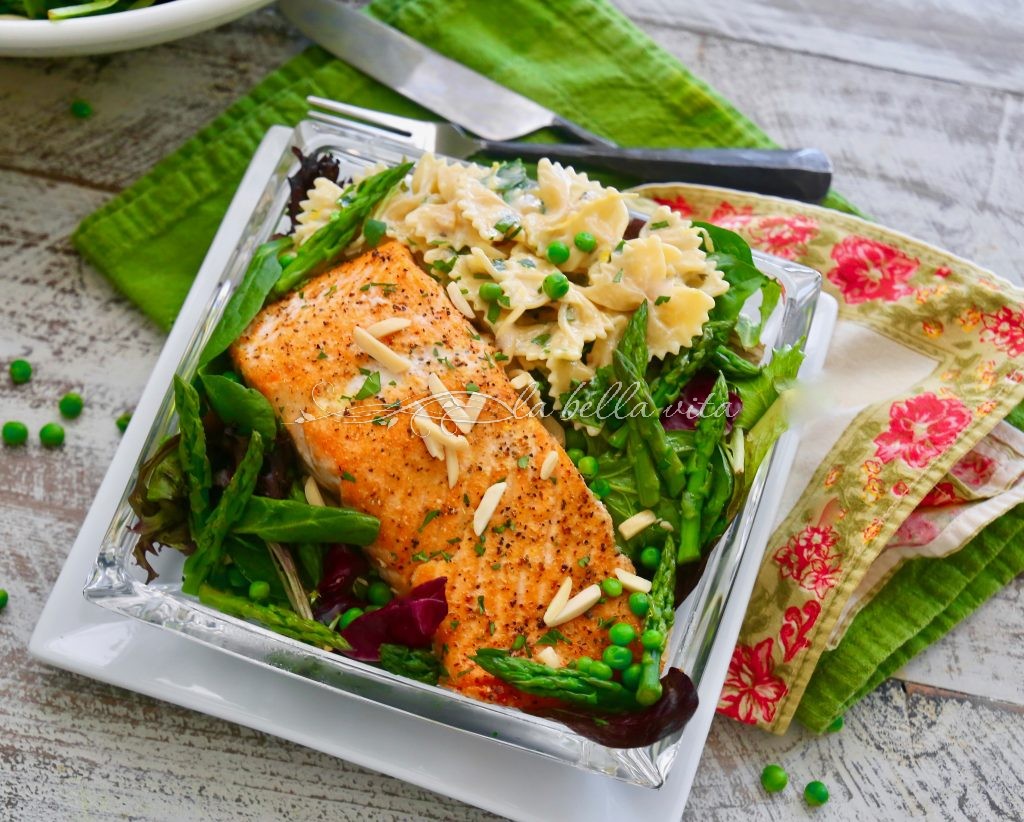 So bring your guests to the table . . . dinner is ready!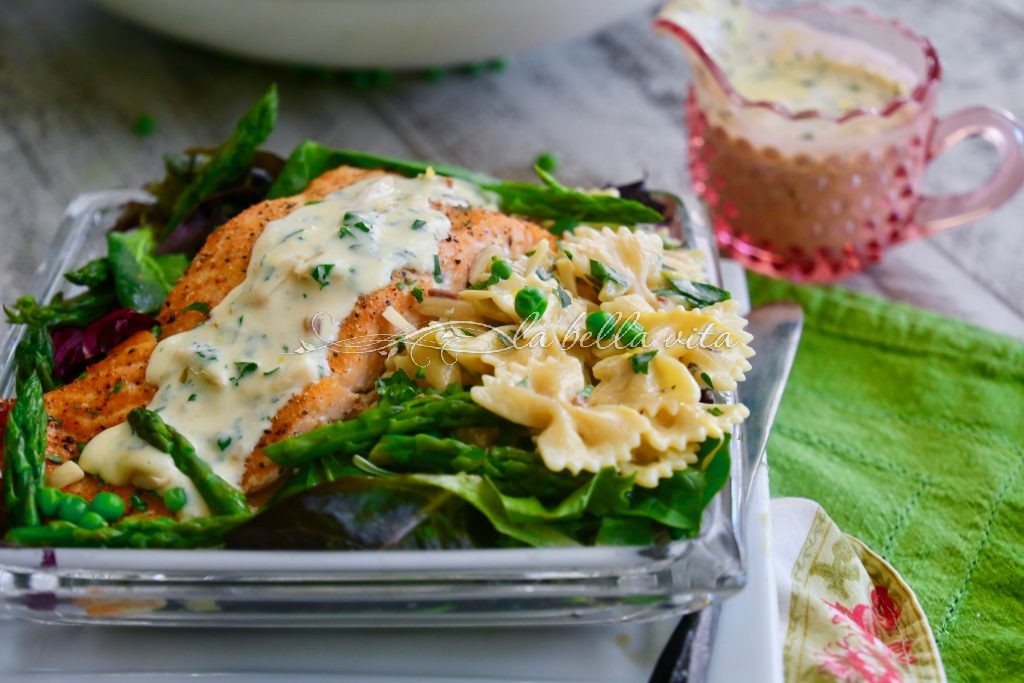 Enjoy this Salmon, Peas, and Asparagus with Pasta in Lemon Cream Sauce!
Please pin the following image . . . we appreciate the pin-LOVE!

We hope you enjoy other salmon recipes that we've shared on LBVC: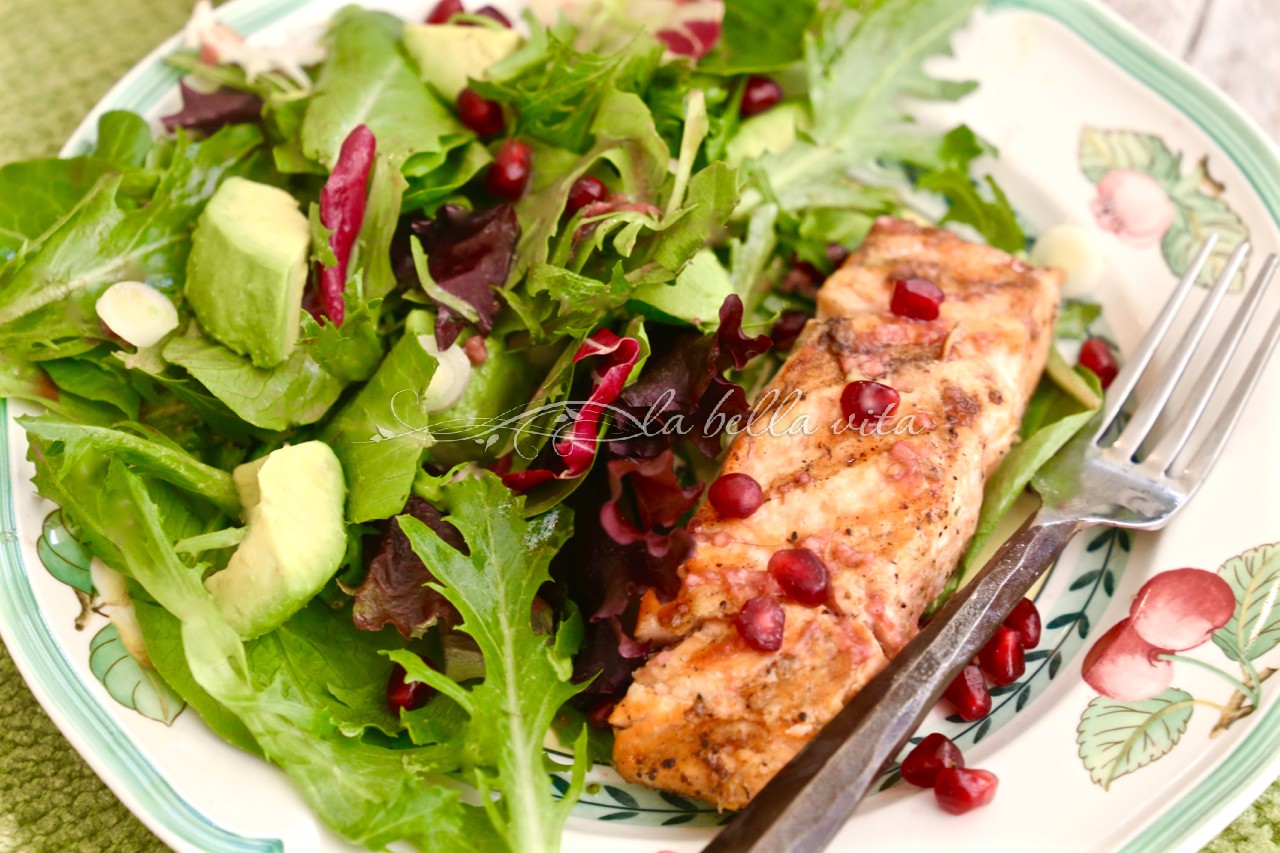 Please note that an affiliate link is contained in this blog post.
Print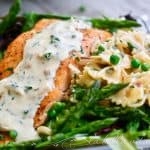 Salmon, Peas and Asparagus with Pasta in Lemon Cream Sauce
Author:
Prep Time: 0 hours
Additional Time: 0 hours
Cook Time: 0 hours
Total Time: 0 hours
---
Creamy Lemon Caper Sauce
8 Tablespoons Olive Oil
1/2 stick of high quality butter
1/2 cup of heavy cream
Juice of 1 medium-sized lemons
Zest of 1 small lemon
1–1/2 cups minced fresh-cut Italian parsley
4 cloves of fresh garlic, finely chopped
4 Tablespoons fresh-cut oregano, finely chopped
1/2 small jar of capers (if salted, rinse thoroughly)
---
Instructions
Preheat oven to 350 F.
Sprinkle garlic powder and lemon pepper all over the top of the salmon filets.  Bake for 35 – 45 minutes.
When done, cover with aluminum foil and keep warm in a warm oven or microwave oven while you complete the lemon sauce and the salad.
While salmon bakes, boil a tall pot of water.
While the water boils, prepare the lemon cream sauce.
Heat the butter in a saucepan on medium heat. Add the minced garlic and saute' until aromatic for approximately 3 – 5 minutes.  Do not burn the garlic.
Add the cream, lemon juice, lemon zest, capers, and parmigiana cheese.  Heat through on medium heat for about 5 – 10 minutes. Add the chopped Italian parsley.  Set aside to toss into the pasta.
When the water boils, add the pasta and cook for about 5 – 7 minutes until al dente.
When finished, strain the pasta and stir in the lemon cream sauce, saving some sauce to the side to pass around to guests.
Put the pasta and cream sauce into a nice serving bowl.
Assemble the mixed lettuce, peas, and asparagus.  Sprinkle slivered almonds all over the salad.
Place the warmed salmon filets on top of the lettuce, peas, and asparagus.
Slowly pour the extra lemon cream sauce that was set aside over the salmon filets.  Garnish with almonds and Italian parsley.
Buon Appetito!
---