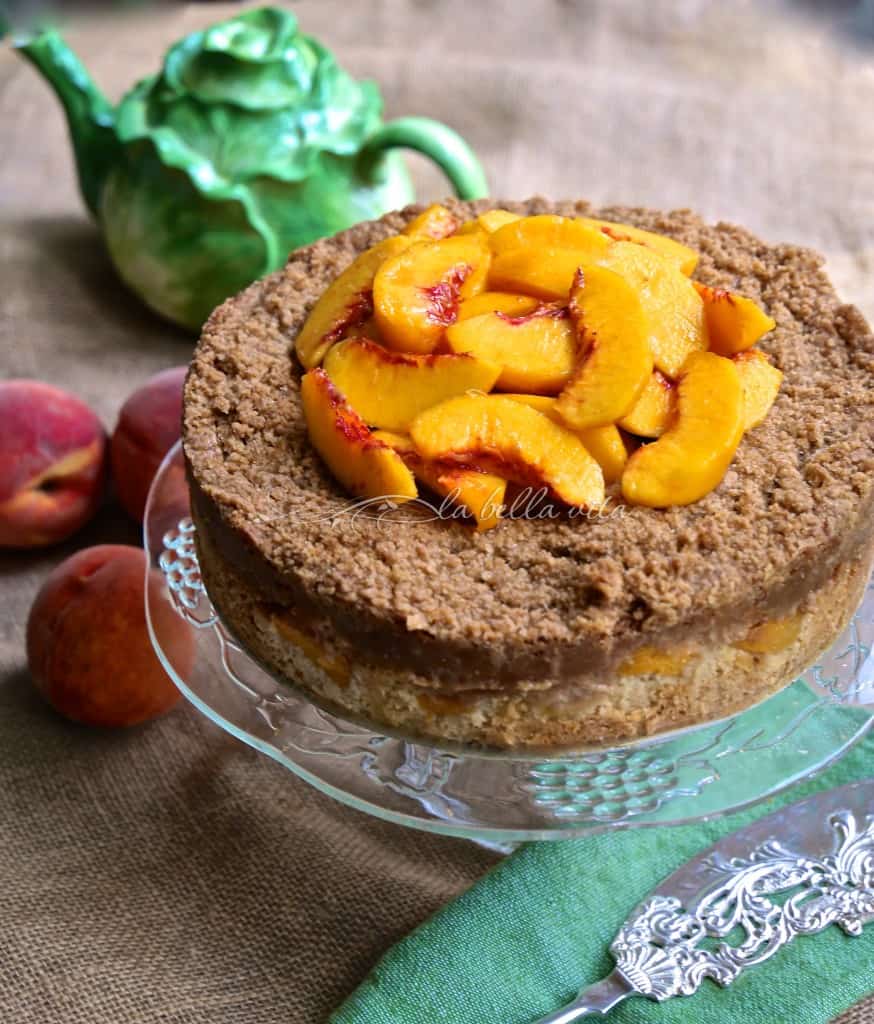 Summer just wouldn't be summer without baking up something sweet with fresh, ripe peaches.  Luckily for us, we live in a huge peach-producing state (South Carolina) with a harvest season that lasts well into September.  Juicy, sweet, and perfectly ripe peaches add so much to baked treats!
Peaches are very prized in Italy, especially in the northern part of Italy that experiences that necessary shock of cold winters.  In fact, my family in Modena, Italy say that peaches are their favorite fruit.  Whether eaten alone or in a pie, cake or crostata, I totally agree with them.
Another thing that many people don't know is that in northern Italy in the regions that are very close to Austria and Switzerland, streusel toppings are quite common.  And oh does streusel add to the deliciousness of a cake!
As you can see, we've enjoyed another bumper crop of peaches in South Carolina this year!  More to enjoy either straight of our hands or used in a pie, salad, or jam!
Aren't they just gorgeous?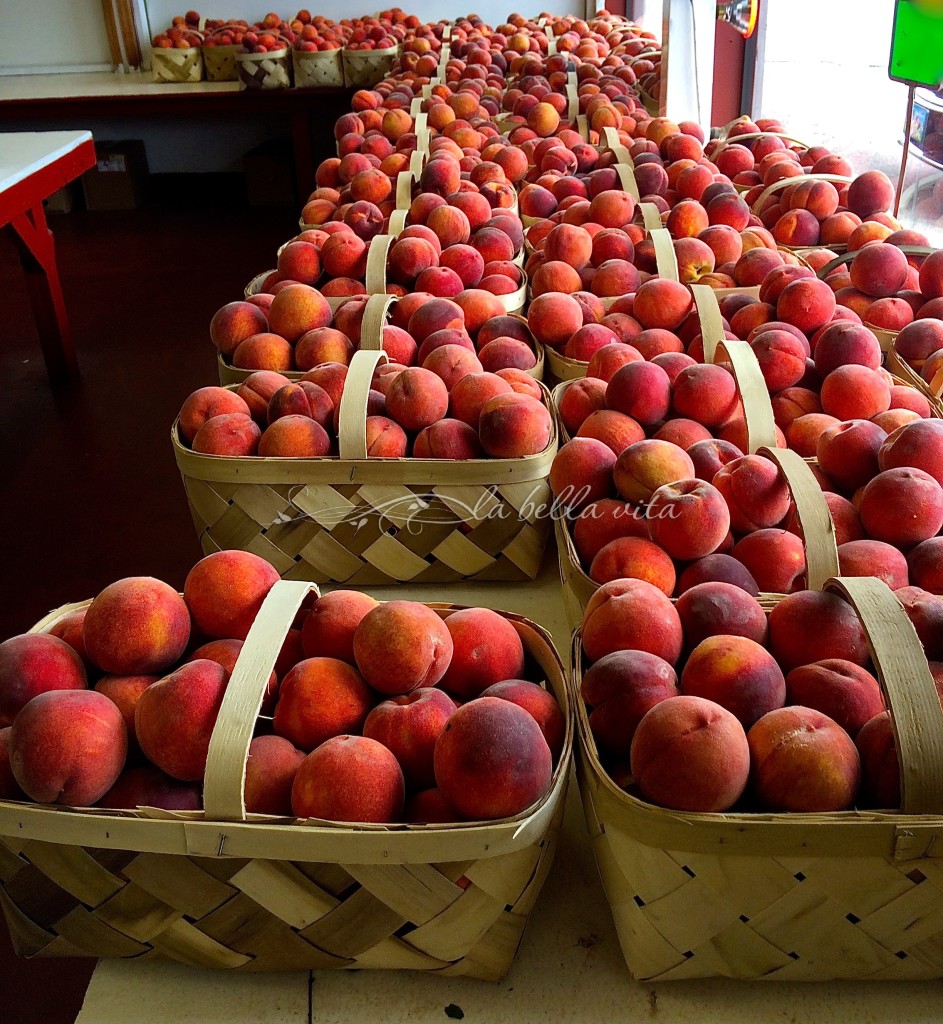 So pretty, they could be painted in a still-life piece of art!  I took one of the bushels home with me!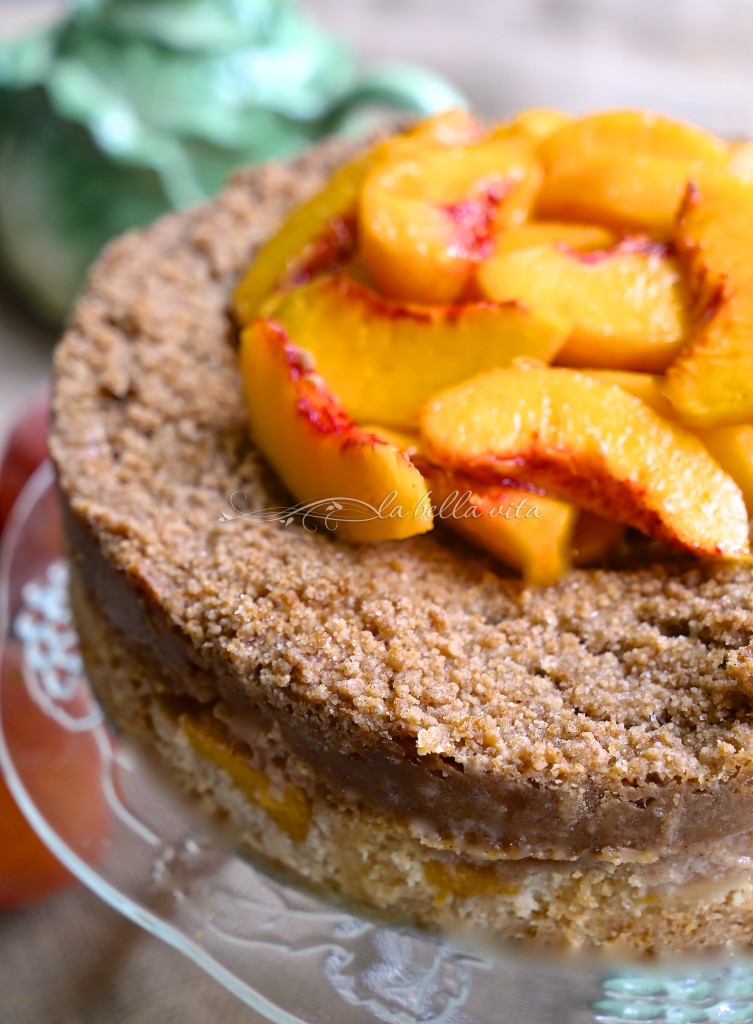 .
I baked this in a 9″ springform cake pan, because we prefer taller cakes.  They just make such a huge impression!  It does require a longer baking time though, so after 60 minutes, check on the cake's doneness with a toothpick and bake for 10 to 15 minutes more if necessary.
Even if your cake drops a bit in the middle, topping it with fresh peaches prevents the indentation from showing!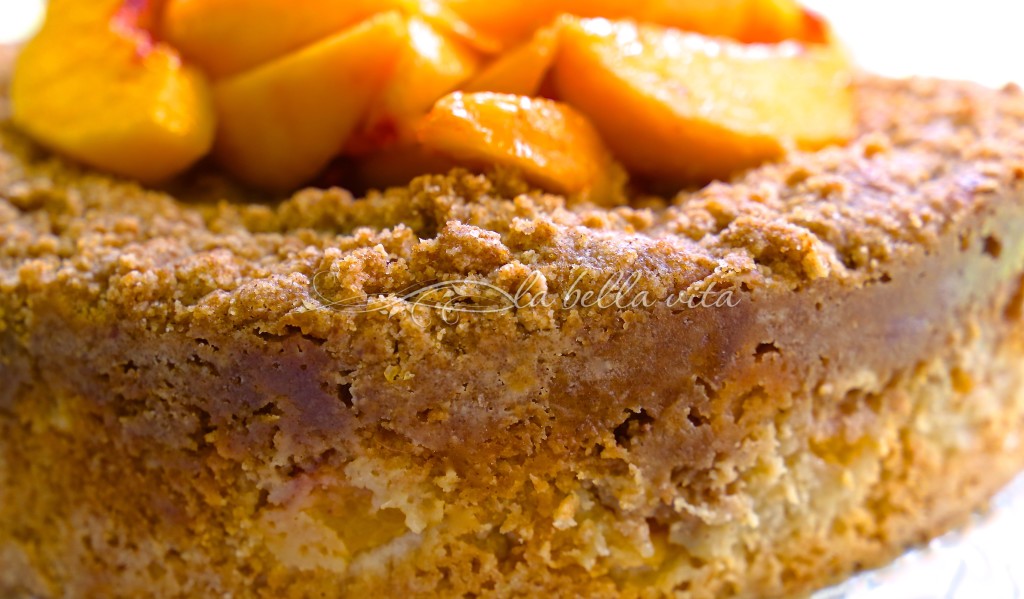 Just look at all this streusel . . . caramelized with sweet butter!  Irresistible!
.
Some of you recall that my mother has recently passed away.  I am blessed to have received her cherished English "Evesham" dishes.  To serve each slice of the cake, I specifically chose the dessert plate in her collection that has beautiful peaches painted on them.  I think that my mother would be very happy for me to use her dishes with love.  Peaches were also my father's favorite fruit.
Please share the love and pin this vertical image . . . thank you so much!

Print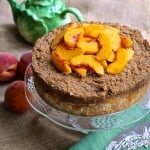 Italian Peach Crumb Cake with Streusel Topping
---
Scale
Ingredients
3 cup

s flour  1 cup sugar 2 teaspoons baking powder ½ teaspoon baking soda

¼ teaspoon

salt

1 cup

unsalted butter (softened)

3

jumbo eggs

1 cup

plain-flavored Greek yogurt

1 ½ teaspoon

s Fiori di Sicilia Extract (or Vanilla Extract if you don't have Fiori Sicilia)

3 cup

s fresh peaches (peeled, seeds removed, sliced, and cut in half)

⅔ cup

flour

⅔ cup

light brown sugar

½ cup

cold butter

4

fresh peaches (peeled, seeds removed, and sliced)
---
Instructions
Pre-heat oven to 350°. Grease and flour an 8″ springform cake pan.

In a medium bowl mix together peaches and sugar, set aside.

In a large bowl whisk together flour, sugar, baking soda and salt, add butter using a pastry blender or fork combine to form a crumbly mixture.

Add eggs, the Fiori di Sicilia or Vanilla Extract, and yogurt and continue to mix until just crumbly.

In a separate bowl, blend flour, light brown sugar, and butter to make a streusel-like topping

Add crumbly cake batter to the springform pan, spoon peach mixture on top and sprinkle with streusel mixture.

Bake for approximately 30-40 minutes or until lightly golden on top. Let cool. 

Spoon the 4 freshly sliced peaches on top.
Enjoy!
---