Panzanella Tuscan Tomato and Bread Salad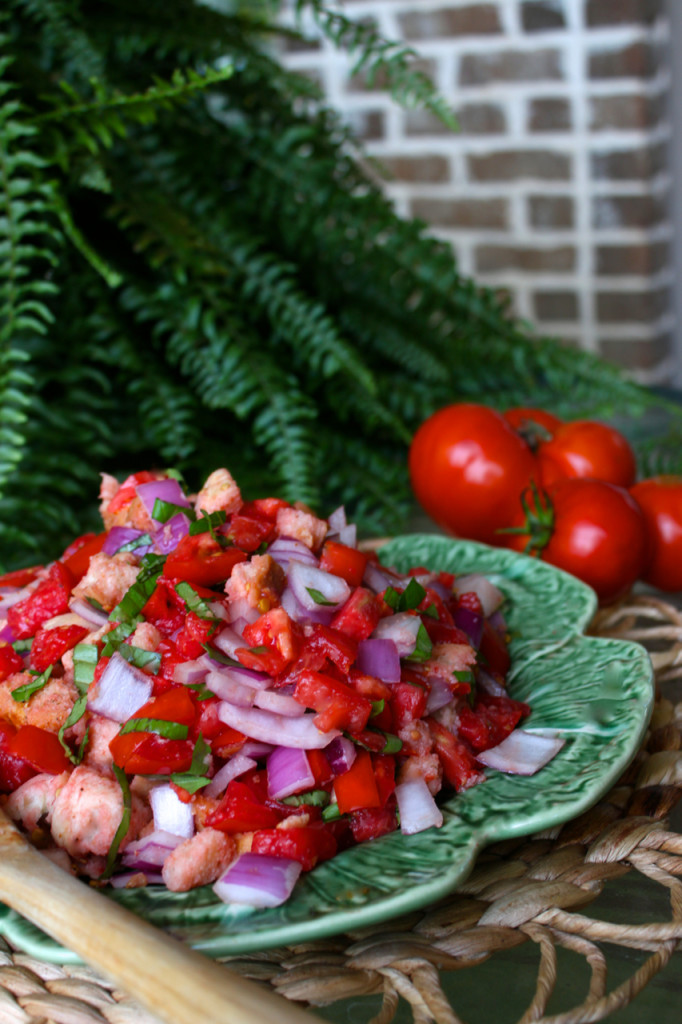 Bread is perfect for mopping up sauces and broth!
.
That's the basic idea of this wonderful, traditional Italian, fresh tomato and bread salad known as "Panzanella". A salad that is frugally made with crusty, hefty, day-old bread chunks tossed into tomatoes, onions, and fresh basil with a vinaigrette dressing.
.
This simple and delicious salad is a creation from the Tuscan region of Northern Italy. It's a great example of how Italians rarely waste any food . . . even old stale bread! In fact, the harder, the more stale and old that the bread is, the better . . . just don't use any moldy bread . . . that would be really nasty!
.
Now that your tomatoes are at the peak of their season and beautifully, juicy ripe, it's the absolute PERFECT time of the year to enjoy Panzanella. So grab a strong serrated knife and saw some thick slices of your old bread (best to use a good Italian or French artisanal bread, not the pre-sliced bread that is mostly found in the States). You need a good knife when bread gets this hard.
.
Use the ripest tomatoes that you can. The juice from the tomatoes and vinaigrette juice up nicely together and is soaked up in the bread which then becomes softer, but not mush, since the bread that you need to use is supposed to be hard from the get-go.
.
Too hot to cook indoors? Here's a great bonus about Panzanella: You don't even have to use the oven or stove; it's a lovely, cold salad full of rich summer flavors!
.
Here's a bit of Italian trivia: Along with the traditional
Caprese Salad
of tomatoes, basil and Bufala di mozzarella, Panzanella also shows the spirit of Italy in the patriotic colors of its
red, white and green colors of the Italian flag!
.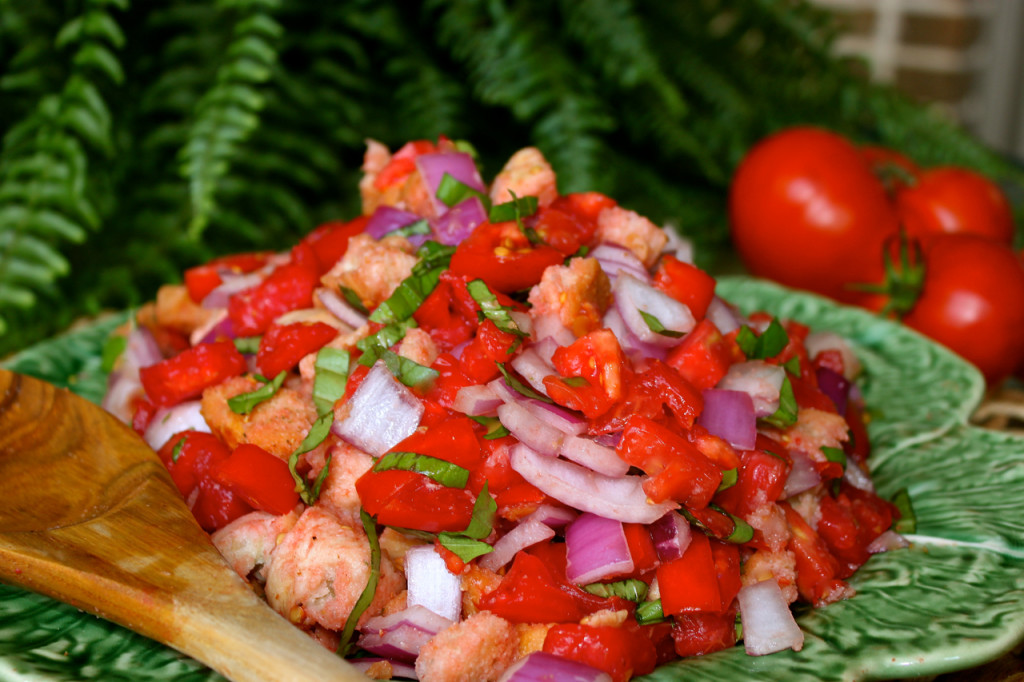 Please share the love and pin this vertical image:

.
Print
Panzanella Tuscan Tomato and Bread Salad
Author:
Prep Time: 0 hours
Additional Time: 0 hours
Cook Time: 0 hours
Total Time: 0 hours
---
4 cups fresh, ripe tomatoes, cut into cubes
1 cup red onion, chopped into 1/2″ pieces
20 fresh basil leaves, sliced into slivers or shredded
6 Tbsp. extra virgin olive oil
2 – 3 Tbsp. red wine vinegar
Freshly-cracked sea salt and black pepper to taste
8 cups of several days-old cabbala or hard-crusty Italian bread, cut into 1″ cubes
Sprigs of fresh basil for garnish.
---
Instructions
In a large bowl, combine the tomatoes, red onions, basil, olive oil, vinegar, salt and pepper until well mixed.
Just before serving, toss in the bread cubes.
If you prefer, you can allow the salad to set for 10 minutes before serving so that the bread soaks up the vinaigrette more.
Kick it up a notch by doing any of the following
Add some chopped up cucumbers.
Add cubes of fresh bufalo mozzarella.
Or add chopped prosciutto.
OR, add a combination or all of the above!
---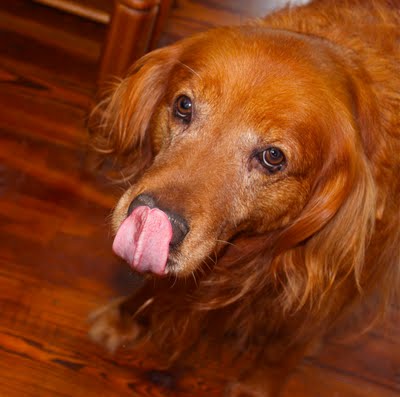 Our golden retriever, "Buckeye", just loves tomatoes and bread.
With the basil and vinaigrette, he was smacking his lips in appreciation!
.
.
Here's another version of Panzanella that I've made that includes cooked pancetta that's extremely delicious too:
.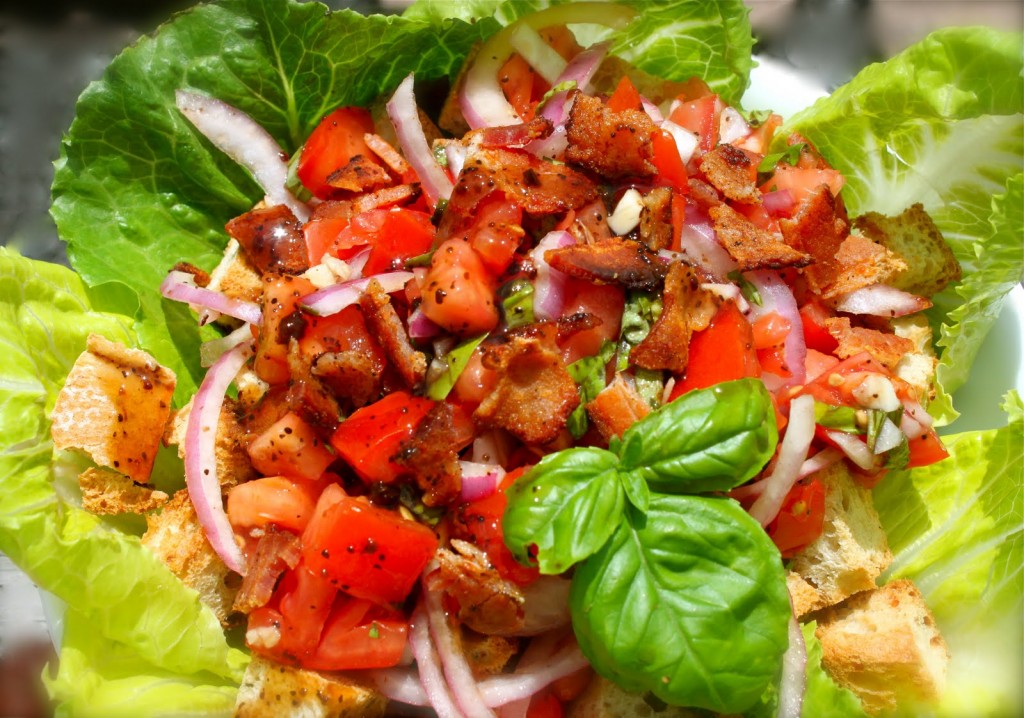 .
.
Got left-over Panzanella? (What a silly question!)
But if you just happen to have some left over for the next day, here's a wonderful Frittata to make with Panzanella:
,
,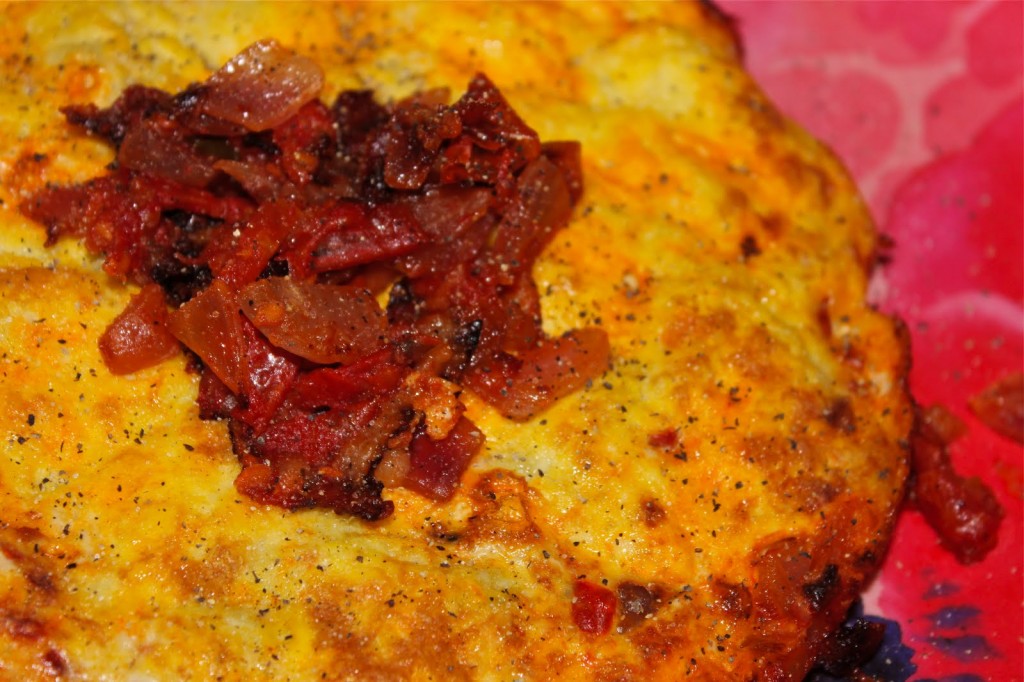 .
.
.
Enjoy this Panzanella Tuscan Tomato and Bread Salad !
.
.