Peaches with Prosciutto and Balsamic Glaze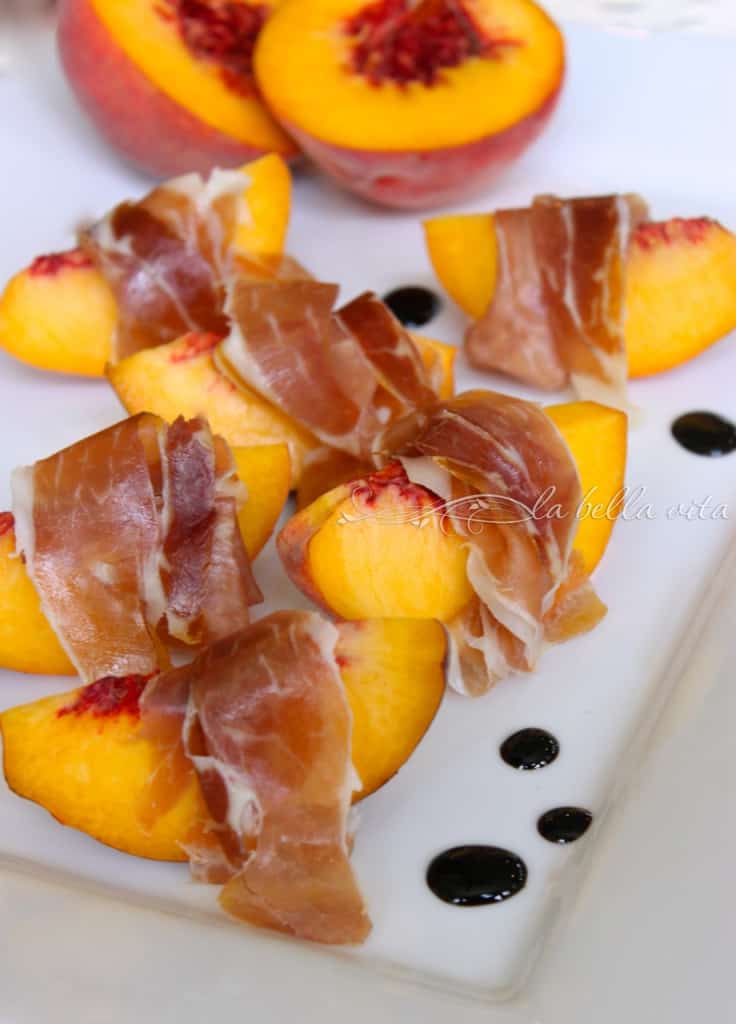 One more month of fresh peaches in South Carolina! With autumn just around the corner, it's fast approaching the time to enjoy foods and recipes that are perfect for eating 'al fresco'! Time to go back outside and get out of the A/C!
Here's a perfect, super easy and flavor-packed recipe to enjoy outside while the temperatures change: Peaches with Prosciutto and " rel="noopener noreferrer">Balsamic Glaze. Satisfying on so many levels: fresh, fruit, no chemicals, healthy, easy, fast, convenient, and simply delicious. Who can argue with that combination? The combination of sweet and savory really plays on your taste buds . . . especially with the " rel="noopener noreferrer">balsamic glaze.
Any fruit will work with this recipe too, especially figs and pears in October. With several chunks of gorgonzola dolce, fontina or asiago cheese, and a fantastic loaf of focaccia . . . well, you've got yourself a perfect al fresco meal!
.
.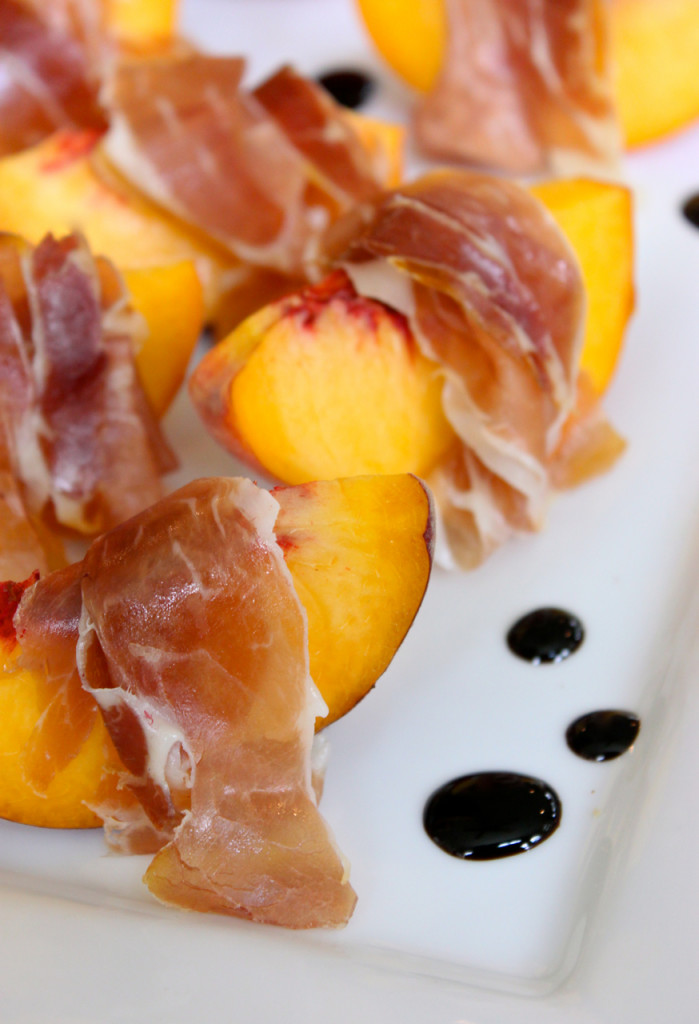 .
This traditional and yet elegant recipe is from the Northern Italian region of Emilia-Romagna where prosciutto (Parma Ham) is produced and strictly protected by the Italian government to maintain purity and authenticity. The best of all Italian food is KEPT in Italy and is not exported to other countries. Nothing that we experience here in the States can even come close to the flavor and color of the prosciutto available in any of Italy.
Trust me: You can't get the good stuff outside of Italy!
So many people who visit Italy, upon their return say, "the food just tastes so much better in Italy". Well, now you know why. It IS different because it is their BEST!
I bought the big chunk of prosciutto shown in the photo below for 45 euro (approximately $70); because it is perishable, it was not allowed to be shipped from the UPS/Fed Ex store in Modena. At the airport, it is confiscated at customs and security.
Don't try to bring it out of the country and throw your money away or choose to do as I did: give the prosciutto to someone you know in Italy to enjoy! I gave it to my cousins to enjoy in return for everything that they did for us during our recent visit.
.
Please share the love and pin this vertical image:

Print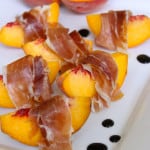 Peaches with Prosciutto and Balsamic Glaze
Author:
Prep Time: 0 hours
Additional Time: 0 hours
Cook Time: 0 hours
Total Time: 0 hours
---
Freshly-picked free-stone peaches, as many as you need to serve your guests.
Prosciutto, sliced thin, as much as you like!
Balsamic glaze to drizzle — 1/4 cup of the bottle or more, depending how much your guests desire.
---
Instructions
Remove fuzzy skin of peaches and the seed/pit.
Slice into 1/2″ wedges.
Wrap one or two slices of prosciutto around each peach wedge.
Drizzle with Balsamic Glaze.
---