Heirloom Tomato and Italian Cheese Tart

Here's an AMAZINGLY delicious (and I seriously mean that) way to celebrate the freshness and flavor of the summer's bounty: An Heirloom Tomato and Italian Cheese Tart! Layers of phyllo dough sprinkled with goat cheese crumbles and olive oil throughout the layers give a subtle tang to the pastry. The result is a flaky, cheesy crust that's slathered with a creamy Italian cheese and herb blend. Beautiful sliced heirloom tomatoes sprinkled with chives top everything off in this stunning tart.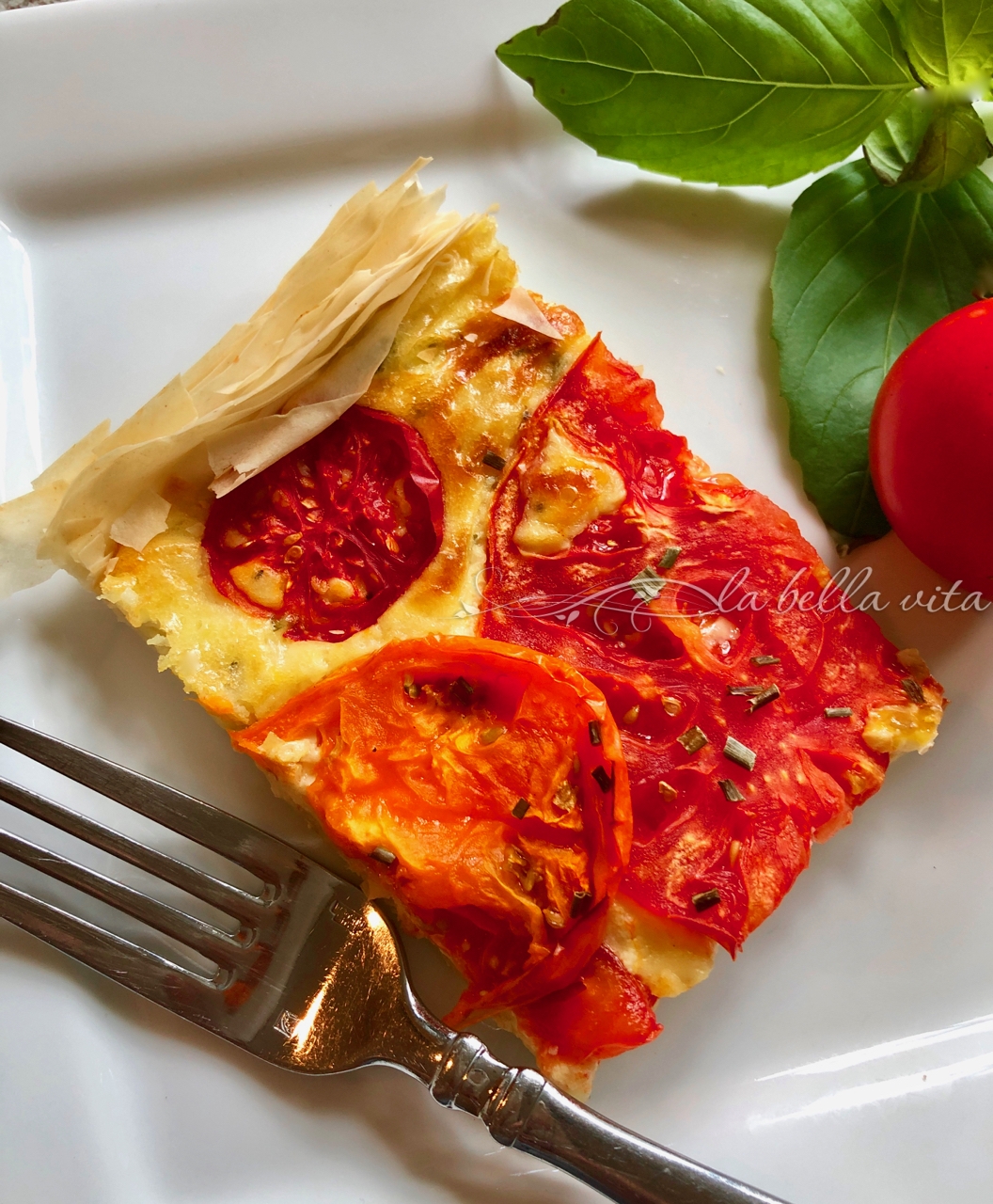 This Heirloom Tomato and Italian Cheese Tart can be served cold or warm. Slices of the tart can be taken on a picnic, served elegantly at a special occasion, or served at a nice luncheon or brunch. As for me, I'll nibble on this for an afternoon snack!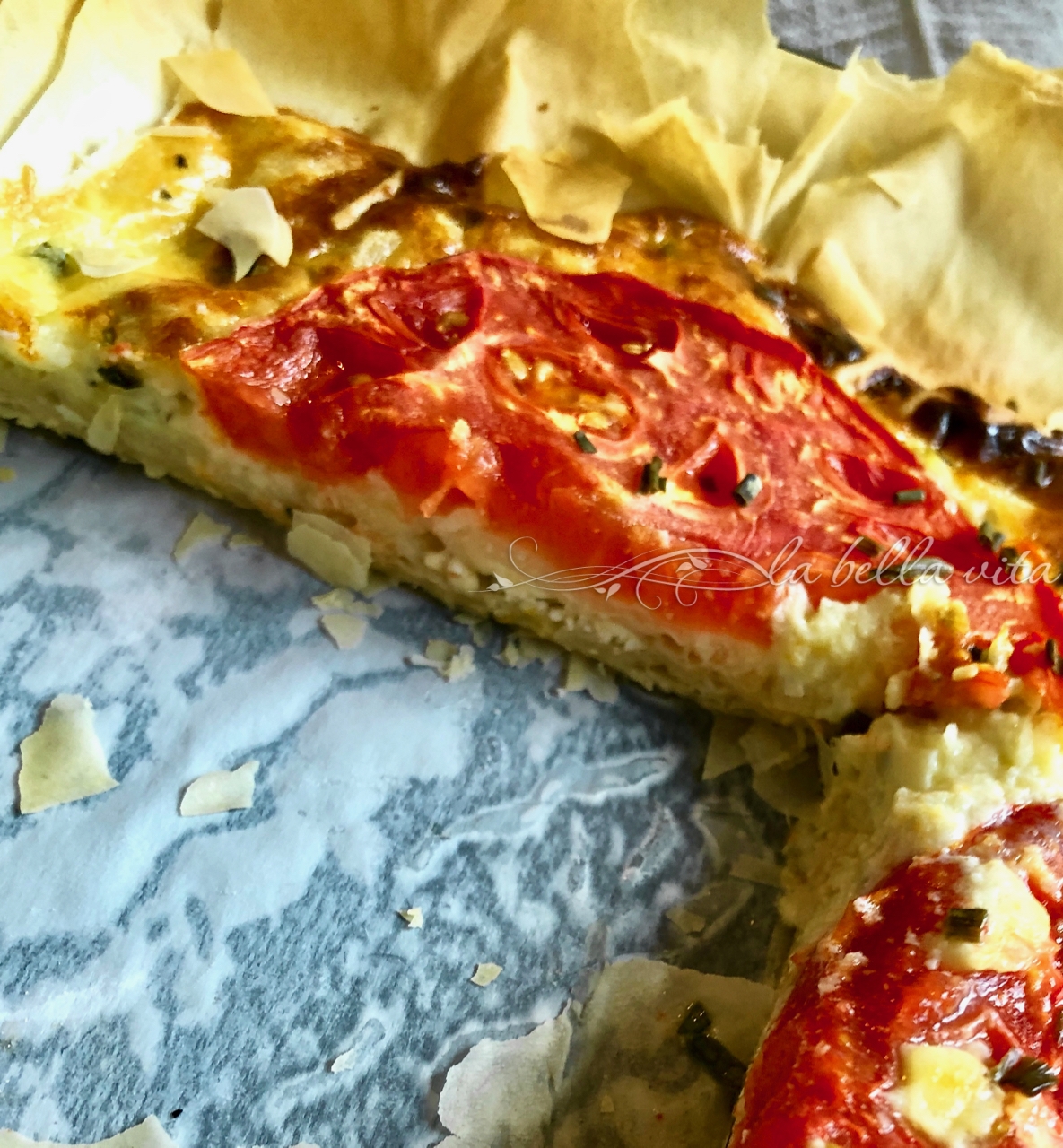 Above, you can see that when you slice into the tart, there are layers of phyllo and goat cheese! The cheese isn't just in the filling with the tomatoes. Yum!
Please share the love and pin this vertical image. We thank you!!!

This post contains affiliate links which means that a miniscule small commission is paid to us if you make a purchase and there is absolutely no additional cost to you. Please see our Disclosure Policy for information. Thank you for your support!
Yield: 12 servings
Heirloom Tomato and Italian Cheese Tart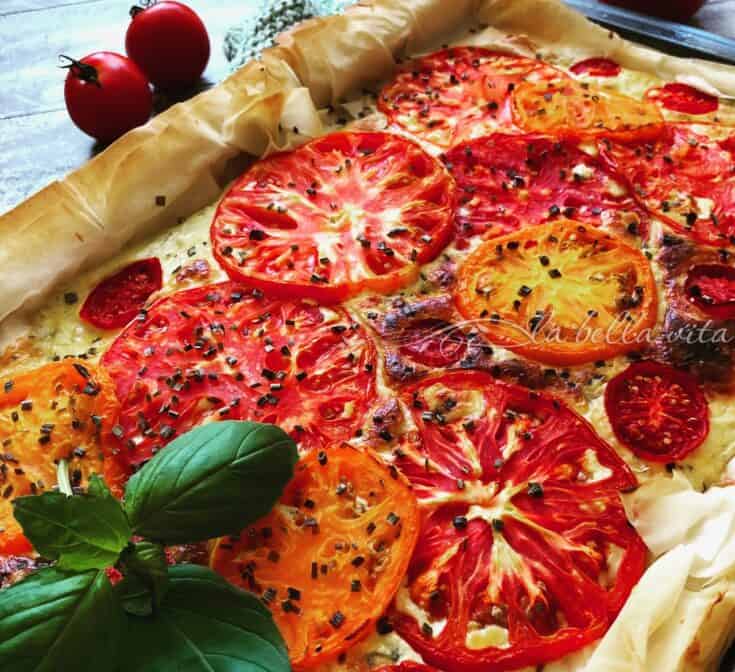 Perfect to take on a picnic or to serve at an elegant gathering, this tomato tart is delicious with a tangy blend of Italian cheeses underneath sweet ripe tomatoes.  Two layers of goat cheese are sprinkled in the phyllo crust to add another layer of flavor!
Ingredients
1 box of phyllo dough
olive oil, approximately 3/4 cup, used to coat layers of phyllo dough
8 oz. goat cheese crumbles
parchment paper
5 - 6 assorted heirloom tomatoes in various sizes and colors, sliced thin
1-1/2 cup ricotta cheese
2 large eggs
1 cup mozzarella cheese, grated
1/3 cup parmigiana cheese, grated
1/3 cup fontina cheese,  grated
1/4 cup asiago cheese, grated
2 cloves garlic, minced
1/4 cup onion, diced
8 leaves of fresh basil, chopped
2 Tbsp. chives, chopped (fresh or dried)
salt and pepper
Instructions
Place a sheet of parchment paper in a large baking sheet.
Layer the phyllo dough one at a time on top of the paper.
Brush olive oil on top of each layer of phyllo dough.
On about the 5th or 6th layer of dough, sprinkle half of the goat cheese crumbles.
Continue to layer and oil the dough.
On about the 10th or 11th (just guess) layer of the dough, sprinkle the remaining half of the goat cheese sprinkles.
Finish layering and oiling the remaining layers of phyllo dough.
In a medium mixing bowl, by hand or hand-held mixer, blend the ricotta with all cheeses, eggs, onion, garlic, basil, chives, and a shake or two or salt, and a large pinch of pepper.
Spread this cheesy mixture on top of the phyllo dough, leaving about an inch from the edges without the mixture.
Randomly place the tomatoes on top of the cheesy filling mixture.
Sprinkle with more chives.
Place aluminum foil around all edges to prevent burning.
In a 375 degree oven, bake for 1 hour until golden. If the tomato/filling area has not turned golden, then turn on the oven broiler for 5 - 10 minutes, keeping an eye on the tart so that it does not burn on top.
Allow to rest for 15 minutes.
Slice into preferred size pieces. Do not serve with the parchment paper underneath!
Garnish with fresh basil leaves.
ENJOY!
Tips for Working with Phyllo Dough
Phyllo dough, also spelled 'fillo' comes in tissue-thin sheets that's used in Mediterranean cuisine. Due to its thin nature, working with the pre-rolled sheets of phyllo dough can sometimes get a little tricky because phyllo dries out quickly and becomes extremely brittle and fragile when exposed to air. It can also become gummy if thawed incorrectly. Therefore, extra care in handling is needed when you're using filo in your baking. Golden brown and extra crispy phyllo dough always gives a rustic touch to tarts, desserts, and appetizers.
I'll share some of my secrets that I've learned from experience that will help you:
Phyllo is stacked and wrapped together into rolls or flat squares and can be found in your food store's frozen food section. One package contains dozens of paper-thin sheets of phyllo that can be used whole or cut in sizes according to the recipe.
Thaw the phyllo dough in the unopened package overnight in the refrigerator. If you make the common mistake of defrosting the phyllo at room temperature on the counter, the dough condensates together and becomes gummy. Plus defrosting in the refrigerator keeps the dough cold which is the temperature that is best to work with the phyllo.
Do not remove the filo from the plastic wrapping until all of your other ingredients are prepped and ready to go. Phyllo dough dries out extremely fast, so have all of your ingredients, knives, and spoons etc. prepped and ready to use. Some pieces may crack or tear when coming out of the package and that's okay. Don't discard them, but just put them in the middle of whatever you are preparing where no one can see them.
Always work with your hands dry and use a sharp knife to cut the dough.
Prepare a surface large enough to use as a workspace (not floured). Place unwrapped phyllo dough on a damp kitchen towel and cover with another damp towel. The towels shouldn't be completely soaking wet, but just wet enough to give the phyllo dough some moisture. The goal is to keep the dough hydrated and prevent it from drying out. Unroll from the plastic sleeve only when you are ready to use, as it dries out really quickly and will be hard to work with.
Remember to preheat the oven, so that when done you are ready to bake right away.
Phyllo dough sticks to the baking tray very easily when cooked. To prevent the dough from sticking, always thoroughly butter the bottom and the sides of your baking pan with enough butter, or use cooking parchment paper, depending on the recipe.
Melted butter works well to fuse sheets of phyllo together nicely. You can use other oils as well, depending on the recipe.
Use a pastry brush to brush the phyllo sheets with butter. If some are dry it the edges, just use a little bit more butter or oil. Remember to brush the top layer thoroughly with enough butter, to become crispier and nicely colored, and to prevent from getting burned.
When using phyllo as a top layer of a recipe, remember to score the top of the pastry with a sharp knife to allow the steam to escape while baking.
If you have any unused phyllo sheets left, wrap them firmly in plastic wrap, place in the original box and refrigerate as soon as possible. Phyllo can be kept in an airtight container for several months in the freezer.
What are some of your favorite ways to use phyllo?
Do you enjoy La Bella Vita Cucina?
We'd love to have you as part of our community!
Subscribe below to receive a FREE e-Cookbook and all of the latest recipes, travel tips, and gardening ideas straight into your inbox!