Roasted Butternut Squash Risotto with Sage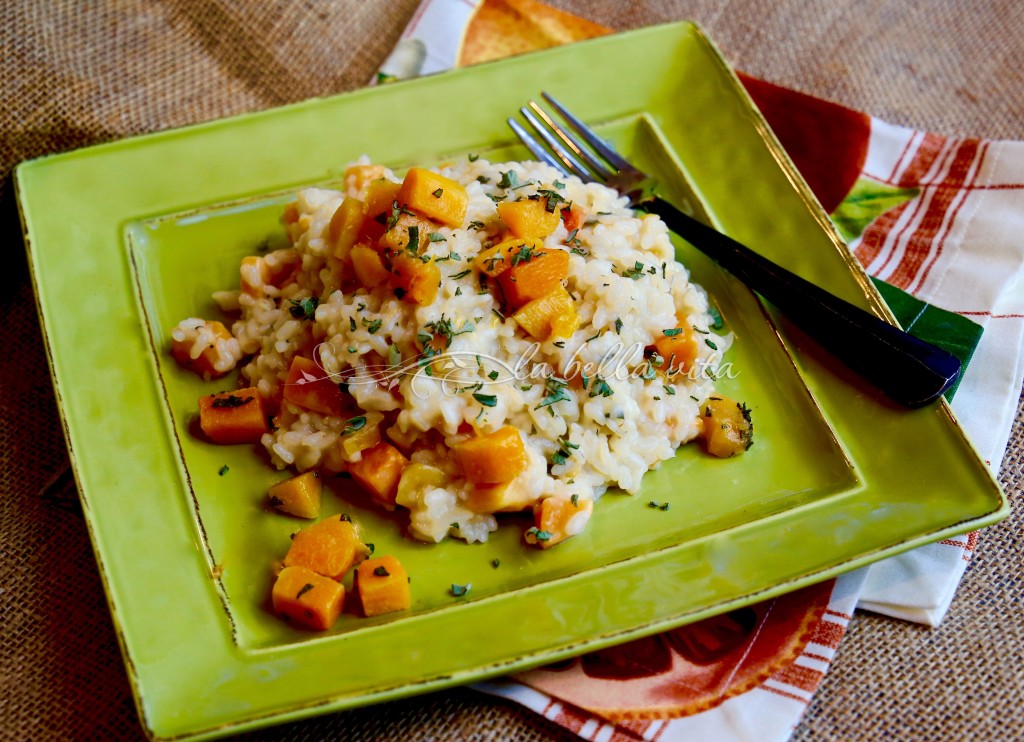 Don't make risotto if you're watching your weight!
DO MAKE risotto if you want one of the most heavenly things to eat on planet earth! Rissoto isn't just comfort food, it's BLISS food! It's sinfully rich, sinfully creamy, and outrageously delicious!
I could seriously make risotto on a weekly basis!
Everybody has a weakness, and mine is risotto!
I've never understood what all the fuss is about over all of the constant stirring that is required to make creamy risotto! First of all, there is just something so soothing about this quiet, repetitive process, something so satisfying about knowing what is taking place with the rice and cheese becoming super-creamy from the stirring, and well, there's even a little upper arm work-out going on in your cooking endeavors!
I've made so many different varieties of risotto, and with autumn's chill in the air, I decided to make a seasonally-fresh Roasted Butternut Squash Risotto with Sage. This is so amazing, that even my rice-hating husband ate several helpings! And that's a big deal to me!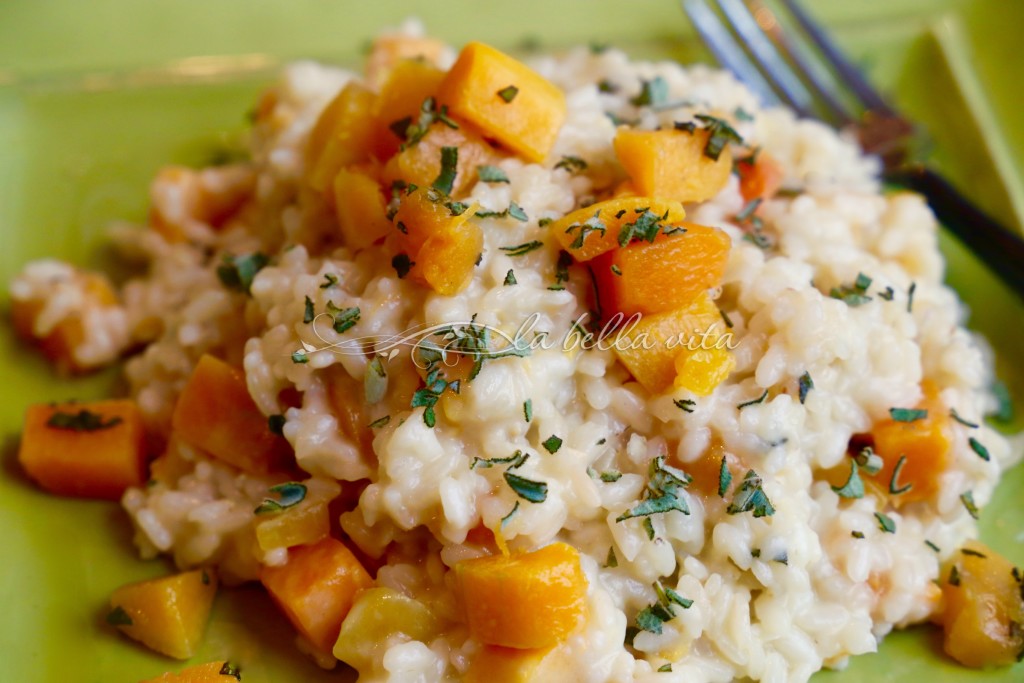 Isn't this just a beautiful dish for autumn? The gold and orange of the butternut squash are so eye-appealing for the season!
This risotto is perfect paired with a thick-cut pork chop or pork roast that (seriously) requires very little work of simply baking in the oven while you're making the risotto.
Enjoy! And don't forget to write and let me know how it turned out for you OR if you have any questions about making risotto!
I enjoy helping you with your cooking adventures!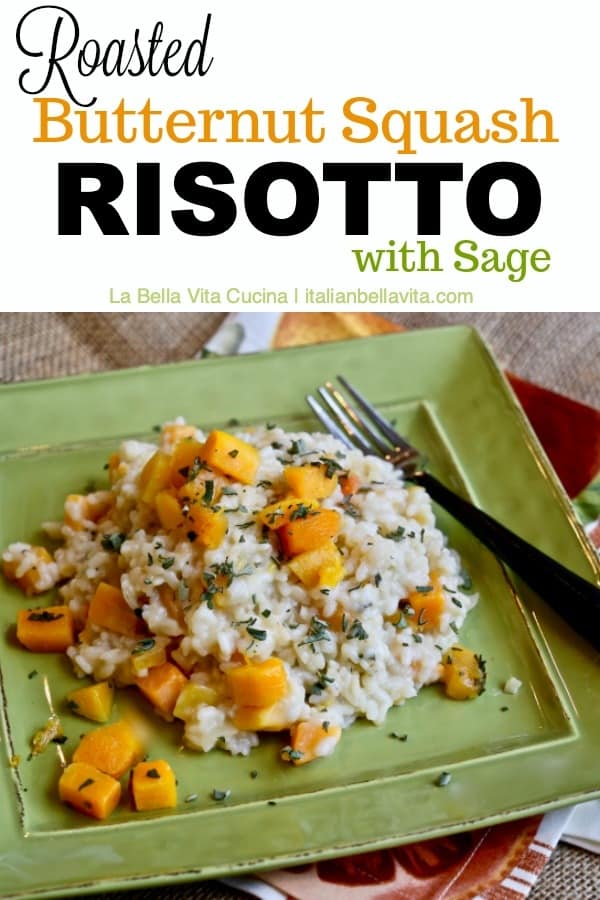 Oh, did I tell you that we became grandparents to triplets one year ago last week? Yes, three healthy baby boys! Here's a shot that I took of little "Gus" in his incubator with our daughter, Lauren, holding his hand. We feel so blessed that all three babies are healthy and came home from the hospital after 3 weeks.
After my mother recently passed away, a wave of joy has been felt throughout my family!
Isn't life precious?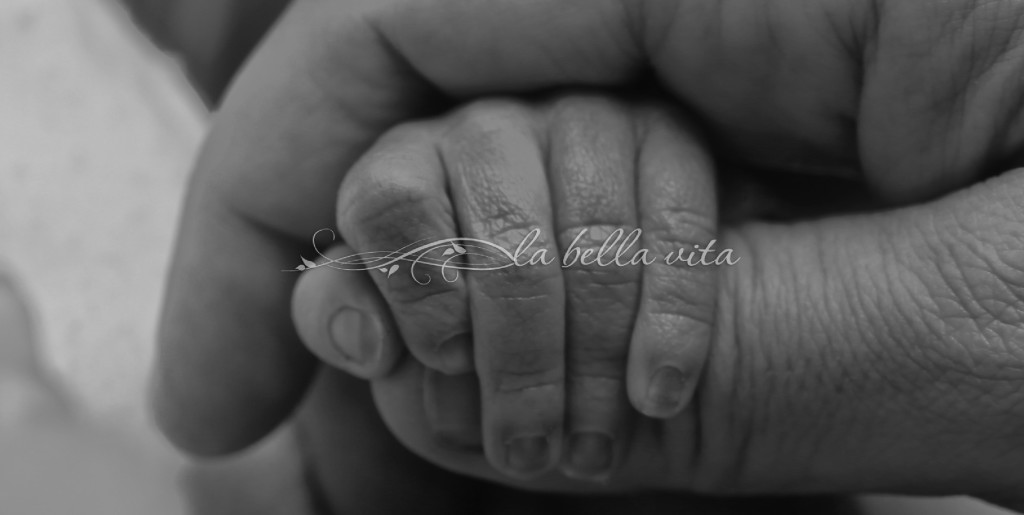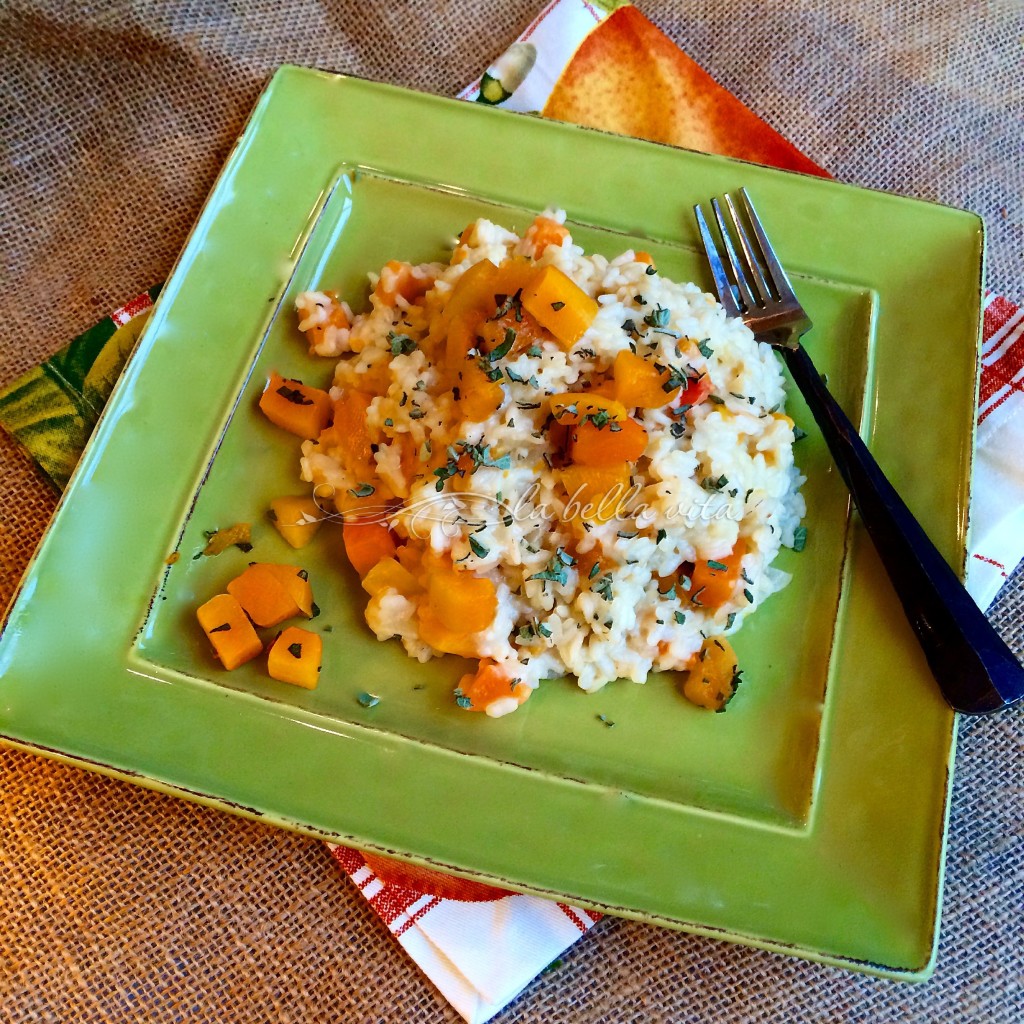 I hope you enjoy this delicious Roasted Butternut Squash Risotto with Sage!

Print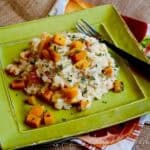 Roasted Butternut Squash Risotto with Sage
Author:
Prep Time: 0 hours
Additional Time: 0 hours
Cook Time: 0 hours
Total Time: 0 hours
Cuisine: Italian
---
Description
This Roasted Butternut Squash Risotto is not only a delight to the eye with its vivid colors of orange and green, but oh what an incredibly smooth and sage-y autumnal flavor it possesses as well!  A truly visually magnificent and heavenly flavored risotto!  Mangia mia amici!   
---
2 Tbsp. olive oil
2 Tbsp. butter
1 onion, chopped
4 large cloves of garlic, minced
2 Tbsp. olive oil
3 cups Italian arborio rice
6 cups chicken or vegetable broth
1/2 cup white wine (I use Pinot Grigio)
2 – 4 cups butternut squash, cut into cubes and roasted
1/4 cup chopped, fresh sage
1/4 cup cream
1 cup freshly grated Parmigiano-Regiano cheese (Parmesan)
1/4 cup freshly grated Pecorino-Romano cheese (optional, but it really tastes better with this)
salt and white pepper to taste
Garnish: Chopped, fresh sage, chives, or Italian parsley
---
Instructions
On low-medium heat, heat the butter and olive oil together.
Saute' onions for about 5 minutes.
Add and saute' garlic for about another 5 minutes.
Place butternut squash cubes on a large baking pan with 'sides' so that the cubes don't fall off the pan.
Drizzle olive oil all over squash cubes to coat evenly.
Sprinkle the chopped sage all over the oil-covered squash cubes to evenly coat.
Roast in a 450 degree (F) oven for 15 minutes.
Increase the oven heat to "broil" and roast for another 5 – 10 minutes, keeping a close eye on the squash to prevent it from burning.
If the squash is not dark enough or roasted enough for your preferences, continue to roast until desired. I like to roast vegetables until a dark char appears on the edges of the vegetables.
Remove squash from the oven and set aside to continue preparing the risotto.
Add arborio rice to the sauteed onions and garlic; stir thoroughly.
Begin to add the HOT broth, one cup at a time; stirring the mixture until the liquid is fully absorbed.
Add another cup of broth, stirring until liquid is absorbed; continue this process, stirring constantly, until all broth is absorbed into the rice.
The rice will bemuse more creamy as you continue to stir.
Add the wine, stir until absorbed completely.
Add the cheese(s) and stir until fully incorporated and creamy.
Add the cream and stir until creamy.
Add salt and pepper to taste.
TASTE, TASTE, TASTE and add any more of the ingredients that you prefer: more sage? more cheese? more cream? Add whatever your taste preferences desire!
Garnish: More roasted butternut squash cubes, chopped sage, chives, or Italian parsley.
---
.
Do you enjoy La Bella Vita Cucina?
We'd love to have you as part of our community!
Click here: La Bella Vita Cucina to get the latest recipes, travel tips and gardening ideas straight into your inbox!
Here are a few other recipes using butternut squash that caught my eye this week: