Mushroom Tart with Fontina and Asiago Cheese
Sometimes each of us goes on some sort of binge with one or two types of food or ingredients. Currently for me, I've just had a huge weaknesses for all things fungi . . . mushrooms that is! Plus mushrooms are in season for such a long time throughout the year. Even a simple dish of sauteed mushrooms is enough to make me happy. I can't even imagine going to a steakhouse without ordering a side of sauteed in warm butter – – 'shrooms! I just love the meaty, buttery taste of mushrooms either alone or included in a dish with other ingredients.
.
I found this recipe in a Fine Cooking magazine special publication on breakfasts a few months ago and knew that I just had to make it. Talk about simple and easy, and oh yes, tasty. Of course I had a few changes to amp up the flavor a bit too!
First of all, I doubled the cheese by adding the zingy tastes of both Asiago and Pecorino-Romano cheeses to the subtleness of Fontina cheese. What a difference this made! I also doubled the garlic and Italian parsley . . . I mean, "why not?"
.
This was truly a delicious puff pastry tart with the adjustments that were made . . . so much flavor with a delicate and flaky puff pastry that is so light and airy. The mushroom tart was also better after it sat for about 10 minutes. I just loved this recipe and I know that it will have repeat performances for both family and friends as either an entree, side dish, or cut into smaller pieces for appetizers!
.
Print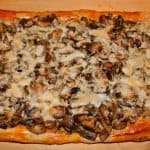 Mushroom Tart with Fontina and Asiago Cheese
Author:
Prep Time: 0 hours
Additional Time: 0 hours
Cook Time: 0 hours
Total Time: 0 hours
---
For the mushrooms
1 Tbsp. olive oil
2 – 3 Tbsp. butter
1 lb. mixed fresh mushrooms, wiped clean, trimmed and sliced 1/4″ thick
4 cloves garlic, minced (I doubled this from 2 cloves)
Freshly ground sea salt and black pepper
4 Tbsp. chopped, fresh Italian parsley (I doubled this from 2 Tbsp.)
Chopped fresh herbs: chives, oregano, thyme (or your favorite dried Italian blend)
For the tart
1 sheet frozen puff pastry, left out to thaw for about 45 minutes
Flour to dust a wooden board or surface
1 egg, beaten
1/2 cup grated Fontina cheese
1/4 cup grated Asiago cheese (my addition)
1/4 cup grated Pecorino Romano cheese (my addition)
---
Instructions
Prepare the sauteed mushrooms
Pre-heat the oven to 425 degrees F.
Heat the olive oil and butter in a large saute pan over medium heat until butter foams.
Add garlic and mushrooms.
Sprinkle with 1/2 tsp. sea salt and stir until the mushrooms start to release their moisture and begin to shrink, 2 – 3 minutes.
Increase heat to medium-high so that you hear a steady sizzle; stir occasionally.
In about 5 minutes, when liquid evaporates and mushrooms begin to brown, give just an occasional sweep with the spoon (about once a minute) to let the mushrooms brown nicely, cooking them another 2 – 4 minutes.
Resist desire to stir to often.
Turn off heat and toss in the parsley and pepper to taste, adding more salt if needed.
Add other herbs.
Set aside to cool.
Prepare the tart
Meanwhile, thaw the puff pastry at room temperature until pliable, 45 minutes.
Position a rack on the bottom rack of the oven at 425 degrees F.
Lightly dust work area with flour.
Unfold the pastry sheet and roll into rectangle about 10 x 15 inches, and about 1/16″ thick.
Slide it onto a baking sheet lined with parchment paper.
With the exception of about an inch border around the edges of the pastry, prick the pastry all over with a fork.
With a pastry bush, brush the beaten egg over the border only (you won't need all of it, so fry it up and either eat it or give to your puppies like I did).
Bake until the pastry begins to puff and the surface feels dry, about 5 minutes.
Scatter the sauteed mushrooms onto the pastry, leaving an inch of the border uncovered.
Bake until the crust border is puffed and deeply golden brown, about 10 minutes.
Scatter the cheese over the mushrooms and continue baking until the cheese melts, another 5 minutes.
Let cool briefly on a rack.
Slide tart off of the pan and parchment paper.
Slice and serve.
---
.
An assortment of 'gourmet blend' mushrooms (below)
The mushrooms after an awesome saute in butter, olive oil, garlic and herbs!
A close-up peek at this gorgeous puff pastry and the mushrooms blanketed by the cheeses!
.
.
Mushroom Tart with Three Cheeses
.
.