Octoberfest: German Jaeger Schnitzel Jägerschnitzel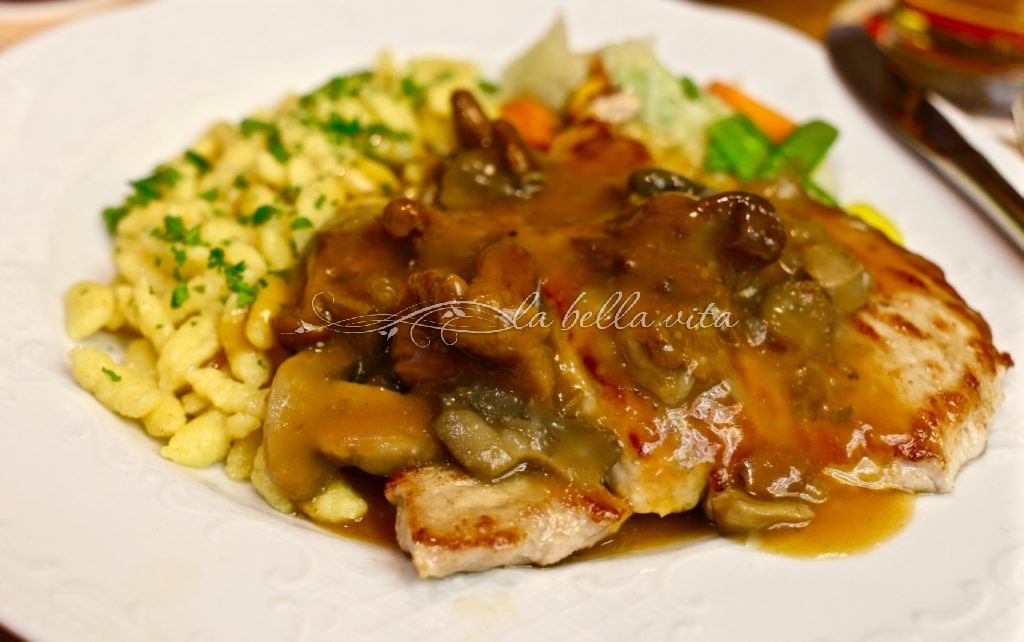 Part of the fun of October is not only the fun of Halloween, but also for celebrating German culture and it's delicious, rib-sticking comfort food!
My husband and I made a decision to move onto our acreage 12 years ago and have not had trick-or-treaters come knocking on our front door for years now. So the handing out treats to little ghosts and goblins on Halloween has truly fallen down on our list of seasonal priorities. In its place we focus more on enjoying seasonal recipes and other rituals, including the German tradition of Octoberfest.
My husband is 50% German and he was in heaven in the 'meat-and-potato' country of Germany when we visited. If you are watching your calories and cholesterol, then a trip to Germany will bust all of those attempts. Germany gets cold, especially in Bavaria in the winter, so food is hearty, hefty, and rib-sticking comfort food. It's truly delicious and you need to know what to order on the menus if you've never visited before.
My family loves pork and I can't get enough mushrooms! We're also a family of potato nuts. This authentic, classic German recipe is perfect for Octoberfest: Jaeger Schnitzel with Spaetzle . . . it will satisfy anyone else with similar food preferences.
Jaegerschnitzel (or Jägerschnitzel) is a traditional German dish that consists of a creamy mushroom sauce served over crisp, thick, breaded cutlets of meat. It's a German dish that just screams 'autumn'! There is a apparently a strong debate on the true way to prepare this treasured recipe. Is pork or veal used? (I'd like it with either)! Is the meat breaded or not? (Breaded is better, in our opinion). All Germans agree that the most common sauce of the dish is one made of rich and creamy mushrooms sautéed in butter, cream and white wine. "Jaeger" stands for "hunter-style". The mushrooms can be chanterelles (Pfifferlinge), common button mushrooms or a combination of different mushrooms. It is an excellent companion to German spaetzle, mashed or fried potatoes or dumplings.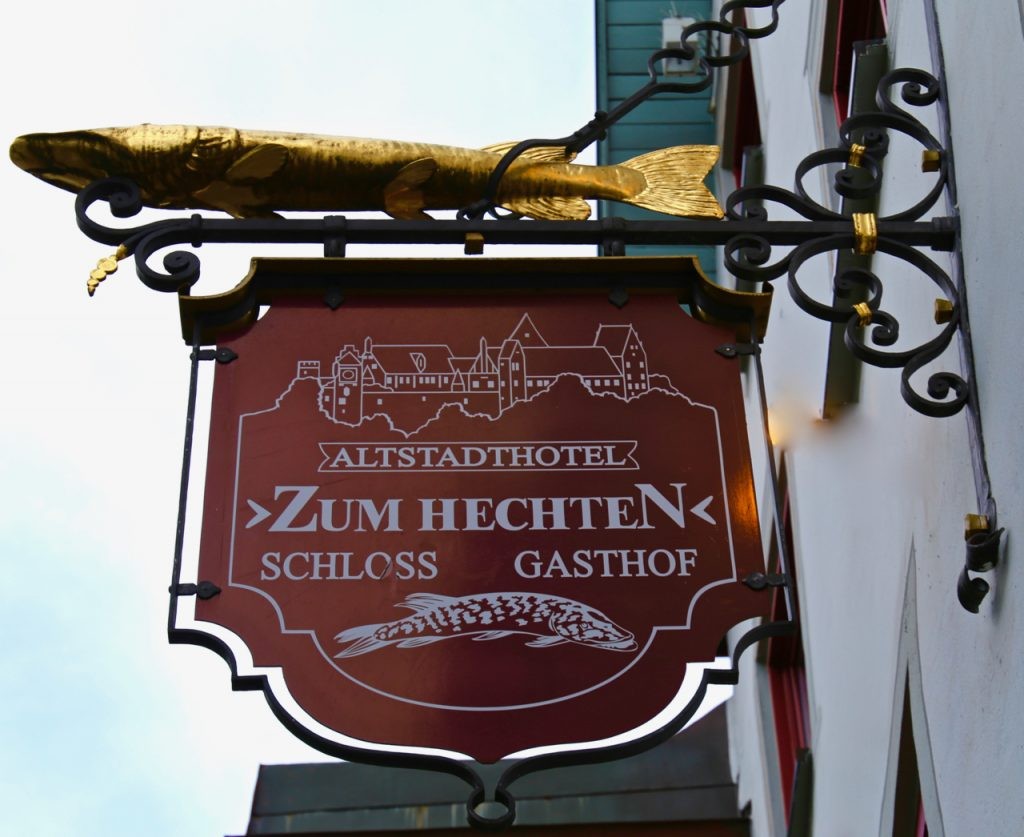 When in Fusseen, Germany, the small town at the foot of the mountains where the 'mad' German King Ludvig's castle sets, we spent a day strolling around the shops and old midieval architecture. The eatery, "Zum Hechten" was recommended to us for authentic, local fare.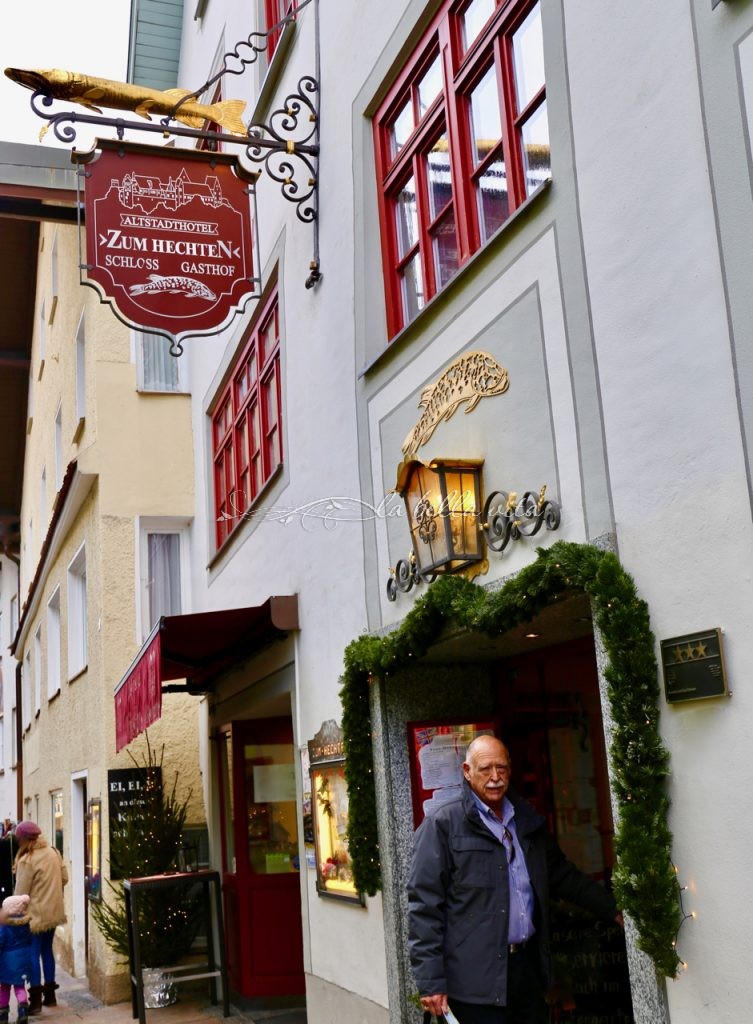 Here's my husband, Mr. Meat and Potatoes, anxiously awaiting some rib-sticking cuisine to match his name!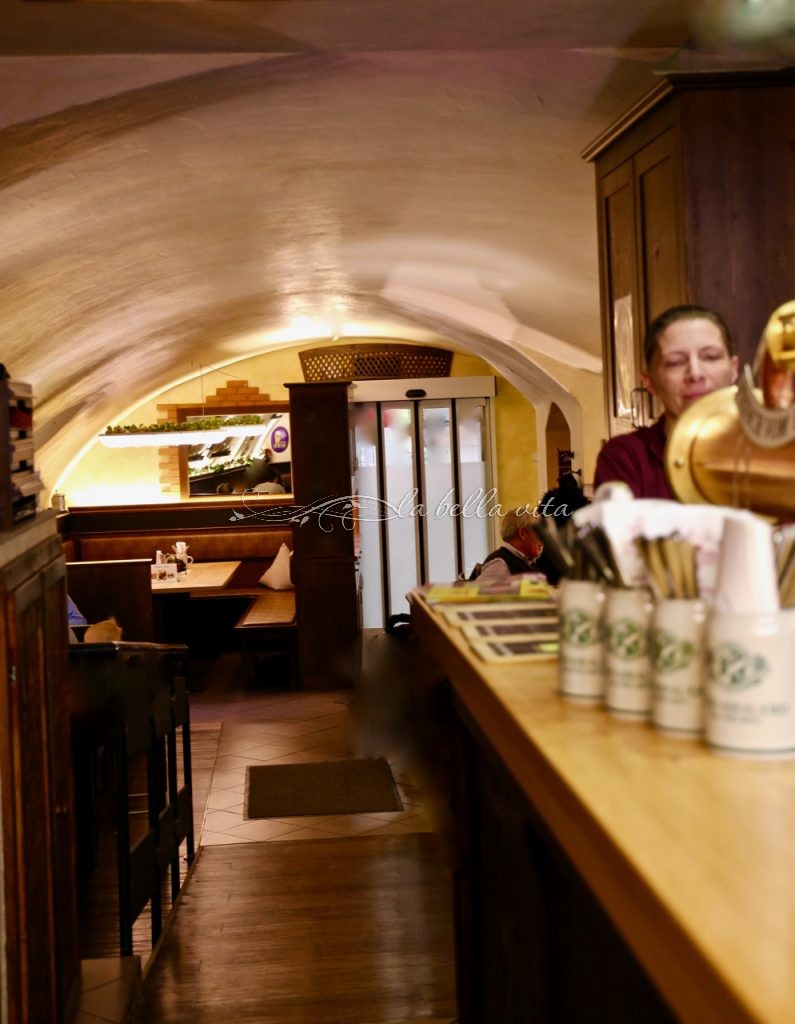 Now I may be Italian, but even my family prepared our favorite version of breaded meat cutlets that we called 'scallopini' . . . but German Jager Schnitzel takes fried breaded cutlets to a higher level!
Print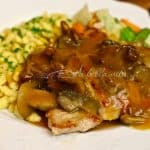 German Jaegar Schnitzel (Jägerschnitzel)
Author:
Prep Time: 0 hours
Additional Time: 0 hours
Cook Time: 0 hours
Total Time: 0 hours
Category: Entrees / i Primi
Cuisine: German
---
2 tablespoons unsalted butter
1/2 cup chopped onion
1 lb. mushrooms, sliced (your choice of variety)
2 cups beef broth/stock
1/2 cup white wine
1/2 cup + 2 tablespoons cream, divided
1 teaspoon whole grain mustard
1 teaspoon worcestershire sauce
2 tablespoons all-purpose flour
1/4 teaspoon freshly minced garlic (my addition)
1/4 teaspoon salt
Freshly ground pepper
3 tablespoons fresh parsley, chopped
1 teaspoon freshly chopped thyme
dash of marjoram
dash of minced bay leaf
For the Schnitzel
1 lb. pork or veal cutlets, cut 1/2 inch thick
3 eggs
1 cup flour
2 cups breadcrumbs (Panko breadcrumbs work great too)
1/4 teaspoon freshly minced garlic (my addition)
1/4 teaspoon salt
Freshly ground pepper
1/4 teaspoon cayenne pepper, or to taste
2 – 4 tablespoons unsalted butter
Garnish
1/4 cup minced parsley
4 slices of thick bacon, cooked until brown, and crumbled
---
Instructions
For the Jaeger sauce
Heat the tablespoons of unsalted butter in a skillet over medium heat.
Add the onions and garlic and sauté until translucent.
Place the sliced mushrooms in the pan and brown for 5 minutes, stirring occasionally.
Pour in the broth and white wine and cook for 3 minutes.
Add the cream, mustard, worcestershire sauce, garlic, salt, pepper, parsley, thyme, marjoram and bay.
Bring to a gentle boil.
Lower the heat and simmer for several minutes.
In a small, separate bowl, mix the remaining 2 tablespoons of cream with 2 tablespoons of flour.
Add the flour slurry to the mushroom mixture and bring to a boil, stirring to avoid clumps.
Add the fresh chopped parsley.
Season with salt and freshly ground pepper.
Turn off the heat and cover the pan with aluminum foil to keep warm while cutlets are cooked.
Make the schnitzel
Lay the pork cutlets out on a cutting board.
Cover the cutlets with plastic wrap and use a kitchen mallet or your fist to pound the cutlets until thin (1/4 inch thick or less)
In a separate bowl, whisk together the all-purpose flour, pepper, salt and cayenne pepper.
Melt the 2 tablespoons of unsalted butter in a medium sized skillet.
Dip each cutlet in the flour mixture, then the eggs, and then the breadcrumbs.
Shake off the excess, place in the skillet and sauté in the butter for 3 minutes on each side or until the pork cutlets are cooked through.
Remove from heat and transfer to a serving platter.
Retrieve the still warm, creamy jaeger sauce and pour it over the cooked cutlets and serve.
Garnish with minced parsley and crumbled bacon.
---
Notes
Note: Have some sour cream on hand to stir in if you prefer a thicker consistency in your sauce!