Italian Cherry Panettone French Toast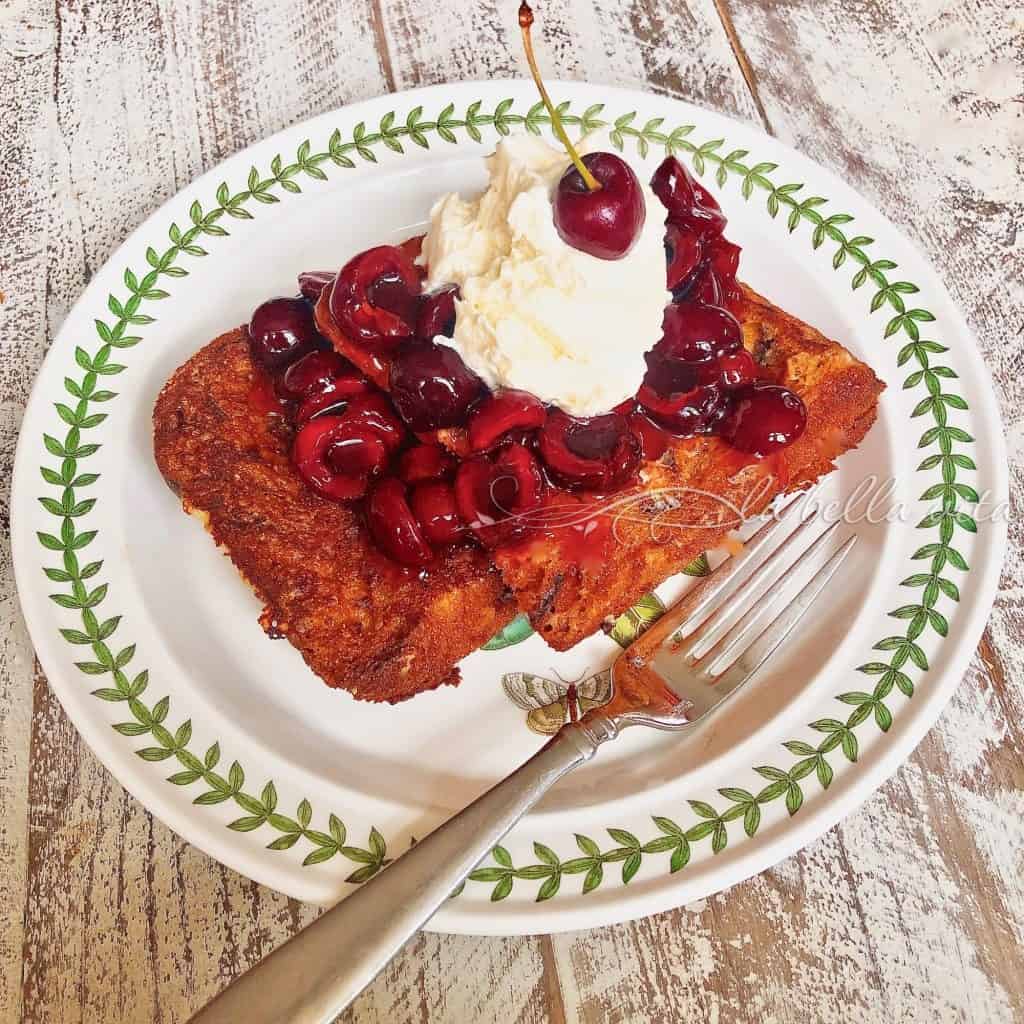 Well, thanks to the French or whoever created the beloved "French Toast" there are endless ways of preparing toasted and baked bread for delightful and leisurely breakfasts or brunches. That includes, you got it, Italian ways of preparing this delicious classic recipe for beginning a new day! How did French Toast really become "French" anyway? Let me know if you do!
Shall I call this recipe "Italian Toast", rather than the almost tacky name of "Panettone French Toast"? For this recipe, I used leftover Italian Christmas Panettone with its sweet studs of cherries to create a beautiful, delicious, and festive breakfast to break in the new year or day. Using panetonne makes this recipe rich and custardy for special occasions. I've used many Italian holiday specialty breads in overnight French toast recipes (such as Mascarpone and Peach Stuffed French Toast)! They're devoured so fast whether for breakfast, an afternoon pick-me-up treat, or for dessert topped with sweetened whipped cream! Heavenly!
Not a thing goes to waste in this house my friends!
To many families, Christmas is time for panettone, a buttery, sweet bread with a heavenly, intoxicating aroma that's only available during the holidays.
TIP: Always purchase one or two Italian Panettone Christmas breads in the flavors that you prefer. Then FREEZE them! You can enjoy them throughout the year! And you'll have them on hand if you invite guests over for brunch.
Every Christmas season, I look out for the new flavor introductions beyond my two favorites of cherry and limoncello. This year, I even found a cranberry panettone online . . . but snap! It sold out in a blink of Santa's eyes before I could grab it! Oh well, I've learned not to procrastinate during the holidays, so next year, I'll make sure that I order one quickly!
Oh my gosh, I have to say that the "FABBRI" brand of 'anything cherry' is over-the-top just the absolute finest in Italian cherry products. Cherries are cherished and held to the highest standards in Northern Italy where they're grown. Whenever we visit, I intentionally look for cherry jam (marmalade) to ship home to the States. Oh by the way, you can't ship or pack prosciutto in your luggage either. At either the shipping agency or at baggage check in the airports, both cherry jam, prosciutto and other food items are removed.
To enjoy the best flavor, try to purchase panettone that's been made with all butter. These have better flavor and texture. We prefer panettone toasted for a mid-morning snack, lathered with butter. It is simply heavenly. Try it!
But always with left-over panettone, making French toast or a bread pudding or some sort of breakfast bread bake is the easiest way to make an all new breakfast. If you're feeding a lot of guests, these delicious, flavor-packed recipes can also be made ahead. It's so easy to put something together with panettone because all of the flavor is baked inside the bread, so your job is simply to prepare the egg mixture custard in less than 5 minutes! Dunk the bread in the custard and either fry or bake! DONE! You can refrigerate this toast overnight or bake it right away. The longer it sits, the creamier the texture will be.
So let's get cooking! Here's some brief step-by-step photo instructions for you!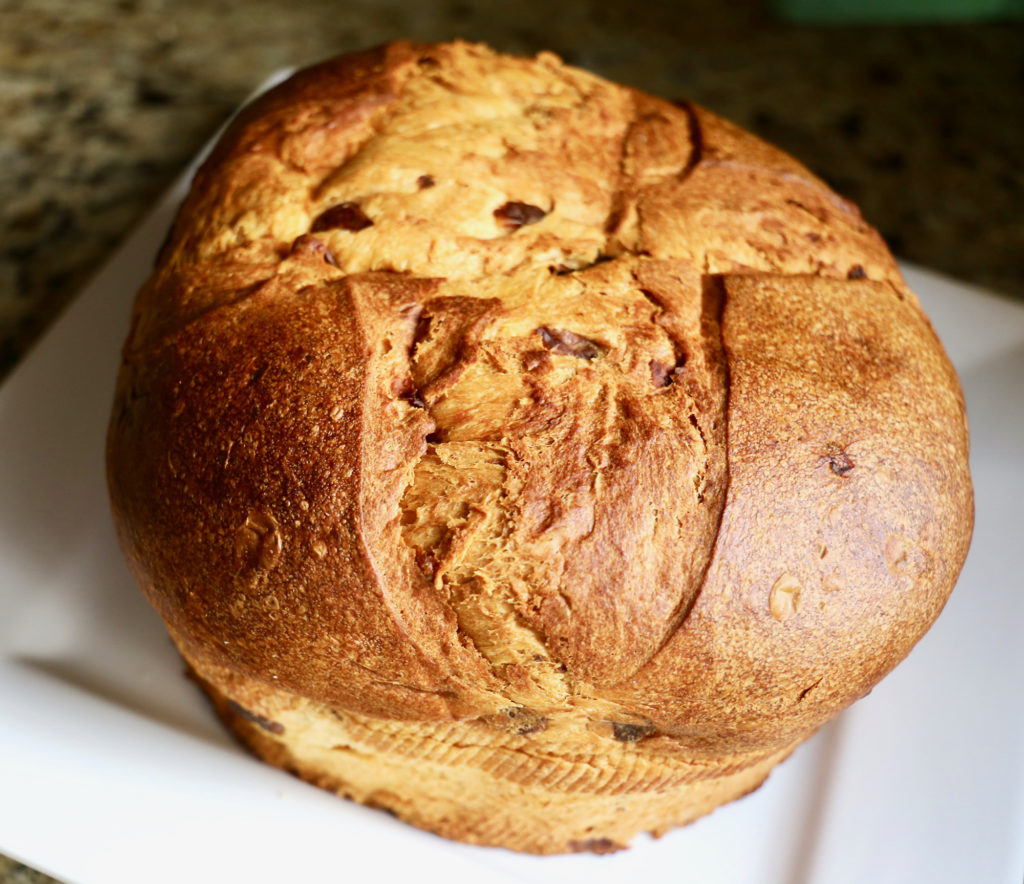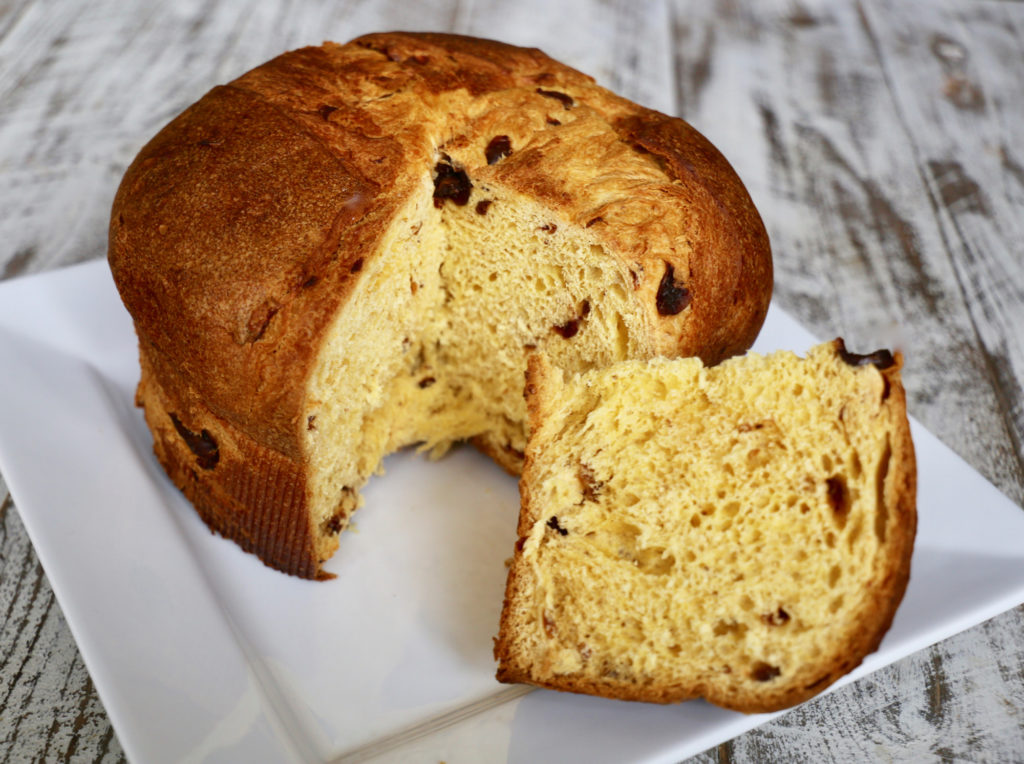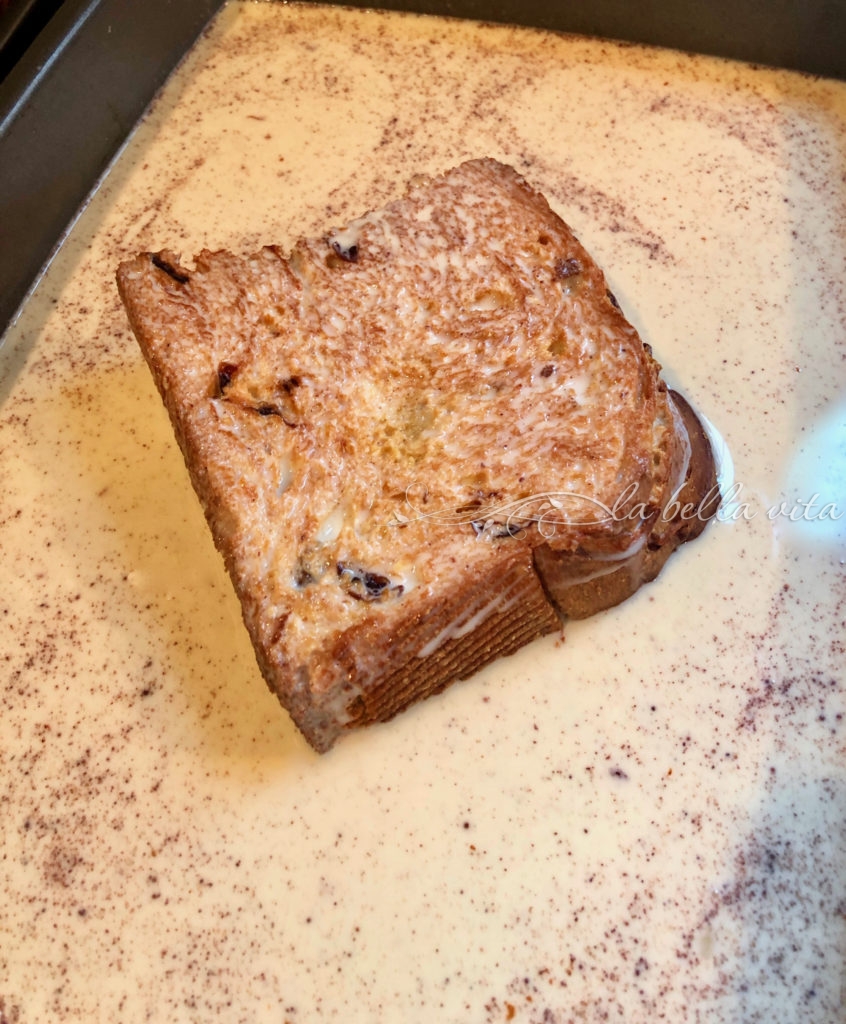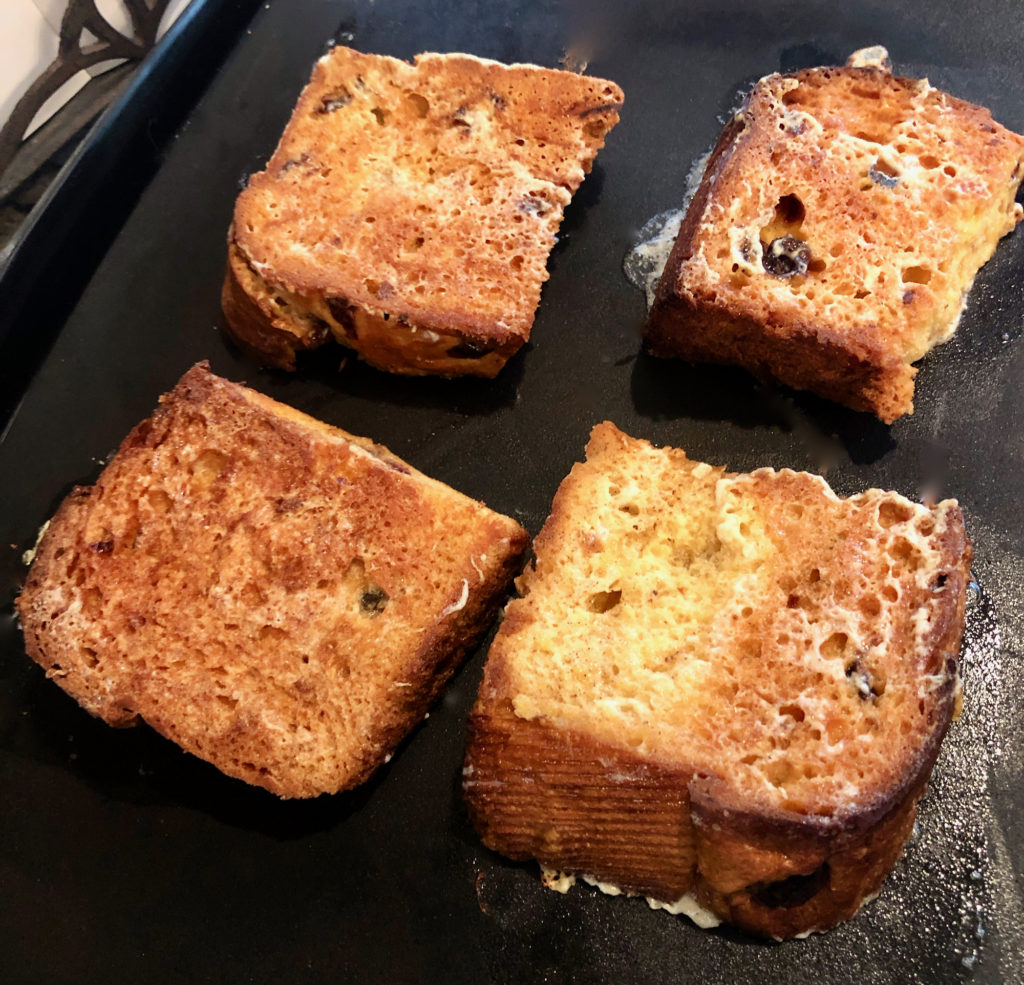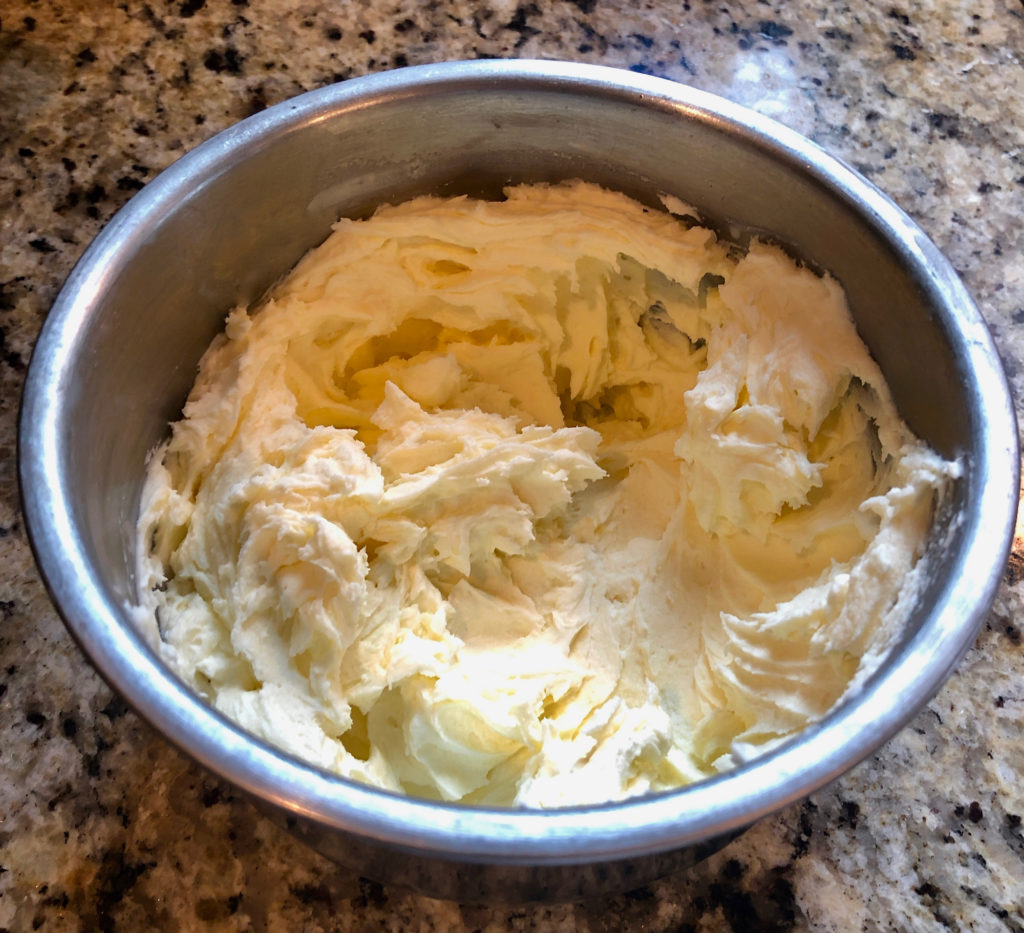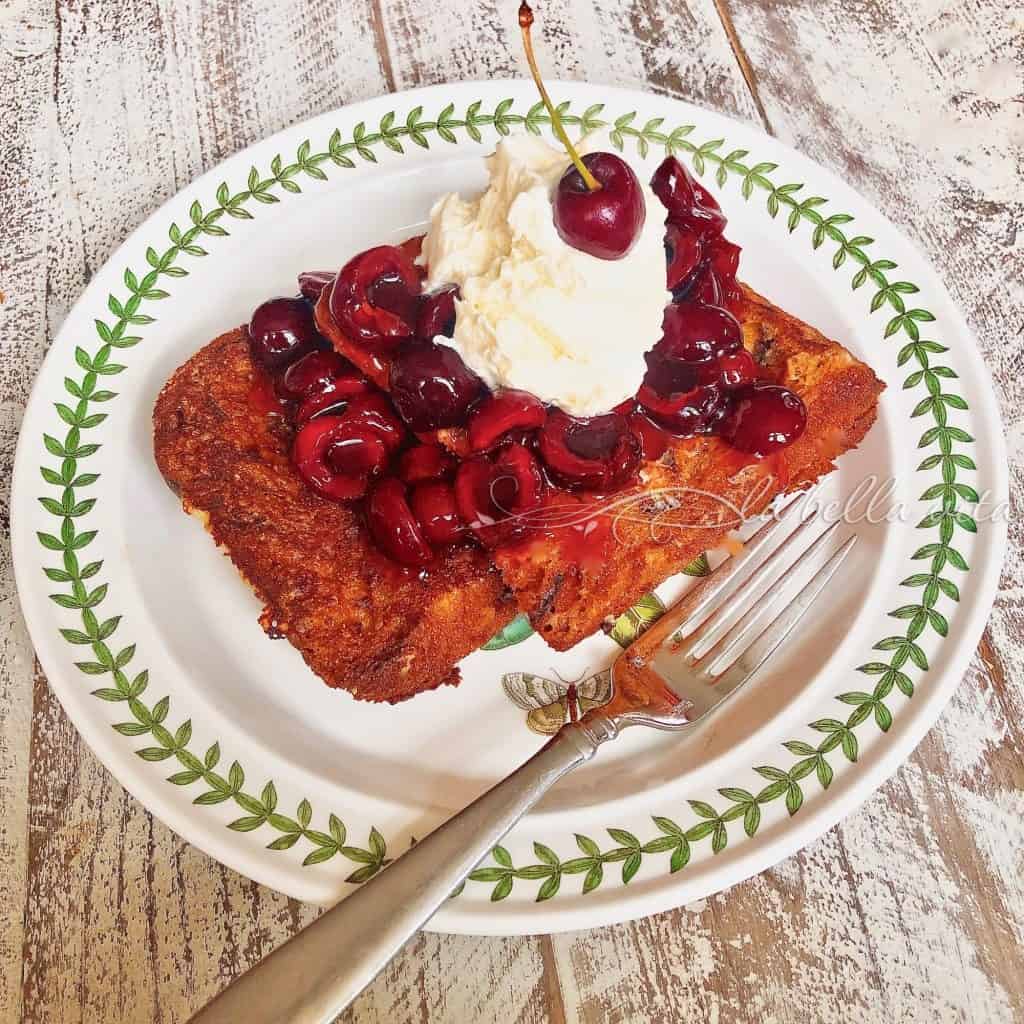 Please share the love and pin the image below . . .
thanks everyone!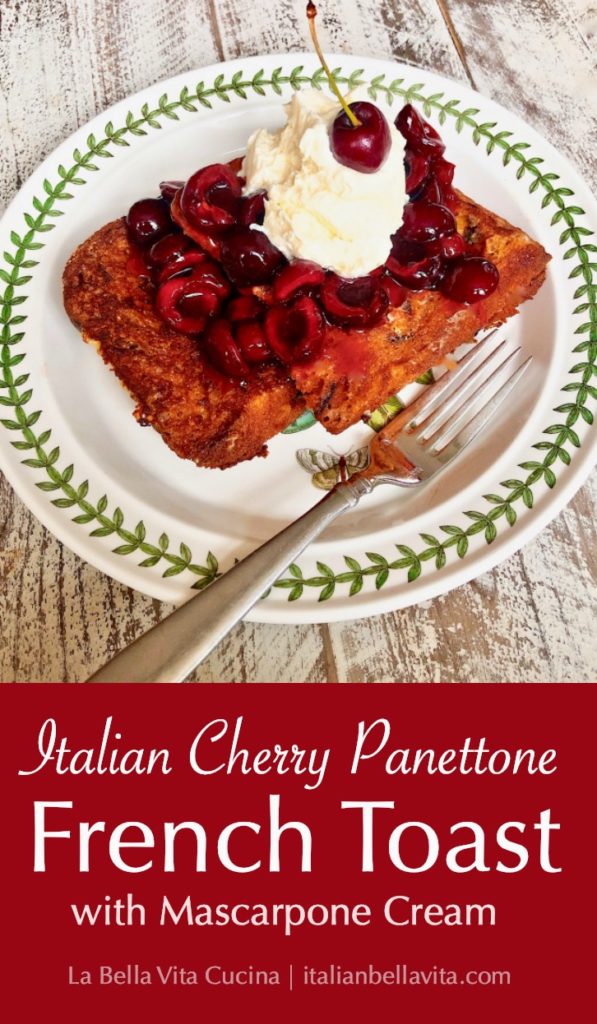 Print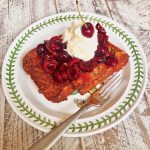 Italian Cherry Panettone French Toast
Author:
Prep Time: 0 hours
Additional Time: 0 hours
Cook Time: 0 hours
Total Time: 0 hours
---
6 large eggs
2 cups whole milk
1 cup whipping cream
1/4 cup sugar
1/2 tsp. ground cinnamon
1/8 tsp. ground nutmeg
1 tsp. vanilla
1 cherry-studded Italian panettone bread, dried, sliced very thick, about 8 slices (challah and brioche can be substituted)
butter for frying the bread
1 tub of mascarpone cheese
2/3 cup cream to add to and thin down the mascarpone, use more if necessary
4 Tbsp. sugar (or more to sweeten the mascarpone to your taste preference)
1–1/2 cups red cherries
1 can cherry pie filling, cherries removed, saving the syrup
1/2 tsp. almond extract
if desired: maple syrup
garnish: fresh cherries
garnish: powdered sugar to dust over
---
Instructions
Slice the panettone into about 8 very thick slices (1-1/2″ to 2″ thick).  Either leave the bread out overnight to dry out or place the slices on a baking sheet into a 250 F degree oven and set on the lowest rack to dry out for 10 minutes on each side.
In a wide shallow dish or cake pan, whisk together the milk, cream, eggs, vanilla extract, cinnamon, and nutmeg.
In a medium bowl, using a hand-held mixer, blend the mascarpone cheese with cream and sugar, adjusting for the level of thickness/thinness and sweetness of your taste preferences.  Set aside for serving time.
In a smaller bowl, gently stir together the sliced and pitted fresh red cherries, the cherry filling 'syrup' and almond extract.  Set aside for serving time.
Heat up a large frying skillet or a pancake griddle.
While that is heating up, dunk the bread slices into the milk-egg-cinnamon mixture; thoroughly coat both sides of the bread slices with the egg mixture 'custard'.  Be careful not to let the bread sit too long in the mixture because it will begin to fall apart.
Melt some butter in the skillet or on the griddle.
Place the soaked bread slices onto the heated, buttered skillet or griddle and cook for 1 – 2 minutes on each side until golden brown.
Continue repeating this procedure until all of the panettone bread slices are used.
Remove the first batch of panettone toasted bread slices from the skillet/griddle and place on a large serving platter.  Place in a warm oven.  Add some butter to the hot skillet/griddle and cook the next batches the same way.
When all of the slices are cooked and plattered, either serve the fried panettone in individual portions as shown in the photo:  topping each serving of toast with some cherry compote, a dollop of mascarpone cream, and a cherry with the stem still on.  Or pass around the table, 'family-style', and allow each guest to prepare their own serving.
Pass around maple syrup and powder sugar as well.
BUON APPETITO!!
---
Notes
Panettone is a very delicate, egg-based, Italian bread with lots of airy holes inside.  This makes the bread very fragile.  So to handle the egg wash and cooking of this recipe, I dry out the panettone so that it doesn't fall apart in the whole process.  
Any leftovers can be used in a "French" Toast Bake and I'll show you how to prepare that in another post!