Panettone Bread Pudding Recipe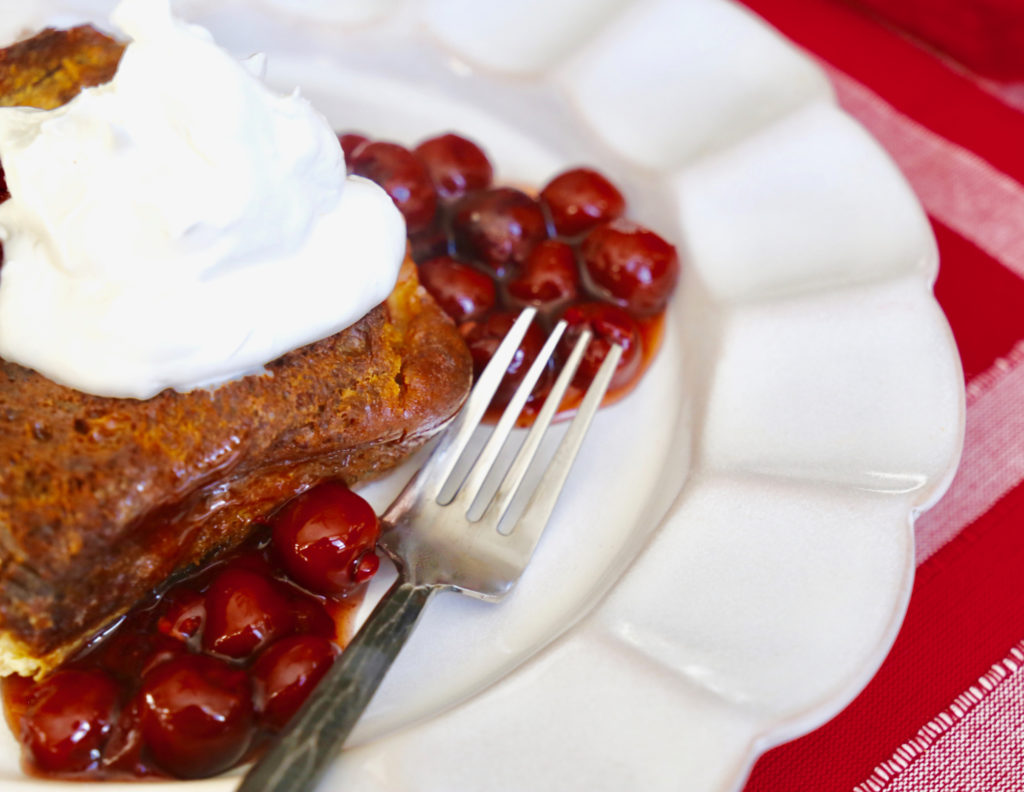 Do you still have left-over panettone?
Even after preparing the Cherry Panettone French Toast recipe a few days ago? This Panettone Bread Pudding is like getting a 2-for-1 special on recipes to use up large left-over quantities of panettone!
My mother never let anything go to waste in her kitchen. She'd be smiling down on me for sure with the 2 recipes I've made with one panettone. So if you're just tuning in today, I've provided the links to click back to the recipe for the first part of this sweet indulgence. I've provided the first recipe for Cherry Panettone "French Toast at the bottom of this post, but you can also click on this link for the full step-by-step photo instructions: Cherry Panettone "French" Toast.
Using any remaining French toast (and we had a lot since we're empty nesters), simply slice the French bread slices in half (remember, you slice them super huge!), then stuff them with left-over mascarpone cream and cherry compote (or make some more of each), then pour over a newly prepared egg-cream-sugar-cinnamon custard sauce, then bake and ta-da!
You've got another delicious breakfast or brunch recipe!
Here are the simple step-by-step photo instructions:
Take the HUGE slices of Panettone French Toast and slice each in half.
Place them in a pan coated with cooking spray.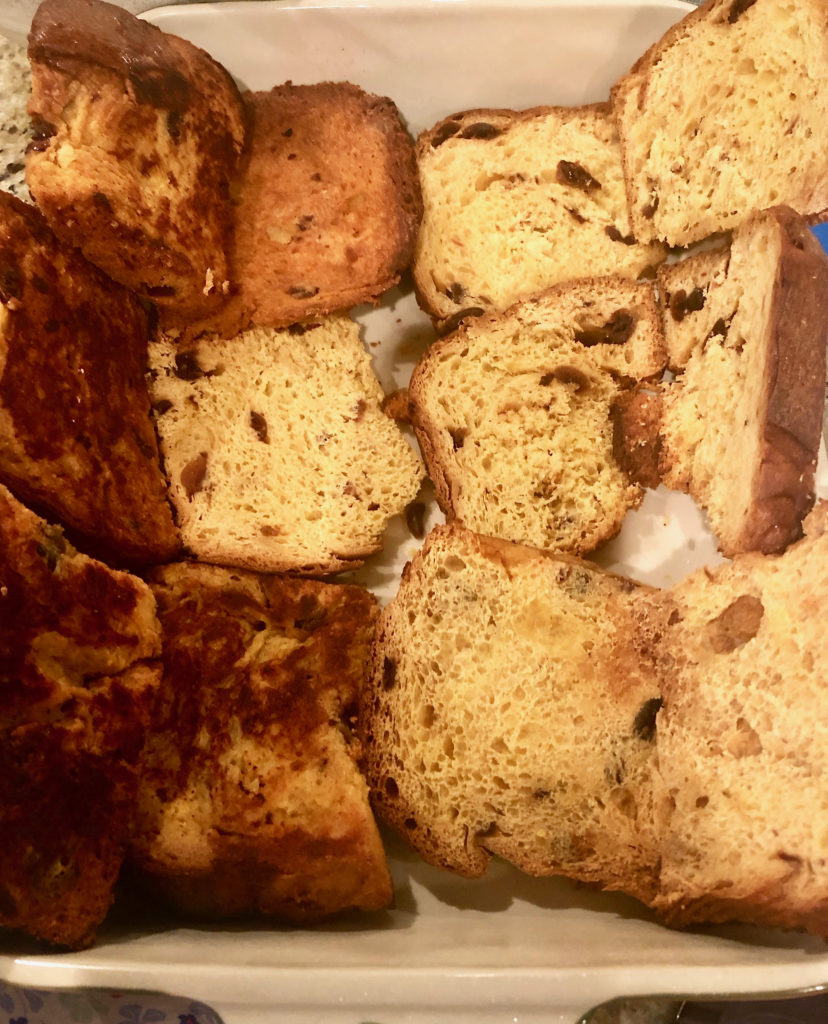 Spread the mascarpone cream on one side of the sliced French Toast . . . use a lot!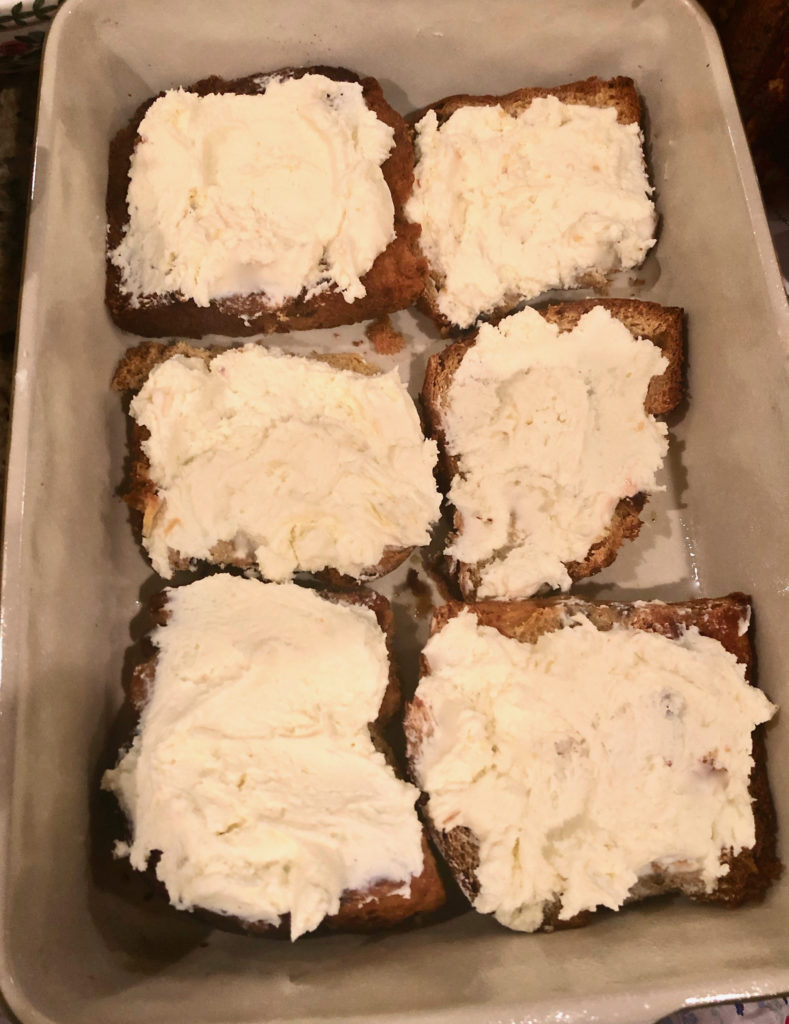 Spread the cherry compote (or cherry jam) on the other half of the slices.
Use as much as you like.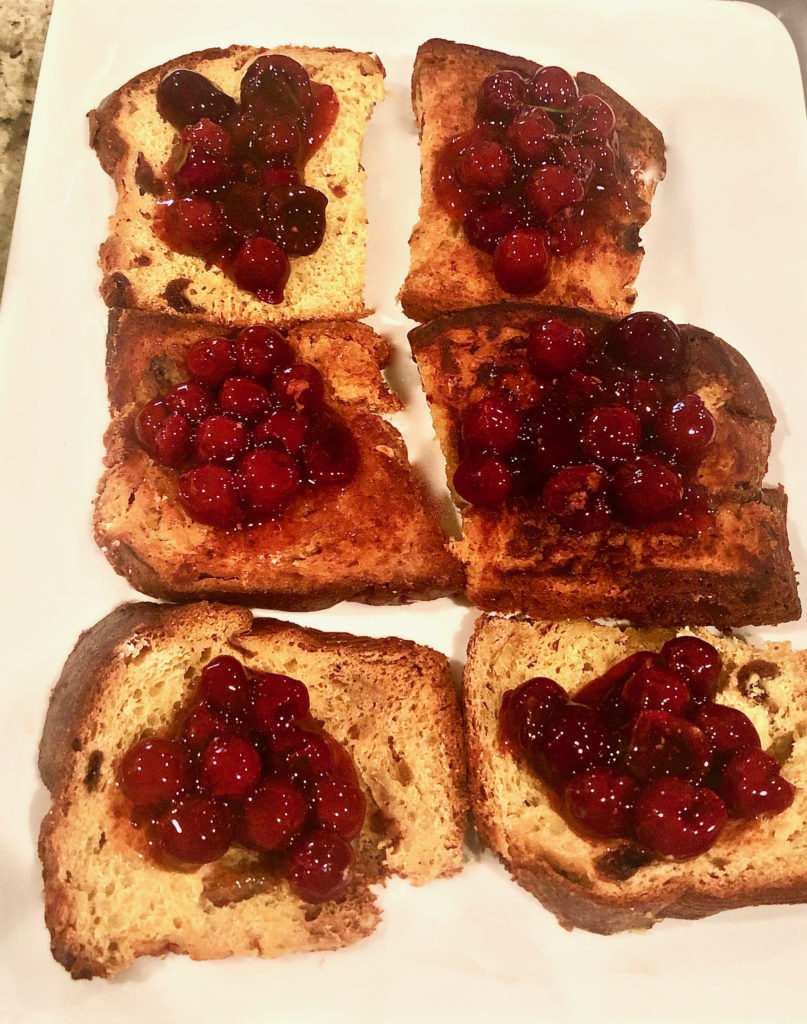 Place the halves with the cherry compote/jam facing up in the pan and place the halves with the mascarpone cream facing down on top.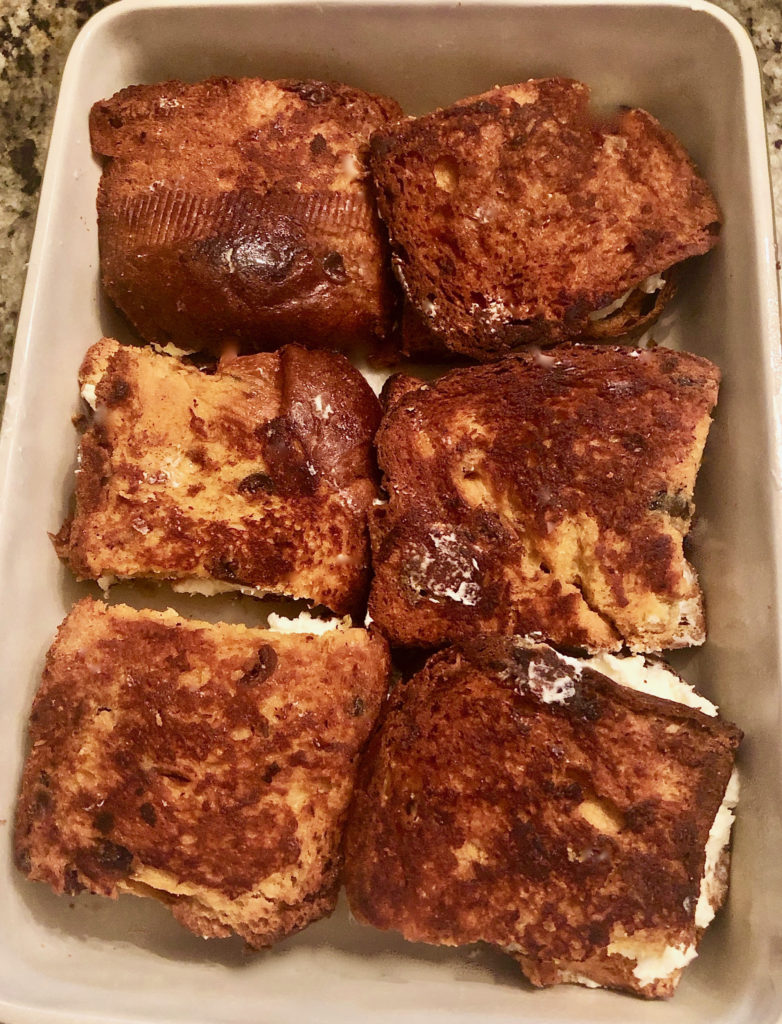 Pour the egg -milk custard sauce over the stuffed bread.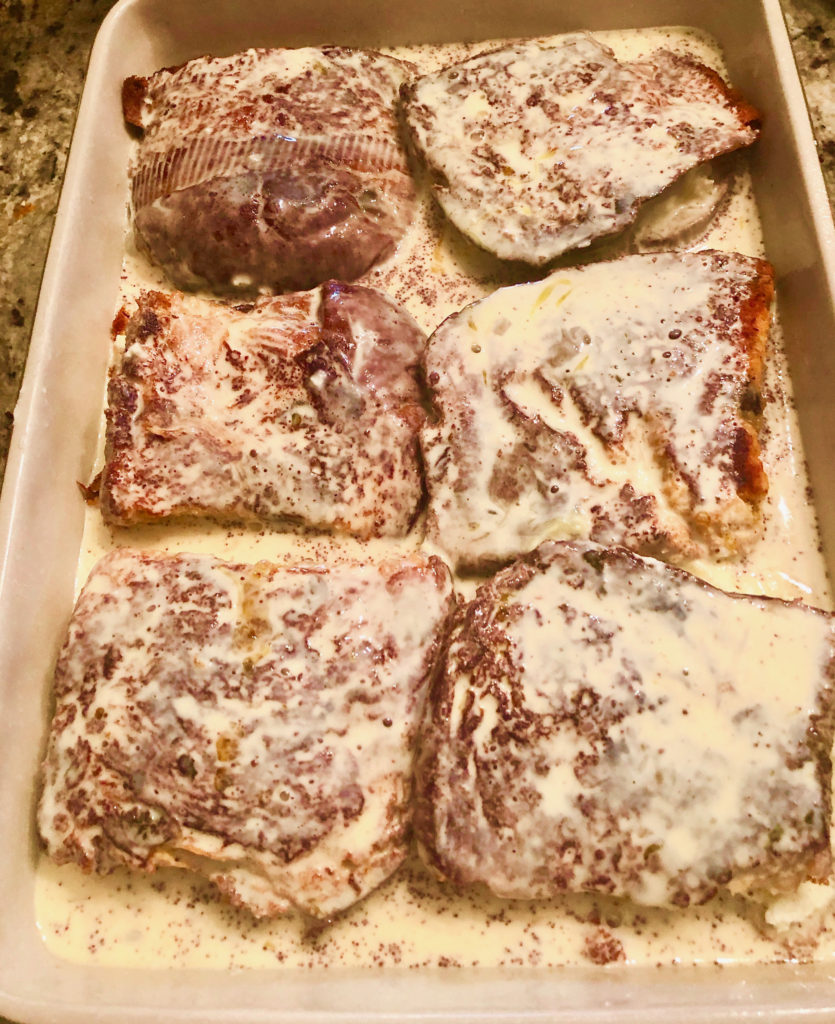 Bake in a 350 F oven for 1-1/2 hours.
Cover with foil for the last 1/2 hour
Let rest for 20 minutes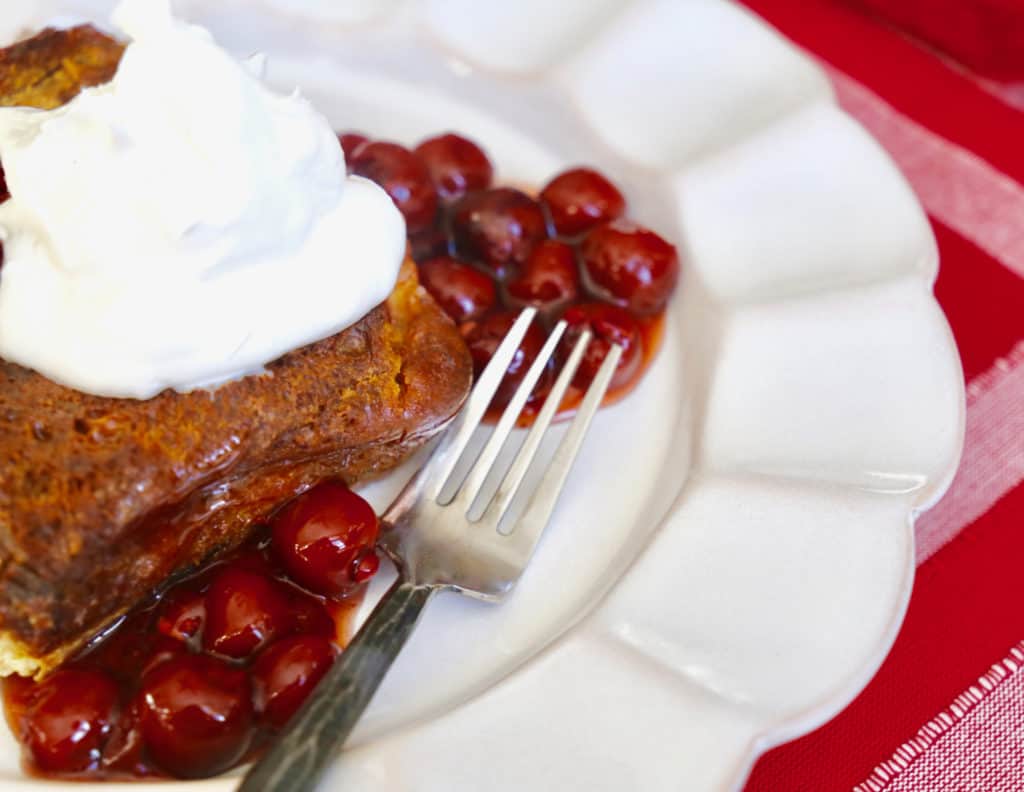 Serve with whipped cream on top
and more cherry compote/jam
Please share the love and pin the following vertical image:
Thank you!!!!

Print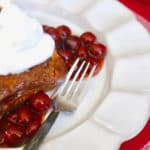 Panettone Bread Pudding
Author:
Prep Time: 0 hours
Additional Time: 0 hours
Cook Time: 0 hours
Total Time: 0 hours
---
Description
Panettone is a delicious egg-based, Italian bread that is made every Christmas season.  It has just the right (small) amount of fruit studded throughout the bread (yet not at all like fruitcake that is wet and almost all fruit).  Panettone are such large breads, so this recipe and that of the Cherry Panettone French Toast are fantastic and delicious ways to use any leftovers. 
Both of the Panettone recipes look fancy and as if you worked hard in the kitchen, when in fact, they are super easy to put together!
---
Egg-Milk Custard Sauce:
1 cup whole milk
1–1/2 cups cream
7 – 8 eggs
2/3 cup sugar
1 tsp. cinnamon
1/2 tsp. vanilla
mascarpone cream made from the day or two before (recipe here: Mascarpone Cream made of mascarpone cheese, sugar, and cream.
cherry compote made from the day or two before (recipe here: Cherry Compote made of fresh red cherries, cherry pie filling, almond extract, and sugar
whipped cream (with sugar added to your taste preferences)
---
Instructions
Prepare the Italian Cherry Panettone French Toast recipe 
Prepare MORE Mascarpone Cream
Prepare MORE Cherry Compote or use a nice imported Italian Cherry Jam
Slice the huge French Toast slices in half.
Spread mascarpone cream on one half.
Spread cherry compote/jam on the other half.
Place the mascarpone cream covered slice in a large baking pan, facing up.
Place the cherry compote/jam covered slice on top of the first toast half, facing down.
Prepare a second batch of egg-milk-cream-cinnamon-sugar custard sauce mixture with 3 more eggs (it helps solidify the bread pudding).
Bake in a 350 F degree oven for 1 – 1/2 hours.  Cover with foil for the last 30 minutes.
Allow the bread pudding to rest for 20 minutes before serving.
Plate each stack of stuffed bread with dollops of cherry compote/jam and whipped cream.
ENJOY and BUON APPETITO!
---
Here is the recipe for the first part: Italian Cherry French Toast
Italian Cherry French Toast
This is the recipe for Italian Cherry Panettone French Toast for your convenience instead of clicking through to get to it if you prefer.
Ingredients
6 large eggs
2 cups whole milk
1 cup whipping cream
1/4 cup sugar
1/2 tsp. ground cinnamon
1/8 tsp. ground nutmeg
1 tsp. vanilla
1 cherry-studded Italian panettone bread, dried, sliced very thick, about 8 slices (challah and brioche can be substituted)
butter for frying the bread
1 tub of mascarpone cheese
2/3 cup cream to add and thin down the mascarpone, use more if necessary
4 Tbsp. sugar (or more to sweeten the mascarpone to your taste preference)
1-1/2 cups red cherries
1 can cherry pie filling, cherries removed, saving the syrup
1/2 tsp. almond extract
if desired:  maple syrup
garnish:  fresh cherries
garnish:  powdered sugar to dust over
Instructions
Slice the panettone into about 8 very thick slices (1-1/2″ to 2″ thick). Either leave the bread out overnight to dry out or place the slices on a baking sheet into a 250 F degree oven and set on the lowest rack to dry out for 10 minutes on each side.
In a wide shallow dish or cake pan, whisk together the milk, cream, eggs, vanilla extract, cinnamon, and nutmeg.
In a medium bowl, using a hand-held mixer, blend the mascarpone cheese with cream and sugar, adjusting for the level of thickness/thinness and sweetness of your taste preferences. Set aside for serving time.
In a smaller bowl, gently stir together the sliced and pitted fresh red cherries, the cherry filling 'syrup' and almond extract. Set aside for serving time.
Heat up a large frying skillet or a pancake griddle.
While that is heating up, dunk the bread slices into the milk-egg-cinnamon mixture; thoroughly coat both sides of the bread slices with the egg mixture 'custard'. Be careful not to let the bread sit too long in the mixture because it will begin to fall apart.
Melt some butter in the skillet or on the griddle.
Place the soaked bread slices onto the heated, buttered skillet or griddle and cook for 1 – 2 minutes on each side until golden brown.
Continue repeating this procedure until all of the panettone bread slices are used.
Remove the first batch of panettone toasted bread slices from the skillet/griddle and place on a large serving platter. Place in a warm oven. Add some butter to the hot skillet/griddle and cook the next batches the same way.
When all of the slices are cooked and plattered, either serve the fried panettone in individual portions as shown in the photo: topping each serving of toast with some cherry compote, a dollop of mascarpone cream, and a cherry with the stem still on. Or pass around the table, 'family-style', and allow each guest to prepare their own serving.
Pass around maple syrup and powder sugar as well.
BUON APPETITO!!