Cheesy Italian Chicken and Vegetable Foil Packets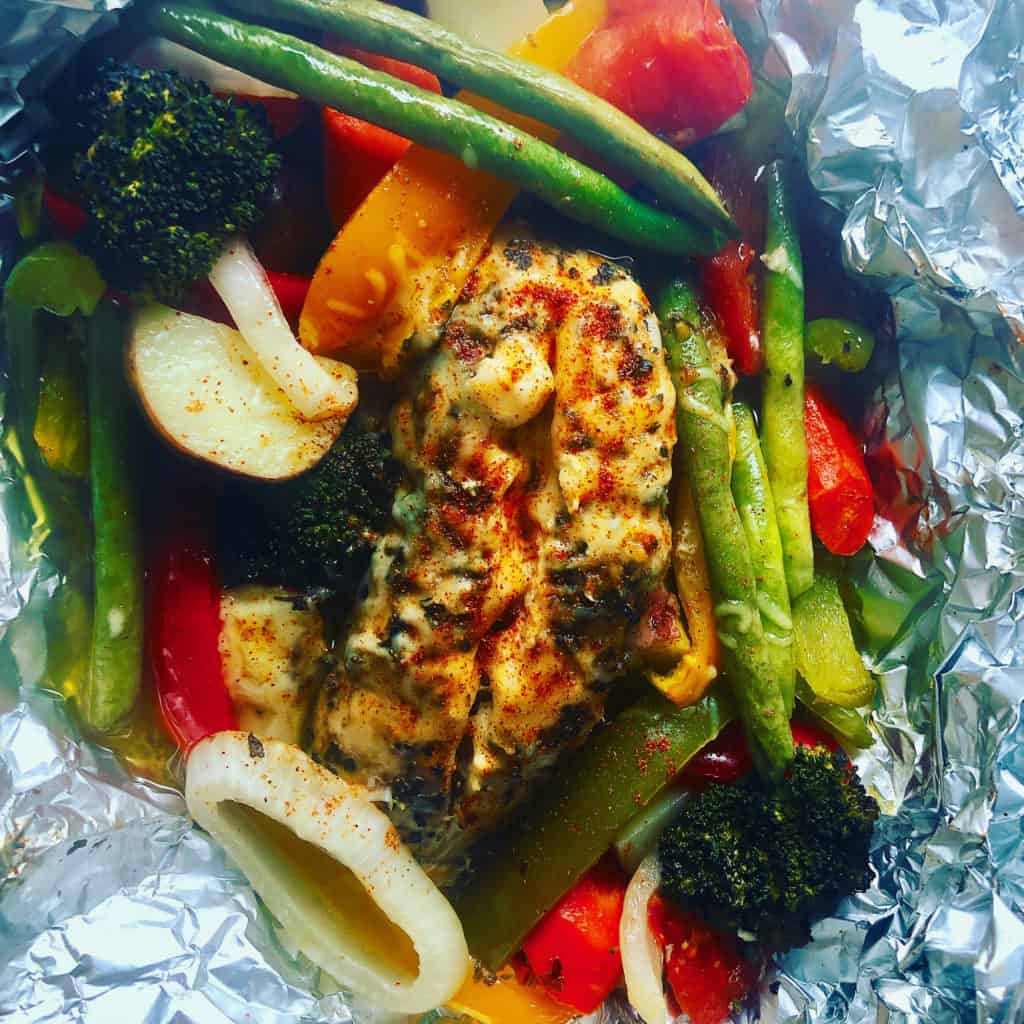 Looking for easy and delicious?
And less clean up?
That's a big plus in our lives, isn't it? Well, it definitely is for my husband who is our chief dishwasher. I make the mess in the kitchen that I clean up, he gets to chow down, and then he does the dishes . . . a great duo!
For foil packets, you just grab some aluminum foil (and a good bit of it too). Chop up some veggies. Add some fresh, boneless, skinless chicken breasts. Prep a yummy marinade for the chicken to swim in for a while. Load the foil packs with the chicken and veggies or whatever you love. Seal up the foil. Then just pop the packets in the oven (or on the grill).
and then . . .
Pour yourself a nice cup of tea or java, or glass of wine. Whatever floats your boat. Just KICK BACK my friend, put on some beautiful tunes, relax, let the world just continue to spin around you while you sit in a moment of blissful peace . . . and let those babies cook in the foil for a little over an hour.
Winter, spring, summer or fall, cooking with foil packets is perfect any time of year. Cooking in foil can transform any piece of meat into something so delicious with ease. The simplicity of these reduces so much fuss getting dinner on the table. Just pick your preference in heat, whether roasted, baked or grilled. It's all good!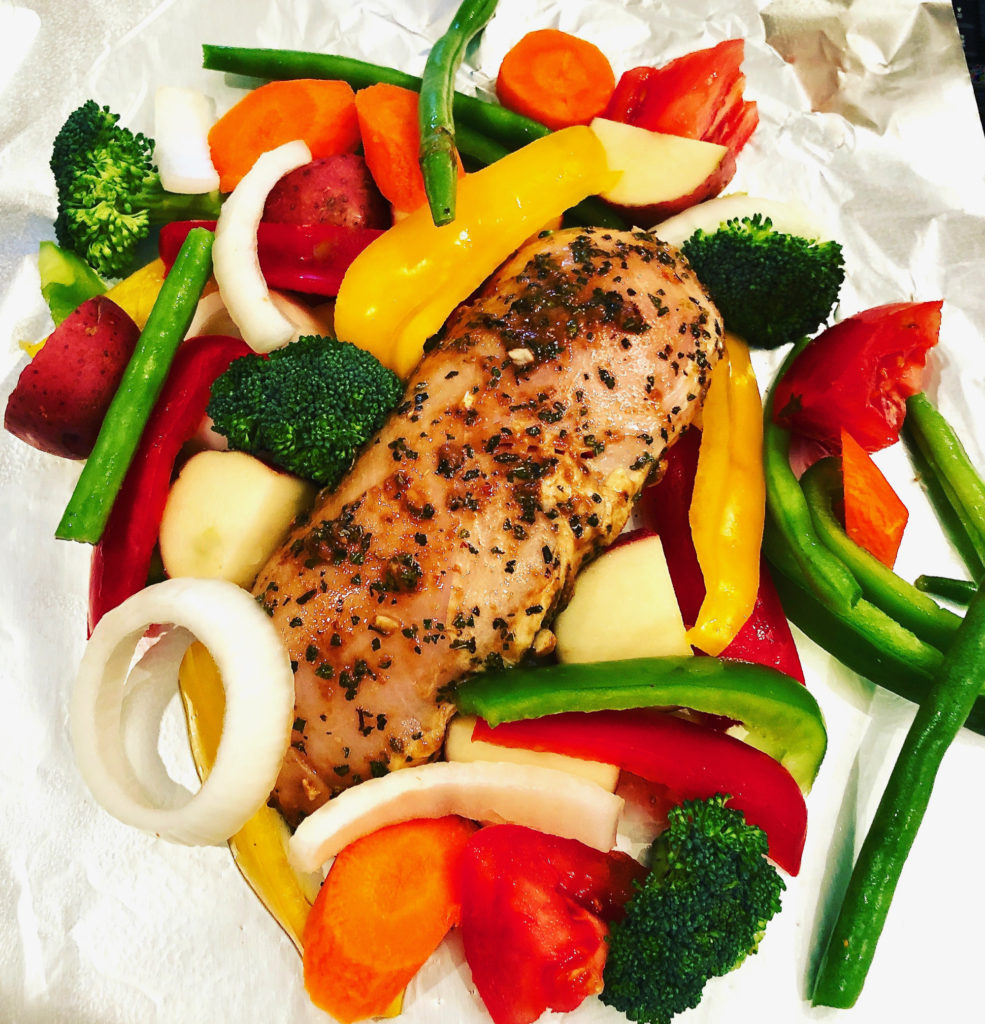 TIP: It's better to use heavy duty aluminum foil. This reduces the foil from ripping open which causes all the delicious juices to leak out of the packet. And its the juices that make the chicken so ultra-moist and tender! If you don't have heavier foil on hand, than simply use two layers of foil.
Not in the mood for chicken? Substitute pork, or beef, or possibly tofu if you're vegetarian. The marinade works on any of those. A melt-in-your mouth tenderness is guaranteed.
Nothing could be easier!
.
Please share the love and pin this vertical image:
THANK YOU!
.
Enjoy the simple, no-fuss deliciousness of this recipe cooked in foil!
.
Print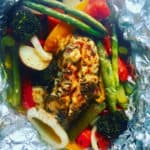 Cheesy Italian Chicken and Vegetable Foil Packets
Author:
Prep Time: 20 minutes
Cook Time: 1 hour 20 minutes
Total Time: 1 hour 40 minutes
Yield: 4 – 6 1x
Method: bake, roast, grill
Cuisine: Italian
---
3 – 4 chicken breasts, boneless and skinned, medium-size, not large
paprika, to sprinkle over the cheese 
Garnish:  1/2 cup Italian parsley, minced
For the Marinade:
1/2 cup olive oil
1/4 cup balsamic vinegar
1 Tbsp. lemon juice, freshly squeezed if possible
1 Tbsp. Dijon mustard
4 garlic cloves, minced
1 tsp. onion powder
1/2 tsp. salt
1/2 tsp. black pepper
 For the Garlic-Rosemary Butter:
1 stick of butter, softened
4 cloves garlic, minced
1 – 2 Tbsp. fresh rosemary
Vegetables:
8– 10 red new potatoes, cut into quarters (more if you prefer)
1 of each:  red pepper, green pepper, and yellow pepper, cut into 1/2" slices
1 large onion, sliced 
2 cups broccoli flowers and stems
4 large carrots, sliced in 1/2″ pieces
optional:  2 cups green beans (they take longer to cook than any other vegetable, believe it or not, so keep that in mind)
optional:  1 large tomato, quartered
optional:  2 cups whole mushroom caps
optional:  1 zucchini, sliced
---
Instructions
Prepare the Marinade:
Combine all of the ingredients in a medium-sized baking dish. Use a size that allows all of the chicken breasts to lay in one layer and for the marinade to coat the chicken breasts.  I use a baking pan in which the chicken is fairly tight and snug in the pan, but the marinade is on the bottom with some on the top of the chicken and as well as tucked into the sides of each.
Marinate for 30 minutes at room temperature or overnight in the refrigerator.
Prepare the Garlic Butter with Rosemary:
Blend the softened butter with minced garlic and fresh rosemary.  Set aside.
Prepare the vegetables and packets:
Pull out 3 – 4 sheets of heavy aluminum foil, each 2 feet long (yes, my foil packets are large and one can easily feed 2 people).
Spray each sheet of foil with cooking spray.
Cut up all of the vegetables while the chicken is marinating.
Place the marinated chicken in the center of each sheet of foil.
Assemble the vegetables around the chicken.
Spread the garlic and rosemary butter on the chicken; sprinkle with salt and pepper.
Bake in a 400 F degree oven for 1 hour.  Do not open the foil packets.
After 1 hour, open one packet to check if the chicken is completely cooked.
If cooked to your preference, sprinkle a generous amount of the Italian cheese blend all over the chicken (and also over the vegetables if you wish).
Sprinkle a little bit of paprika on top of each chicken breast.
Bake with the foil packets OPEN for 10 minutes more.  Keep your eyes on this so that the cheese doesn't burn.  You just want the cheese to melt and have a lovely, golden color to it.
When nice and golden, remove from the oven. 
Plate the chicken and vegetables on a nice platter or on individual plates.
Garnish with minced Italian parsley.
Serve!
ENJOY!
BUON APPETITO!
---
Notes
These make 3 – 4 quite large foil packets.  Each packet can feed two (2) people if you use larger sized chicken breasts.  You can cut the chicken breasts in half and make twice as many packet dinners, just smaller in size.  If you choose to reduce the size of the chicken breasts by half, then check to see if they are completely baked/roasted/grilled after 30 minutes.