Perfect Garlic Butter Blackened Redfish
If you've never had the extreme pleasure to taste redfish, you are missing out big time my friends. And I mean big time!
On one of our recent trips to the beach in South Carolina, we had dinner at a seaside fish house that featured on its menu an unfamiliar fish as the fresh catch of the day . . . REDFISH. However, since we'd never heard of it, we thought that we'd give it a try!
And were we ever so glad that we did!
Ever since that first bite, I am here to tell you that as sure as a fish flops when out of water, I've wanted to prepare redfish at home in the craziest way!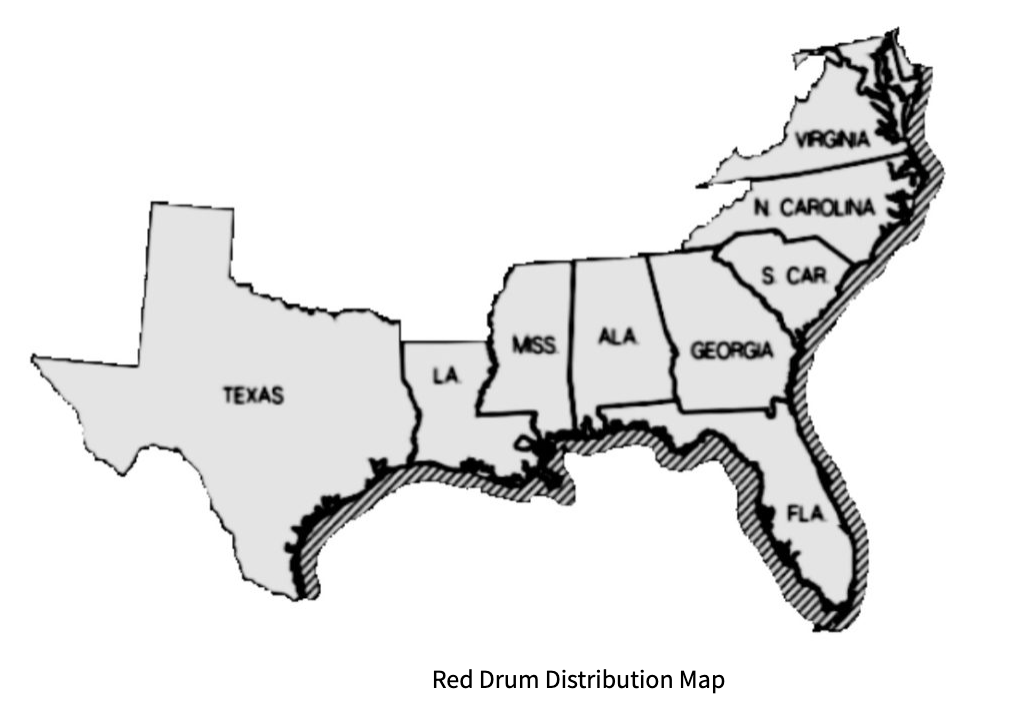 So when we returned home from our trip, I began to see where I could get my hands on some redfish to prepare at home.
And redfish just might be the most famous inshore saltwater species out there in America. They can be found all the way up the east coast to as north as Maine and as far west as Texas!
As it turns out, redfish became so popular at such a rage pace back in the 80's when Chef Paul Prudhomme's Blackened Redfish recipe was published in his famous cookbook, that redfish soon became 'overfished' and placed on the "critically endangered" fish species list. After that, the catch of redfish was not allowed until just recently in the last few years.
Do you remember Paul Prudhomme's best-selling cookbook? He was the 'celebrity chef' of the day (if there was one that is). I had to have a copy of my own during the food craze at that time:
I'll never forget baking his Spiced Pecan Cake with Pecan Frosting in 1985! It was this huge, towering, and very dense 3-layer cake that wow'ed everyone. You simply have to get this cookbook for your library to add some Louisiana cuisine goodness to your culinary repertoire! Click on this link to get an old copy of the cookbook –> Paul Prudhomme's Louisiana Kitchen.
Meanwhile, when the new PUBLIX food market opened up in our town, I asked the butcher if he knew about redfish and if it was available. "Yes, and yes," he happily replied. Within a week, redfish was special ordered for me and in my cart to prepare at home.
Having never prepared redfish before, I played it safe and just googled Chef Prudhomme's famous recipe for redfish. I also remembered that I had purchased a bottle of his "Magic" Seasoning Blend for Blackened Redfish.
I'm so glad that I had this seasoning on hand because the recipe calls for you to just pour it on thick, thick, thick! Below is the recipe to prepare this seasonings blend from scratch if you prefer.
So let's get to the kitchen with the following step by step photo instructions!
TRUST ME, this is SO EASY, and FAST!! Have your side dishes, biscuits and hush puppies ready to go because this takes only minutes to prep and fry (or grill)!
Have all of your ingredients ready: the redfish, butter, lemons, garlic and the seasoning blend . . . that's it!
Lay the fish on paper towels to soak up all of the water in the fish
Turn the fillets over and continue to blot them to remove excess water
Don't remove the skin. Brush garlic butter on the skin side and then . . .
flip fillets over and heavily coat the skinless side with garlic butter
Heavily pour the Blackened Redfish Magic Seasoning (bottled or homemade) onto the fish
Cover both sides of the fish and press down gently with your hands.
Melt a stick of butter in a heavy cast iron pan while prepping the fish.
Wasting no time, immediately place the coated fillets in the hot butter. Fry for 3 – 4 minute on each side. Turn over only once.
Yes, the fish SHOULD look blackened. They aren't burnt, they are blackened. Both sides should be fried until this is achieved.
About 4 minutes on each side.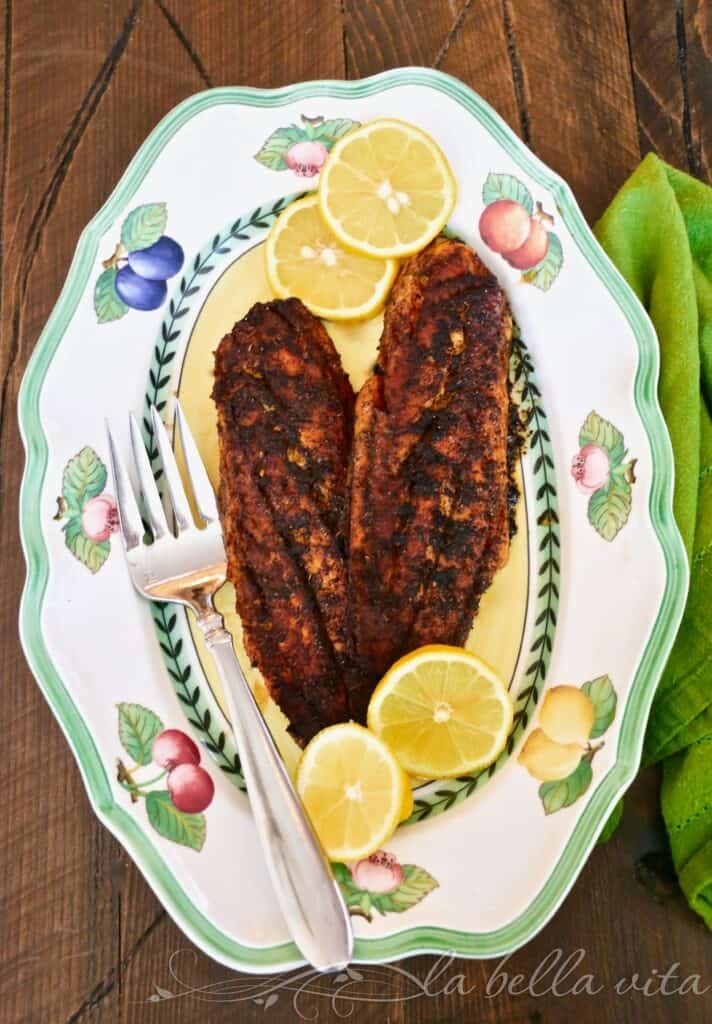 Immediately remove the redfish from the hot butter and place on a large platter. Garnish with fresh lemon slices.
Just gorgeous and piping hot!
The fish should be tender and flaky and completely cooked. This is a thin fish fillet so like I said, it doesn't take long to fry at all!
A perfect seasoned and blackened bite of redfish to plop in your mouth!
TASTING NOTES about Redfish
Color: bright white but turns opaque white when cooked
Texture: moderately firm fillets that are lean, moist and flaky
Flavour: mild taste with a touch of sweetness.
The firm texture of redfish makes it highly suitable for soups, chowders, and stews, and its flavor will hold up to a variety of sauces. Fillets hold together best with the skin on.
Properly handled and chilled on ice, fresh redfish fillets have a shelf life of 9 days. Frozen redfish fillets maintain their quality for up to 18 months if properly packaged and stored.
When choosing fresh redfish, look out for the following quality signals:
Whole redfish may have bulging eyes and distended air bladders, which is a result of being brought up from great depths, not an indication of poor quality.
Fillets should be a glistening white, and unmarred, showing no signs of gaping, browning or drying.
Fresh fish should have a mild sea breeze aroma.
Whole fish should have bright, clear and shiny eyes.
Scales should be shiny and cling tightly to the skin.
Steaks and fillets should be moist with firm and shiny flesh.
The flesh should spring back when pressed.
TIPS for Preparing Fish
When buying fish fillets, look for firm, solid flesh without any cracks; they should be wet and not dried out. For whole fish, select those with clear, bright eyes and shiny skin.
Use the sniff test! If you smell a strong fish scent, it is a sign that the fish isn't fresh. There should only be a slight aroma from the sea. Cook the fish that day and don't let it sit in the frig for any more than one day or it will begin to smell bad.
Be a good steward of the planet and choose fish that is safely populated and sustainable. Resist purchasing fish that is overfished. I waited out the 3 years that redfish was on the protected species list so that it could repopulate to a healthier, more sustainable level.
Experiment with different ways to add flavor to fish such as different herbs, marinades, and sauces.
Always cook fish skin-side down first. This produces a crisp exterior. Flip it over only once finish cooking.
Don't overcook fish. You want it to be tender, so follow recipes exactly, keeping in mind to cook fish for 5 – 6 minutes per 1/2 inch of thickness at the thickest point.
To test fish for doneness, insert a knife at the thickest part. Fish is cooked when it is barely translucent in the center. Even though it looks like it might not be done cooking, fish will continue to cook after it's removed from the heat.
When grilling, leave the skin on for easier cooking, and oil the grill so the fish won't stick or you use a grill basket.
If you pan-fry, spray cooking oil on (preferably) a heavy cast-iron pan.
Finally, if you choose to roast, line parchment paper or foil on the baking dish
Print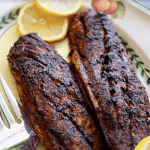 Perfect Garlic Butter Blackened Redfish
Author:
Prep Time: 0 hours
Additional Time: 0 hours
Cook Time: 0 hours
Total Time: 0 hours
---
1 stick of butter, melted
4 cloves of garlic, minced or 2 Tbsp. of minced garlic in a jar (in the produce section next to the fresh garlic)
3/4 pound (3 sticks) unsalted butter, melted in a skillet
1 bottle of Blackened Redfish Magic seasoning blend by Chef Paul Prudhomme
Seasoning mix:
1 tablespoon sweet paprika
2–1/2 teaspoons salt
1 teaspoon onion powder
1 teaspoon garlic powder
1 teaspoon ground red pepper (preferably cayenne)
3/4 teaspoon white pepper
3/4 teaspoon black pepper
1/2 teaspoon dried thyme leaves
1/2 teaspoon dried oregano leaves
2 (8- to 10-ounce) fish fillets, preferably redfish, pompano or tilefish, cut about 1/2-inch thick
---
Instructions
Melt the stick of butter and add the minced garlic in.
Pour extra garlic butter into small ramekins to serve with the redfish.   (Melt more butter and add more garlic if you are serving more than 2 people as this recipe is for)
Heat a large, cast-iron skillet over very high heat until it is beyond the smoking stage and you see white ash in the skillet bottom (the skillet cannot be too hot for this dish), at least 10 minutes.
Thoroughly combine seasoning mix ingredients in a small bowl if you prefer to make the seasoned coating from scratch — OR use the pre-made Blackened Redfish Magic seasoning blend from Paul Prudhomme.
Brush each fillet with the melted butter and minced garlic so that both sides are well coated; then sprinkle Blackened Redfish Magic Seasoning mix generously and evenly on both sides of the fillets, patting it in by hand. Place fish in the hot skillet and pour 1 teaspoon melted butter on top of each fillet (be careful, as the butter may flame up).
Cook, uncovered, over the same high heat until the underside looks charred, about 2 – 4 minutes (the time will vary according to the fillet's thickness and the heat of the skillet). Turn the fish over and again pour 1 teaspoon butter on top. Cook until fish is done, about 2 – 4 minutes more. Repeat with remaining fillets.
Serve each fillet while piping hot.
To serve, place one fillet and a ramekin of butter on each heated serving plate.
---
Notes
Redfish and pompano are ideal for this method of cooking. If tilefish is used, you may have to split the fillets in half horizontally to have the proper thickness. If you can't get any of these fish, drum, salmon steaks or red snapper fillets can be substituted. In any case, the fillets or steaks must not be more than 3/4 inch thick.
---
Other AMAZING fish recipes that I know you'll love and KEEP!
Here's a really cool VIDEO on HOW TO GRILL the PERFECT Garlic Butter Redfish