Italian Food In Chicago: Day One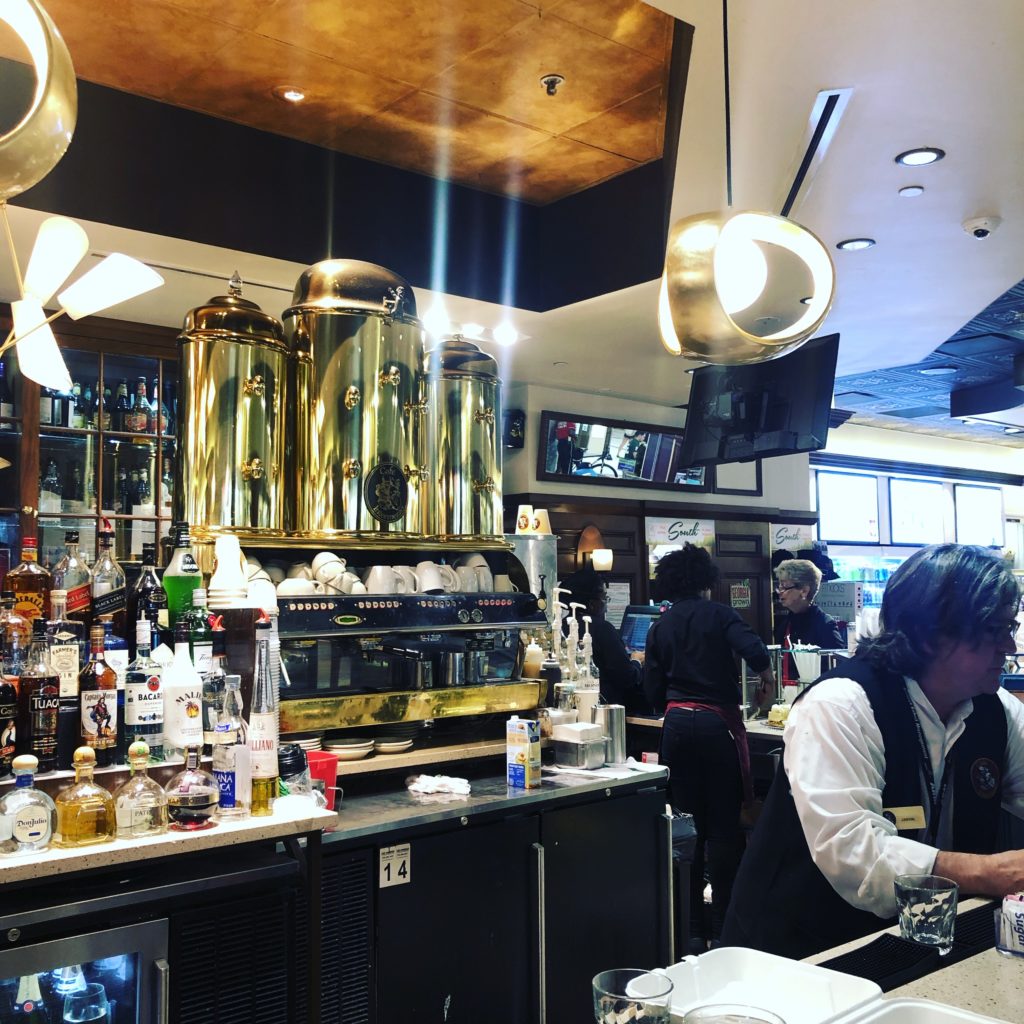 If you're looking to explore Chicago's Italian food eateries and places to experience, I've got you covered in this series.
On my way to Chicago for a whirlwind Italian food tour, I had a layover for a few hours in the Atlanta Airport. So I stopped in A sweet little gem, Café Intermezzo. This hot spot is an excellent place to escape the hectic bustle of the airport, to just sit back and simply enjoy some great food, cocktails, and desserts. Inspired by European coffeehouses, Café Intermezzo is a good spot to not only refuel the body, but also the soul.
During my 2 hour layover, I enjoyed a delicious Mixed Green Salad with Berries and Champagne Vinaigrette sprinkled with Goat Cheese, and . . .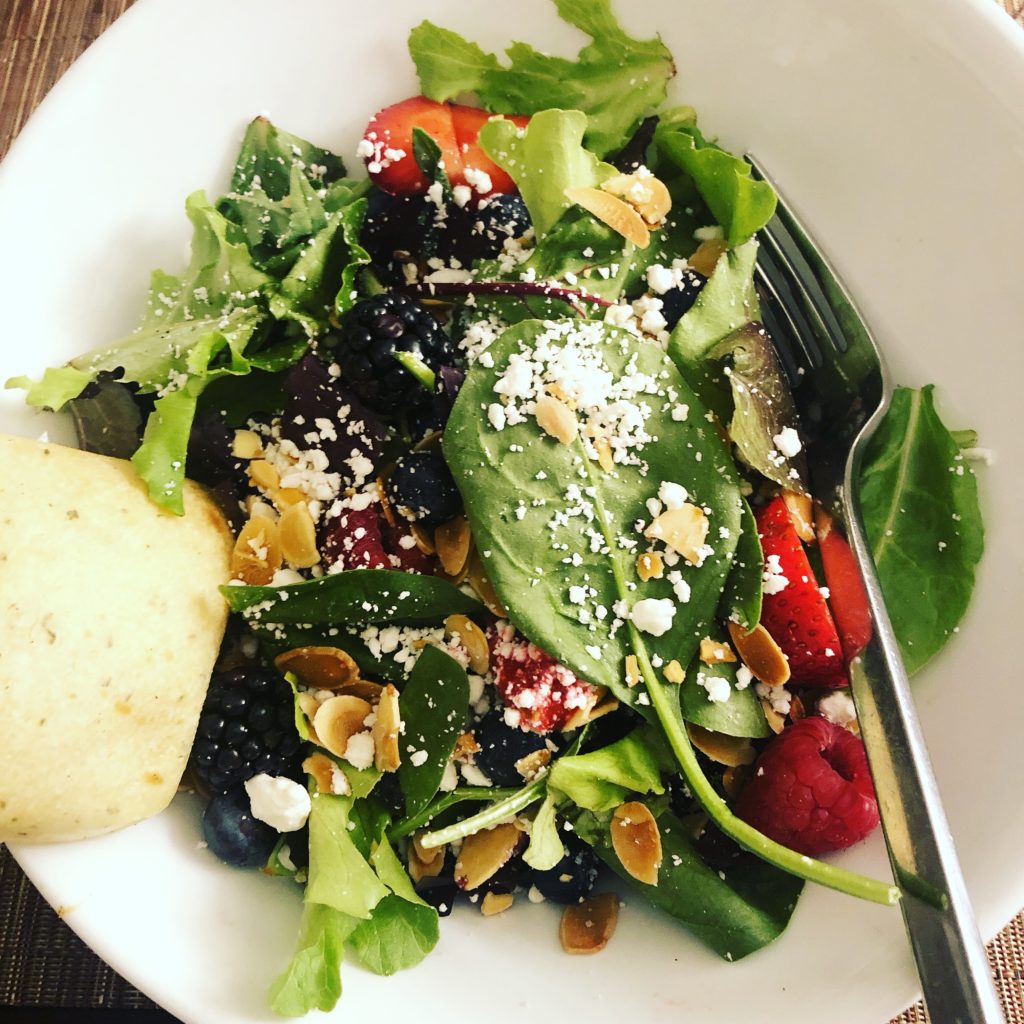 a bowl of amazing French Onion soup with Gruyere to the max, and . . .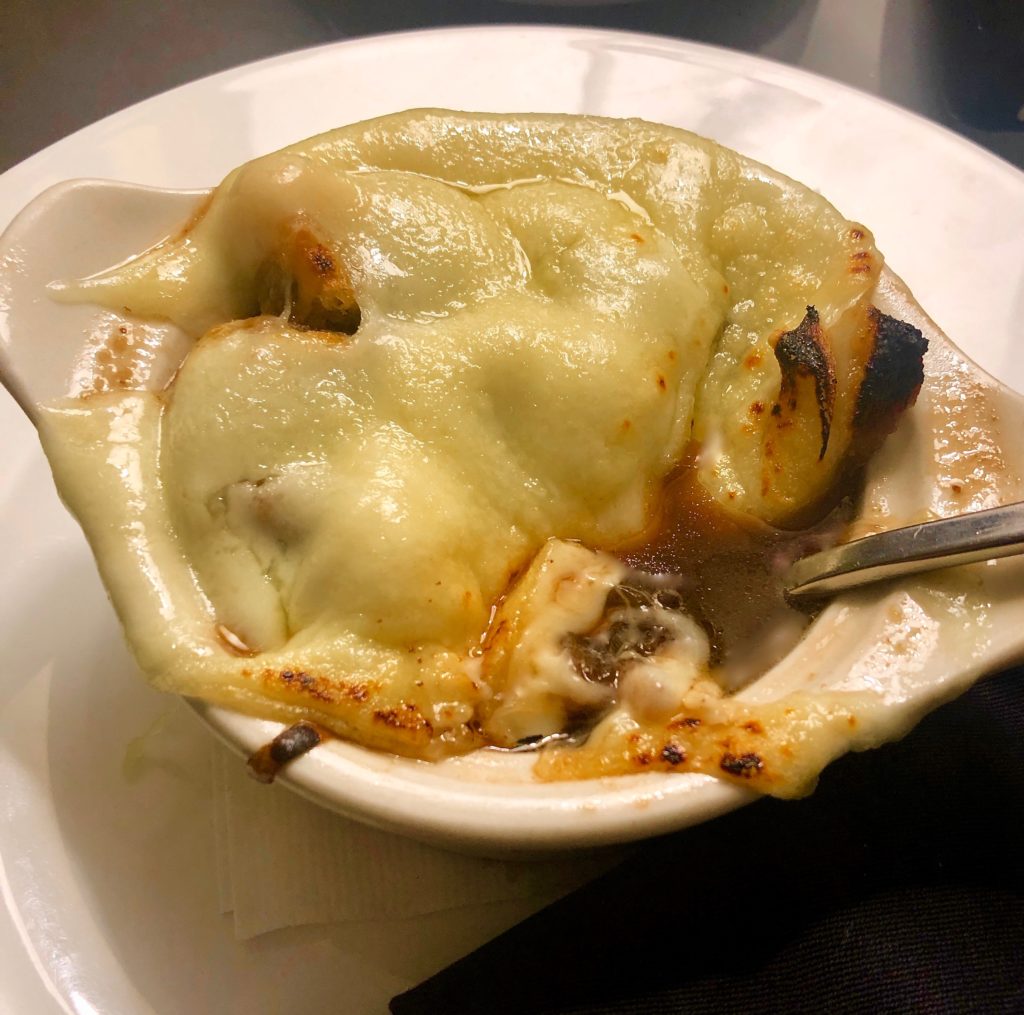 ended with an enormous slice of White Chocolate and Amaretto Cheesecake! A delicate fluffy slice of cheesecake heaven!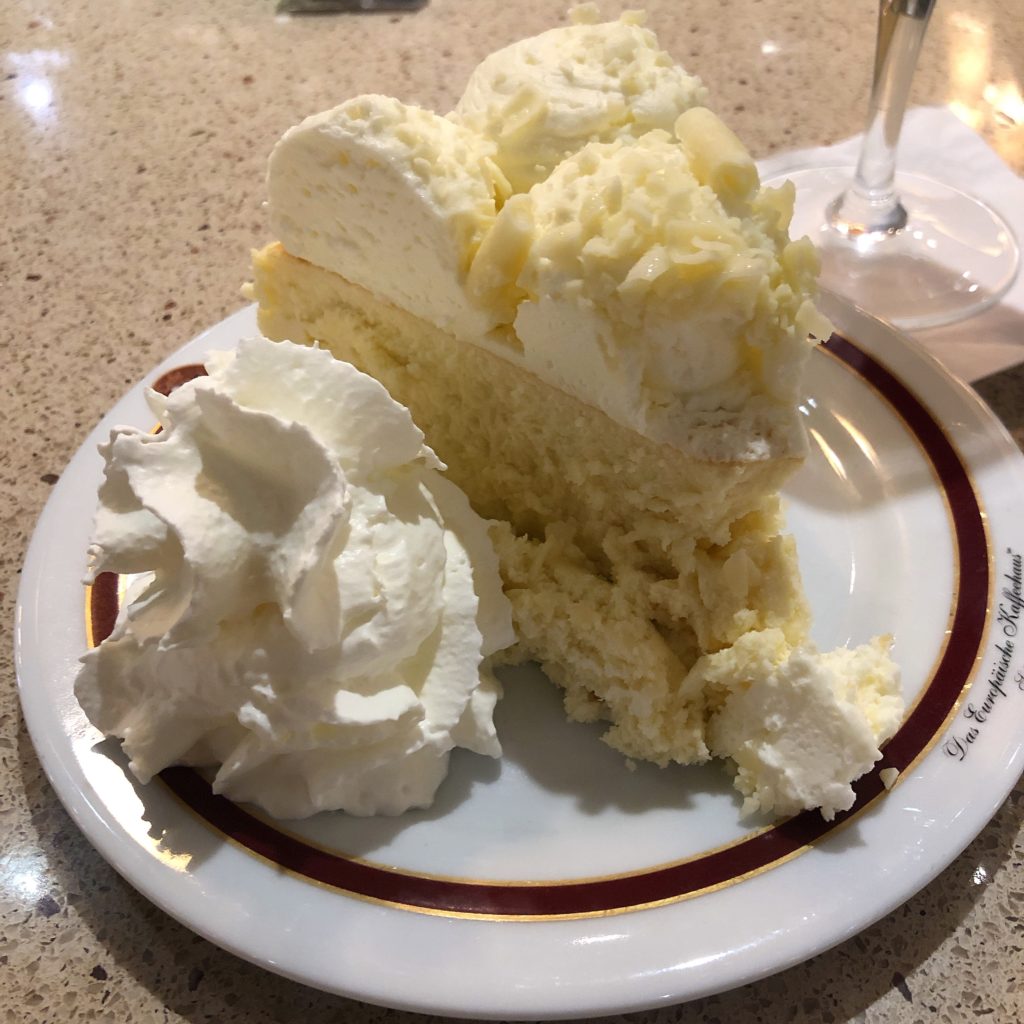 Seriously . . . in the airport!
Upon landing, I taxied to the heart of downtown Chicago's beautiful River Walk and . . .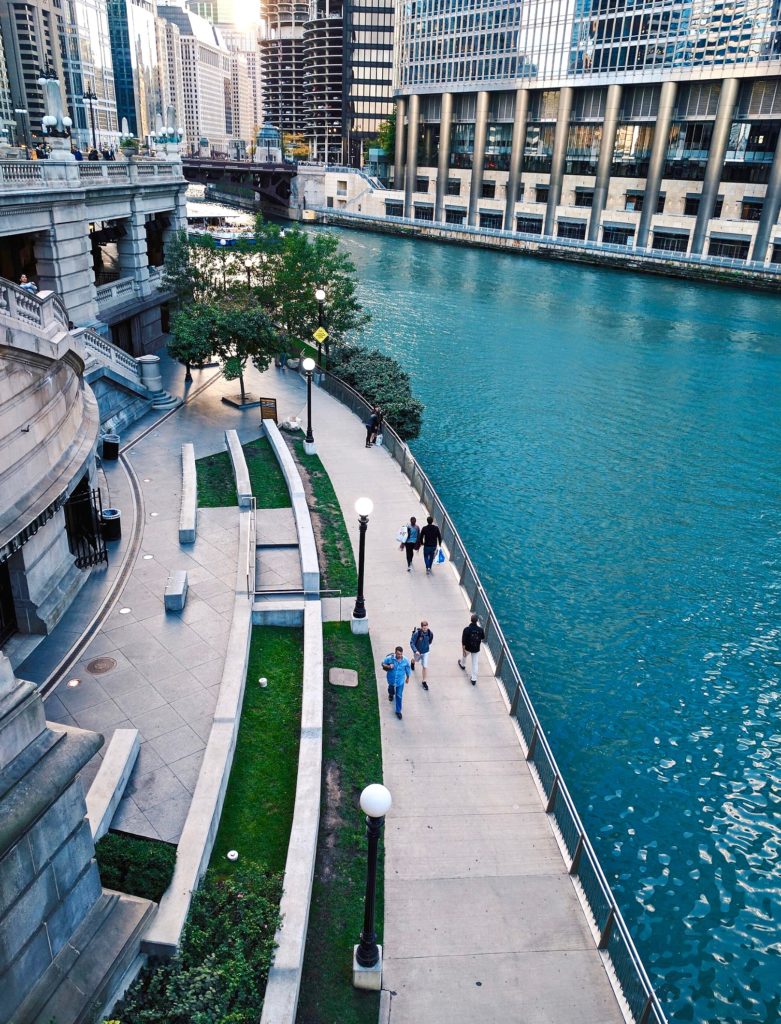 checked into the lovely Westin Chicago River North.
Upon checking in, I was jazzed to receive a complimentary upgrade! A huge room on the Executive Guest floor on the top of the hotel. The beds in the Marriott/Westin are heavenly, so a blissful night's rest was in store!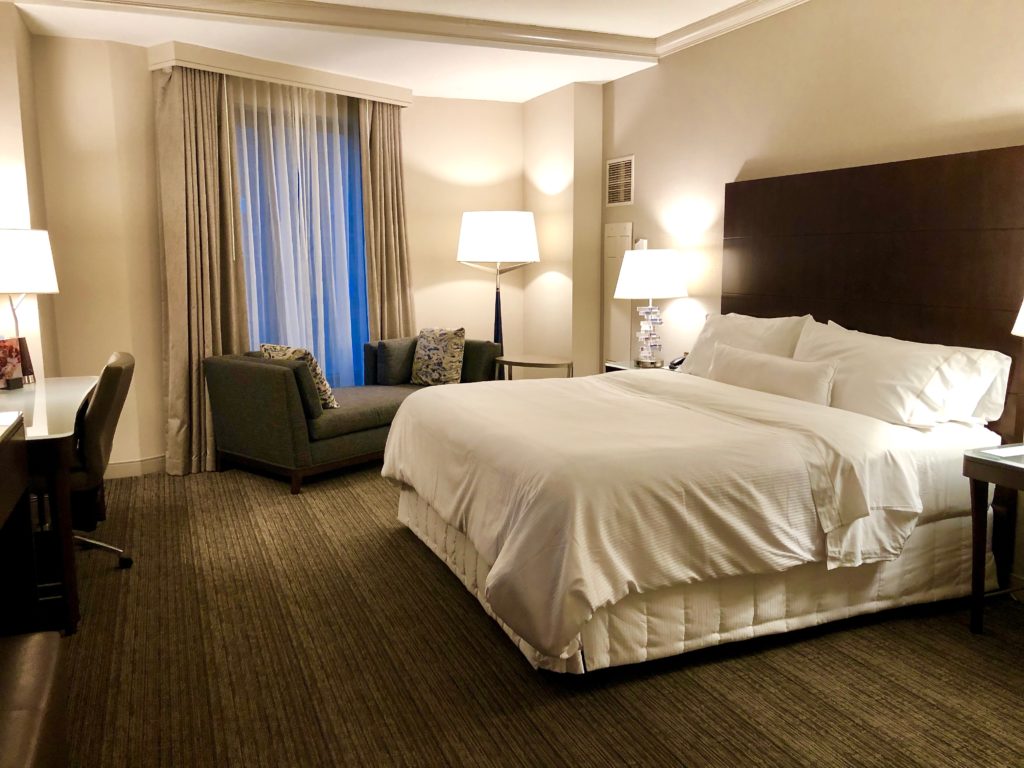 My son joined me and we strolled a few blocks to enjoy cocktails. We took in the famous architecture and Chicago skyline that's so impressive.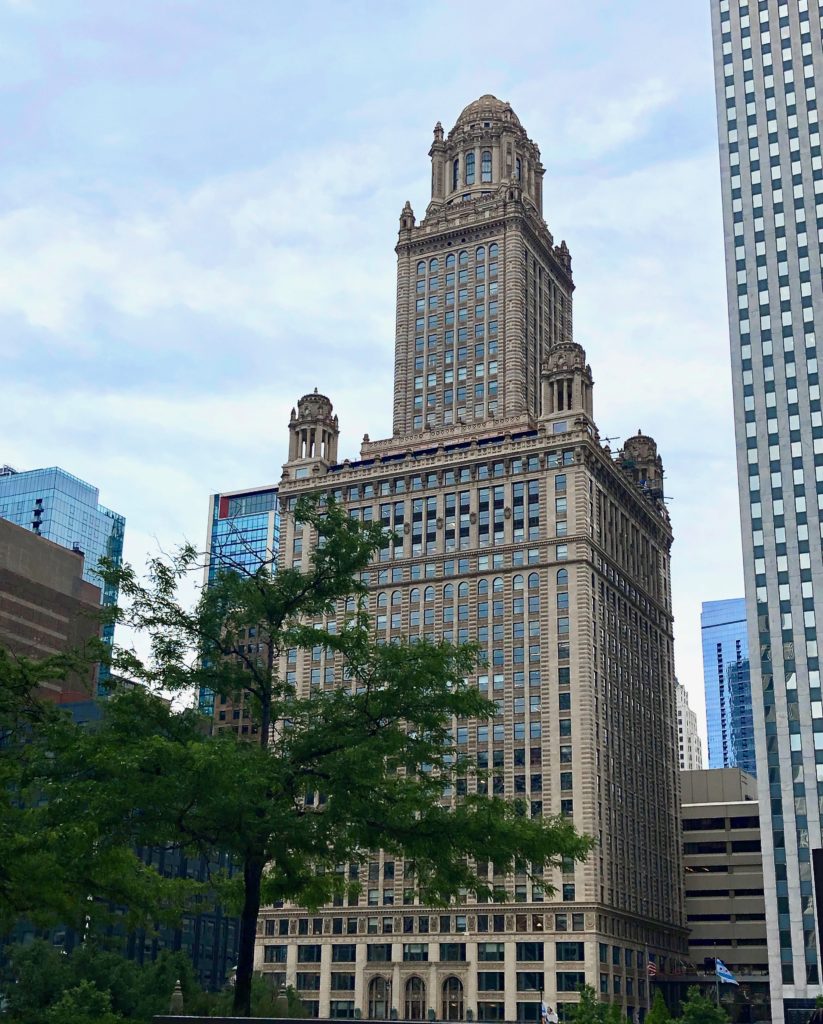 We stopped for cocktails at one of Chicago's top 5-star hotels, the beautiful Langham Hotel.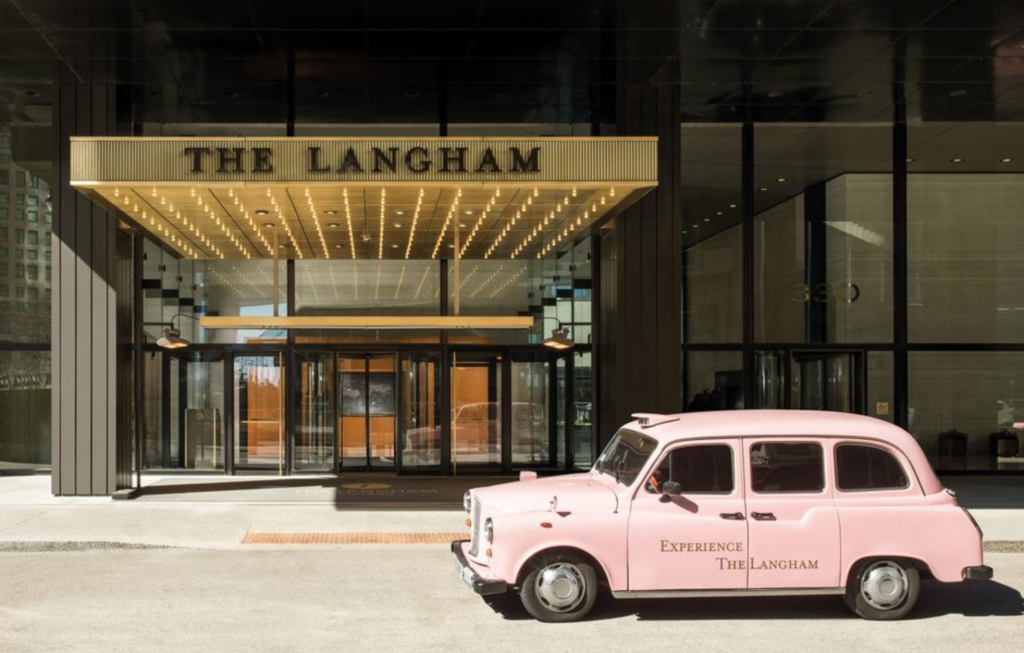 I love artwork of any kind. So I was taken back by the glass artwork dangling from the ceiling of the hotel reception area.
At the top of the hotel, the cocktail lounge boasts modern decor, behind the hostess who kindly posed for the photo.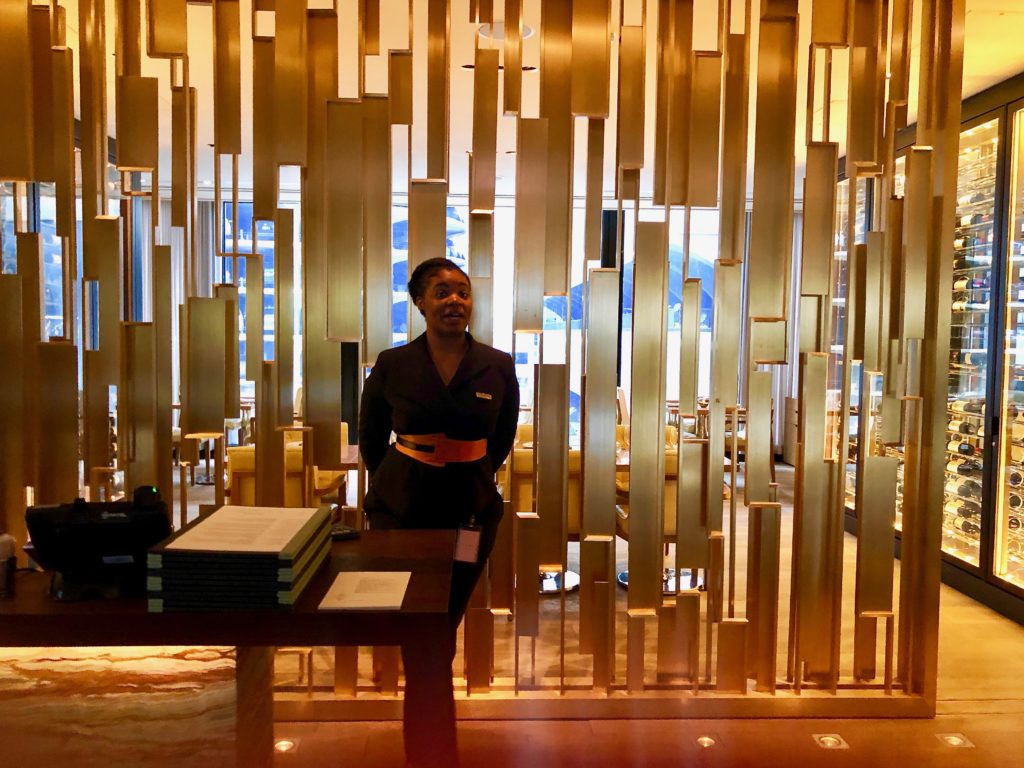 A very lively lounge with people enjoying an early evening of cocktails after work. My son and I love Prosecco and to kick off our Italian foodie weekend, what else would do but Prosecco?
It was getting late and I was still on Eastern Standard Time with dinner yet to happen. So I ordered a double-espresso strength latte. It did the trick and the server comped it for taking a bit of time to prepare!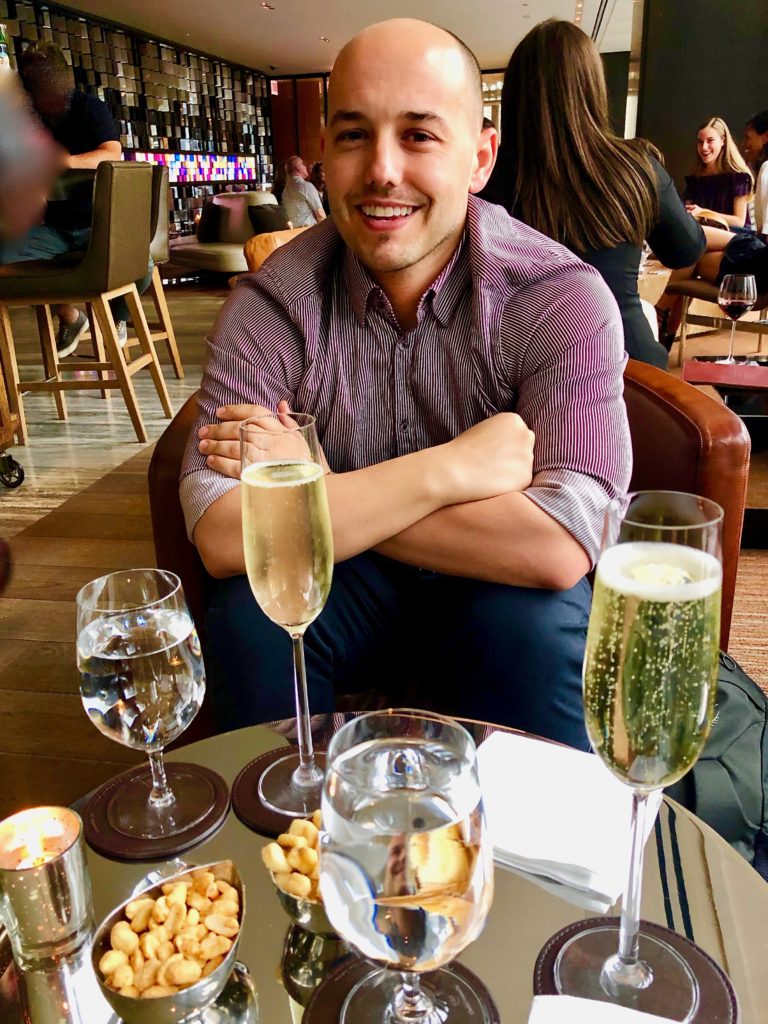 Because my plane was late arriving, we had to cancel our dinner reservations at Spacca Napoli, a wildly popular classic Italian pizzeria in the city. We managed to get into a trattoria downtown (Trattoria 10) in the theatre district that both of us concluded was good, but not outstanding overall in food. However, the service was perfect and very attentive.
Upon entering the place, the walls are painted like a national Italian chain restaurant (you know the one). Both of us thought it was a bit cheesy for such a pricy restaurant.
We ordered two antipasti: fresh house-made from scratch gnocchi in a butter-gorgonzola sauce topped with almonds and herbs. I have to say that these gnocchi were the most delicate and delicious that I've ever had in my life. The sauce was good, but it needed more gorgonzola which I could barely taste. If it wasn't in the name on the menu, I'd never have known that gorgonzola cheese was in the butter sauce.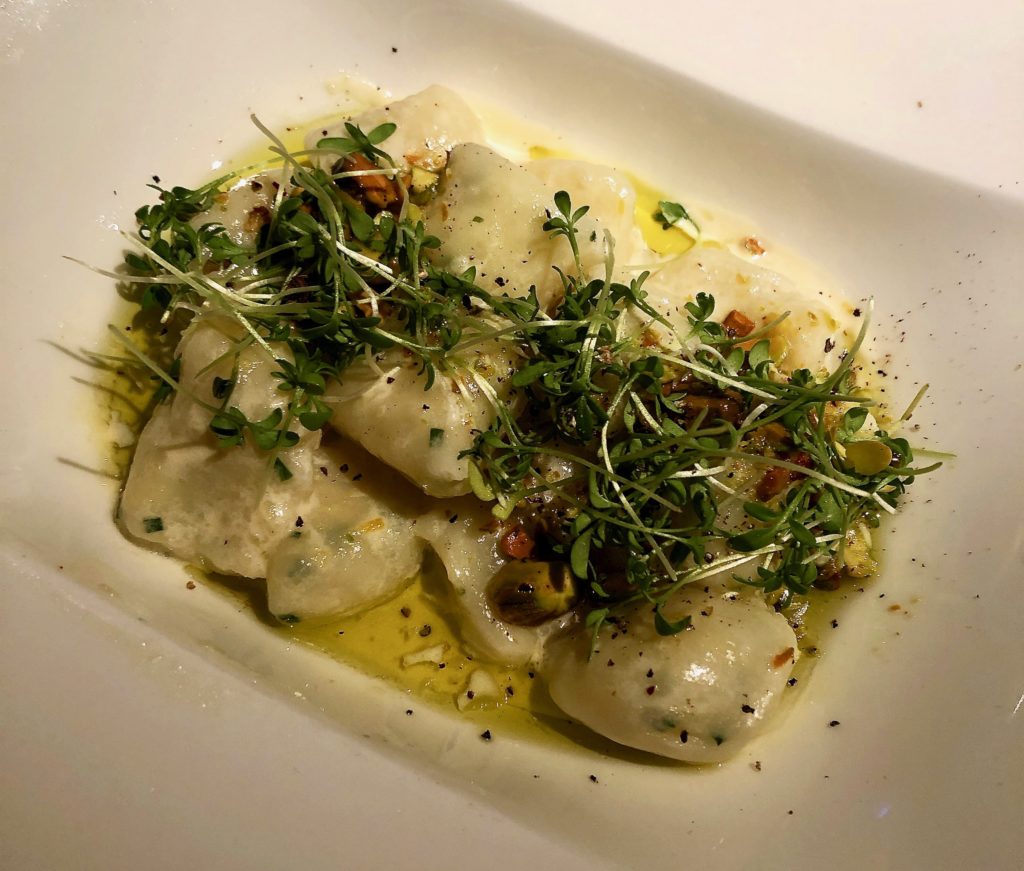 The other antipasto we had was a lamb carpaccio. It was good. I'd recommend sticking with a beef carpaccio instead, but it wasn't offered.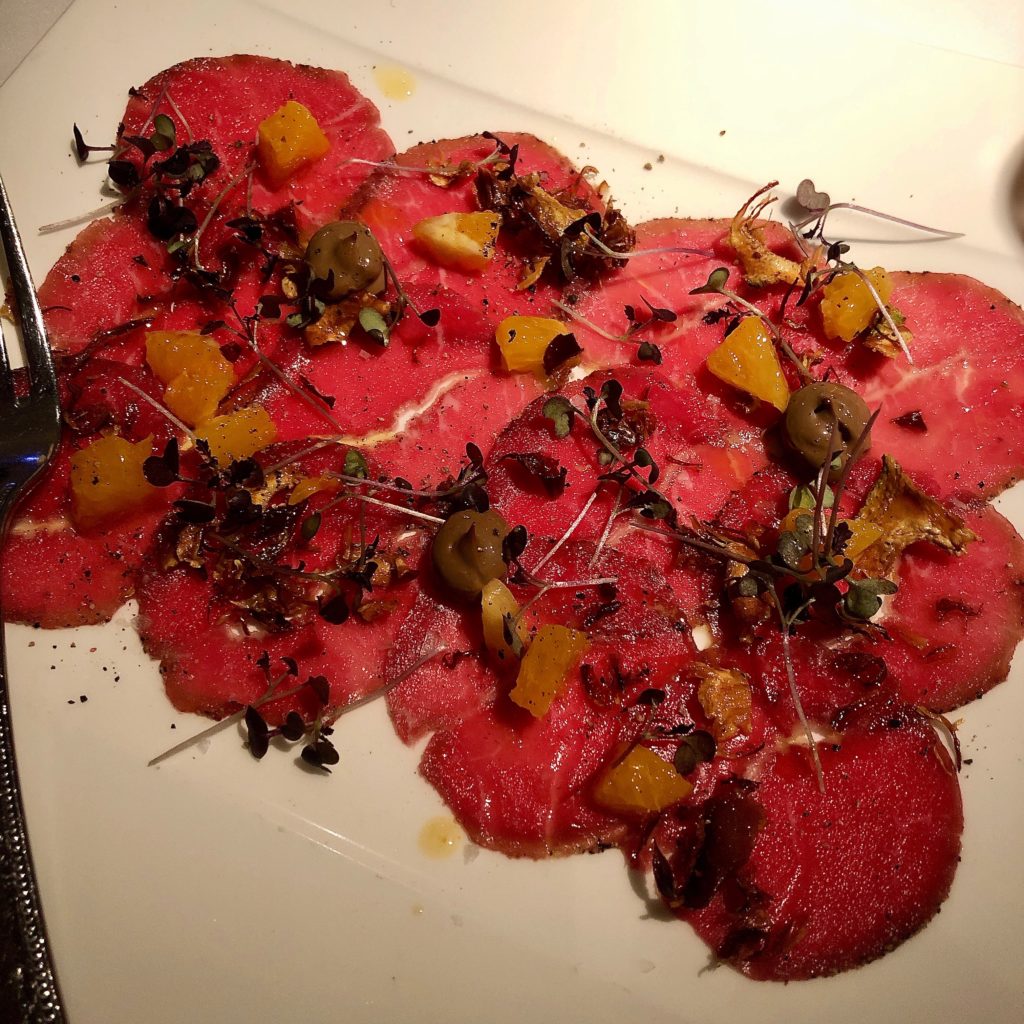 Although out of season, one of the trattoria's signature house-made pastas was the Butternut Squash Ravioli. It was superb. The fresh pasta alone without any other ingredient was perfect!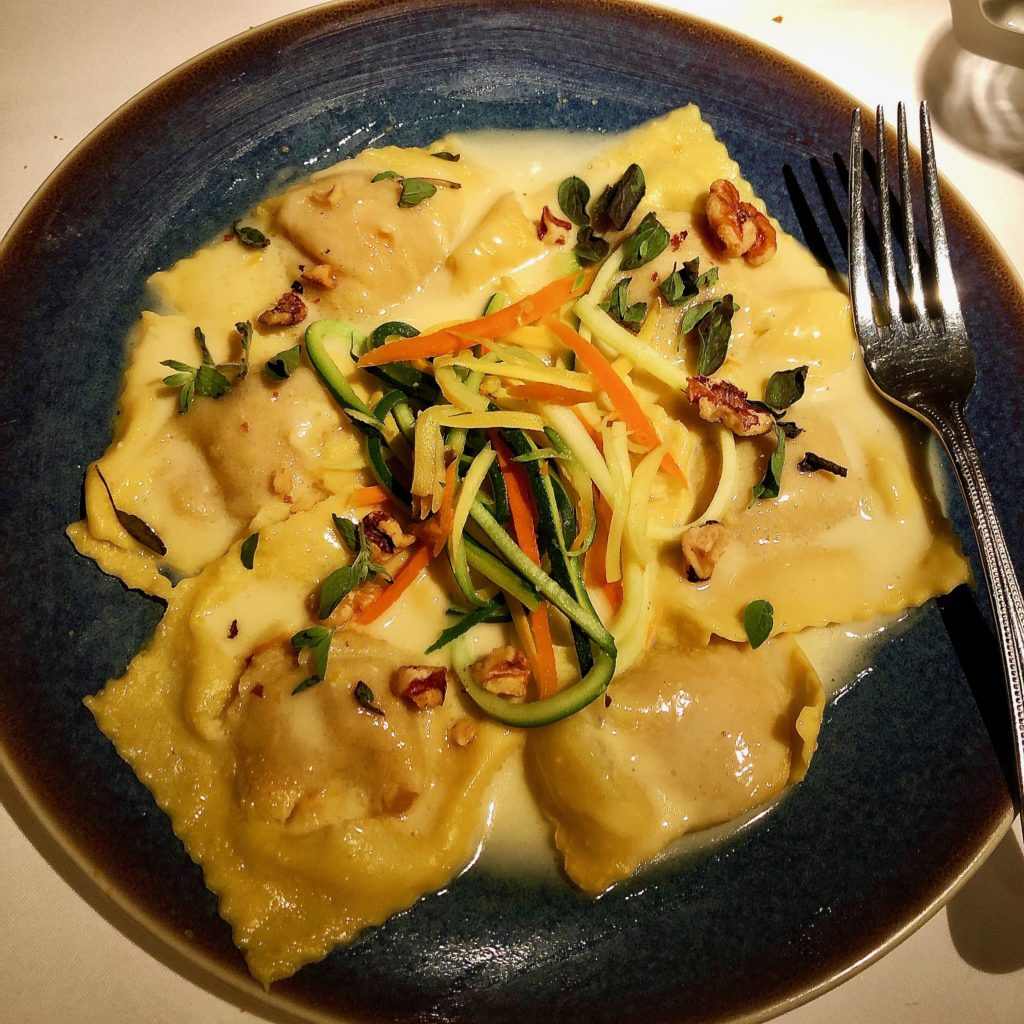 My son ordered the cavatelli that literally tasted (and even looked) like an Asian stir fry. Don't you just hate it when that happens? I don't like to give bad reviews, but have to be honest.
For dessert, I noticed that the ever-growing popular Italian budino was on the menu. I've made budini before and they are a delightfully light way to end a meal. This was a caramel flavored budino with crunchy amaretti cookie crumbles and dollops of tart berry sauce.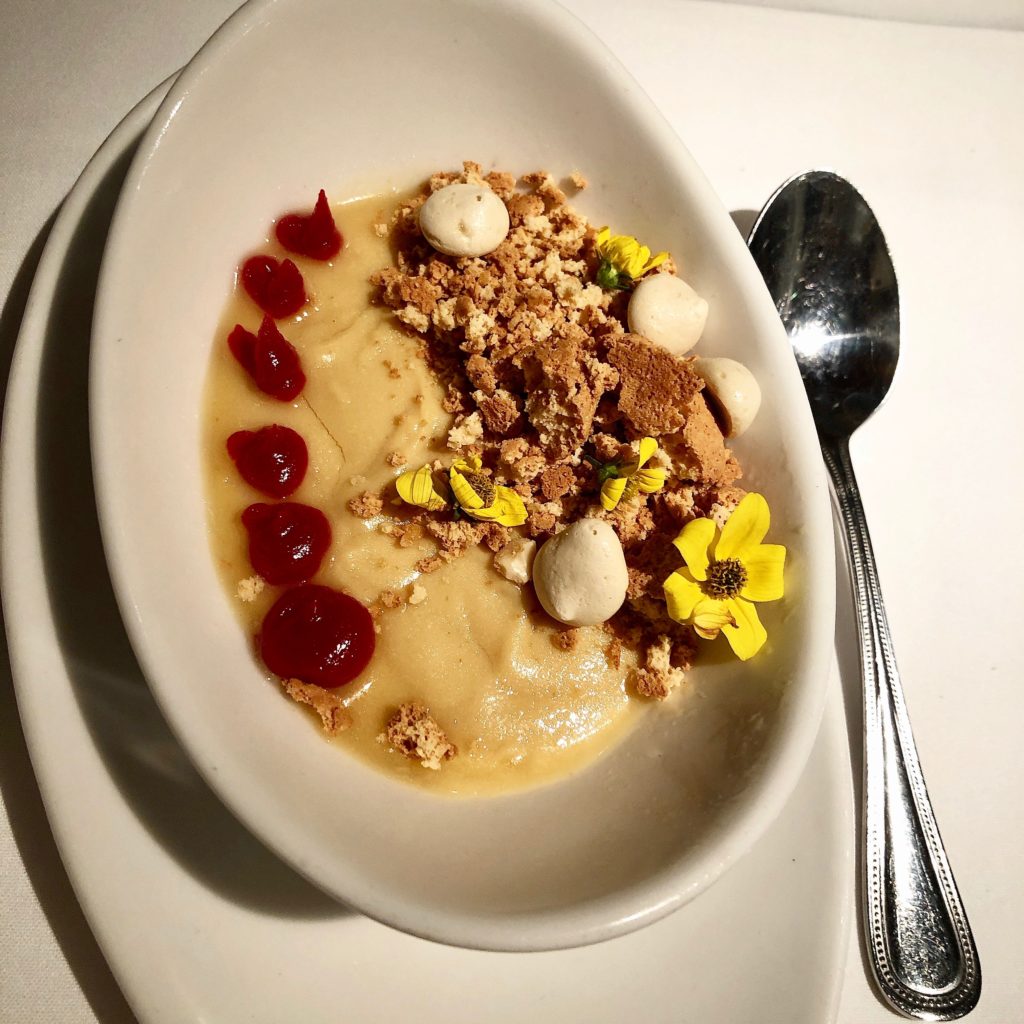 This was a fairly decent Italian trattoria. I'm just sorry that we didn't get to the famous Chicago restaurant, Spacca Napoli as originally planned. But there's always next time.
Tomorrow, for Day 2 of my Italian food visit to Chicago, the day begins with strolling along and eating well in Little Italy!
See you in the next post of this series!