Italian Food in Chicago: Day Two, Little Italy, Bari and D'Amato's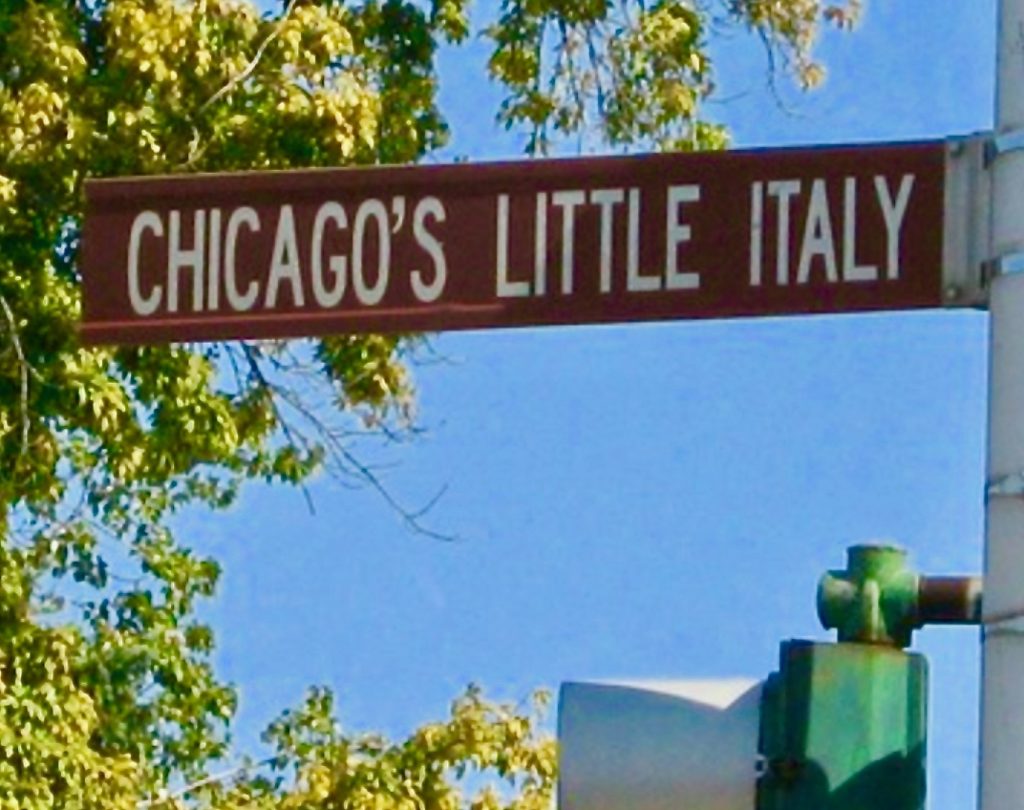 If you truly want to get a feel for the real Italian deal in the 'windy city', you have to visit Little Italy in Chicago. Or what's still left of it as America's ethnic neighborhoods change, shift, and gentrify. While some people long for the old days, the only thing that is constant is change.
Little Italy in Chicago is much smaller than it was in the early 1900's to 1950's. In 1965, the Chicago campus of the University of Illinois was built right in the center of the Little Italy neighborhood area. And because of that, it is often called University Village.
The political decision of then-Mayor Daley brought much resistance to the Italians living in the area and the residents protested the decision. Italians living in Little Italy of Chicago knew that they would be displaced and so they fought against the decision for years. Ultimately they took their lawsuit to the Supreme Court where they lost the case. Sadly, the Italians' fears came true and over 800 homes and 200 businesses were demolished. Little Italy was never the same again after hundreds of thousands of Italians moved out of the neighborhood.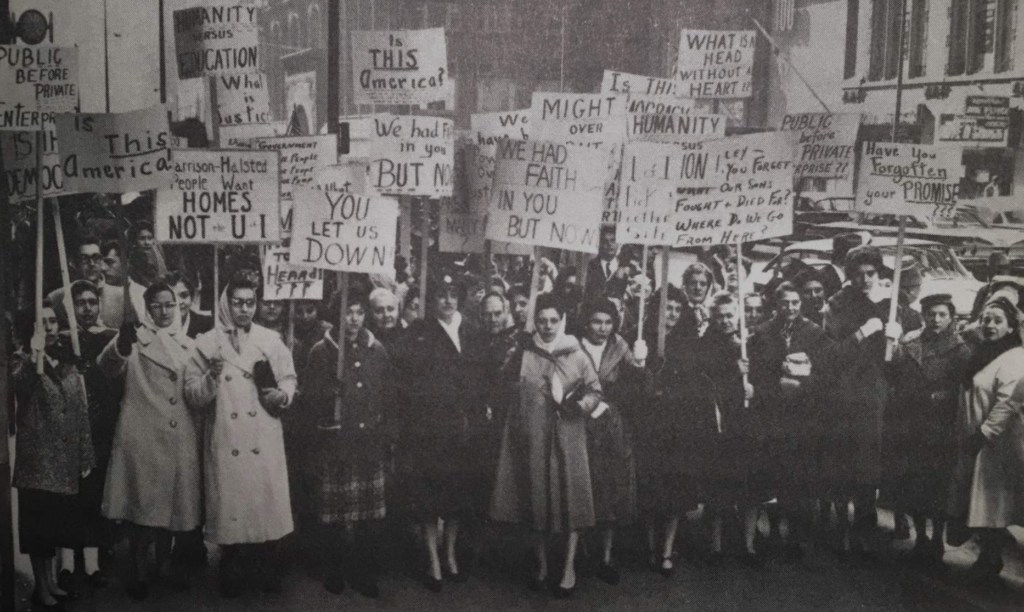 Little Italy of Chicago is easy to get to by public transportation or car. Its borders are shown in the map below. What's left of this gem of an ethnic neighborhood, Little Italy is located on the west side of the city. Taylor Street is the main road that exudes images of what we think an old Italian neighborhood to be like. Within these borders, you'll see colorful buildings, elaborate fountains and beautiful statues. There is also the National Italian American Sports Hall of Fame. Of course, just as in Italy, there are many Catholic churches. The most prominent churches not to be missed during your visit are "Our Lady of Pompeii" and "Notre Dame of Chicago".
For a long time, Italians faced discrimination and prejudice in Chicago. They were denied housing and employment which caused them to form tight-knit communities where they stuck together and fiercely helped each other out. Italians kept their deep religious faith from the old country. This led to the construction of two famous landmarks in the Little Italy neighborhood; the Catholic churches of Our Lady of Pompeii and Holy Guardian Angel.
Our Lady of Pompeii Church also started a strong Catholic school. However, because of the construction of the University of Illinois at Chicago, the number of parishioners declined due to leaving the neighborhood decline in parishioners. In 1994, the church of Our Lady of Pompeii was rededicated as the Shrine of Our Lady of Pompeii. Holy Guardian Angel was the first Italian congregation in Chicago, started in 1898. However, it was closed in 1960 for the construction of the Dan Ryan Expressway.
Today, Little Italy is hardly the thriving Italian community it once was. Before the exit of people from the neighborhood, it was vibrant and alive and the people enjoyed everything it had to offer. But 'gentrification' has been taking place in Little Italy for many years. On the positive side of this is the increased diversity. On the negative side, old Italian family-run businesses shut down as hundreds of people moved away and those businesses were replaced by non-Italian Asian restaurants and coffee houses. The area used to have a lot of Italian character but the neighborhood culture has completely changed and all but diminished by national-chain pizza places and towering buildings. With all of the newly constructed building's higher rents, the last of the old Italian neighborhood was pushed out.
Despite all of the challenges that Little Italy of Chicago and the neighborhood residents have endured, the tradition of having annual festivals and parades in the area continues, just on a smaller scale.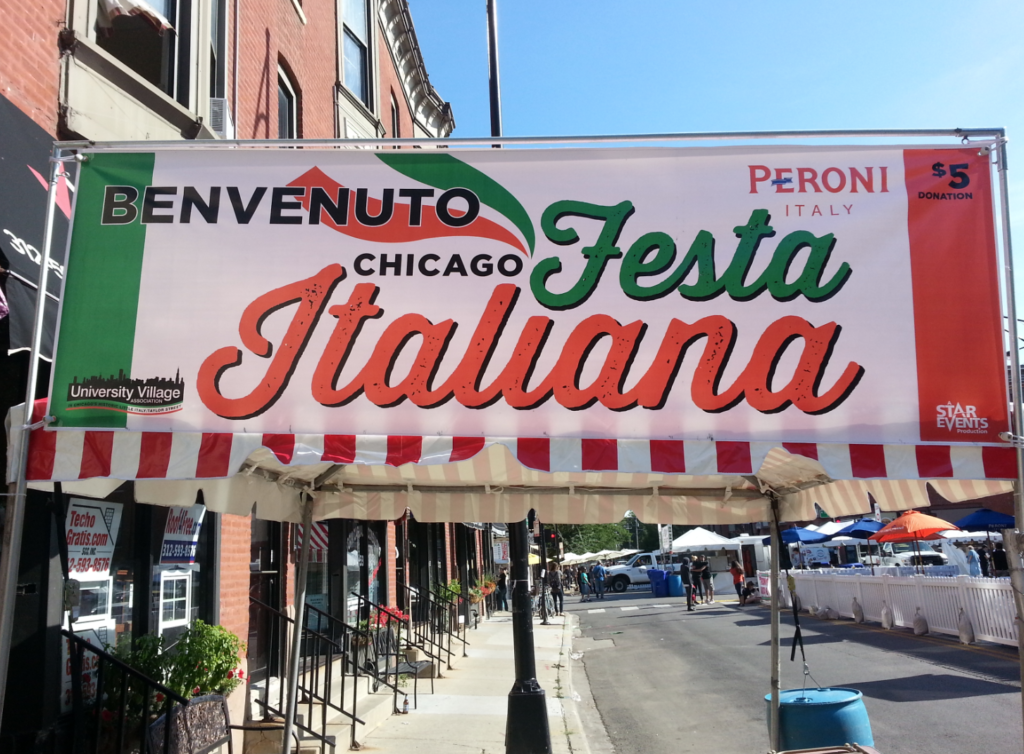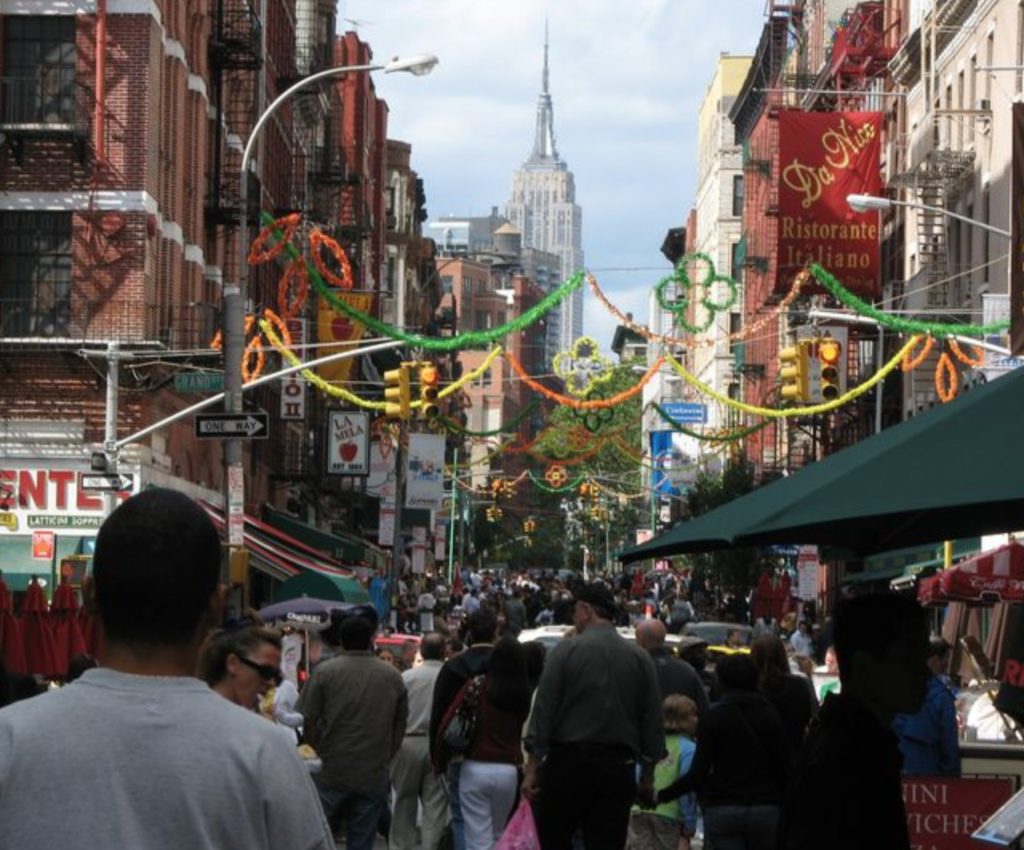 Taylor Street, where the Italian Festival takes place, is one of the most historic neighborhoods in Chicago. From the late 1800s to the 1950s, the area around Taylor Street was where Italian immigrants settled with their families. It soon became the official Little Italy of Chicago.
The annual Little Italy Fest-Taylor Street celebrates the great history of the neighborhood by celebrating the rich culture of the generations of Italians who settled there decades ago. Fabulous food from award-winning area restaurants, several stages of continuous family entertainment, quality merchandise from Italy and colorful cultural attractions make this event one of the most popular of the summer.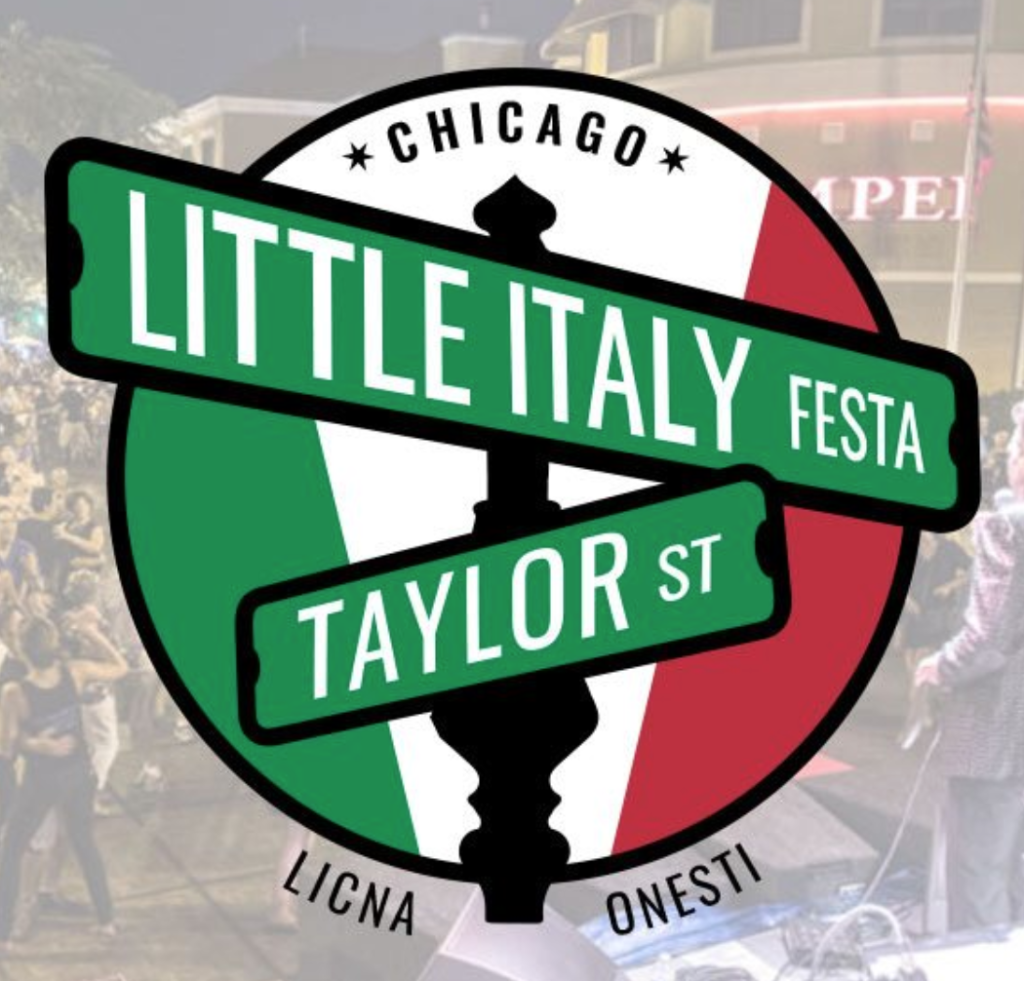 While strolling along Taylor Street, going in and out of the businesses, I heard several Italians speaking their native language with each other. Since my use of the Italian language is so poor due to not using it, I could not understand one word of the lightning-fast speech!
From small mom and pop businesses such as Italian specialty bakeries, Italian import food stores, cheese shops, barbers, and cigar shops Little Italy of Chicago offers a great walking experience. You'll see lots of people scurrying around the various places to eat and shop. The community is full of Italian restaurants, art, and entertainment for all ages! There's no excuse for missing out on what this neighborhood has to offer.
The Piazza DiMaggio, a place in the neighborhood to meet up with neighbors to sit and talk, is still there. Spots like this are a throwback to the neighborhoods in Italy, where community and neighborhood life meant everything. Those times may have passed, but the memory remains strong. Older residents of the city look back fondly on the time before UIC changed the course of the neighborhood.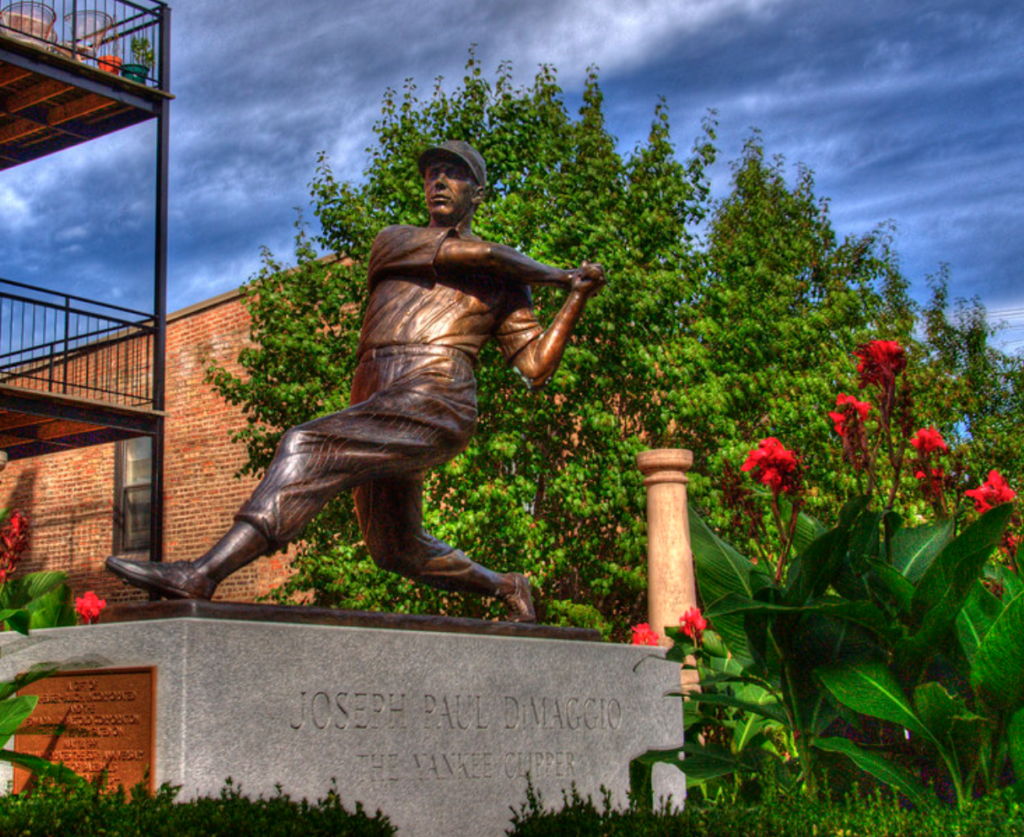 Rosebud is one of the longest–running, truly authentic Italian restaurants in Chicago that still garners rave reviews, including the patronage of old blue eyes, Frank Sinatra, when he was in the city. The menu is filled with classic Italian dishes offered at reasonable prices. Reservations are a must!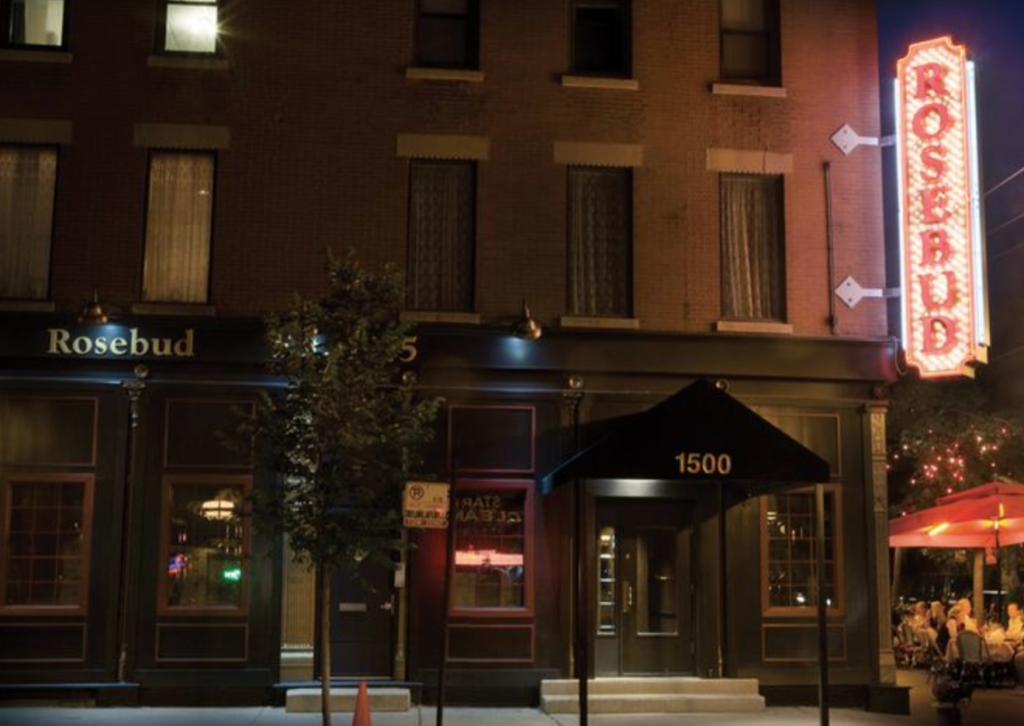 I had reservations for lunch at Rosebud and enjoyed their Caesar Salad that was loaded with anchovies. Have you noticed that most restaurants don't serve anchovies anymore on Caesar salads? Not Rosebud, look how many of these scrumptious little fish are offered in Rosebud's salad?
Oh and the portion size of any dish at Rosebud is ridiculously huge! You'll have delicious left overs to enjoy for later. Good thing that my hotel room had a mini-frig for late night munching!
Here are more Italian specialty shops and eateries to include on any itinerary for visiting Chicago!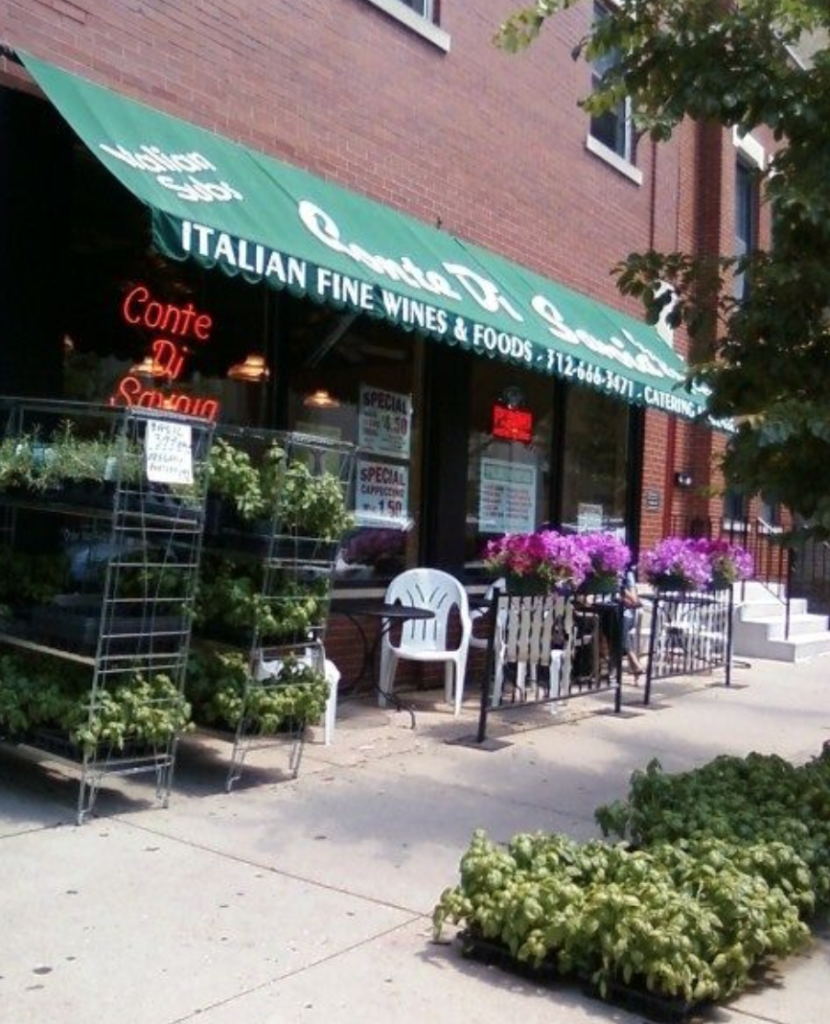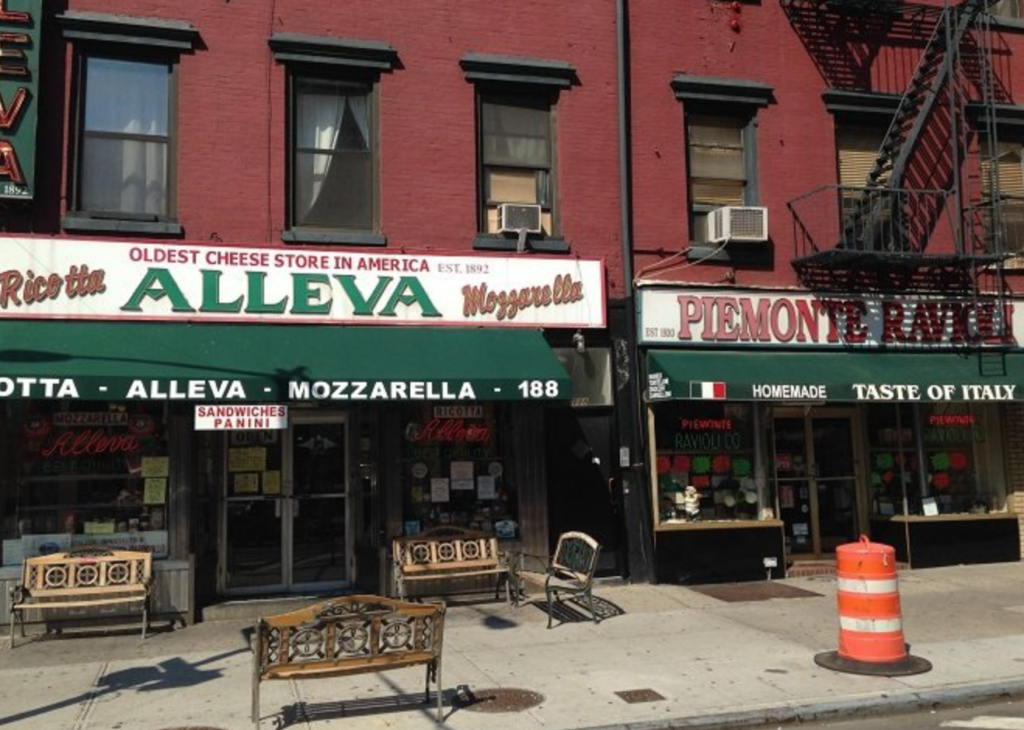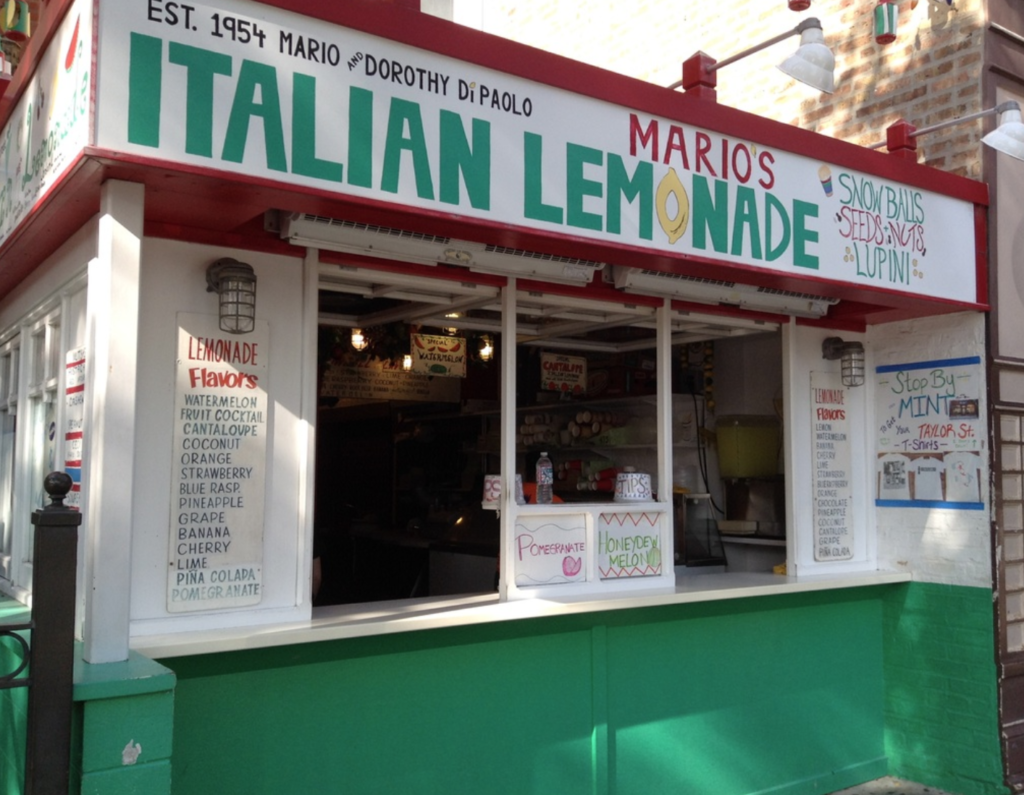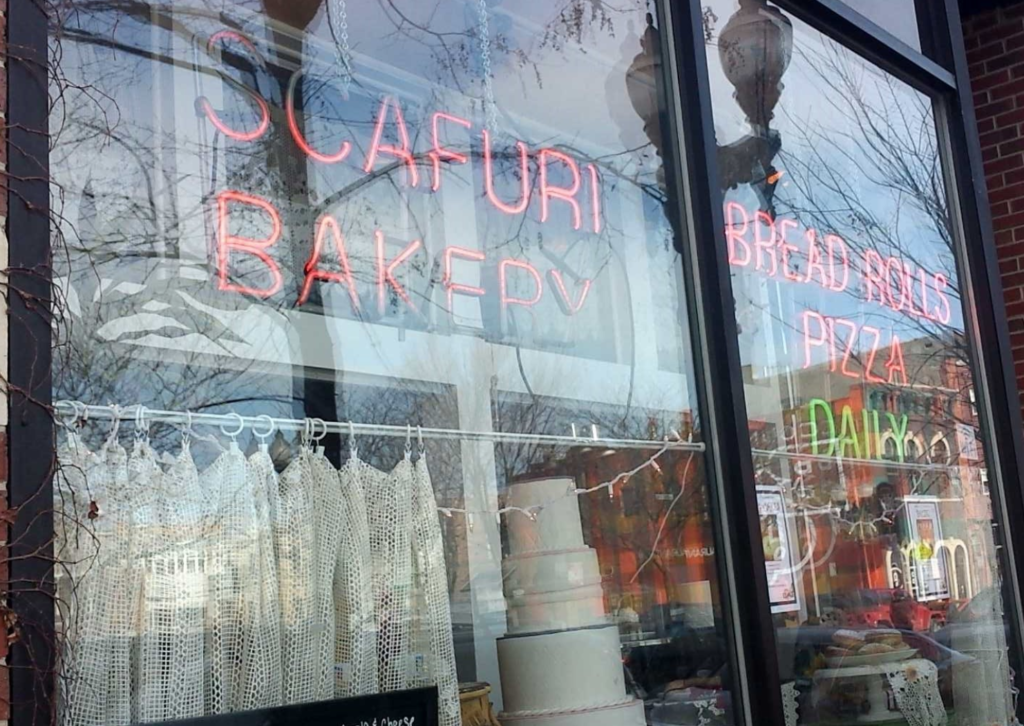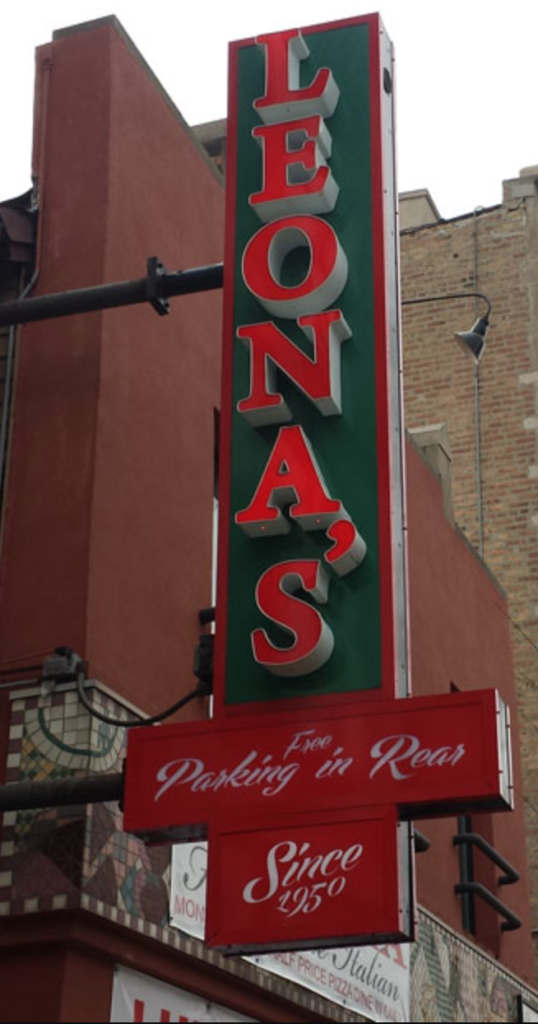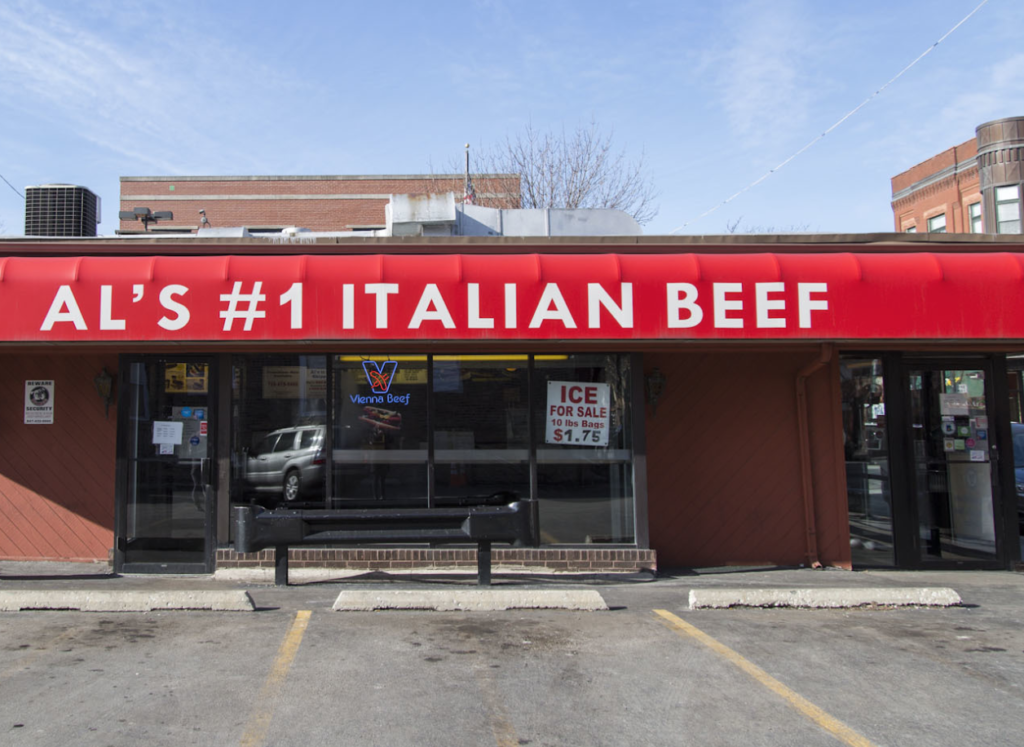 I knew that I just had to visit and experience an authentic Italian bakery and an Italian food market.
First stop: Bari Food Market for Imported Italian Specialties!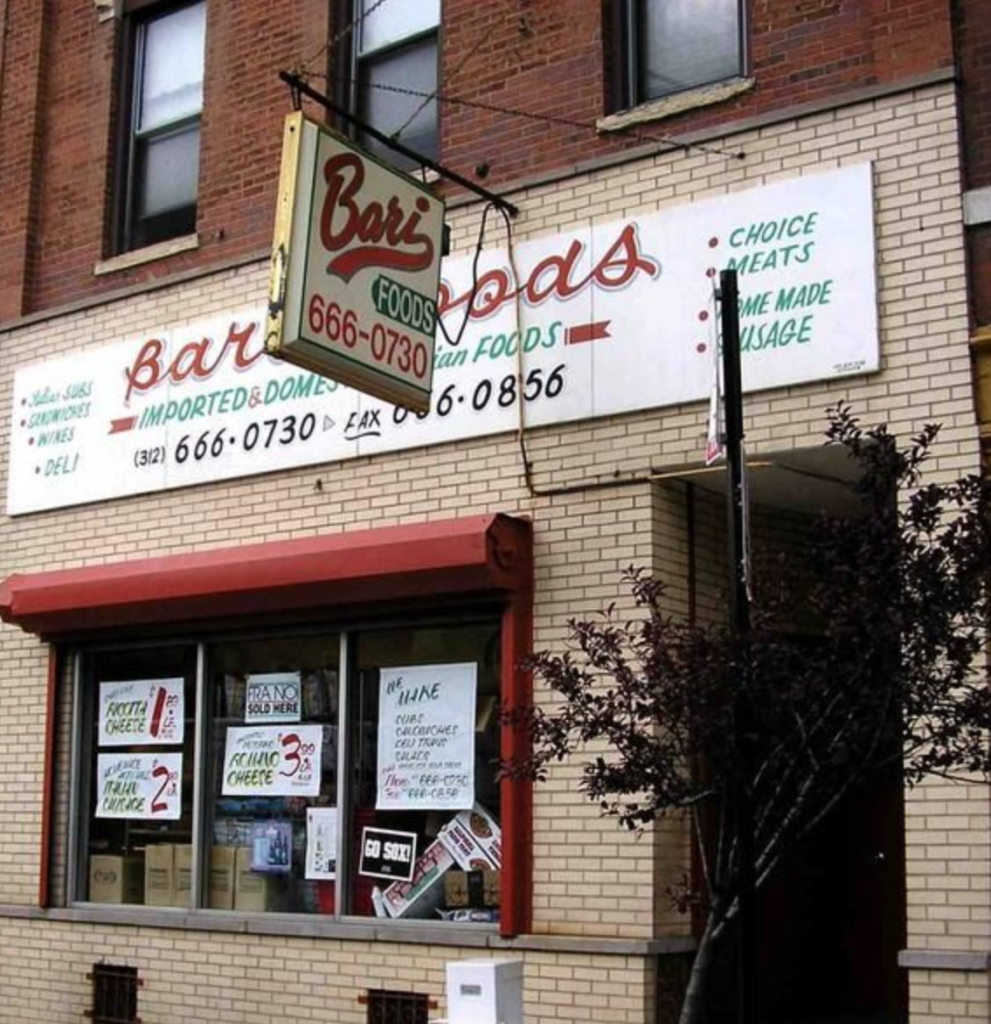 No fancy neon or computerized signage here . . . just simple, plain old paper with hand-painted letters on the signs in the window!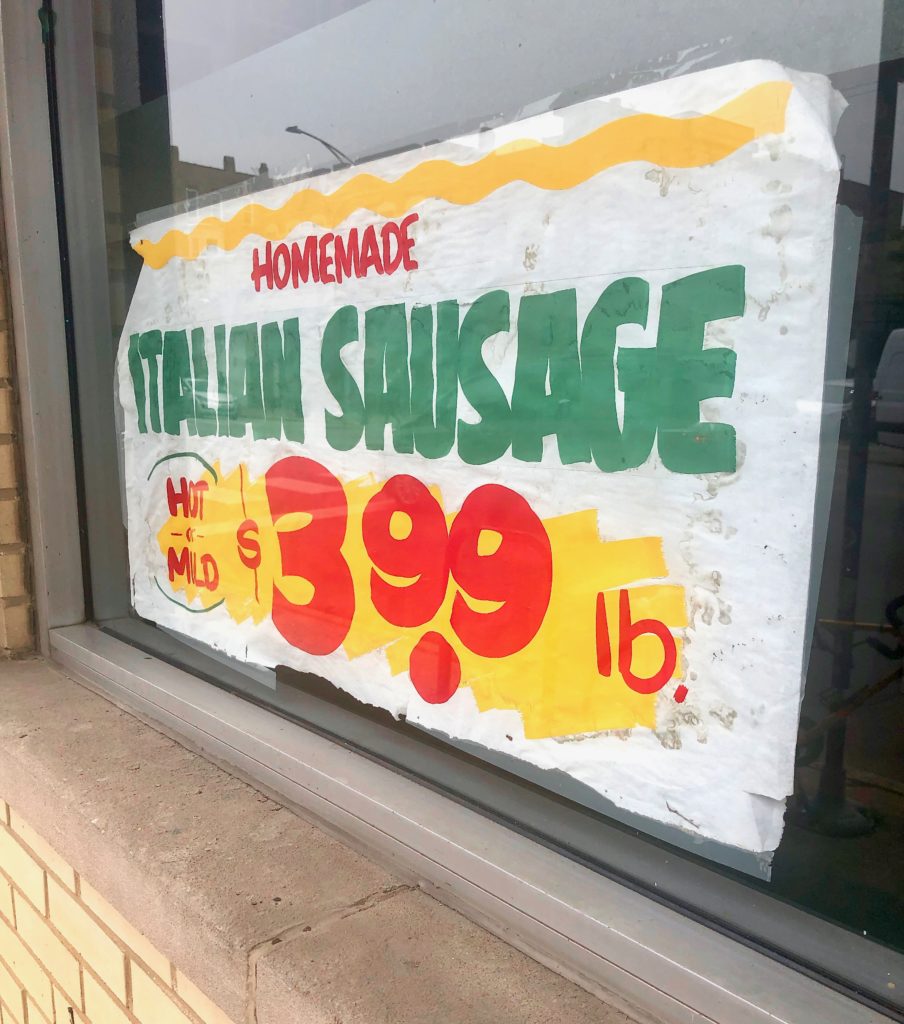 One entire row in the store is dedicated to pasta and tomato sauces. Which one to choose from? Not an easy decision at all!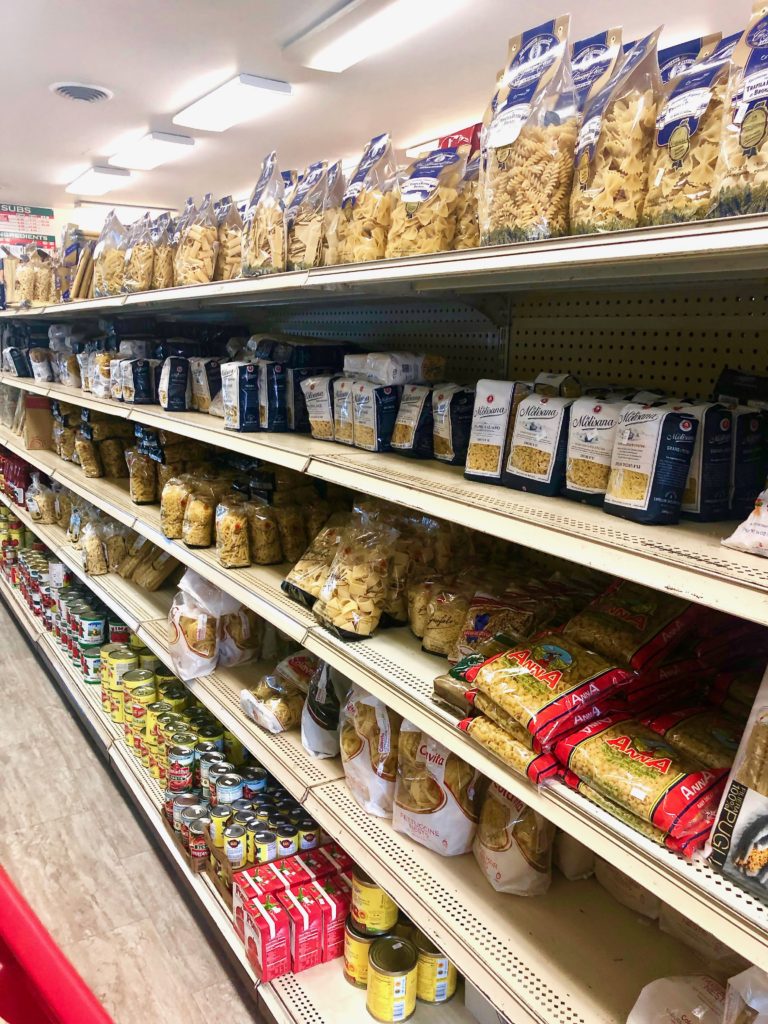 I had to not only take a picture of this pasta shape, but I also bought one package to try at home. Yes it, 'zitoni', is super big in width. The length is the same as any pasta noodle such as spaghetti, but just look at how thick this pasta is?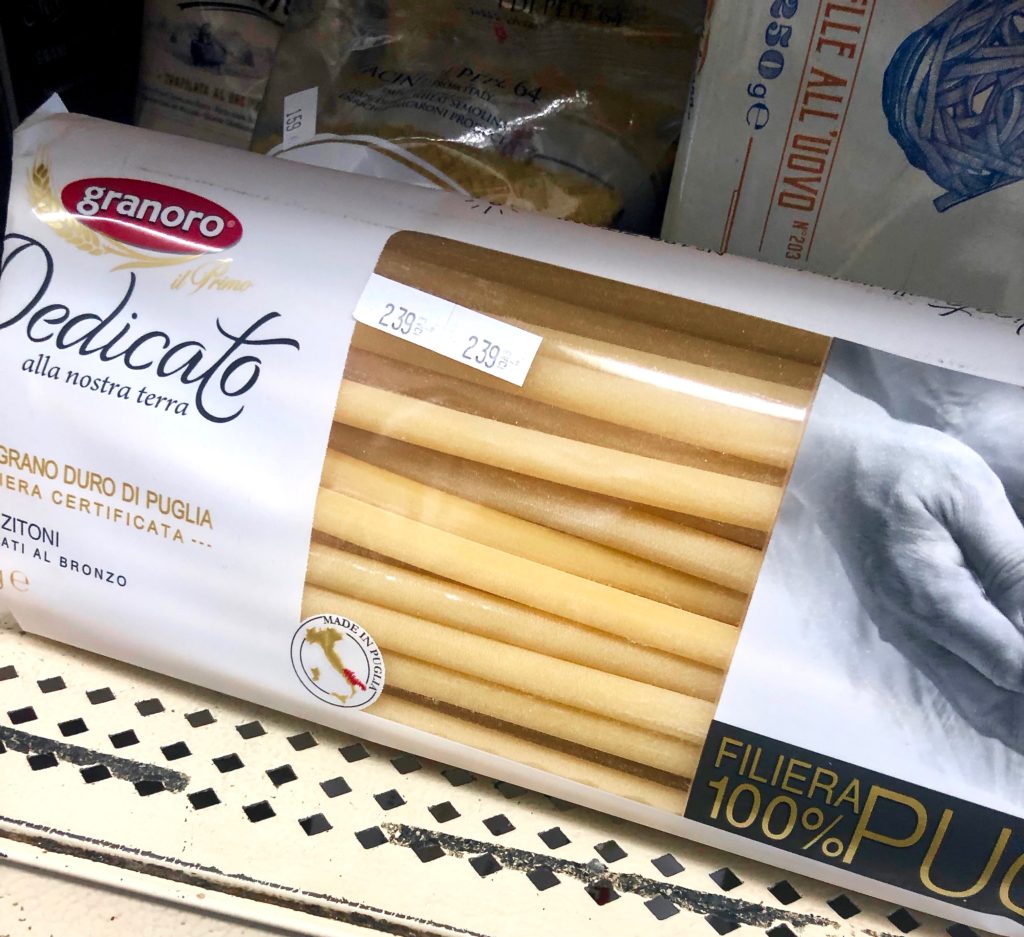 I had to stop at the meat counter. Again, it was difficult to select just one or two items, but I eventually bought . . .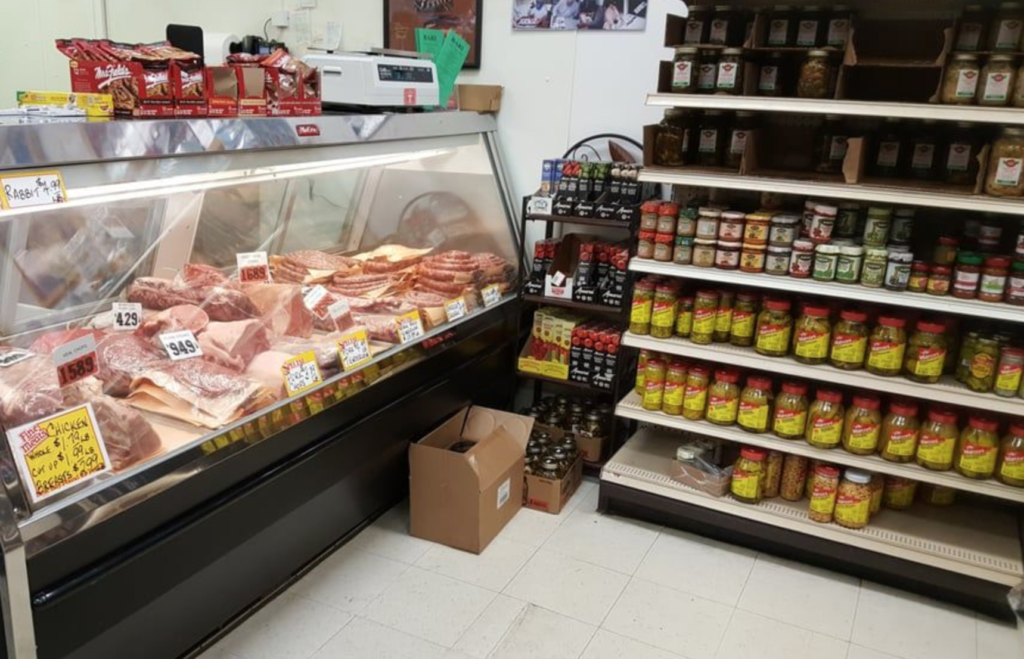 some very difficult to find (in America) 'guanciale' which is a very fat part of the pig, 'the cheek'. In Italy this is what is used in place of pancetta, which we use in the States due to how hard guanciale is to find. Yes, you can find it in larger cities, and on Amazon, but you cannot find it in small markets such as South Carolina where I live.
The butcher said that the guanciale would not last the 5 hour flight (with layover) back to SC, so I bought some for my son to use in his next batch of carbonara!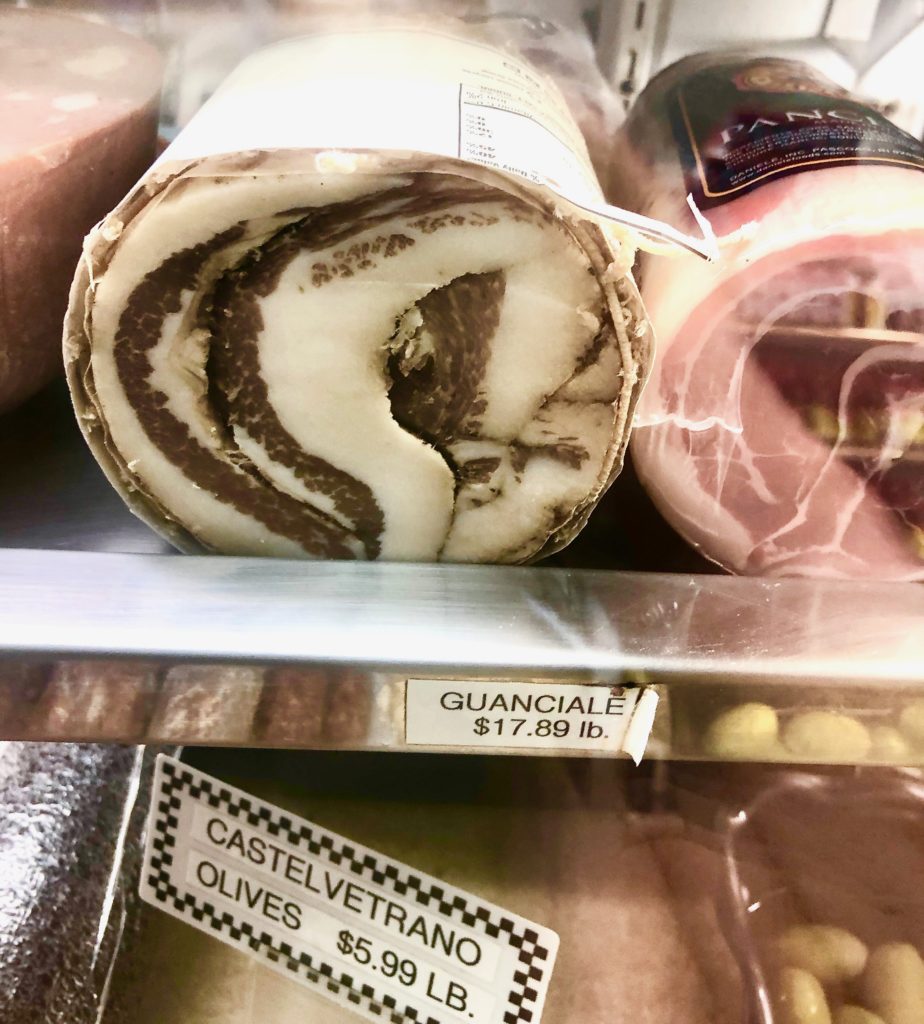 The market also offered sub sandwiches which kept an never-ending line of customers ordering them. The one that I ordered had not only extra giardinera included, but also that which had little bit of peperoncini 'bite' to it. It was pretty good for the price; I just like my Italian subs to be loaded and these are not.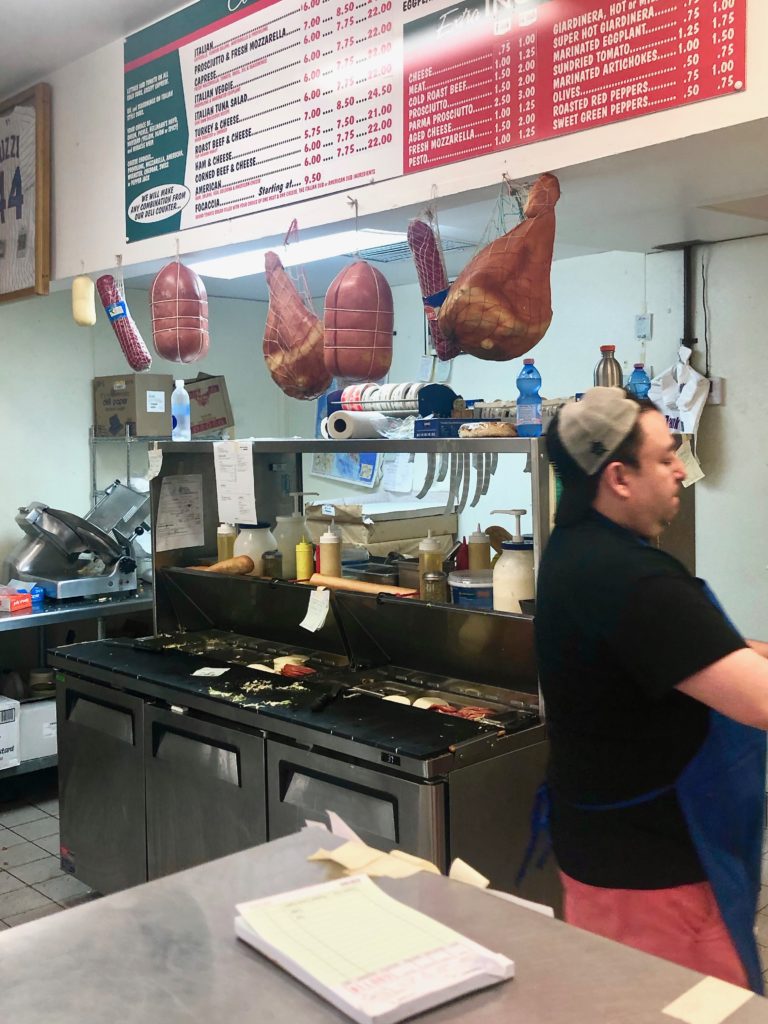 The plaque on the wall says it all!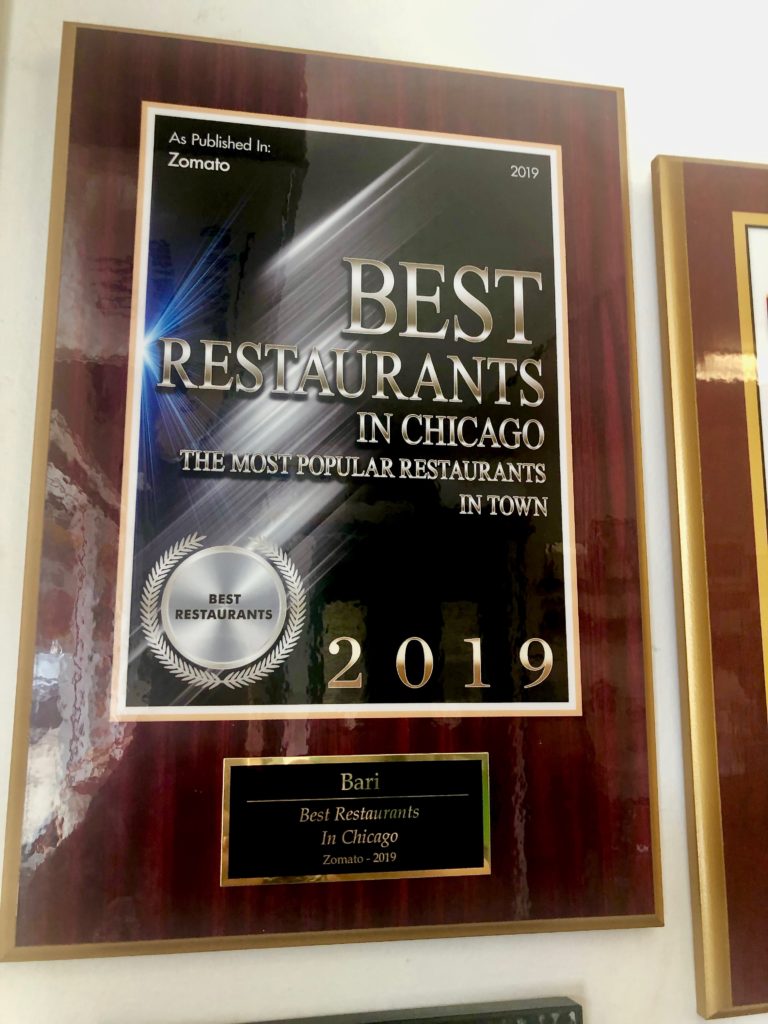 More specialties offered for sale at Bari: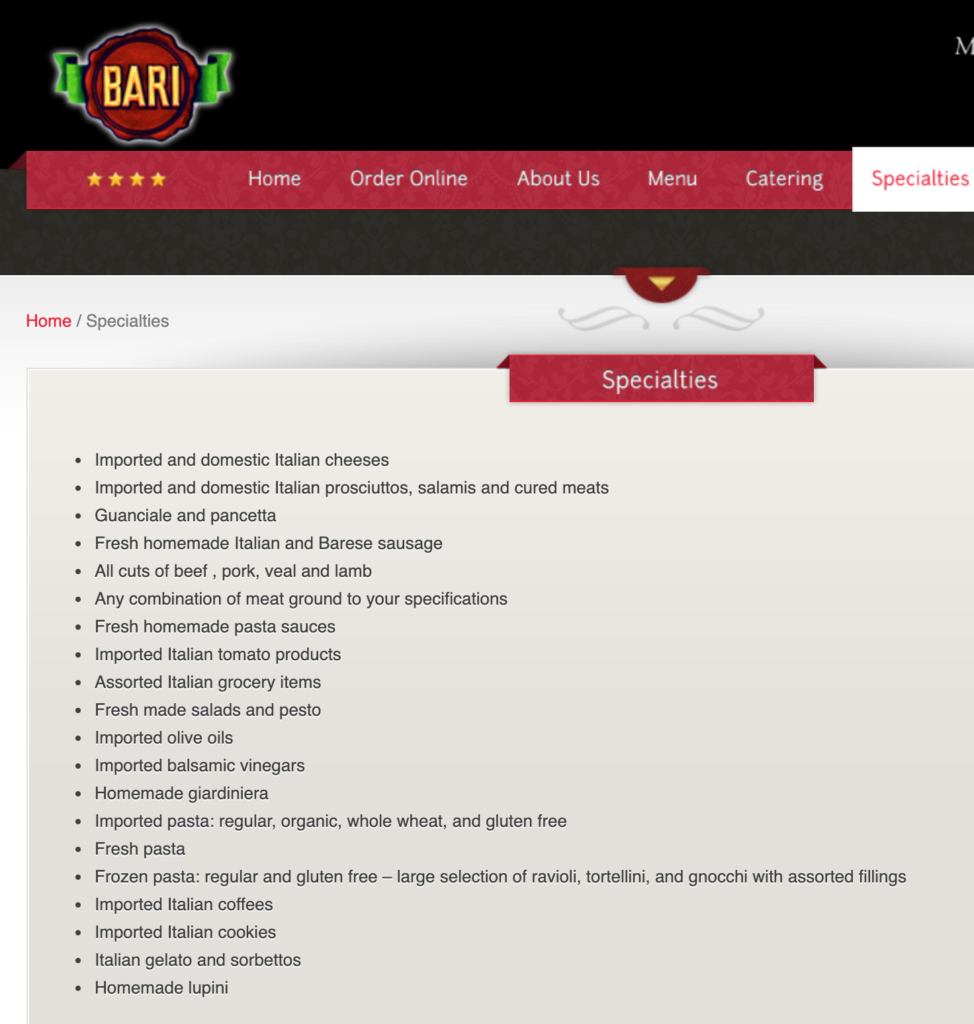 After I finished my sub sandwich at Bari, I immediately went to the shop next door: D'Amato's Italian Bakery and I knew exactly what I wanted to find!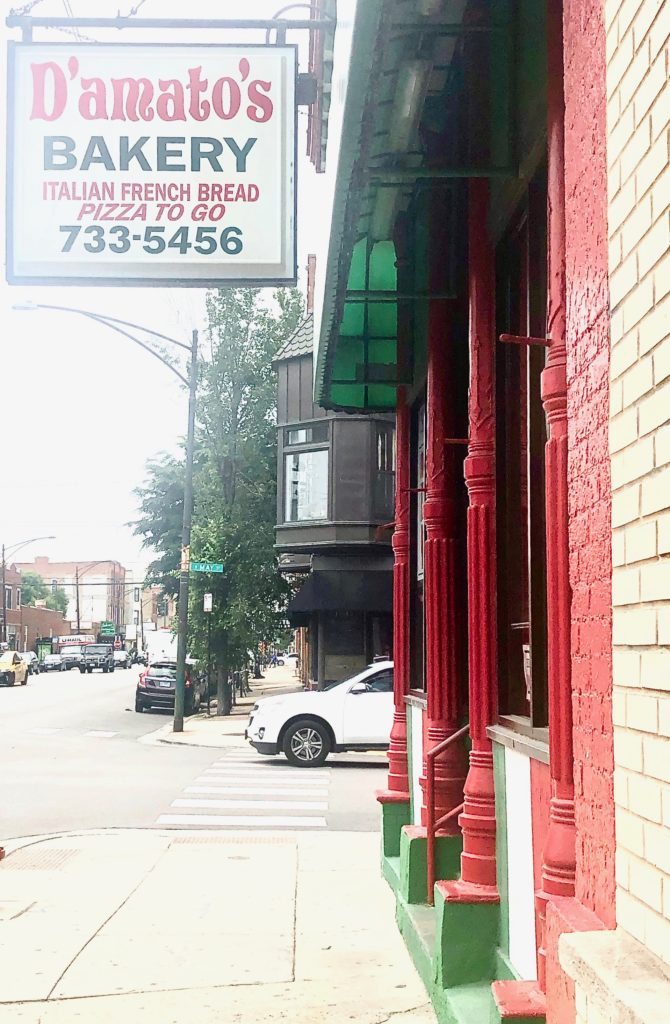 One thing for certain that is always present somewhere in the Little Italy neighborhoods across America is the use of the red, white, and green colors of the Italian flag! Always a sign that you are in Little Italy!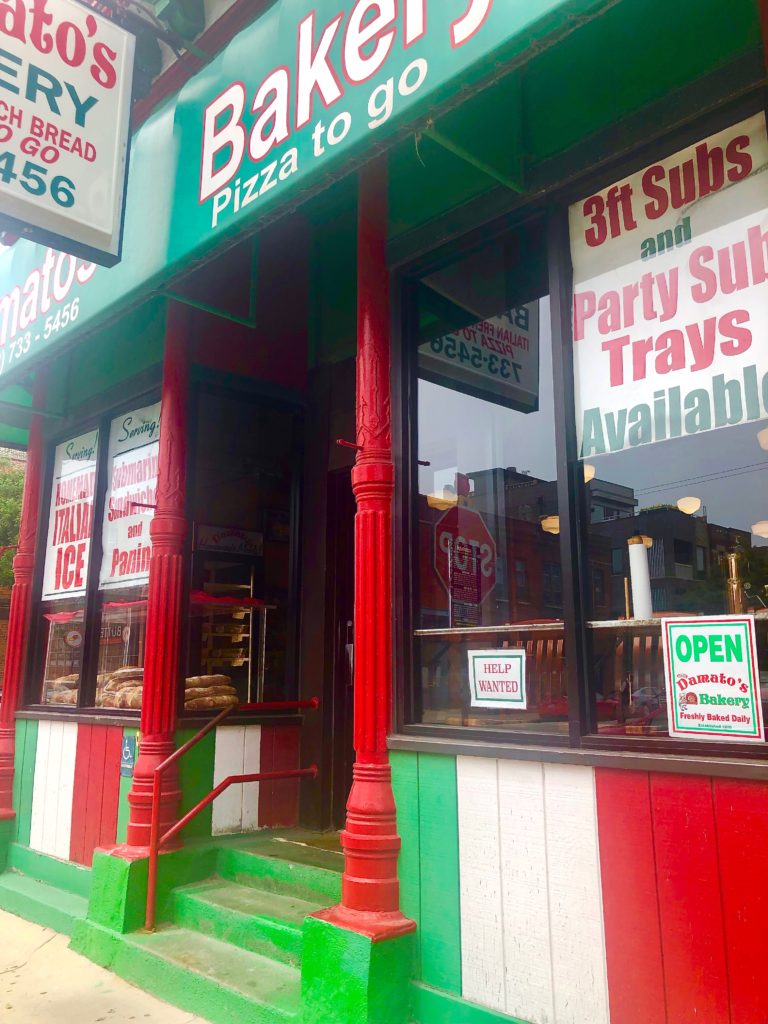 And to truly enjoy an Italian sweet treat, you have to have a cup of espresso, cappuccino, or latte!
What a beautiful copper espresso machine!
Just past the espresso counter, you see a case full of frittatas, pizza on the top shelf with layers of biscotti, contucci, and other Italian cookies on the 3 shelves below!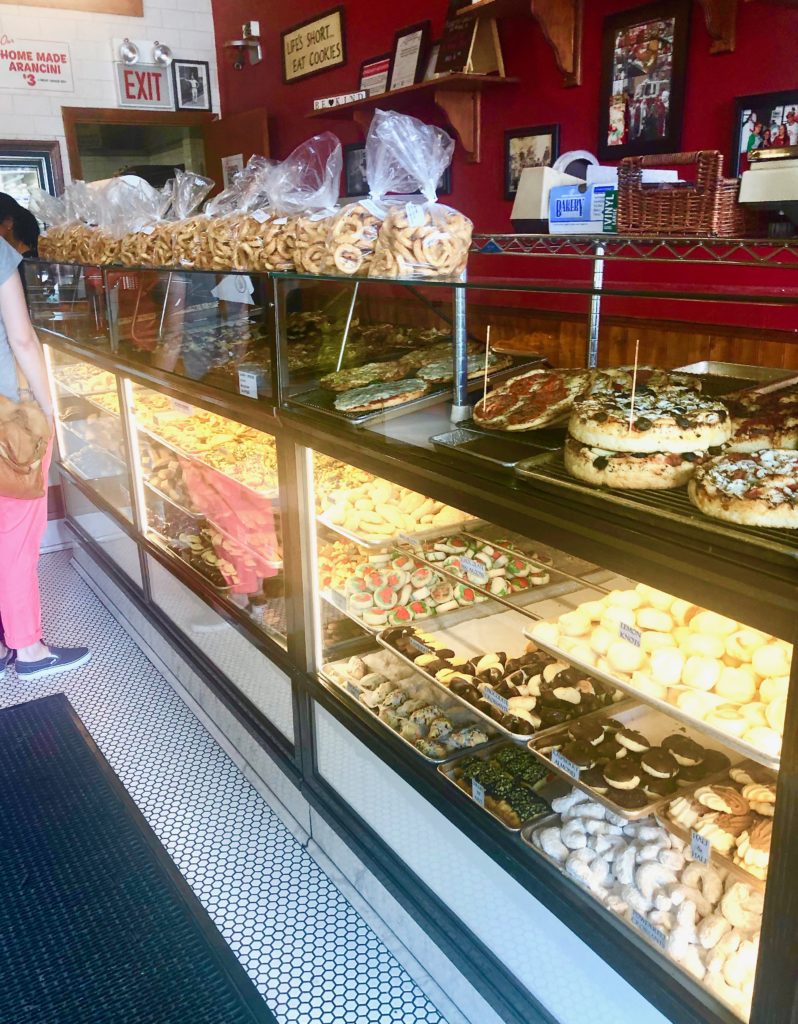 On the other side of the bakery are the specialty Italian sweets that aren't cookies: cannoli, cakes and tortas, sfogliatelle, taralli, pizelles, and more!
Now this is a big cannoli!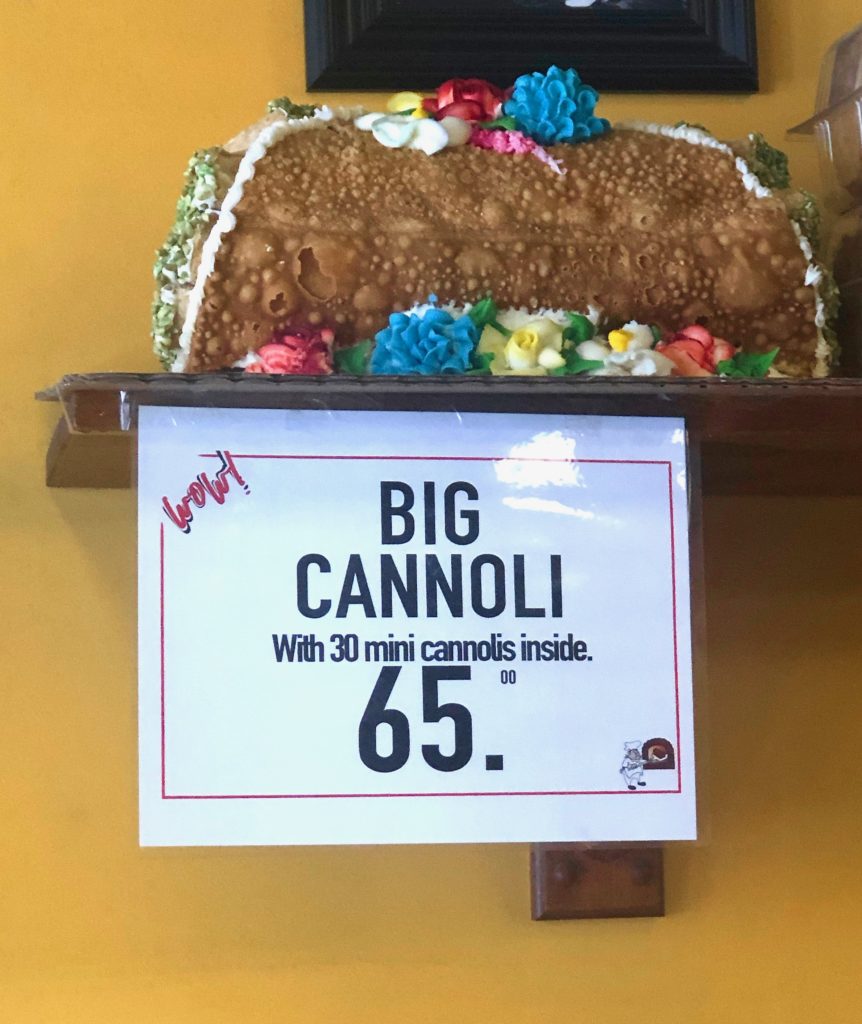 Photos of 'la famiglia' (family) hang on every wall . . .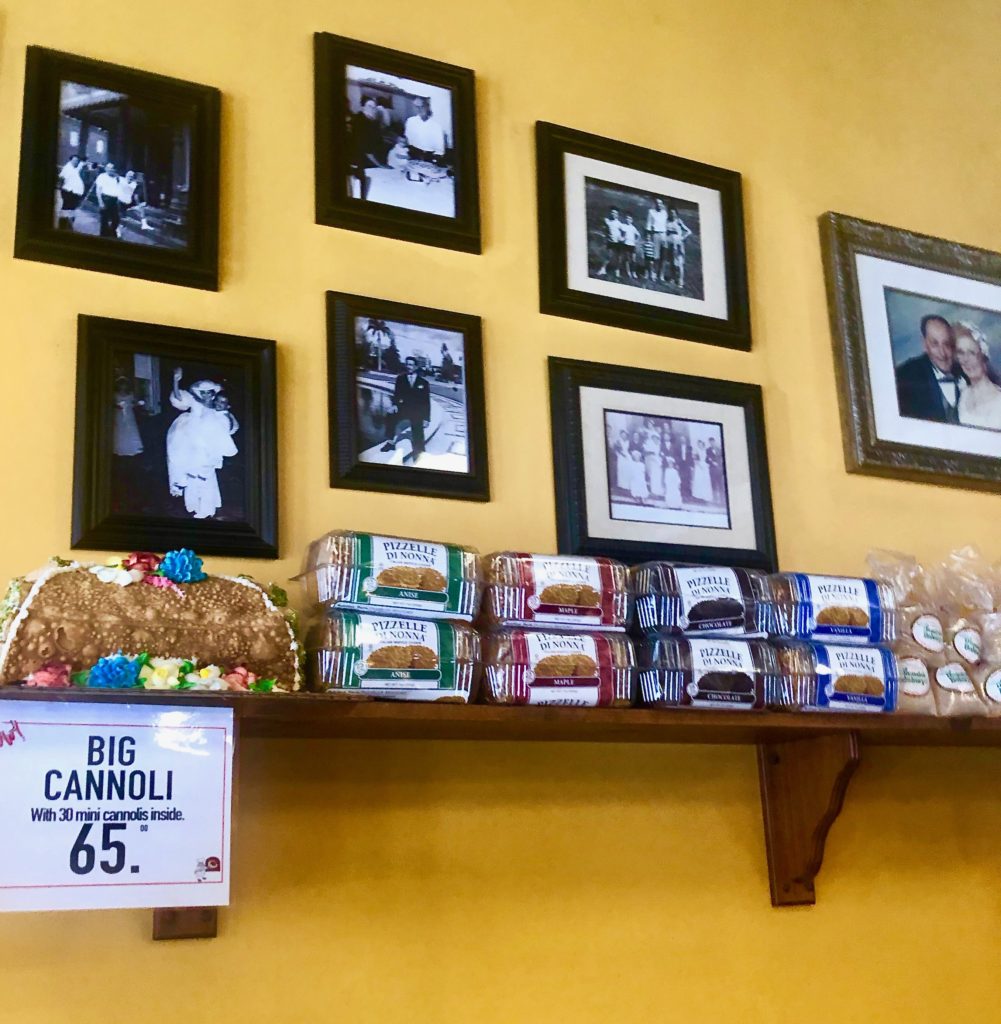 as well as numerous newspaper articles clipped throughout the years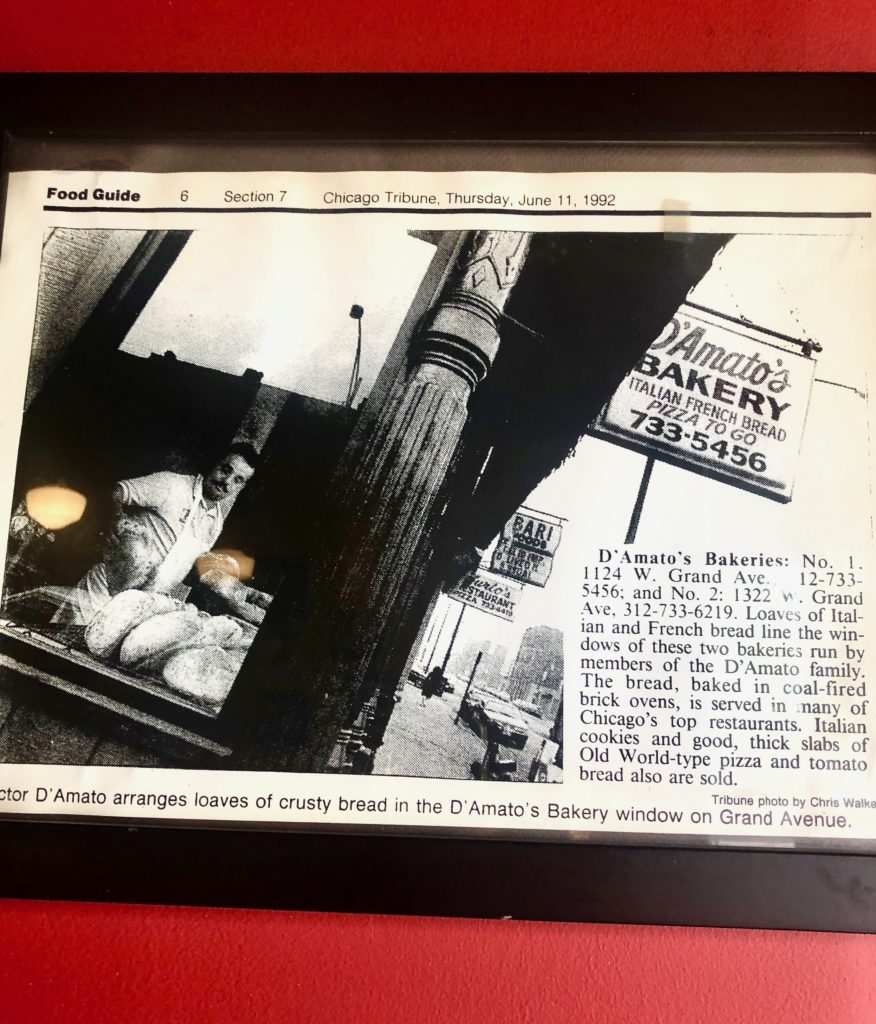 It amazed me to see that hand-made arancini, a very time-consuming recipe to prepare are made by the bakers at D'Amato's.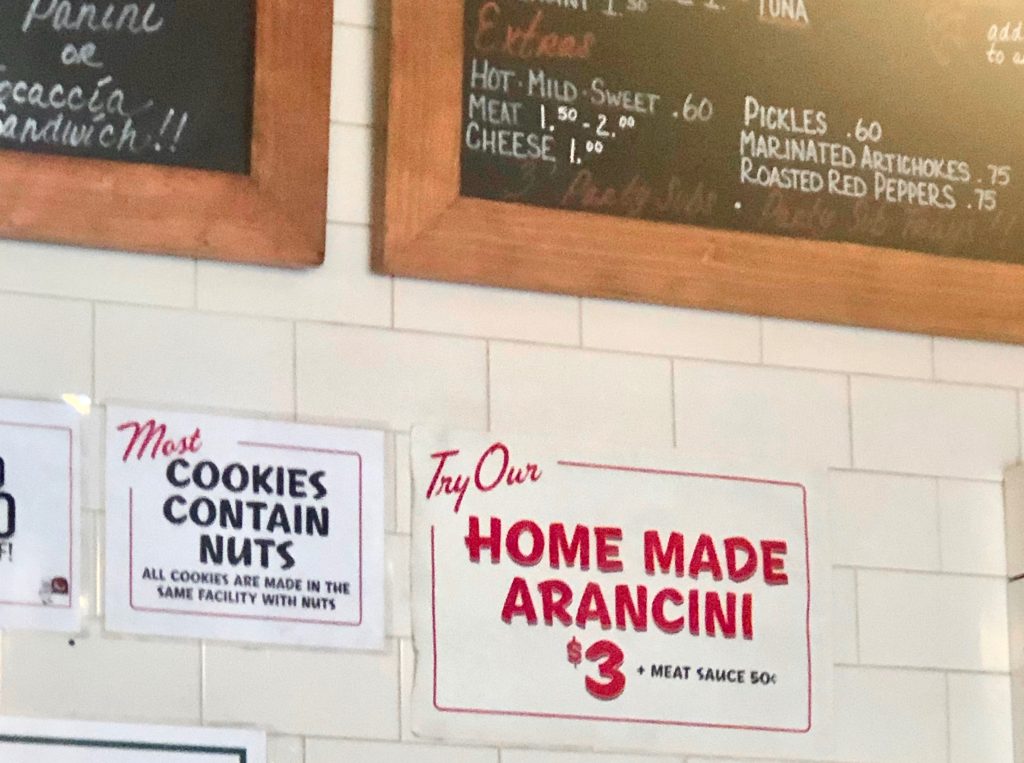 I bought a bag of pepper Taralli for the dinner we were having in a few days. Taralli are hard little biscuit-crackers that you find in most cafes and bars in Italy that people nibble on with a cocktail or before eating dinner. These are quite large and certainly not as delicious as those that I brought home from Florence (and that I can't find anywhere in the States)!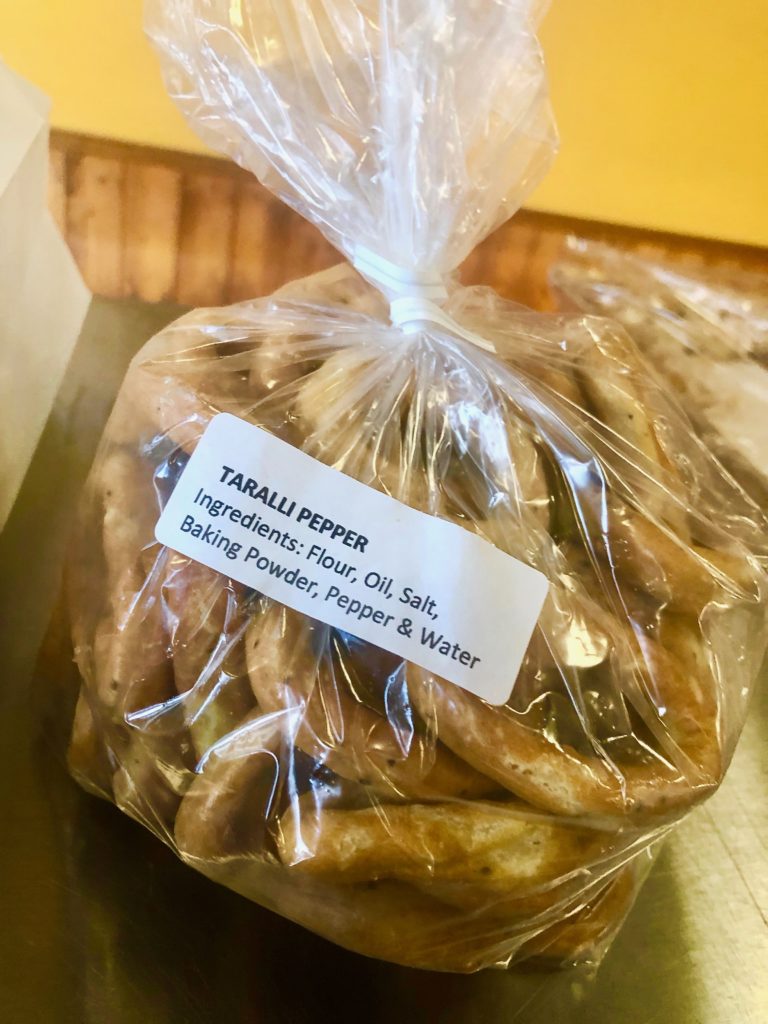 Even though gelato or Italian ice are not baked items, it's still so nice to enjoy this light, cold treat!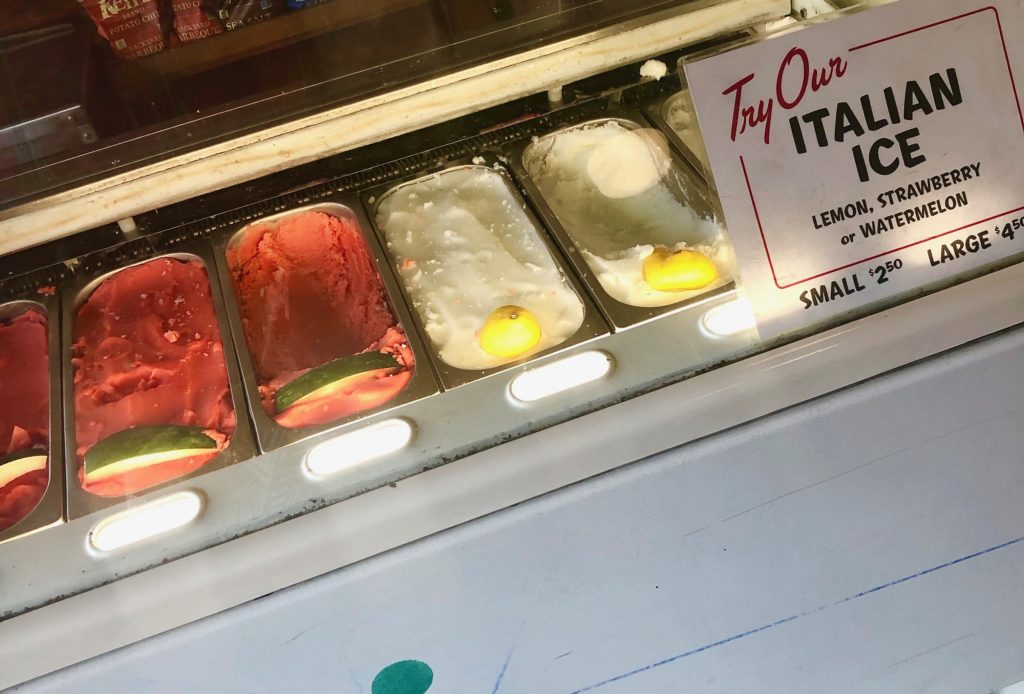 To end my day of Italian food shopping and eating in Little Italy, I ordered a latte and nibbled on just what I was looking for . . .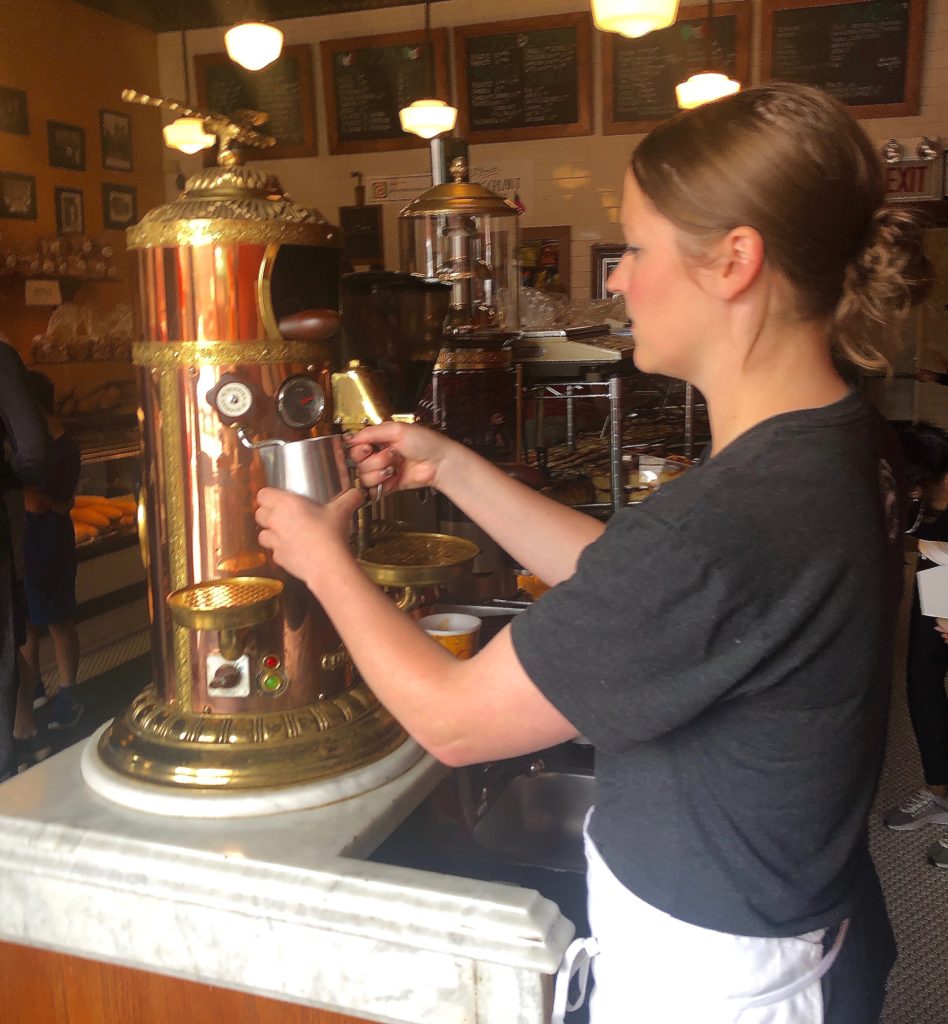 an Italian cream stuffed 'sfogliatelle'! It was divine!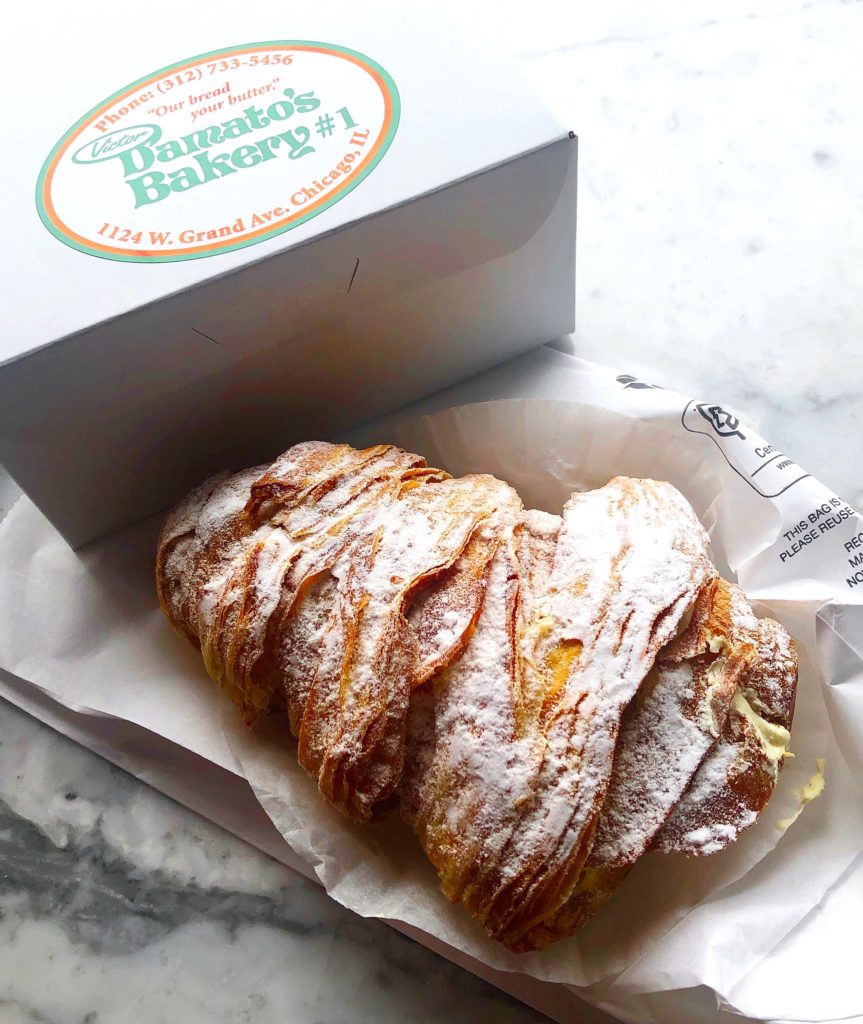 Buon Appetito
from Chicago's Little Italy!