Peach Panettone Parfaits with Mascarpone Cream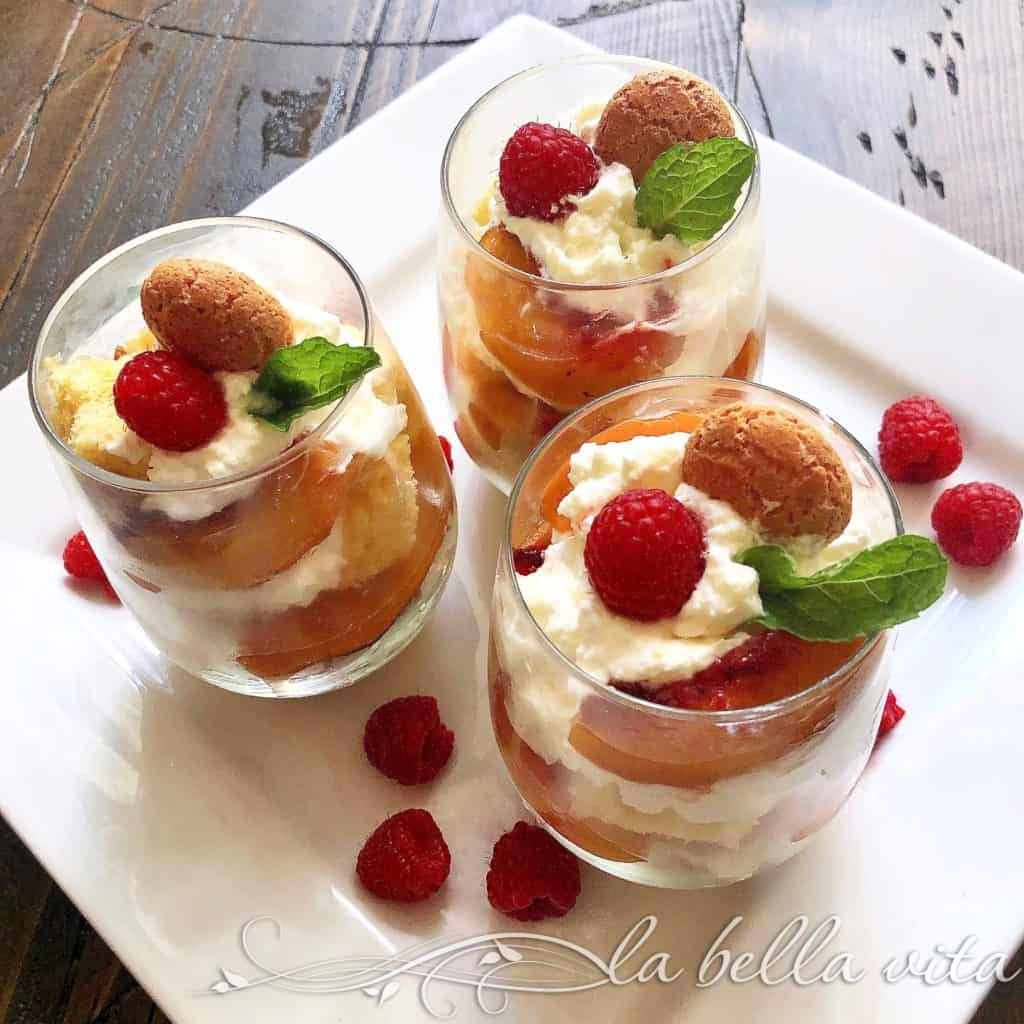 Fresh peaches from the orchards of South Carolina are filling the roadside stands, farmers' markets, and food stores. There's nothing like biting into a ripe peach with its sweet juices just dripping out! Extra napkins always required! Now that's an image of summer that's classic! If appearance is important when eating peaches, then this recipe, Peach Panettone Parfaits with Mascarpone Cream is just what you're looking for!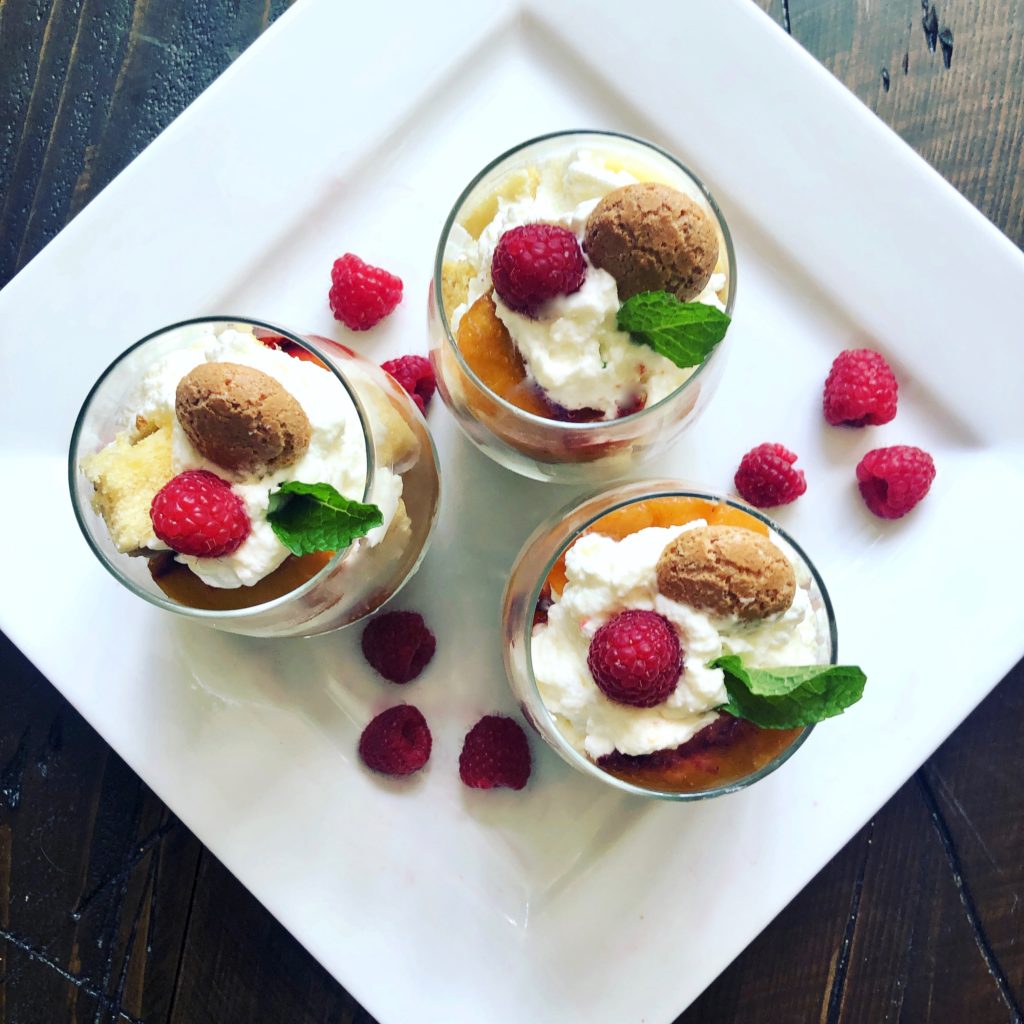 These parfaits are a snap to put together. Just make the mascarpone cream first, taking only 5 – 10 minutes max! Slice up some delicious Italian peach-studded Panettone or Columbo bread. Slice some fresh peaches. Layer everything in clear glasses and you've got a simple dessert that just looks fancy!
You can also make panettone bread at home. Here's an authentic recipe straight from Italy –> How To Make Panettone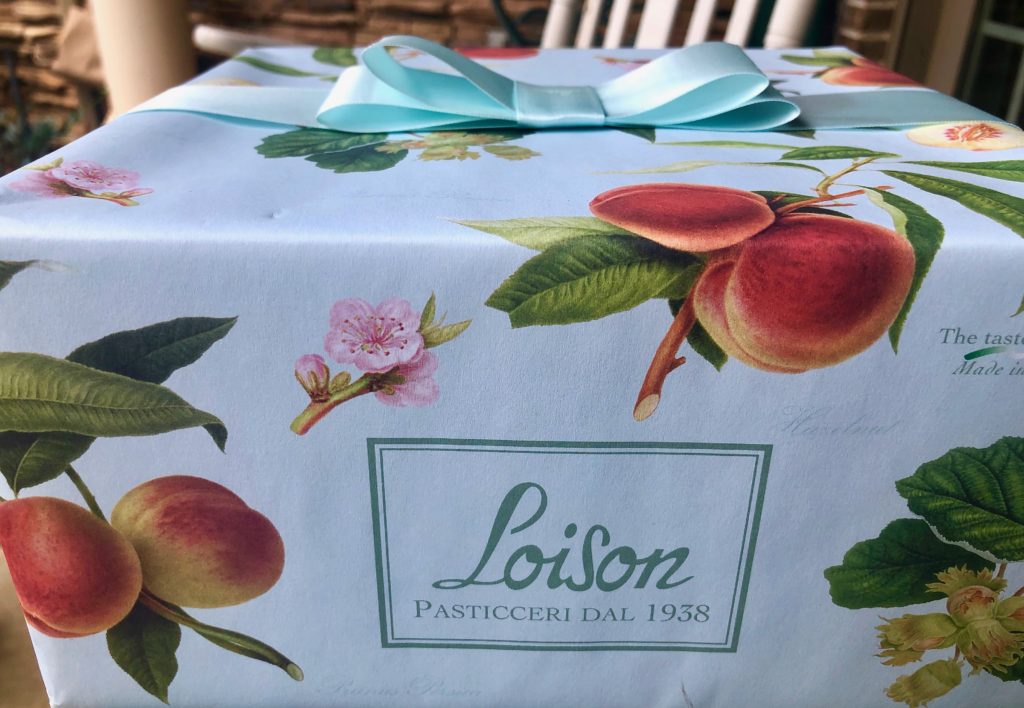 I love the "Loison" brand of Italian breads. However, I can't find these anywhere close to me so I buy them online through Amazon. Here's the link for Peach Studded Columbo Easter Cake. This bread/cake can be frozen too! So you don't have to worry about using it right away. I love that!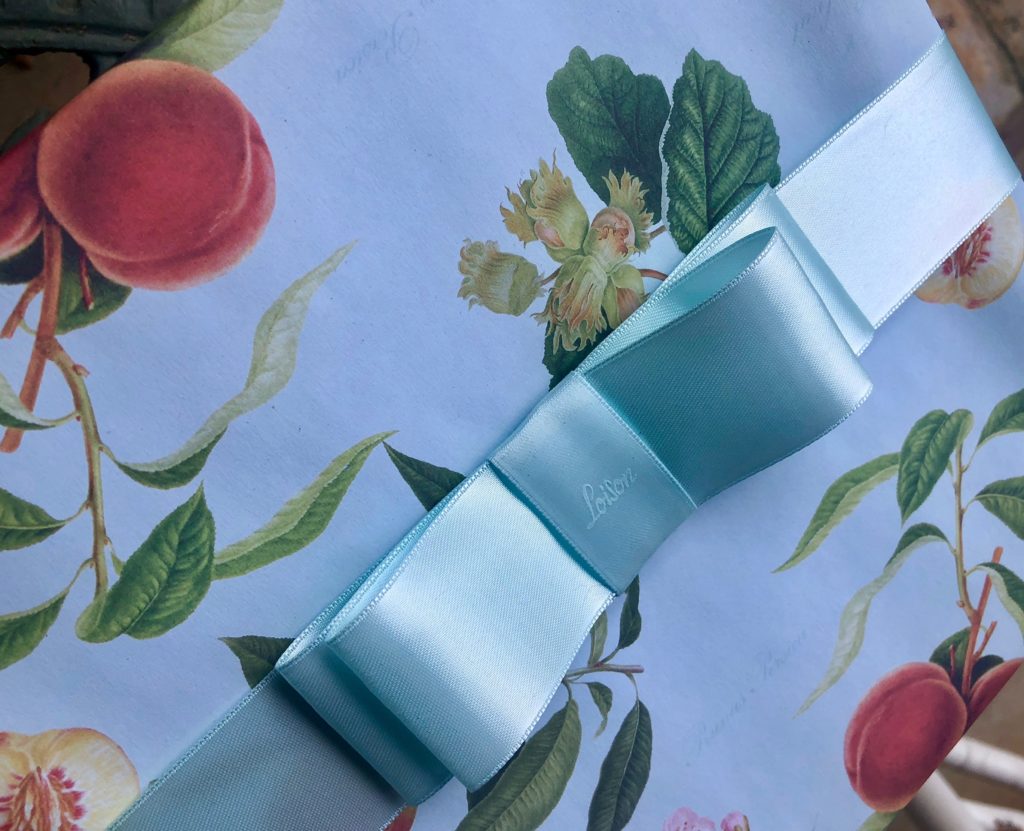 I just had to share a few shots to show you the gorgeous packaging and gift wrapping (standard and not extra) that the bread/cake arrives in. Almost too pretty to open!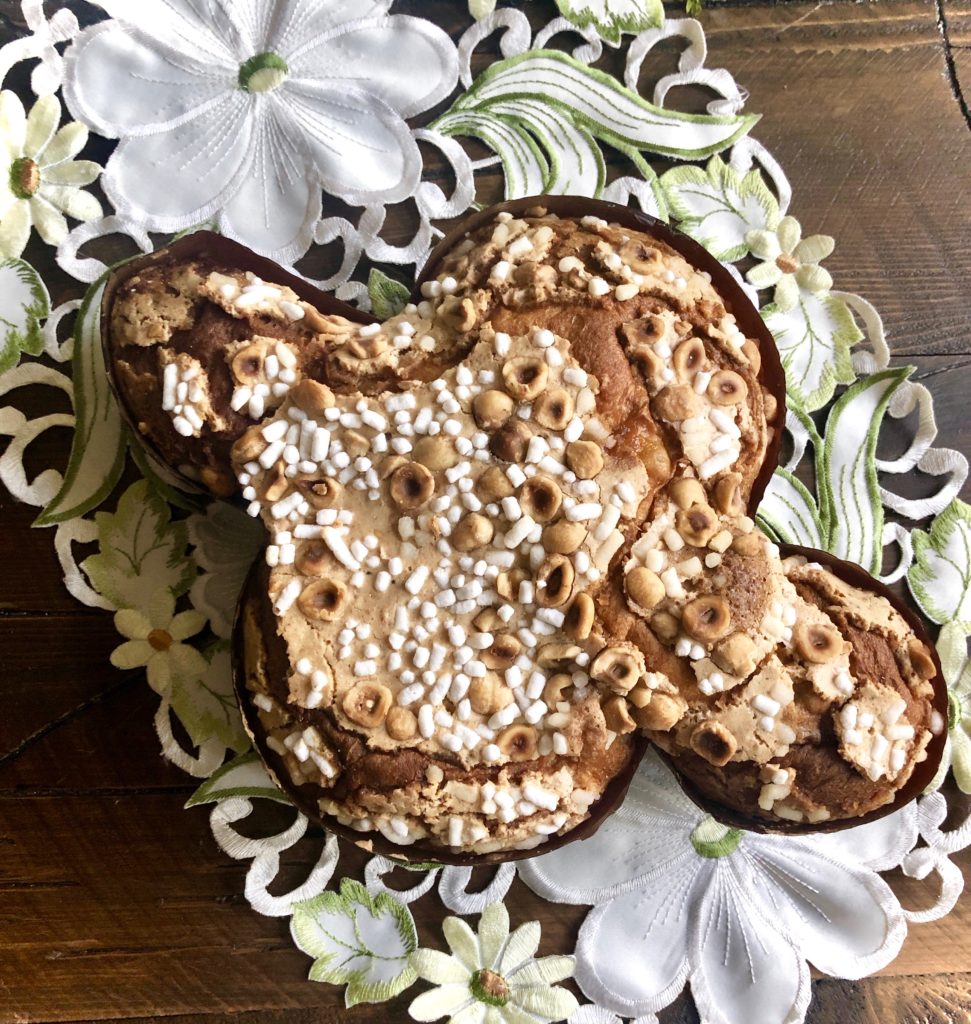 Many of you know that the Colombo cake/bread is baked in the shape of a dove to celebrate Easter. Again, it's June as I write this, because I buy these and freeze them to use at other times of the year. Here you can see the nut and crunchy sugar bits on top that are simply divine!
Remove the paper that the bread/cake baked in and then slice it into 1″ slices. Then cut up into 1″ cubes.
Prepare the mascarpone cream and we're ready to layer the Peach Panettone Parfaits with Mascarpone Cream!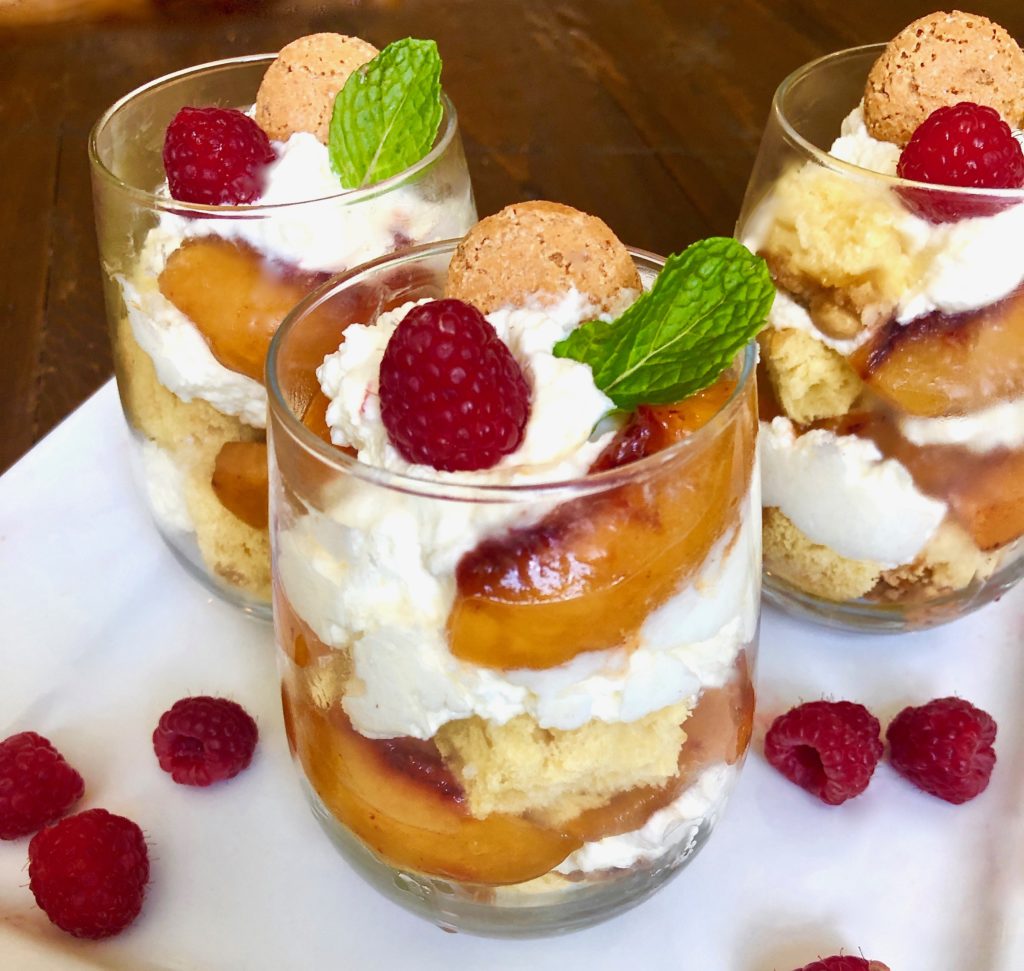 Garnish the parfaits with mint leaves, fresh raspberries and amaretti cookies. If you can't find amaretti cookies near you, here's a nice recipe –> How To Make Amaretti Cookies
Print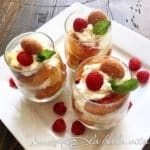 Peach Panettone Parfaits with Mascarpone Cream
Author:
Prep Time: 0 hours
Additional Time: 0 hours
Cook Time: 0 hours
Total Time: 0 hours
---
1 tub mascarpone cheese
1/2 sugar
1 tsp. amaretto (optional)
1 cup heavy whipping cream
1 peach panettone or columbo bread, sliced and cut into 1" pieces
6 fresh peaches, skin removed, pit removed, and sliced
12 amaretti cookies, crumbled
fresh raspberries to garnish
fresh mint leaves to garnish
---
Instructions
Using a hand-mixer or stand-up mixer with the whisk attachment, on medium speed, blend together the mascarpone cheese, 1/2 of the sugar until light and fluffy.  Add the amaretto at this point if you choose to use it. Set aside in another bowl.
In a mixing bowl add the heavy whipping cream and the remaining sugar and blend on high speed just until stiff peaks form, about a minute or two.
Turn the mixer off and carefully fold the whipped cream into the mascarpone mixture.
Slice the panettone or Colombo bread into 1″ slices, then into 1″ cubes.
Slice the peaches.
Begin to layer the parfaits with the cubes of bread/cake first.
Then spoon on a layer of the mascarpone cream.
Then place a layer of sliced peaches on top of the cream.
Continue until 2 or 3 layers are completed.
Garnish with an Italian amaretti cookie, a sprig of mint, and a raspberry.
ENJOY!  Buon Appetito!
---
Let me know if you make this easy and delicious dessert recipe for Peach Panettone Parfaits with Mascarpone Cream! Shoot a photo and send it to me; I'll share it with everyone!
Here are more parfait recipes that I think you'll enjoy!