Fontina Polenta with Sauteed Porcini Mushrooms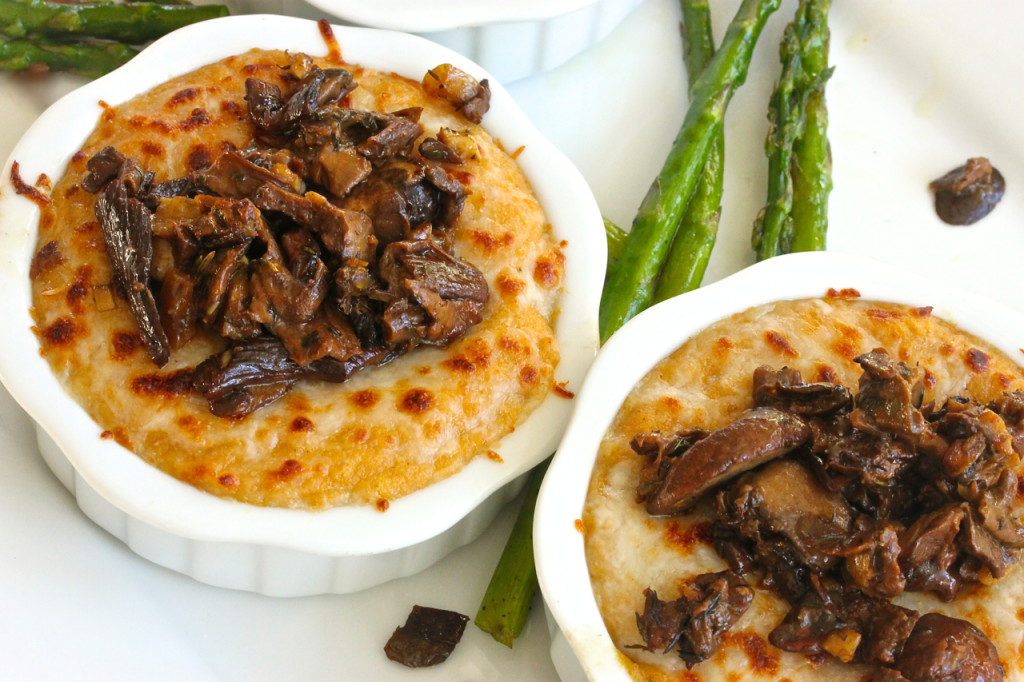 It's the season for Porcini Mushrooms in Italy! Perfect timing to make this delicious recipe for Fontina Polenta with Sauteed Porcini Mushrooms!
We've been trying to reduce the amount of meat in our home . . . and it certainly is not easy! To achieve that meaty flavor, but only in vegetables and not beef or pork, porcini mushrooms are the perfect replacement! So I decided to make a rich, cheesy, mushroom-y polenta side dish, Fontina Polenta with Sauteed Porcini Mushrooms.
Although polenta is traditionally Italian 'cucina povera' (food of the poor), when you serve it in these little individual gratin dishes, this polenta looks pretty fancy! Your guests will definitely be impressed!
If you like polenta, if you like cheese, and/or if you like mushrooms . . . then you'll enjoy this humble recipe!
Disclosure: This post contains affiliate links, which means we may receive a commission if you click a link and purchase something recommended. While clicking these links won't cost you any extra money, they will help us keep this blog up and running! Thank you for your support!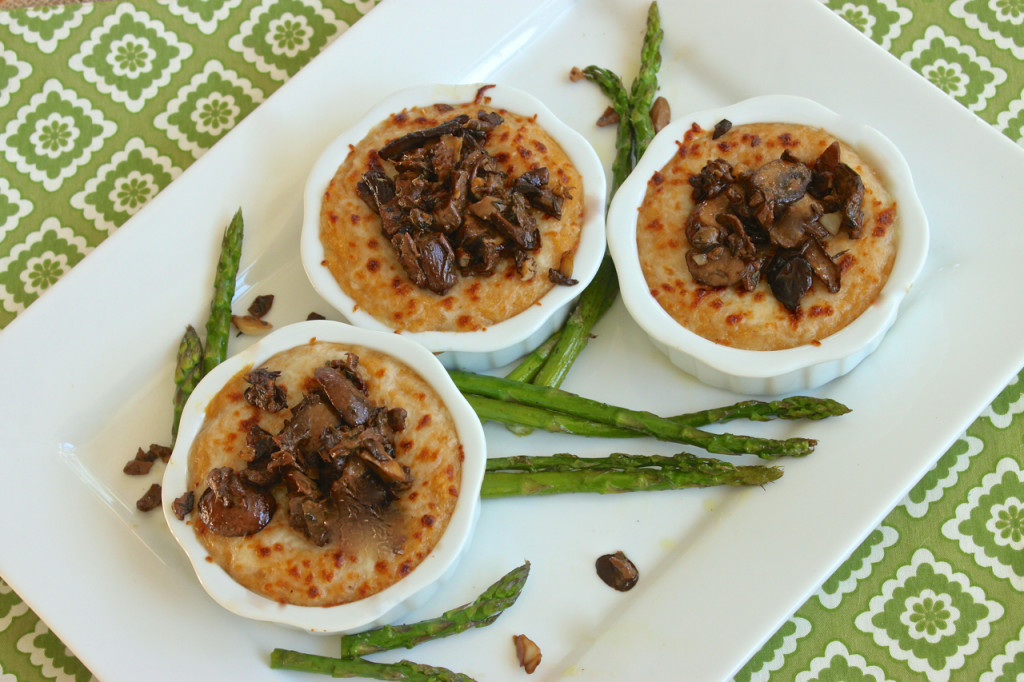 I just love 'shrooms . . . they're such a major ingredient in Italian cuisine!
Oh and a big shout out to my mother who helped me in the kitchen and who helped improve the setting for shooting the photos for this dish! She did a great job didn't she?
.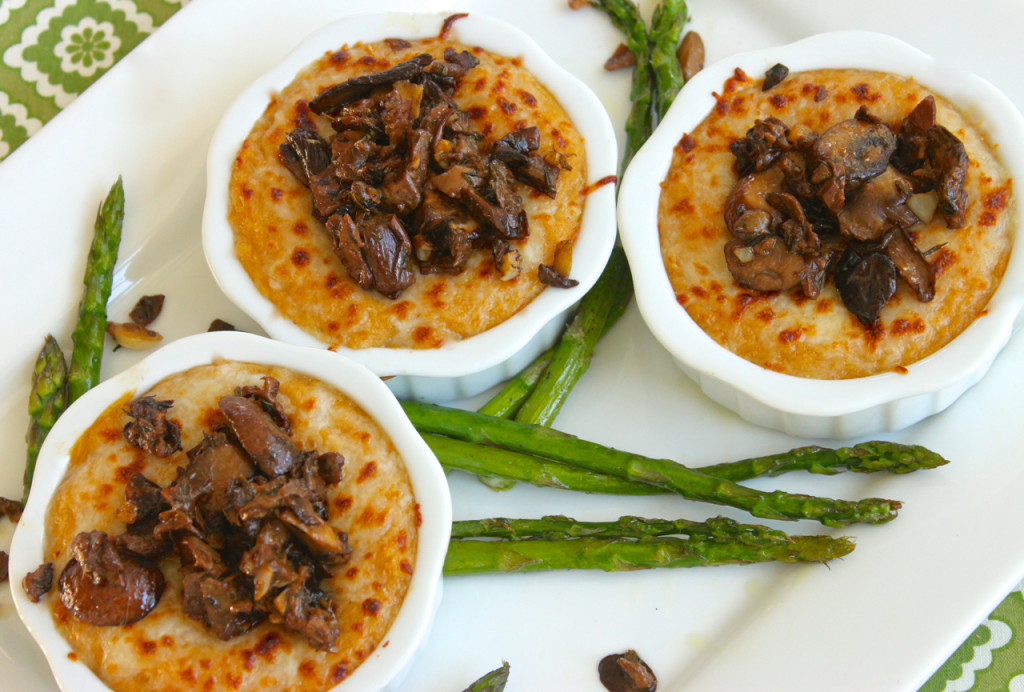 Here are a few photos of some superb mushroom dishes that my parents and I enjoyed in my family's native village of Montecreto in the Northern Italian mountains: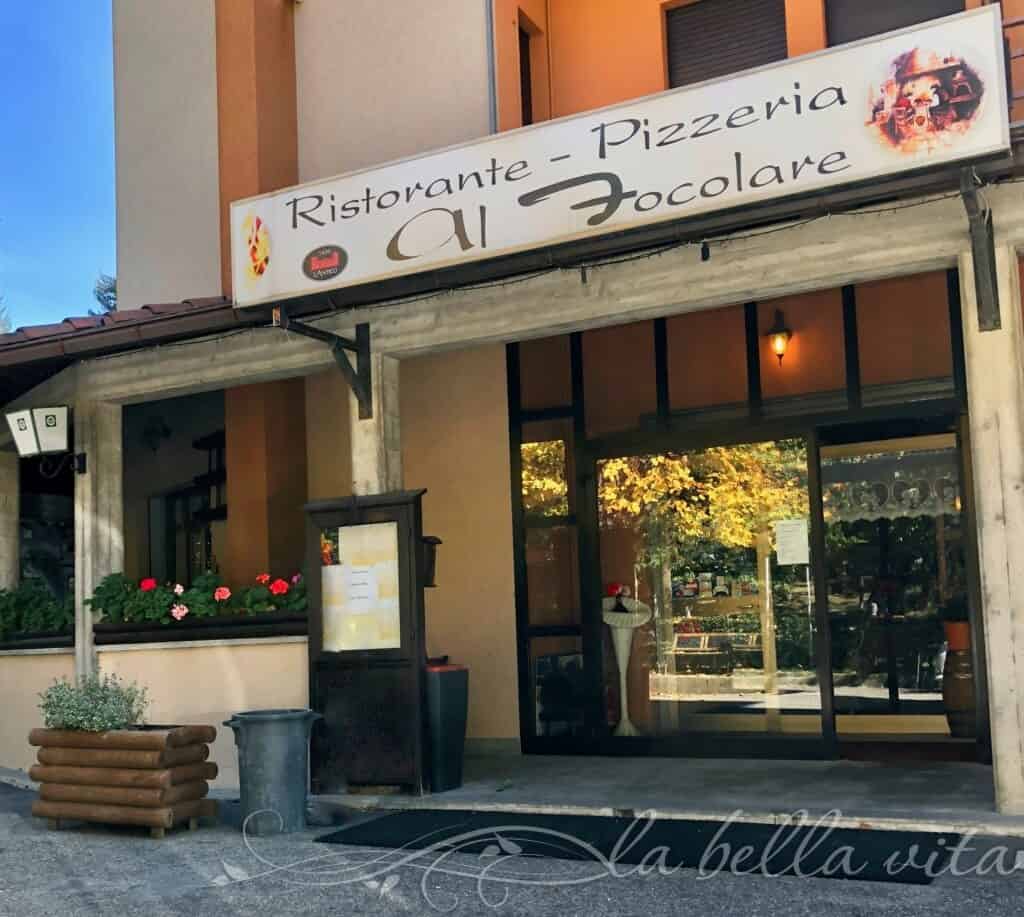 Ristorante Al Focolare in Montecreto, Italy
First you come upon a menu displayed on the outside of the ristorante
to tease your appetite!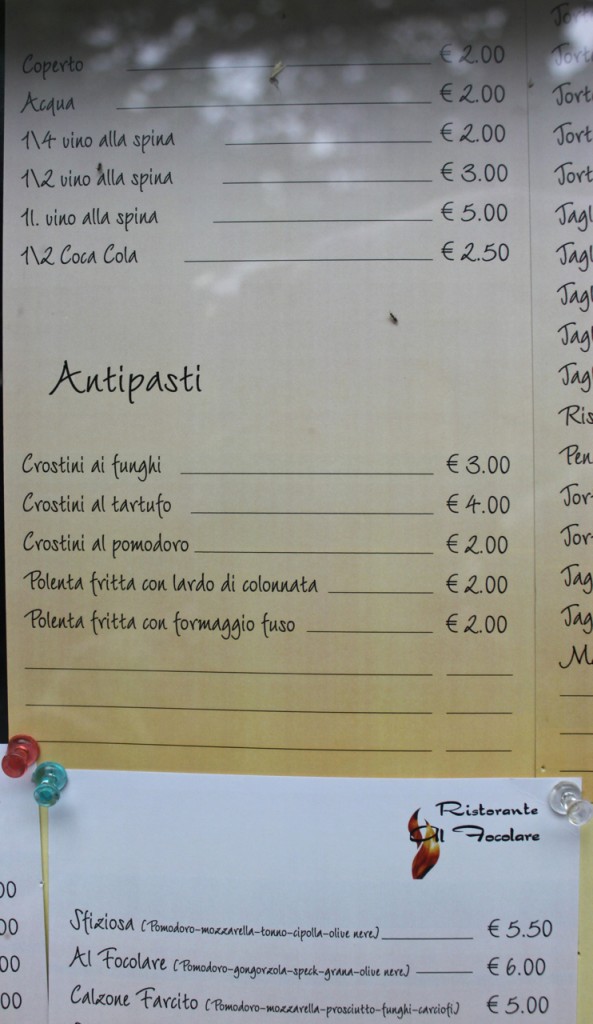 we ordered the antipasti of "Crostini ai Funghi (Mushroom Crostini)" below: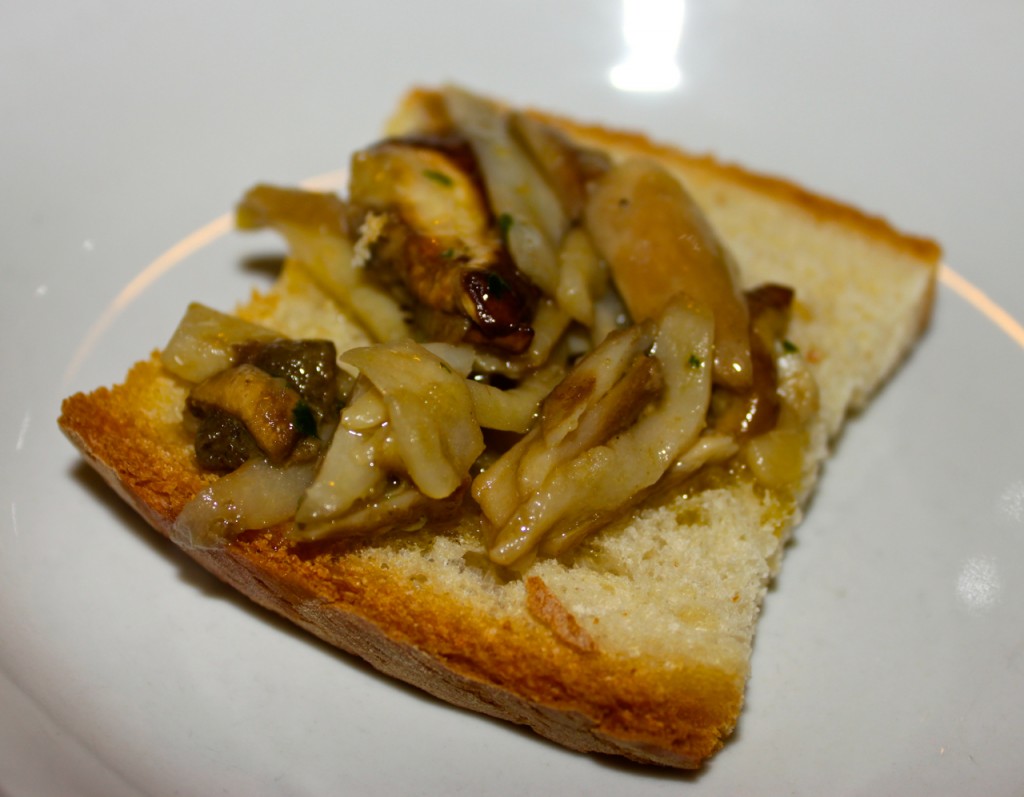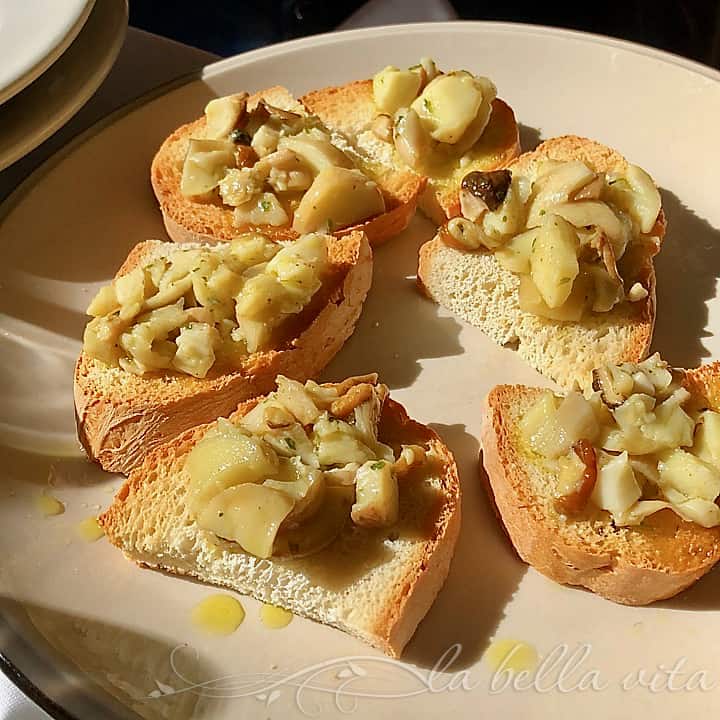 and some perfectly crispy fried mushrooms (below)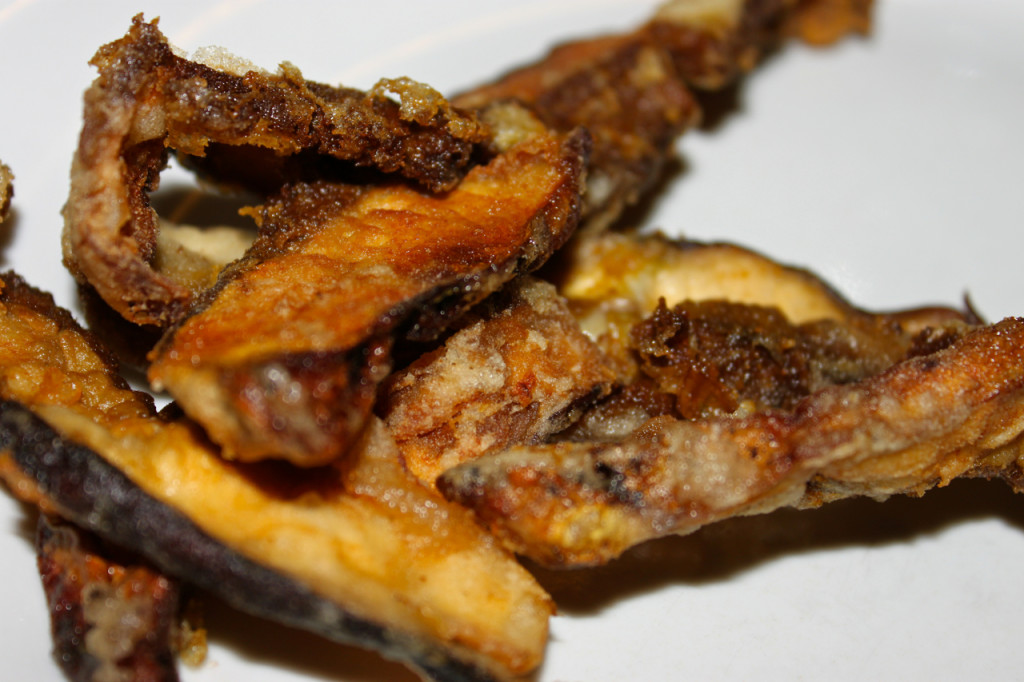 My cousin, Enrico is holding a box of freshly harvested porcini mushrooms from the mountain forest!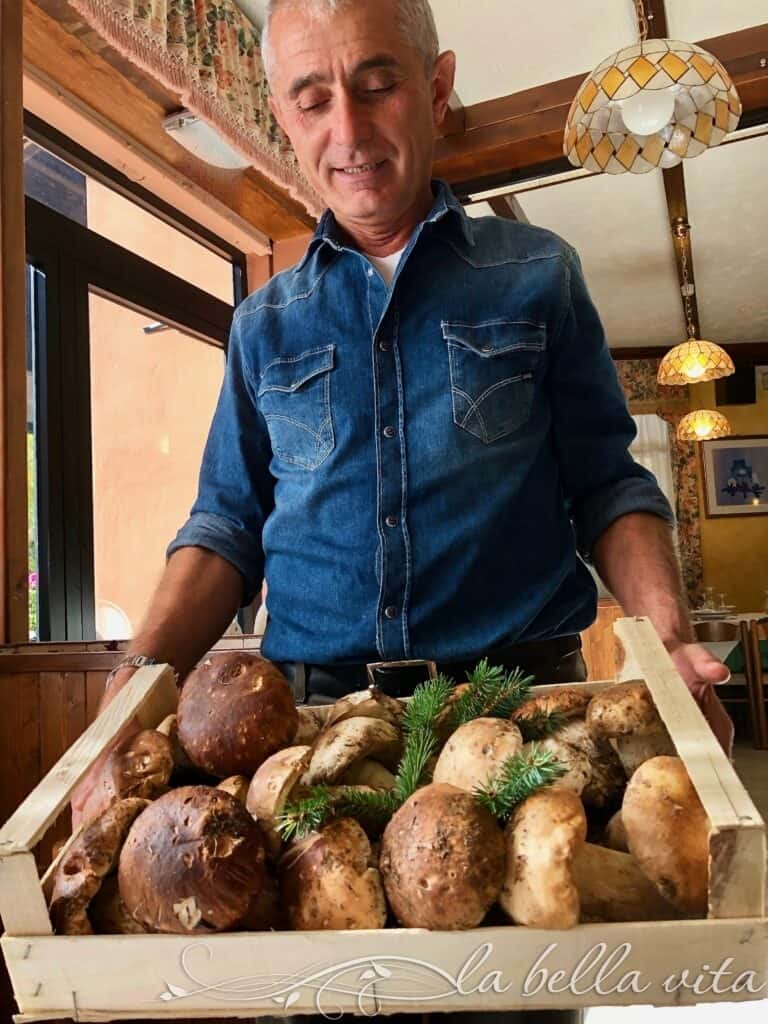 Then the chef proudly brought a platter of HUGE porcini mushrooms
for us to select from to use in our food order!
You can see how large these porcini are compared to his hand on the left!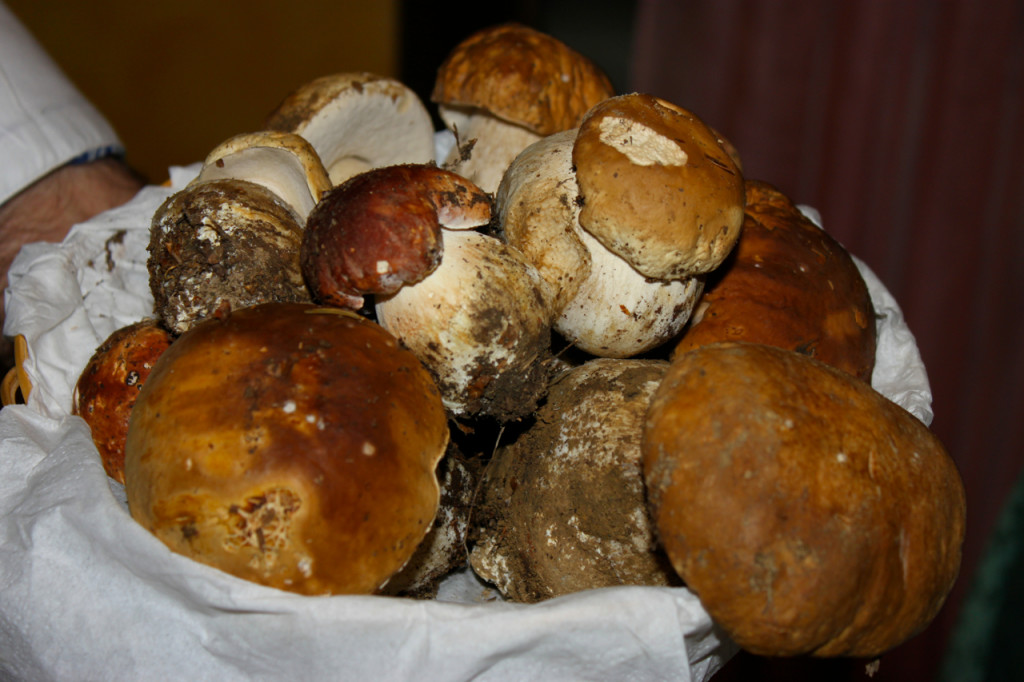 and these were just part of the antipasti!
The chef recommended that I order the risotto with porcini mushrooms for my entree ("i primi"):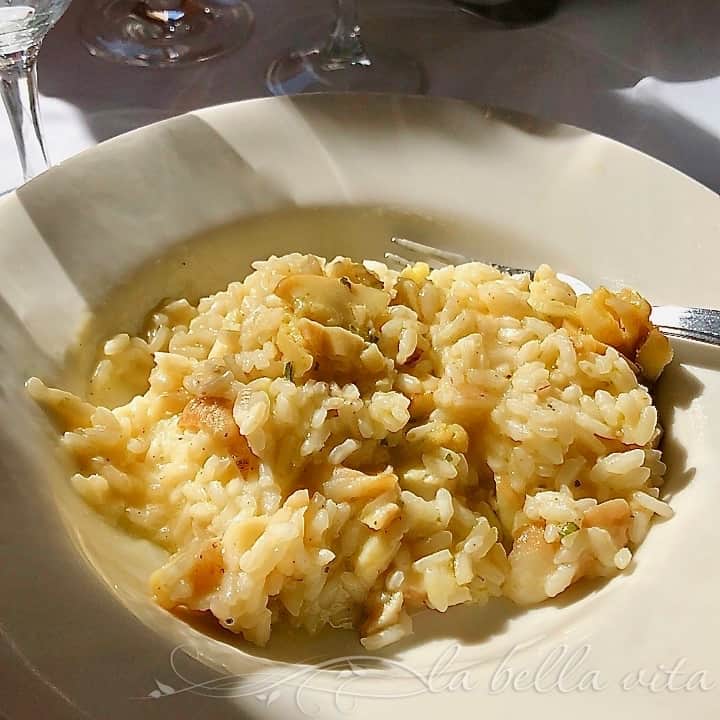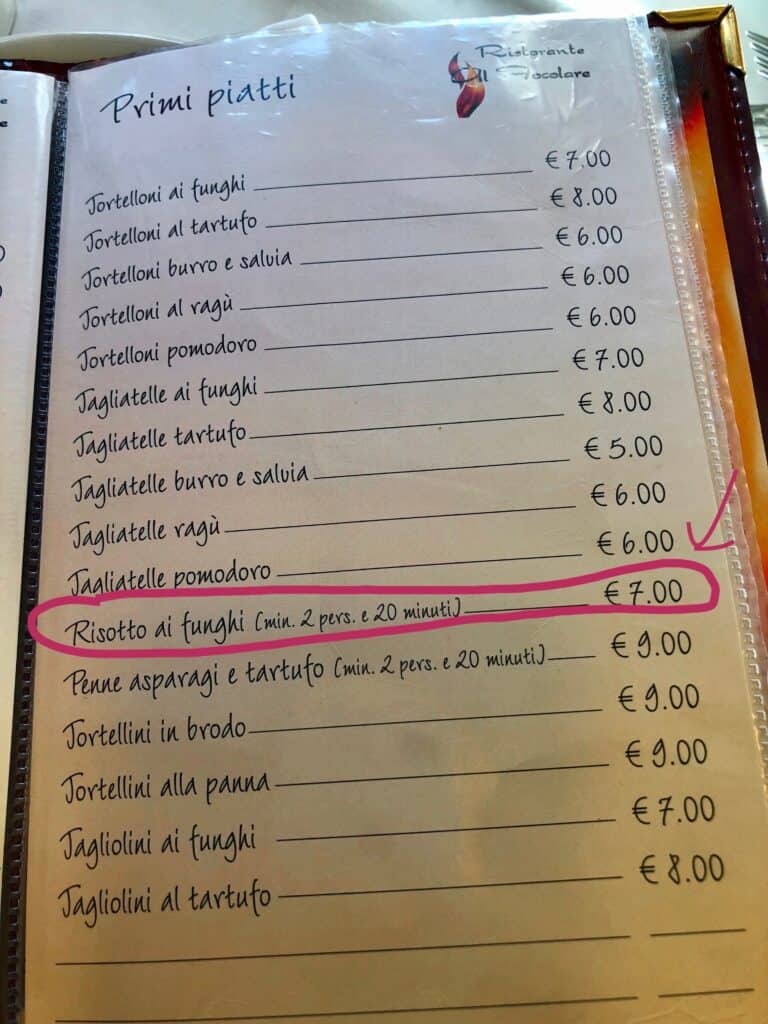 Really great price at 7 euro (about $9.50 in US Dollars)!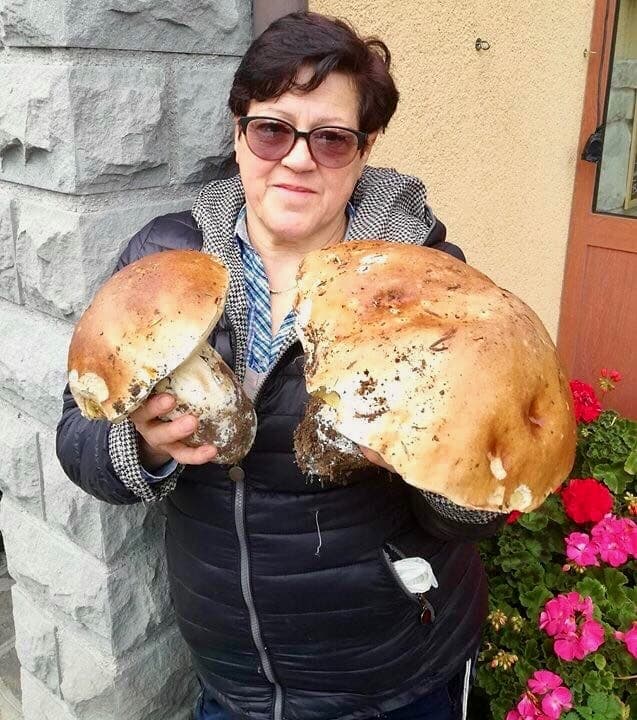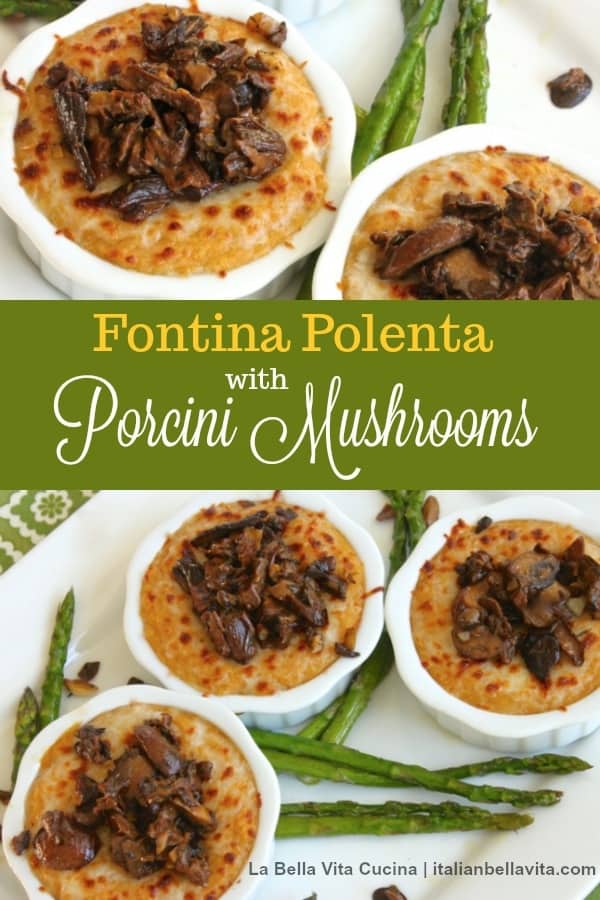 Fontina Polenta with Sautéed Porcini Mushrooms
Ingredients
Mushroom Mixture
4 Tbsp. extra virgin olive oil or butter
2 (4-ounce) packages dried porcini mushrooms, reconstituted, drained, chopped
1 8-oz. pre-sliced baby portobello mushrooms
1 tsp. minced fresh thyme
½ tsp. minced fresh oregano
3 garlic cloves, chopped
½ cup chicken broth (optional)
1 tsp. salt
¼ teaspoon black pepper
Polenta
2 cups whole milk
1 cup chicken broth
2 - 3 cups instant polenta (depending on the consistency you prefer)
2 -3 cups shredded fontina cheese, divided
2 teaspoon salt
Instructions
Prepare the mushrooms
Heat oil/butter in a skillet over high heat.
Reconstitute the dried mushrooms in hot water, drain and squeeze out excess water.
Chop mushrooms.
Add all of the mushrooms to the hot oil/butter and sauté for about 4 minutes.
Add herbs and garlic; sauté 1 minute.
Stir in broth (optional), salt, and pepper.
For the polenta
In another large heavy saucepan, bring milk and 1cup of broth to a boil.
Stir in polenta; cook 4 minutes, stirring constantly.
Stir in half of cheese and salt.
Divide polenta among 4 gratin dishes; top with remaining cheese.
Broil 5 minutes in the oven set on 'broil'.
Top each serving with sautéed mushrooms.
Notes
I would like to thank my mother, now departed from this earth, for helping me plate and style the photography of these delicious Italian tarts.
If you love mushrooms as much as I do, here are two more recipes that I know your family and you will enjoy:
Risotto with Porcini Mushrooms from Harry's Bar in Venice, Italy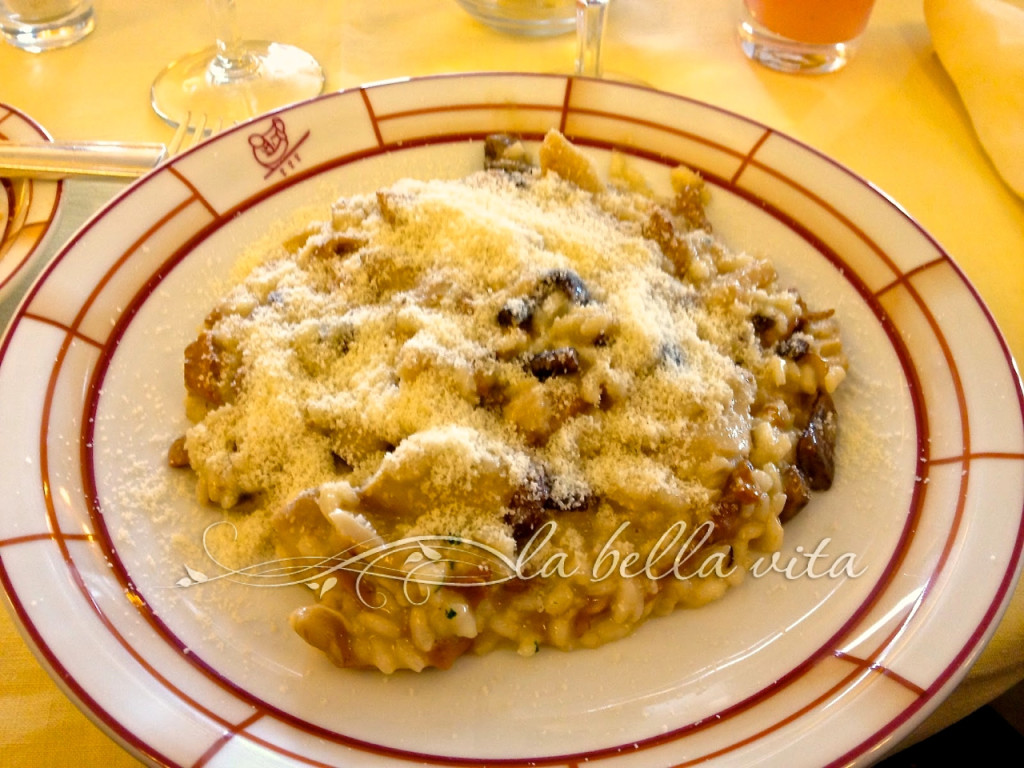 .
Mushroom Tart with Three Cheeses
What Are Porcini Mushrooms?
Porcini mushrooms are brown-capped mushrooms with a thick, white stalk. The cap can range in size from one inch to almost an entire foot, but most are no more than a few inches wide.
Porcini mushrooms are highly prized in Italian cuisine whether fresh or dried!
Because of their status in fine cuisine, their short season (autumn), and how difficult they are to cultivate (in pine tree forests only), porcini mushrooms can be pricey. A pound of fresh porcini costs between $30-$60 depending on the quality, with dried mushrooms priced a little lower. Beloved by gourmet chefs, porcini are carefully hand-picked during October and November.
Enjoy them simply sautéed and eaten as a side dish or add them to risottos and pasta. Dried porcini add rich amazing flavor to broths and stews.
Porcini are sometimes confused with shiitake mushrooms. Both mushrooms are commonly sold dried and rehydrated for use in broths, soups, and sauces. Shiitake mushrooms have a meatier flavor with less earthy mushroom taste and cost less than porcini. They serve as a more economical replacement for dried porcini mushrooms if you prefer a meatier flavor.
What Do Porcini Mushrooms Taste Like?
Porcini have a strong nutty and deep earthy flavor. They have a tender, meaty texture when cooked. Dried porcini add a deep, mushroom flavor to broths and sauces and, once rehydrated, have a slightly chewy texture.
If you're lucky enough to find fresh porcini mushrooms, make a simple sauté or add them to risotto. Risotto can also be made using dried porcini mushrooms. For an extra mushroom-flavored soup or broth, just replace some of the broth in a recipe with the liquid that remains from soaking the dried mushrooms. Mmmmm!
Where to Buy Porcini Mushrooms
Fresh porcini are a rare treat, appearing for a short month or two in autumn and sometimes again in the late spring. They can sometimes be found sold by the ounce or small container in specialty markets and farmers' markets while in season. Dried porcini are available year-round at Italian and specialty markets or online.
Porcini mushrooms should be firm with unblemished white stalks and brown caps, not nicked or broken. If the undersides of the caps have a yellowish-brown tinge to them, the mushrooms are heading into over-ripeness, and if they have black spots on them or the under caps are deep green, they're already overripe.
When purchasing dried porcini, avoid any packages with lots of small crumbs. These mushrooms are likely old and lacking in flavor. Also, they should have a heady mushroom aroma.
How to Cook & Store Porcini Mushrooms
Porcini should not be soaked in water or even rinsed if possible. Use a dry or slightly damp paper towel to wipe any dirt off of each mushroom just before using. Excess water will cause the delicate mushrooms to deteriorate before cooking.
To prepare dried porcini, steep them in just enough warm water to cover for 20 to 30 minutes or until they've softened and expanded. Drain them and reserve the liquid for use as broth in a soup or risotto.
Porcini are a seasonal treat and can be sautéed, braised, fried, grilled, or stewed. They tend to be prepared simply (such as sautéed) to maintain their flavor and texture. They are commonly served as a side dish or added to risotto or pasta. The broth produced by soaking dried porcini adds a depth of flavor to soups and recipes that use stock, and the rehydrated mushrooms can be chopped and added to dishes.
Store fresh, unwashed porcini in a loose paper bag in the crisper of the fridge. They'll keep for a few days, however, you but don't wait to cook these precious fungi. They're best used right away. When storing dried porcini, keep them in ab airtight container in a dark, cool (but not cold) place for up to six months.
Do you enjoy La Bella Vita Cucina?
We'd love to have you as part of our community!
Subscribe Below to get the latest recipes, travel tips and gardening ideas straight into your inbox!
.