Lentil Stew with Sausage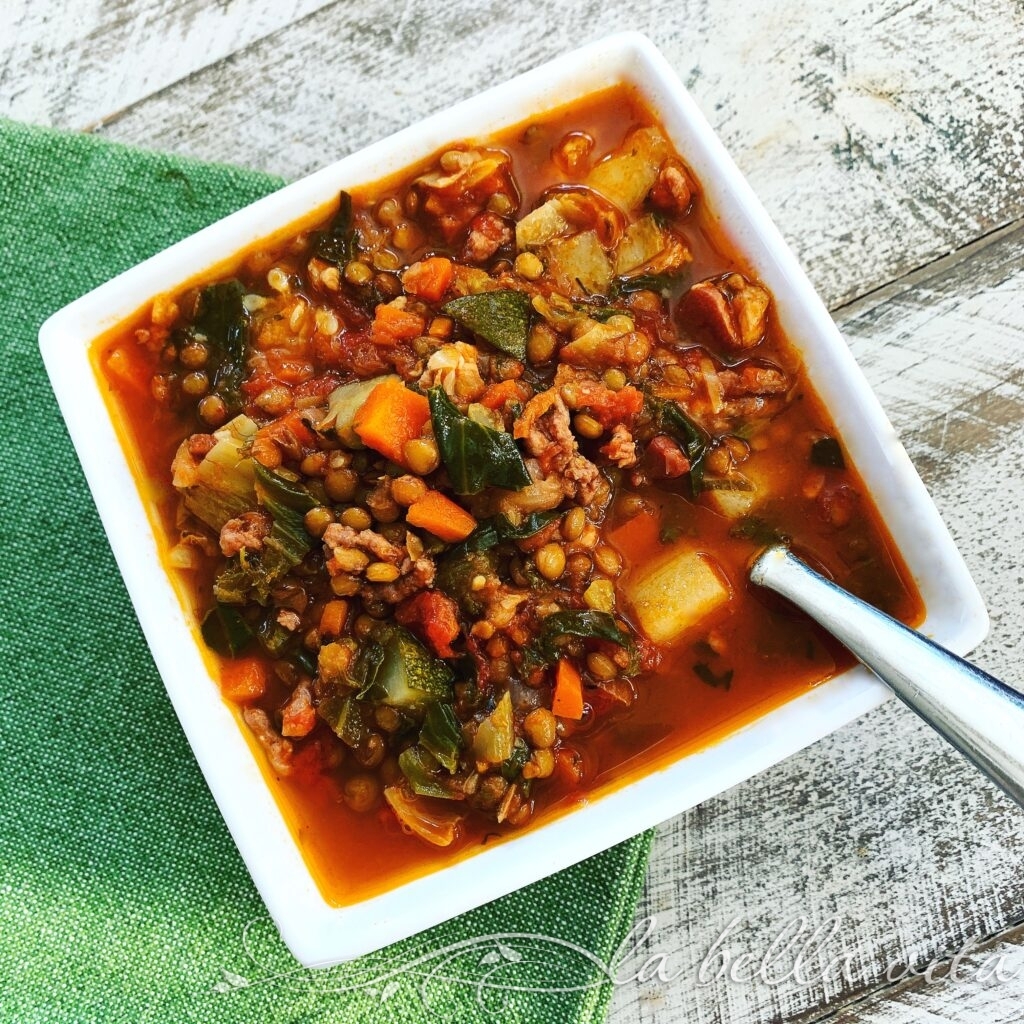 This Lentil Stew with Sausage is the perfect soup recipe: It's super easy, thick, hearty and filling, and best of all, it's brimming with delicious, earthy Italian flavors! This stew doesn't require high-level cooking skills to make and can be prepared quickly in less than an hour. So it's a wonderful stew to serve when you're in a hurry. The Italian seasonings and tangy fire-roasted tomatoes make it simply irresistible.
The prep work of chopping the ingredients takes a bit of time, but once that's done, this Lentil Stew with Sausage comes together in a snap if you use an Instant Pot, and in only 45 minutes when cooking this on the stove.
And once a batch of this stew is made, it's perfect to pack for lunch at the office (or wherever you may go to work). It's guaranteed to warm you to the bones during chillier times of the year.
The taste test for anything that I make is whether or not my super picky husband approves of a recipe. And for this lentil stew, the sound of him eating in silence is the first indicator of a winner, followed by a completely empty bowl. "Really good, dear" are the words I want to hear.
A meal in itself!
Lentil Stew with Sausage is great served with a crisp, fresh salad, some polenta, and crusty artisan bread . . . and you've got a fabulous meal! Any leftovers are worth the wait since all of the flavors marry and blend together for an even more intense flavor.
Let us know what you'd serve it with in the comment section below!
Lentil Stew with Sausage is Healthy too!
The lentils and veggies in this stew pack a big punch of protein, Vitamins A and C, iron, potassium, and fiber. At the same time, they're also low in fat. You'll enjoy this stew during winter when the types of food that you choose to eat can be a strong defense against getting sick.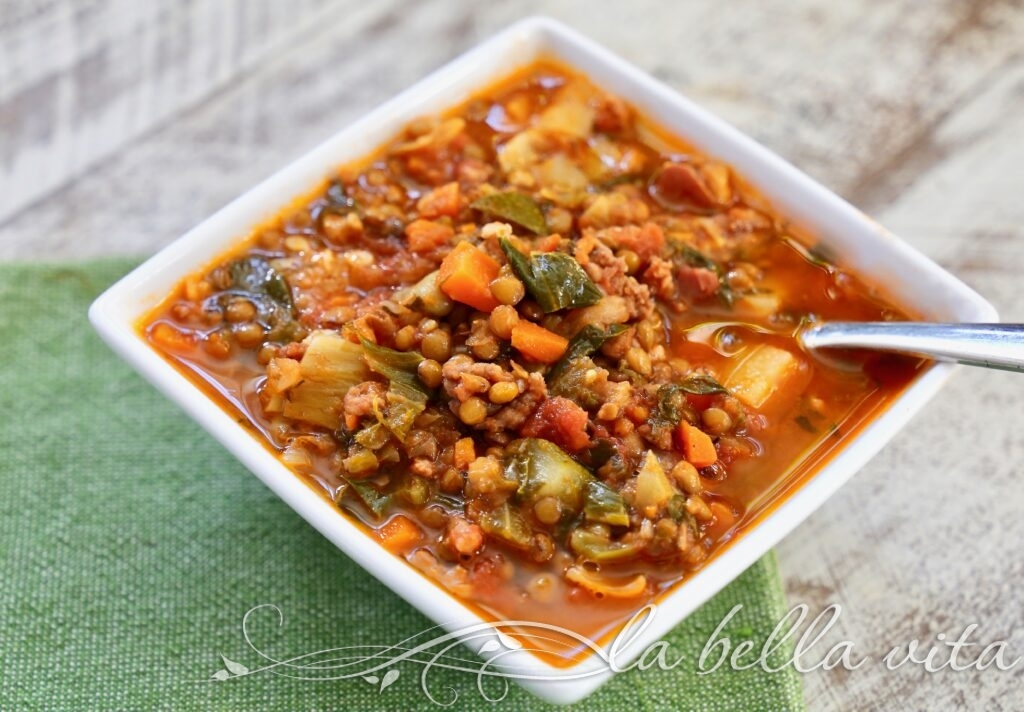 Tips for Lentil Stew with Sausage
Do you have to soak lentil before cooking? Lentils don't need to be soaked beforehand. However, they do need to be rinsed at least twice.
Want less fat and calories? Omit the sausage and pancetta or just use turkey sausage. Know that removing these ingredients will significantly change the stew's flavor.
What are the best lentils? Use brown or green; red is too mushy. The brand imported from Umbria Italy is considered to be the best lentils in the world. They are smaller and hold their shape the best.
Need less sodium? Use reduced-salt chicken or vegetable broth/stock, replace the broth/stock with water only, use reduced-salt canned tomatoes or no-salt canned tomatoes, use minimal salt, replace the broth with water, and increase the spices to taste.
Season as needed throughout the cooking process. Taste, taste, taste as you go. Depending on the tomato and artichoke brands, as well as the broth/stock that you use, you might need to add more salt to this Lentil Stew with Sausage. So it's critical to constantly taste the stew and add enough salt until the flavor pops.
Adjust your Lentil Stew with Sausage with ingredients that you enjoy more: I add more carrots. I add artichoke hearts. I don't use kale, etc. Make your stew unique to your family's preferences!
Fire-roasted tomatoes are a must. Roasting just works magically to elevate and enhance the flavors of vegetables. Fire-roasted tomatoes have a subtly sweet flavor that regular canned tomatoes lack. If you can't find them, use the highest quality tomatoes you can find and roast them in your oven.
Want additional flavor? Heat a little olive oil in the soup pot and saute diced pancetta for 7 minutes by itself before cooking the veggies. Add 1 – 2 chunks or rinds of Parmigiano cheese while the stew cooks.
Need to use a slow cooker? Saute veggies first, then add everything to the slow cooker. Cook on low 5 – 6 hours.
Do you want more tangy flavor in your stew? Add chopped artichoke hearts or a bit of red wine vinegar, or Worcestershire sauce to the mix.
Don't overcook the lentils. Lentils need about 20 minutes to cook. If overcooked, they lose their shape and become incredibly soft and mushy.
Grate parmesan cheese on top of each bowl of soup when serving.
How does this stew freeze? Freeze all ingredients uncooked, except for the broth, for up to 2 months. Thaw in the fridge.
Our Recommended Kitchen Tools for Lentil Stew with Sausage
We only show products and tools in this post that we ourselves use and recommend. When you buy from one of these affiliate links, we may earn a tiny commission. Thanks for supporting La Bella Vita Cucina.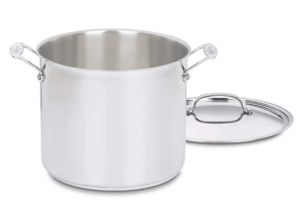 Cuisinart 12-Quart Stockpot with Lid, Brushed Stainless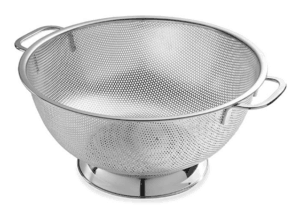 Bellemain Micro-perforated Stainless Steel 5-quart Colander
Warm up with any of these soups too:
Italian Wedding Soup (Instant Pot)
Classic Italian Minestrone (Instant Pot)
Italian Lentil Soup (Instant Pot)
Print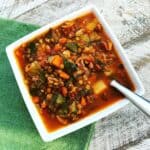 Lentil Stew with Sausage
Author:
Prep Time: 45 minutes
Cook Time: 1 hours
Total Time: 1 hour 45 minutes
Category: Soups
Cuisine: Italian
---
Description
This soup is both hearty and healthy . . . and full of a varietiy of fresh flavors from the vegetables, lentils, pancetta and Italian sasauge and herbs.
---
2 Tbsp. olive oil
1/3 lb. pancetta (about 6 thick slices)
1 lb. Italian sausage (mild, sweet or hot; whatever your preference)
1 medium-large sweet yellow onion, diced into 1–1/2 – 2 cups
4 large carrots, diced
3 large stalks celery, diced (include as many of the leaves as possible)
3 cloves garlic, minced to equal 1 Tbsp.
1 cup brown lentils, preferably Umbrian lentils
4 cups chicken broth/stock
2 whole unpeeled zucchini, cut into 1/4" chunks
1 green bell pepper, diced
2 28 oz. cans whole peeled tomatoes (San Marzano if possible)
1/2 lb (3 large) russet potatoes, cut into 3/4″ chunks
1 15–oz. can artichoke hearts, drained and diced
1/4 tsp. red pepper flakes
1 Tbsp. dried oregano
1 Tbsp. dried basil
1 tsp. dried sage
1 6–oz. bag baby spinach
1/4 cup chopped fresh Italian parsley
1 tsp. salt
shaved parmesan for garnish
Garnish: Italian parsley sprigs
---
Instructions
Pour olive oil into a large pot on a medium heat stove burner.
In the hot olive oil, saute the diced pancetta and Italian sausage until browned about 10 minutes. Then remove the pancetta and sausage with a slotted spoon, leaving the fat in the pan. Set the pancetta and sausage aside to add back into the pot later.
Add the sofritto: onions, carrots, and celery and saute for 7 minutes, stirring frequently, scraping up any browned bits on the sides and bottom of the pot.
Add the garlic, cooked pancetta and Italian sausage, lentils, chicken broth/stock, and all of the herbs.
Add the tomatoes, zucchini, green pepper, artichoke hearts, potatoes, and 1 to 2 chunks/rinds of Parmigiano cheese.
Bring to a boil. Once a boiling point has been reached, turn the heat down to simmer for 45 minutes or until potatoes and lentils are done, but not mushy.
Add baby spinach and parsley. Cook for another 5 minutes until the spinach and parsley have just wilted.
Add salt and freshly ground black pepper to taste.
Garnish with shaved Parmigiano cheese and parsley sprigs.
---
Keywords: Lentil Stew with Sausage, Lentil Stew
Do you have a favorite soup recipe? Let everyone know in the comments below.
If you like this recipe we'd appreciate it so much if you would give us the pleasure of a 5-star review below with your comment!
Also, should you prepare this recipe, be sure to snap a picture of your finished dish and share it with us either on Instagram using the hashtag #italianbellavita and tagging us @italianbellavita. We'd be honored to share your photo with others here on the blog too!
.