Strawberry Rhubarb Mojitos
Strawberries and rhubarb are ripe and ready to pick now. Our rhubarb plants are just exploding with large stalks in the gardens. With so much rhubarb, I decided to bake my mother's favorite strawberry rhubarb cake which I'll share in another post. But I couldn't resist whipping up a batch of fresh Strawberry Rhubarb Mojitos!
With all of the rain we've had this winter in the Carolina's, the rhubarb came up in a bumper crop! Freezing most of this will most likely happen!
Before I get to the recipe, I just had to share the natural beauty of rhubarb that I captured in some photos. I'm just amazed at the vivid reds of rhubarb stalks!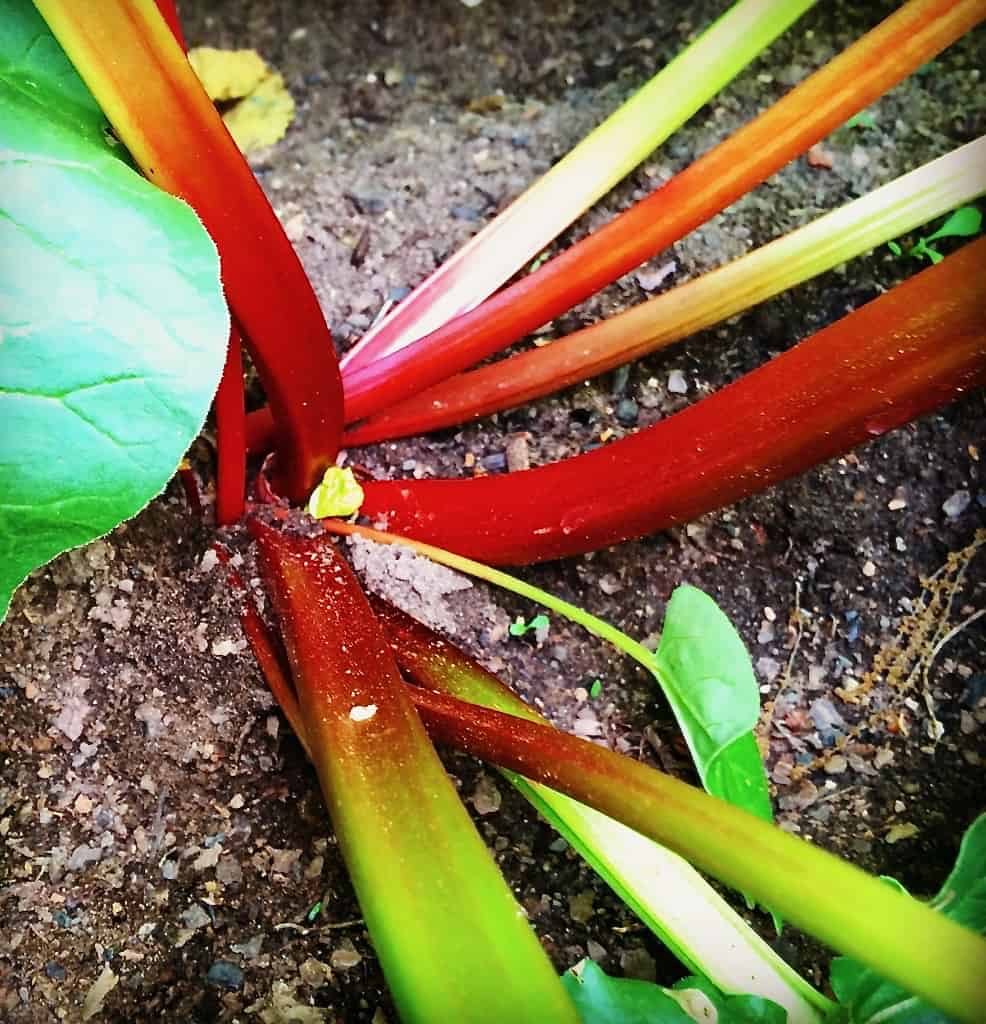 I always take my woven gathering basket with me into the gardens to harvest freshly picked rhubarb and veggies. Remember that the leaves are poisonous and need to be cut off.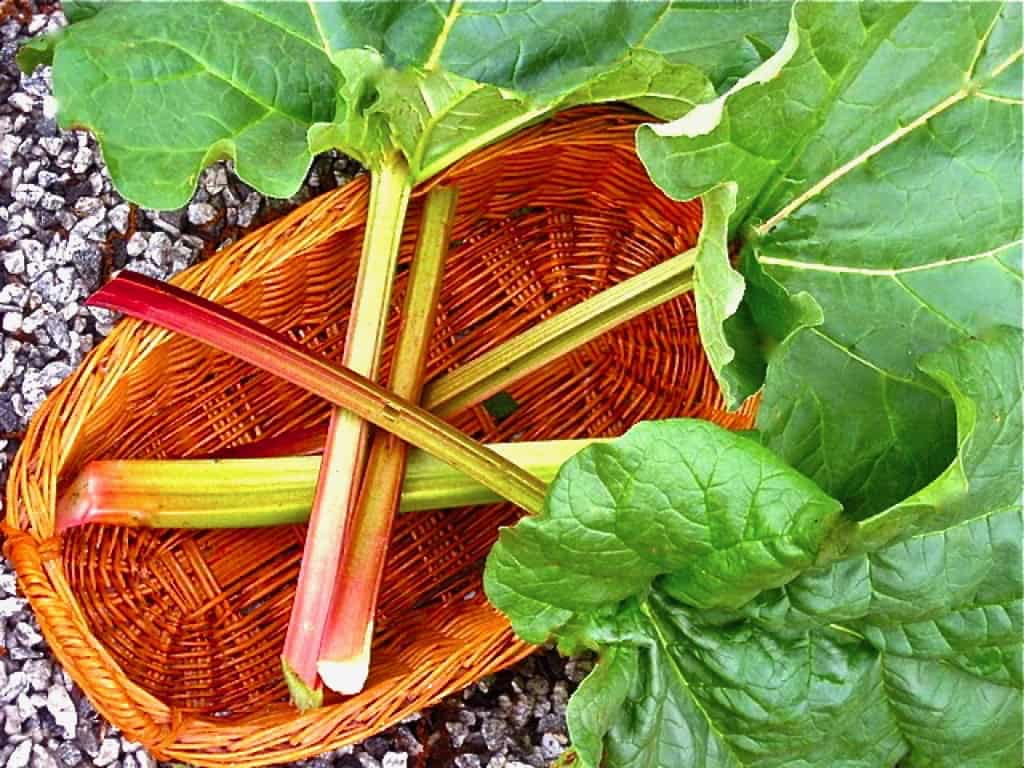 With leaves removed, the rhubarb stalks are ready to wash and chop up.
Strawberries are ripe at the same time as rhubarb. Which is perfect timing for delicious recipes that combine the two! Strawberries are simply beautiful when perfectly ripe. The dimpled red surface is just glistening in bright crimson reds!
Notes on Rhubarb
Again, do NOT use the poisonous leaves of rhubarb; so cut them off the stalks and throw away.
Rhubarb is loaded with Calcium and Vitamin C, and antioxidants.
It's technically a vegetable, but rhubarb is always treated as a fruit in sweet recipes.
Spring and summer are the only times when rhubarb is in season. However, frozen rhubarb can be found year-round.
Rhubarb stalks grow in various shades of green, pink and red. There's not a lot of difference in flavor, although some cooks say that the green stalks are milder in flavor.
Keep rhubarb wrapped in plastic wrap or bag and keep in the fridge for up to 2 weeks.
It is not necessary to remove the outer skin of rhubarb.
Rhubarb makes great sauces and chutneys!
So let's talk about Mojitos, shall we?
One of the most popular cocktails in the entire world is the Mojito. And with in-season strawberries and rhubarb, they are so refreshing and DELICIOUS! Beautiful too!
Making Mojitos requires precision. You just can't add ingredients randomly. Rather, there is a 'process' that has to be followed so that you'll be able to taste every single layer of flavors.
The famous foundation of a classic Mojito consists of rum, lime, mint, simple sugar syrup, ice and club soda water . . . and always served in a tall, highball glass.
Tips for Making The Perfect Mojito
Recipes vary but for one (1) mojito cocktail use 1- 1/2 oz. white rum, 1/2 – 1 oz. freshly squeezed lime juice, 2 teaspoons sugar or ¾ oz. simple syrup, 7-8 fresh mint leaves, 1-1/2 oz. club soda.
The key to a classic Mojito is BALANCE: You want to be able to taste each element, with each working in harmony.
Always tall, glasses.
Use simple syrup for a clean, consistent finish (Use 1:1 formula of equal parts water and sugar).
Never tear the mint leaves.
Using only FRESH squeezed lime juice is KEY . . . and nothing from a bottle.
Use half of a lime as a shield over the mint on the bottom of each glass. "Muddle" by applying pressure to the lime four times, making sure to keep the lime over the mint as protection.
Do NOT over muddle either the mint. You only want to extract the mint oil enough to get the mint's aroma.
Do NOT use gold or brown rum which will alter the flavor.
Do NOT use light brown or turbinado sugar either which discolors the cocktail.
STIR – do NOT shake. Stir gently just a few times to try not to beat the mint up.
Do use crushed ice in your mojitos. Crushed ice melts faster, which is a good thing in this strong-flavored drink and the extra surface area of crushed ice lends to a colder mojito.
Don't use poor quality rum which results in a boring, sweet-lime drink. Use a rum that you could drink straight up or use flavored rums that enhance the cocktail.
So let's get to the Strawberry Rhubarb Mojito recipe!
Ingredients for Strawberry Rhubarb Mojitos
Fresh, ripe strawberries
Fresh or frozen rhubarb stalks
Raspberry-flavored rum
Lemon-flavored rum
Club soda
Sugar
Fresh mint
Lime
Cheers, my friends! You'll want to pin this recipe for sure!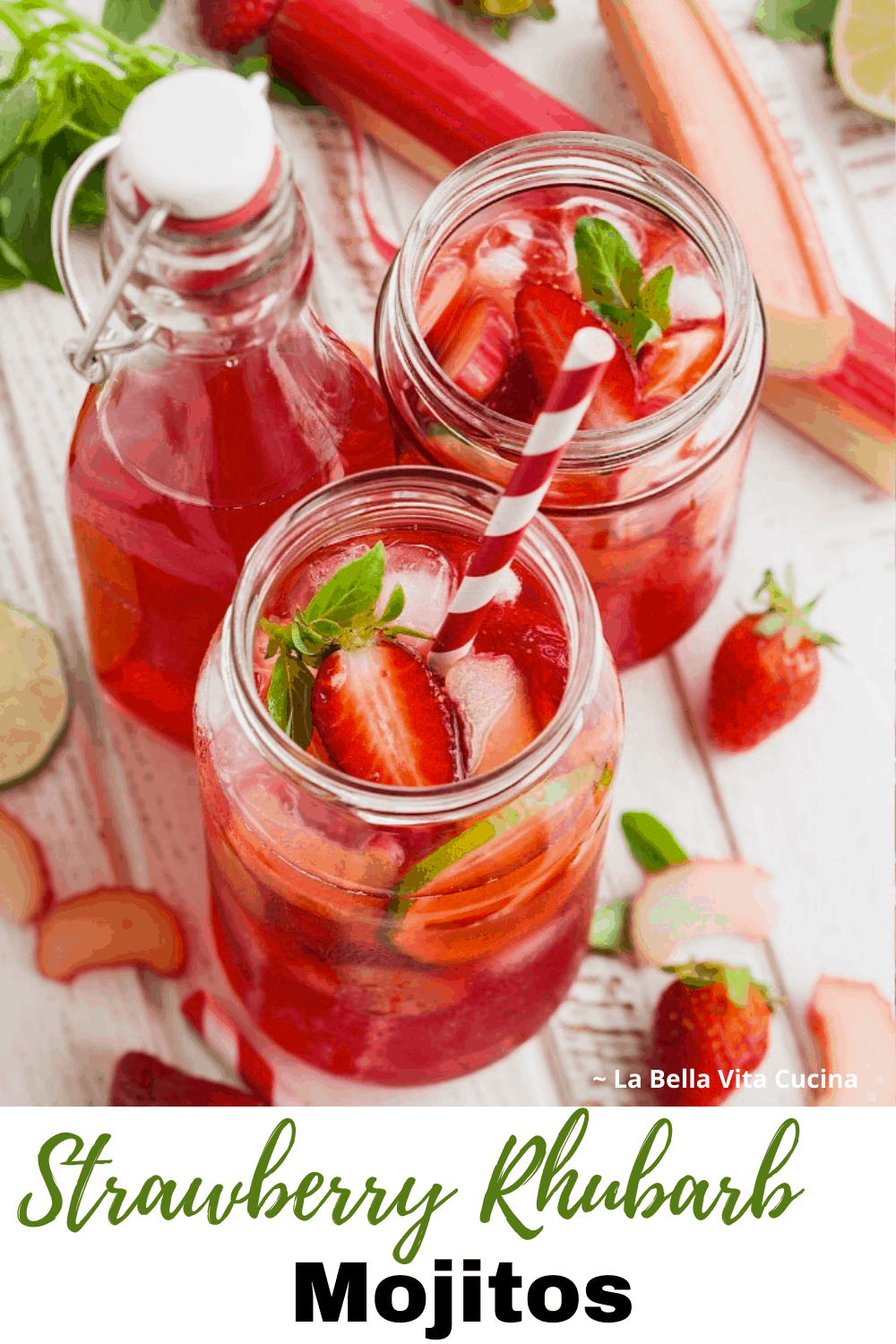 Things I Recommend to Make Mojitos: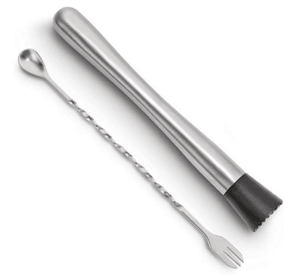 Cocktail Muddler & Mixing Spoon
Glass Pitcher with 6 Highball Glasses
Biodegradeable Red & White Striped Straws
Print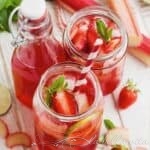 Strawberry Rhubarb Mojitos
Author:
Total Time: 0 hours
Yield: 2 cocktails 1x
---
Description
So refreshing and delicious, these Strawberry Rhubab Mojitos are the ultimate cocktail to enjoy fresh spring and summer fruits with tangy lime and flavored rums! Cheers, my friends!
---
For the Strawberry Rhubarb puree:
3 cups fresh or frozen rhubarb, sliced
2 cups fresh or frozen strawberries
1 cup water
1 cup sugar
Remaining Ingredients for the Mojito:
4 oz. Raspberry rum
4 oz. Lemon rum
juice of 1/2 of a lime
club soda (around 1-3/4 oz. per cocktail)
fresh mint
Garnish:
Lime slices
Fresh mint leaves
rhubarb stalks,
fresh strawberries
mint sprigs
---
Instructions
Prepare Strawberry-Rhubarb Puree:
Combine the water and sugar in a medium saucepan on medium heat until boiling. Then turn down the heat to a simmer, while stirring frequently. Cook until sugar is completely dissolved.
Add the strawberries and rhubarb and simmer for 15 minutes or until the fruit is broken down and very soft, and when the mixture is 'syrupy'.
Remove from the heat and allow to cool.
Strain the cooled mixture through a mesh strainer.
Pour strained mixture into a blender and mix until smooth.
Place puree in the fridge to chill.
Prepare the Mojitos:
In either separate tall cocktail glasses OR in a small pitcher, pour in both rums.
Add the mint leaves to each glass or the pitcher.
Using the back of a spoon, "muddle" the mint into the rums to release the flavors of mint.
Add the strawberry rhubarb puree.
Add the lime juice equally between the glasses or into the pitcher.
Add the club soda to taste.
Fill each glass with ice.
Stir gently.
Garnish with lime slices, strawberries and/or rhubarb sticks.
---