Frittata with Asparagus and Fontina
A frittata is simply one of the best foods ever created. It's such a great way to use leftovers or food in the fridge needing to be used. It's easy and fast. I made this Frittata with Asparagus and Fontina after Easter when we had left-over asparagus.
Don't just limit frittatas just for breakfast! They are amazingly versatile and great for lunch, dinner, and even for brunch. For my family, a delicious frittata is perfect for the weekend. Plus, I love to pack them for lunch at work.
Frittatas can be made anytime, with almost any ingredient, and have an added bonus of being inexpensive!
How To Make A Great Frittata !
Use the right pan: Non-stick pans work best for me to easily slide the frittata out, but cast-iron pans are very popular too. The pan must be oven-safe. Use no larger than a 10-inch pan. I prefer a 9 inch pan because it makes taller, thicker frittatas. Wider pans result in thinner frittata which also cook faster, so please keep that in mind.
To get a creamier texture and flavor, only use full-fat dairy such as heavy cream (whipping cream), whole milk, or half-and half. You don't want a watered-down egg base that happens when 2% or skim milk is used. Not good, my friend!
To achieve the famous creaminess of a great frittata, don't skimp on the dairy: For 12 egg frittatas, use 1/3 – 1/2 cup of dairy, 6 egg frittatas, use 2 – 3 Tbsps. If you use too much dairy, I guarantee you that your frittata is going to be too liquidy and will cook unevenly with the edges overcooked while waiting for the interior of the frittata to cook.
Use larger eggs (I always use jumbo eggs).
Add seasonings BEFORE beating the eggs to ensure that (salt and pepper, etc.) are distributed throughout the frittata and not just on top.
Gently beat the eggs, just to the point of being blended. Overbeating eggs will cause the frittata to over-expand while cooking in the oven and then flatten when taken out.
Always start with a base of sautéd onions and garlic.
Use leftover cooked vegetables OR sauté fresh veggies before adding the eggs.
Sauté or roast the vegetables FIRST before adding any eggs. The eggs cook faster and you want your veggies to be completely cooked when the eggs are done.
Sauté 'wet' veggies separately and discard the liquid before adding the eggs. Tomatoes, mushrooms, zucchini, potatoes, onions, and squash release a lot of water.
Don't skimp on vegetables. A great frittata is loaded with vegetables. For an 8 egg frittata, use 2 cups of veggies.
Cheese is a MUST to complement the eggs and vegetables. I love Fontina, Parmiggiano, Asiago, and Mozzarella. Grate the cheese so that it is evenly distributed in the frittata.
The stove-to-oven method is the best to achieve a more fluffy frittata. On the stove, at the point when the sides of the frittata are cooked and pulling away from the sides of the pan, that's when you take it (still in the pan) to the hot oven.
Closely watch the frittata as it cooks. A great frittata has a creamy, custard-like texture. You don't want it to overcook which causes a very hard, dry texture plus it has a horrible dark burnt color.
For a golden-brown crust on top, set the oven to 'broil' for the last 5 minutes.
The Simple Basic Ingredients in a Frittata
Eggs
Full-fat dairy
Vegetables and/or Proteins
Grated cheese
Salt and pepper
Options to Add or Substitute
Vegetables – Spinach, broccoli, asparagus, tomatoes, artichokes, red or green bell peppers, zucchini, carrots, green onions, mushrooms, Swiss chard, arugula, garlic
Proteins – Italian sausage, prosciutto, pancetta, salmon, ham, bacon, chicken
Cheese – fontina, gruyere, cheddar, goat cheese, feta cheese, gorgonzola, blue cheese, mozzarella (use harder, aged cheeses such Parmigianno, Pecorino, or manchego for topping frittatas just before serving)
Herbs – basil, Italian parsley, oregano, chives, thyme, dill, rosemary
Highly Recommended Products
Non-Stick Frying Pans – 8 and 11″
More Fantastic Frittata Recipes for You!
Frittata with Italian Sausage and Cheese
Frittata with Mushrooms, Thyme and Parmiggiano Cheese
Frittata with Swiss Chard and Fontina Cheese
Heirloom Tomatoe Frittata with Basil and Parmiggiano Cheese
Mini Frittata with Asparagus and 6 Italian Cheese
Pin for Later!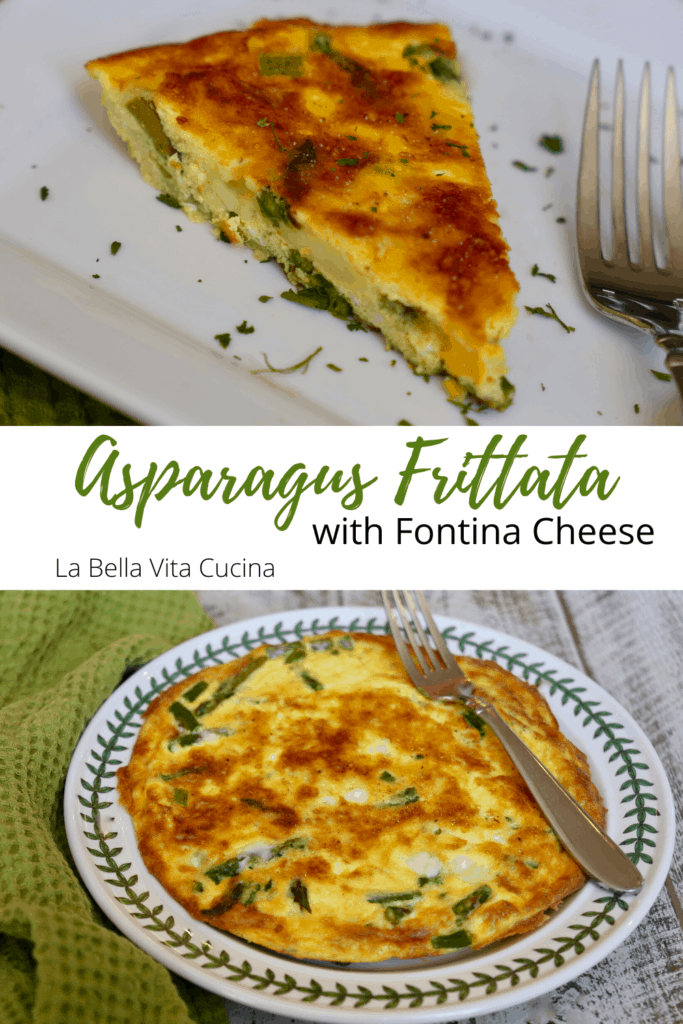 Print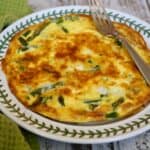 Frittata with Asparagus and Fontina
Author:
Prep Time: 10 minutes
Cook Time: 30 minutes
Total Time: 40 minutes
Yield: 6 servings 1x
Category: Eggs
Cuisine: Italian
---
Description
This asparagus frittata has a creamy, custardy texture, is absolutely delicious and beautiful to look at as well! A great recipe to use up left-over asparagus! So versatile, you can use numerous ingredients!
---
6 jumbo eggs, beaten
2 Tbsp. heavy cream
2 cups fresh asparagus, tough ends snapped off, then cut diagonally into 1/2″ pieces
1 cup Fontina cheese, grated
1/3 cup Parmiggiano or Pecorina cheese, finely grated
1 Tbsp. butter
1 Tbsp. extra virgin olive oil
1/4 cup diced onion
garlic clove, minced
salt and pepper to taste
---
Instructions
Pre-heat oven to 350 F degrees.
Whisk eggs, cream, 1/2 tsp salt, and pepper together in a medium bowl. Set aside.
Melt butter in a medium-size, non-stick skillet on a medium heat stove burner.
Add diced onions and minced garlic; saute' for about 2 minutes.
Add asparagus and cook for about 3 minutes.
Pour the egg mixture over the asparagus, onions and garlic and cook for another 3 – 4 minutes.
Add the grated cheeses.
Reduce heat to low-medium heat and continue to cook for about 8 – 10 minutes or until the frittata is almost set. The edges should be pulling away from the sides of the skillet and yet still runny in the center.
Place in the oven and bake until golden and fluffy, about 10 minutes. Turn on the broiler to get an extra golden-brown color, but you have to stay by the oven and keep a good eye on the frittata while it is broiling. It would burn very easily. If necessary, place aluminum foil around the edges to prevent burning.
When completely golden brown, turn off the oven and allow the frittata to set, for another 5 minutes.
Serve by sliding onto a dinner-size plate. Cut into pie-like slices.
ENJOY!
---