The Best Classic Egg Salad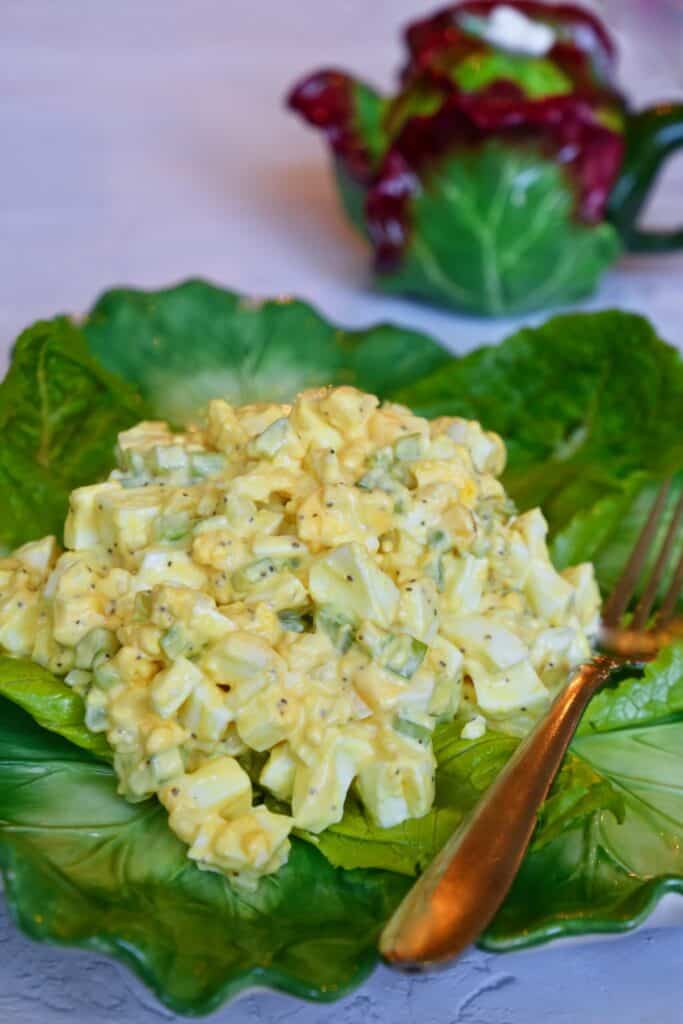 It just wouldn't be summer without all of the cold salads made from fresh-grown ingredients! From potato salad to cucumber salad, to pasta salad . . . they're all so delicious and easy to prepare. Added to that list is what we believe is the Best Classic Egg Salad ever. This is nothing fancy, and you don't want a classic recipe to be fancy. You want it to consist of the essential key ingredients allowing them to shine together without being overcast by other unnecessary ingredients.
Oh yes, I've got some great variations on this classic recipe and I'll list them at the end. But for now, this egg salad recipe is the real deal and a reader favorite too!
So back to summer days of blue skies, lazy afternoons, picnics with blankets under the canopy of a shady tree . . . got the picture? Maybe even hanging out in a boat gently lapping in the cool water of a lake. Now you're talking!
There's only one more thing to add . . . a picnic basket. With this classic egg salad tucked inside! You'll want to whip up this salad all summer long in fact!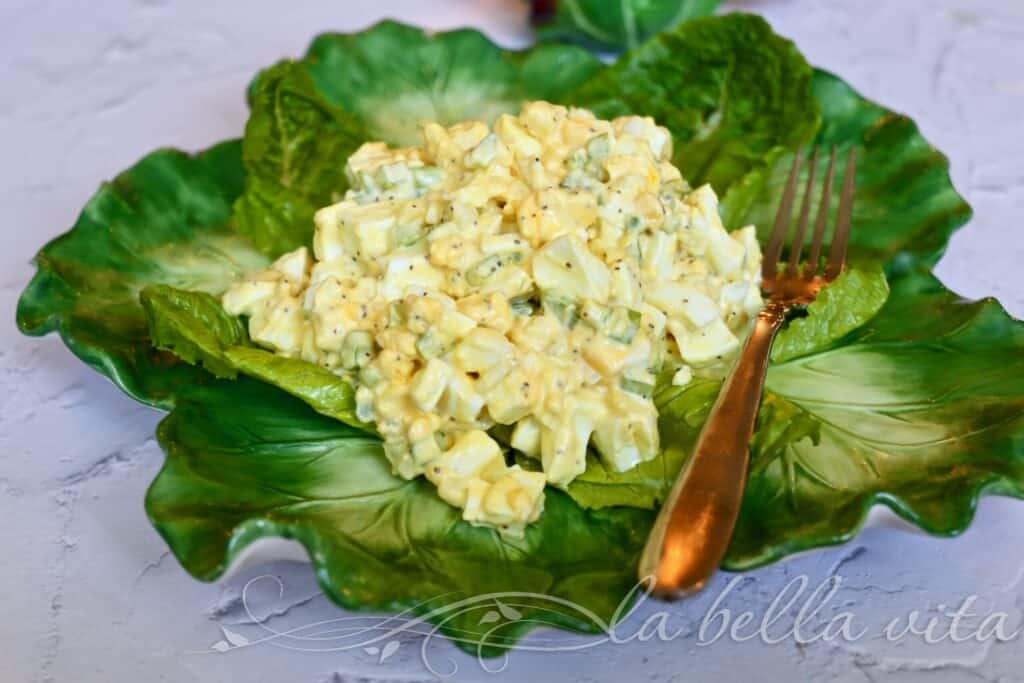 Tips for Making the Best Classic Egg Salad
We prefer egg salad that has large chunks of chopped-up hard-boiled eggs. This gives your salad more texture as you bite into it. The same goes for the celery and green onions.
We are huge fans of Miracle Whip, but if you don't want that extra tang that Miracle Whip has then we recommend using Hellmann's.
Mix everything together while the eggs are still a little warm to help the flavors marry together better.
Egg salad is at its best flavor when served cold, so place it in the refrigerator as soon as you have everything mixed together. Cover with plastic wrap.
Get ahead of your dining event and boil your eggs up to 2 days before!
If your egg salad is too runny, just add more chopped hard-boiled eggs. You can also put the egg salad back into the refrigerator as the cold can help firm up the mayonnaise, and stir before serving.
How To Avoid Getting a Green Ring in hard-boiled eggs:
Place eggs in a medium to large sauce pan and cover with water having 1 – 2″ of water above the eggs.
Turn on the stove to "high".
When the water comes to a point where the boiling begins . . . Turn the stove burner off.
REMOVE the pan from the stove
Cover with a lid (a must).
Allow the eggs to cook in this state for 10 minutes.
Under cold running water, peel the shell off of the eggs.
This classic egg salad recipe is the perfect no-fuss recipe for packing for lunch too.
But like I said, you can get as creative as you want with seasonings and mixed in ingredients, all using this perfect base recipe.
Ways To Be Creative with Egg Salad:
add pickle relish, or crunchy chopped up pickles themselves,
chopped cherry tomatoes
add chopped cucumbers
add chopped bell peppers (red, green, or yellow)
add chopped bacon
add chopped pimento-stuffed green olives
add chunks of avocado
add a bit of horseradish and/or radishes for a peppery bite
use assorted herbs and seasonings such as tarragon, chives, parsley, cilantro, cayenne, cumin, curry, and of course, our fave: garlic powder
use whole grain mustard instead
you can even substitute a plain full-fat Greek yogurt for mayonnaise if you prefer.
How Long Does Egg Salad Keep?
Store classic egg salad in an airtight container in the refrigerator for no longer than 2 days.
How Much Egg Salad Should You Make Per Person?
Your guests will appreciate being served one cup of egg salad on a bed of lettuce. In a sandwich, a half cup is better so that the salad doesn't completely fall out of the bread. I really enjoy serving egg salad with croissants. Always tuck some crisp leafy lettuce leaves inside an egg salad sandwich for some extra crunch. Whether you toast your bread or not is entirely up to you. Untoasted, the bread could possibly get soggy, but no one ever eats these sammies slowly enough for the dressing to water down over time. They disappear in a flash!
The great thing about a classic egg salad is how versatile it is beyond summer potlucks and picnics!
Cut a sandwich into quarters, remove the crust, and you've got some delicious tea sandwiches for a luncheon or brunch!
Dolloped on top of round crackers, and you've got a great appetizer!
Served with celery and carrot sticks. *
Served inside cherry tomatoes or mini-peppers! *
* both for lower-carb options instead of bread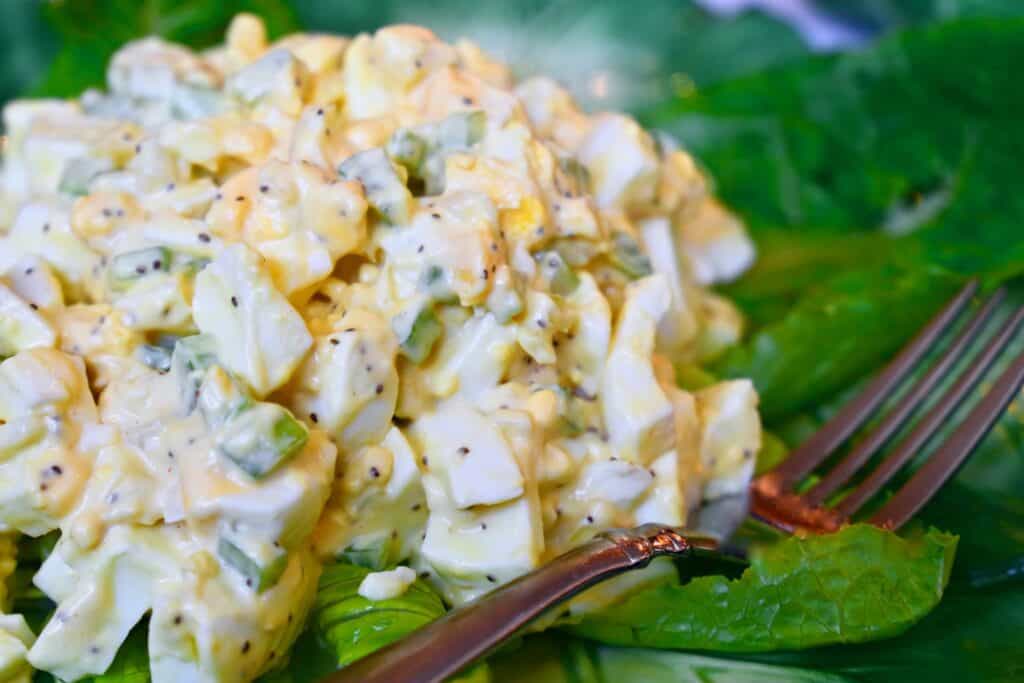 PIN FOR LATER!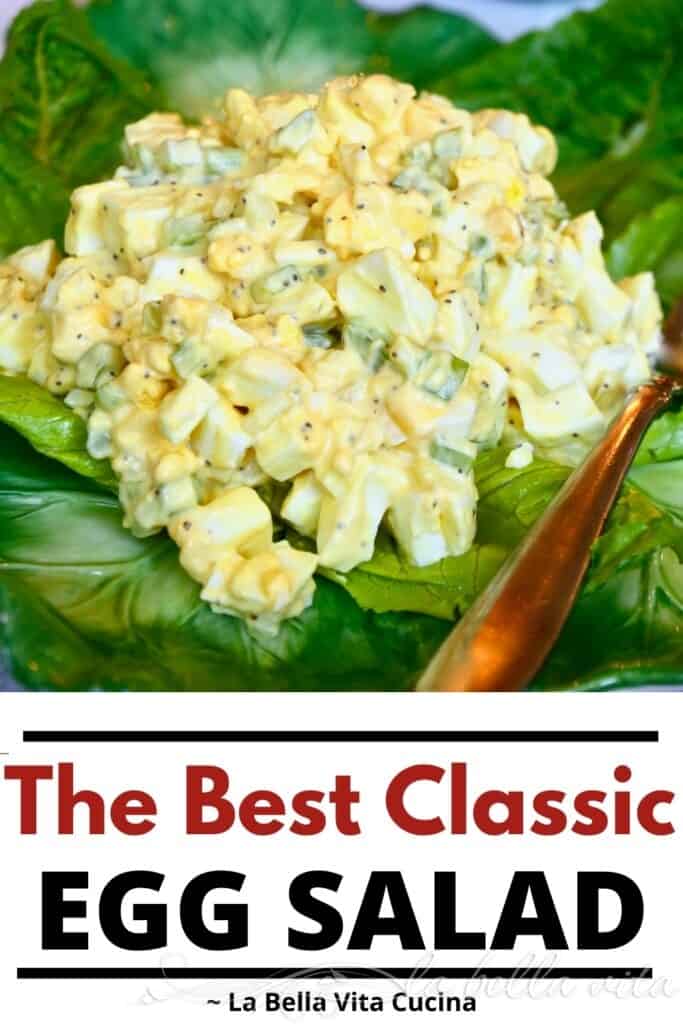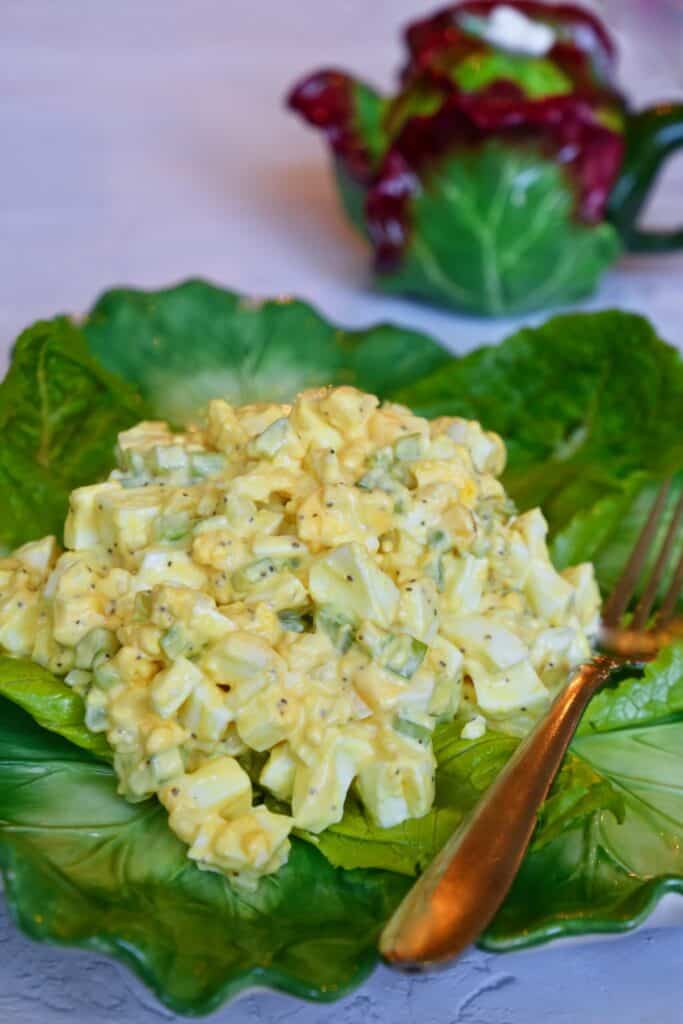 More Recipes That You May Enjoy!
How To Make a Perfect Frittata with 5 Recipes To Inspire You
Print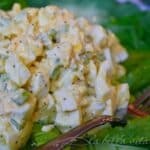 The Best Classic Egg Salad
Author:
Prep Time: 5 minutes
Additional Time: 10 minutes
Cook Time: 10 minutes
Total Time: 25 minutes
Yield: 4 sandwiches 1x
Category: Salads
Cuisine: American
---
8 whole eggs in shell
4 quarts of water
4 stalks celery, sliced thin lengthwise and then chopped into 1/4" pieces
1 cup Hellman's mayonnaise, but we PREFER Miracle Whip
1 Tbsp celery seed
1/3 tsp. ground garlic powder
1/4 tsp. onion powder
1/2 tsp. kosher salt
1/3 cup sliced green onion, including the green stems
2 tsp. Dijon mustard
2 tsp regular mustard
1/8 tsp. of freshly squeezed lemon juice
optional: a few pinches of pepper (white or black)
---
Instructions
Fill a tall pot with water about ⅔ rds full and bring to a boil.
With a slotted spoon or a spider whisk, gently place the eggs on the bottom of the pot in the boiling water. Do not drop the eggs in the water, to avoid cracking them.
Bring the water back to a boil and boil for 10 – 13 minutes.
While the eggs are boiling, combine the mayonnaise/Miracle Whip, celery seed, kosher salt, lemon juice, and mustards together with a whisk and set aside.
With a slotted spoon or spider whisk, remove the eggs and place in a bowl in the sink with running cold water.
One egg at a time, under the cold running water, gently tap the egg against the side of a clean sink and begin to remove the shell.
Allow the peeled eggs to cool in the bowl of cold water.
Slice the eggs in 1/4″ slices and then slice in the opposite directions into 3rds.
Add the chopped eggs to the chopped onions and chopped celery. Gently mix together.
Gently fold the egg mixture into the mayo mixture until well blended
Taste, adjust your seasonings to your preferences, and then taste again.
Serve either on top of a bed of fresh lettuce or in a sandwich with crisp lettuce.
GARNISH (optional): Ground paprika, chopped green onion stems, minced parsley.
Enjoy this delicious egg salad!
---
Notes
TIP: There is a tiny clear membrane between the shell and the cooked egg white. Gently tug at that and the eggshell will slip right off. If that clear membrane/film is left on, you'll tug and tug and rip up the entire egg.
This egg salad can be made ahead and chilled in the fridge, but don't allow it to sit for more than an hour or so since the dressing will get weepy and the consistency will no longer be creamy.
Add the mayo mixture a little at a time to achieve your desired level of creaminess vs. dryness of the amount of dressing. We like ours really creamy with more of the mayo mixture added in.
---
Nutrition
Serving Size: 1 cup
Calories: 165
Sugar: 0
Sodium: 135
Fat: 15
Saturated Fat: 3
Unsaturated Fat: 0
Carbohydrates: 0
Fiber: 0
Protein: 5
Cholesterol: 169
Keywords: egg salad, egg, salad
This recipe originally appeared on La Bella Vita Cucina in 2009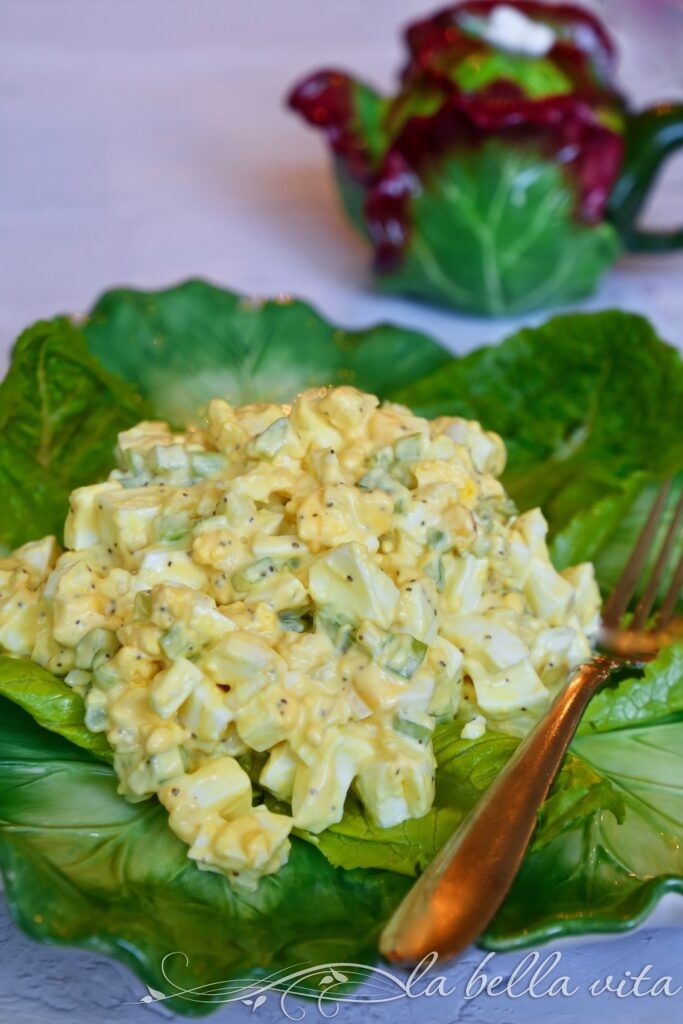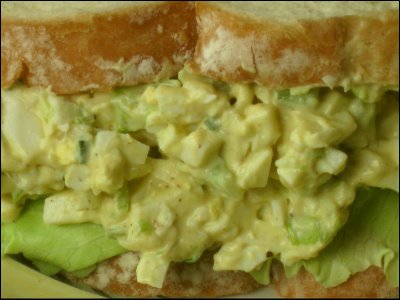 photo from the original post on La Bella Vita Cucina in 2009; updated in 2020