Fresh Green Haricots Verts with Roasted Vegetables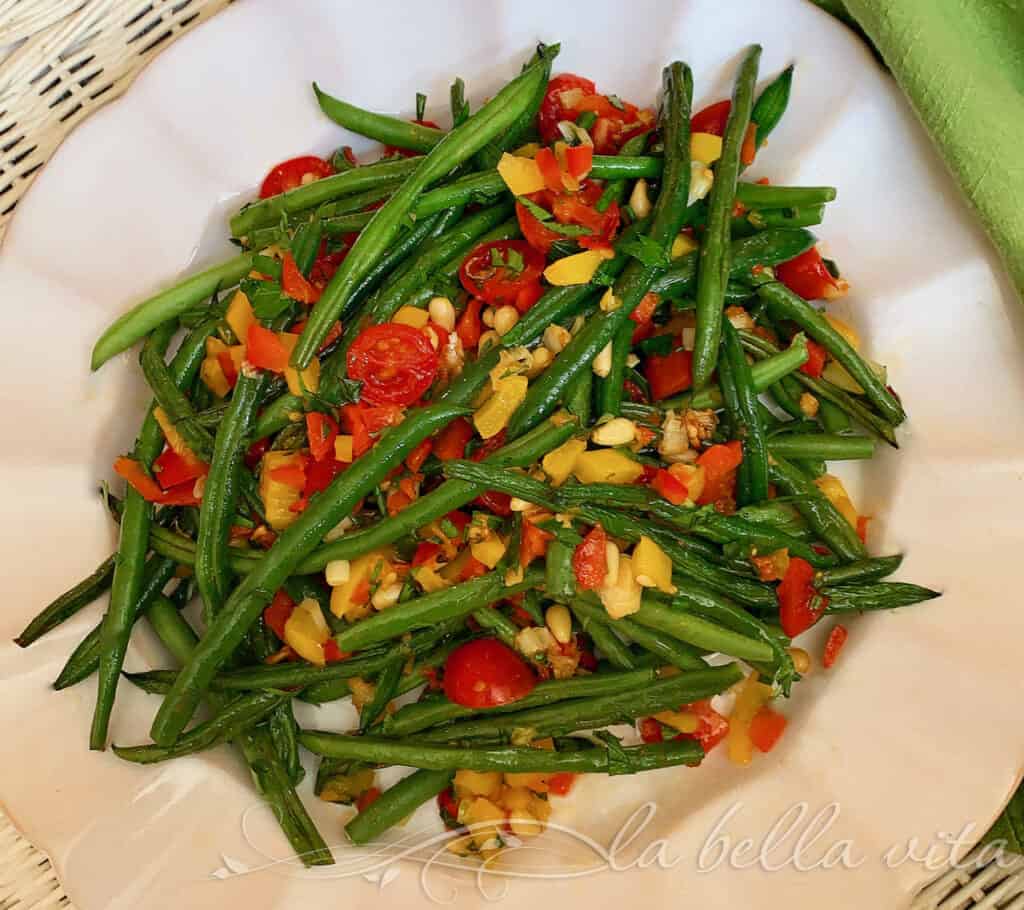 For me, the color green is probably the most beautiful color on earth! And Fresh Green Haricots Verts with Roasted Vegetables highlights a vivid, yet deep hue of green so beautiful when plated next to any entree! Actually, they just may steal the visual show!
When I lived in Arizona, someone once said to me in reference to the colors of the Southwestern landscape, "you're either a green person or a brown person", which at that time I realized that I'm definitely a 'green' person. In my natural surroundings, green just signifies life!
Have you ever seen those skinny, slivers of green beans in your food market? Well, those are French green beans. I simply love to use small and delicate French green beans or filet beans, known to many in French as Haricots Verts. The flavor is identical, yet they cook very quickly due to how thin they are.
PRONOUNCED: AH-Ree-Ko Ver (the "h", "t" and 's' are silent). In French, literally "Haricot" means bean and "vert" means green.
What is the difference between green beans and haricots verts?
There's more of a difference between French and American green beans than just having a different name. Haricots verts are longer and thinner than American green beans. Plus they're more tender, and have a stronger, more developed, and robust bean flavor that many people just love. You see these slender beans served more often around holiday celebration tables.
Although you can harvest American green bean varieties early in an attempt to have skinny green beans, it's not a good idea. This is because haricots verts are not the same as young, immature American green beans. They have a full green bean flavor early in their development and are tender at a thin size early on. American green beans are the exact opposite in that they are much thicker and don't become tender until the late stages in growth when they are larger in size.
How to Prepare Haricots Verts
Preparing haricots verts is quite simple, nothing differs from American green beans: Just wash and trim the ends (if preferred, but not necessary to trim). Either roast or steam them. By themselves, haricots verts deliver an impressive side dish with minimal need to dress up.
And the peppers in my garden and the local farmers' market right now are so shiny and bright that I had to add them to the green beans. After a good roast, everything is lightly coated with a warm garlic-onion-herb mixture with just a touch of lemon zest. This dish is so easy and healthy! We could eat an ENTIRE platter of these wonderful crunchy beans!
Just look at the color of these vegetables!! Simply gorgeous!
Now, let's get down to talking about ROASTING vegetables!
Roasting is a favorite way of prepping veggies for us. Why? Roasting magically enhances flavors to perfection! Somehow during their time in a hot oven, vegetables transform and become both crispy and juicy at the same time! You can roast at any time of the year with whatever vegetables are in season. It's also easy to do year-round with whatever produce is in season!
I'm a firm believer in roasted vegetables. Not only can nearly every vegetable be cooked in this way, but roasted vegetables are also wildly popular and a delicious pleasure to eat! So if you're wanting a break from the usual steamed veggie side dish . . . then try roasting your vegetables. You're in for a yummy surprise!
Plus, roasting is a cooking skill that's so crazy, insanely easy.
And finally . . . and this is a biggie: For those who struggle with picky eaters who push their veggies away at the table and just give you fits, well, roasting adds a caramelized sweeet taste to any vegetable that can convert any veggie skeptic into a veggie-lover!!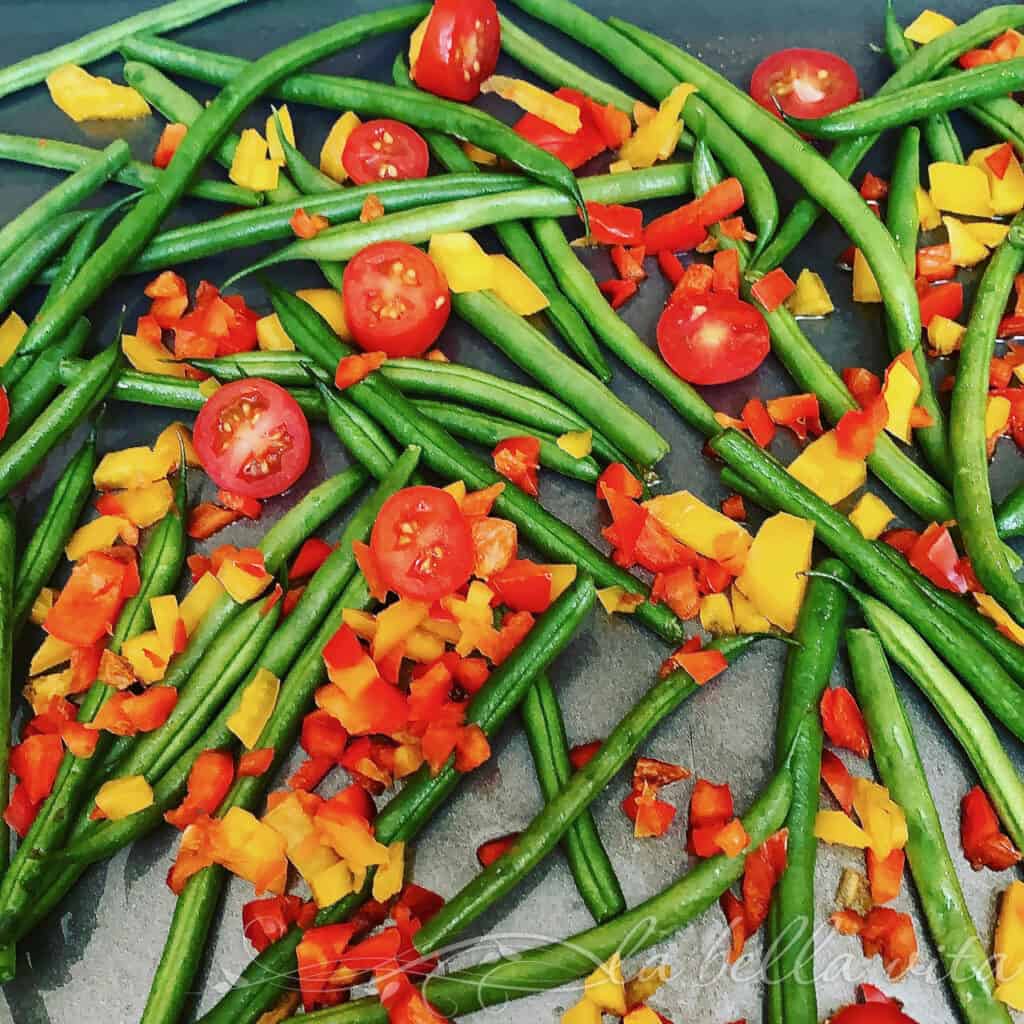 This is simply one of the most beautiful and delicious side dishes ever!!
The Italian parsley, basil, and chives came straight out of my garden today
.
Just look at the HUGE size of the basil in comparison to the yellow pepper next to it.
I've never seen such large basil leaves.
Just incredible!
PIN FOR LATER!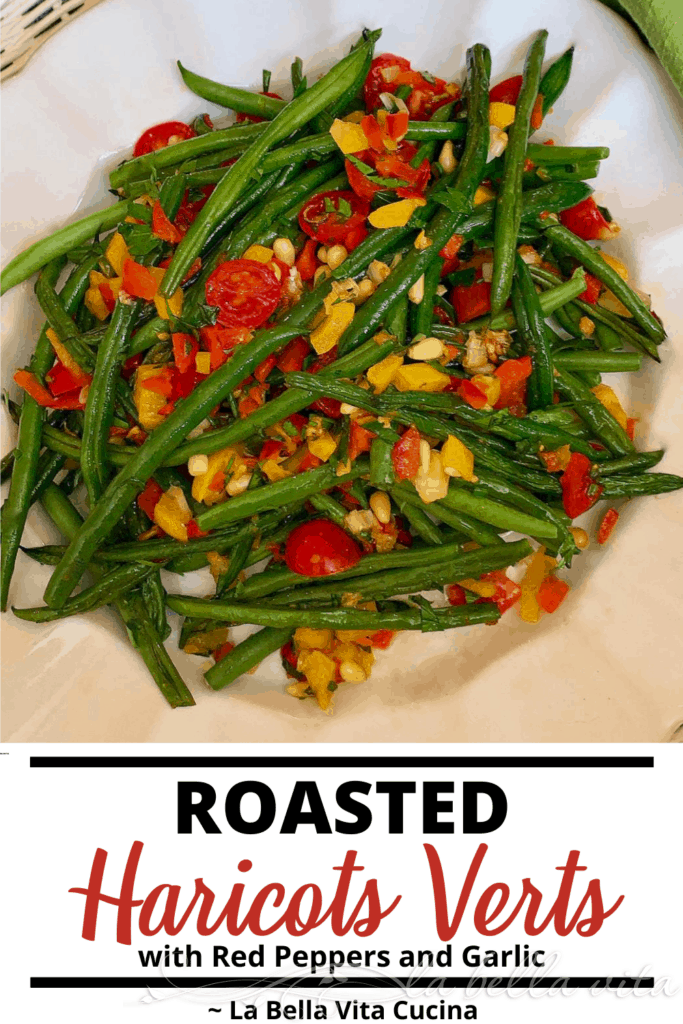 Print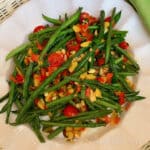 Fresh Green Haricots Verts with Roasted Vegetables
Author:
Prep Time: 10 minutes
Additional Time: 5 minutes
Cook Time: 15 minutes
Total Time: 30 minutes
Yield: 4 servings 1x
Category: Vegetables
Cuisine: Italian
---
1 pound thin green beans (Haricot Vert), trimmed
4 Tbsp butter or olive oil
8 green onions, sliced thin
4 cloves garlic, minced
10 cherry/grape tomatoes
1 red pepper, diced
1 yellow pepper, diced
3 Tbsp fresh Italian parsley, chopped fine
2 Tbsp fresh basil, chopped fine
2 Tbsp fresh chives, chopped fine
1 tsp. freshly grated lemon zest
olive oil
1/4 cup pine nuts
Freshly grated sea salt and black pepper
---
Instructions
Pre-heat oven to 425 degrees F.
In a large frying pan, melt the butter/olive oil. Add the sliced green onions and garlic and saute' on medium-low heat. Watch them carefully, so they do not turn brown, which by that time, the garlic is burned. Take them off the heat as soon as a hint of golden comes to the garlic. You will re-warm this just before adding the beans so that everything is warm.
Meanwhile, coat a baking sheet with olive oil.
Scatter the chopped peppers, beans, and tomatoes on the baking sheet and roll them around to coat them well.
Sprinkle salt and pepper all over the vegetables.
Place the baking pan with the veggies on a middle rack and roast for 15 minutes, stirring around occasionally to make sure that all sides of the vegetables are roasted. Keep a good eye on these the last 5 minutes so that you remove them before they burn.
Immediately transfer the roasted peppers/beans/tomato mixture to the frying pan and coat completely with the warm garlic and onion mixture.
Add the herbs and lemon zest to the mixture.
Gently mix everything together so that the beans are coated with the herbs, zest, garlic, and onion.
Transfer everything to a platter.
Season with salt and pepper to taste (if necessary after tasting).
Sprinkle with pine nuts.
Serve immediately.
---
Keywords: green beans, haricots verts, roasted vegetables
This post was published first in 2011 and reposted with additional information in 2020