Loaded Breakfast Casserole with Sausage, Eggs, and Cheese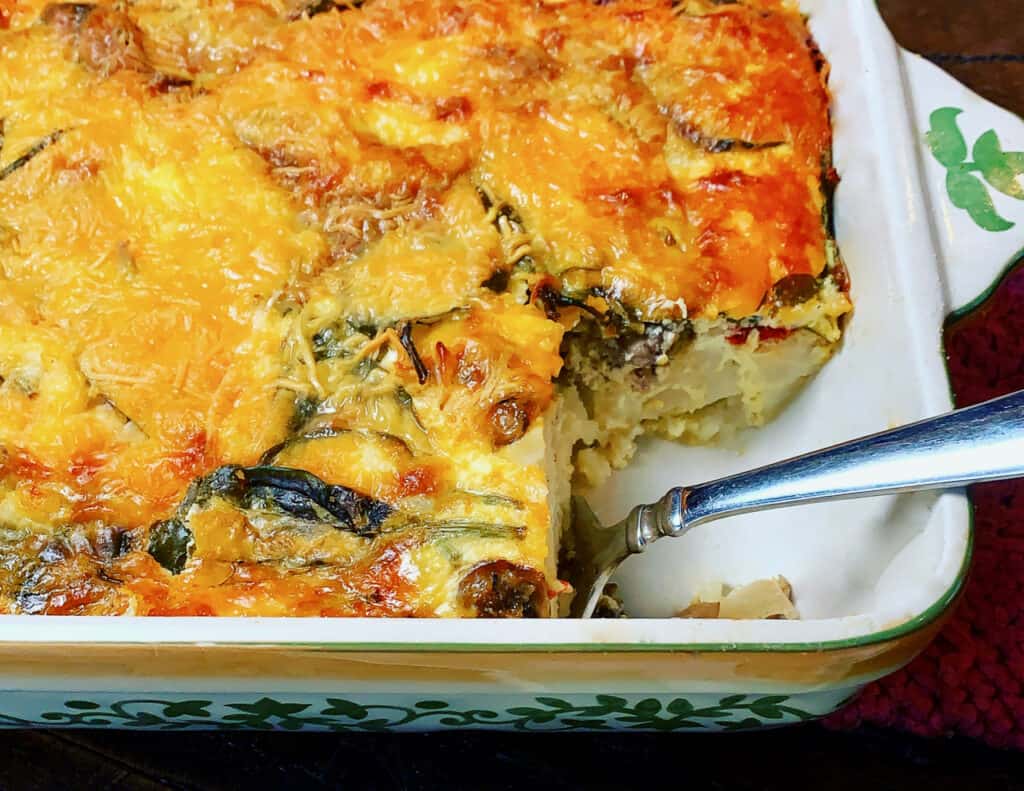 There's nothing like having breakfast ready in the morning. Other than a little heat up time, this is a game changer to rise and shine, especially on the weekends. It took a few times to get this recipe just right, so I hope you enjoy this truly loaded breakfast casserole with sausage, eggs, and cheese!
There are so many recipes in print and online for breakfast casseroles and I tried several of them. All very good too. However, I wanted to add things here and take some other ingredients out there. What I found was that my husband and I do enjoy the addition of hash browns, but we wanted less of them than most recipes called for. We also like our hash browns 'browned' and not uncooked as all recipes indicate. Just too mushy for us!
We love our sausage, so we doubled it. Since our favorite sausage for breakfast is Jimmy Dean "Sage" flavored sausage, we had to add that. But for that extra Italian flavor, the second half of the sausage had to be Italian sausage! Perfetto!
I also added a layer of roasted red peppers, a layer of sauteed mushrooms, and a layer of baby spinach. Lots of cheese was added in several layers: mild cheddar (it melts better than sharp cheddar), parmesan, and mozzarella. But you can use whatever combo of your favorite cheeses too.
Lastly the herbs and spices to finish this off include: garlic, onion powder, basil, oregano, salt and pepper.
My husband just loved this breakfast casserole! And he is one picky, picky eater!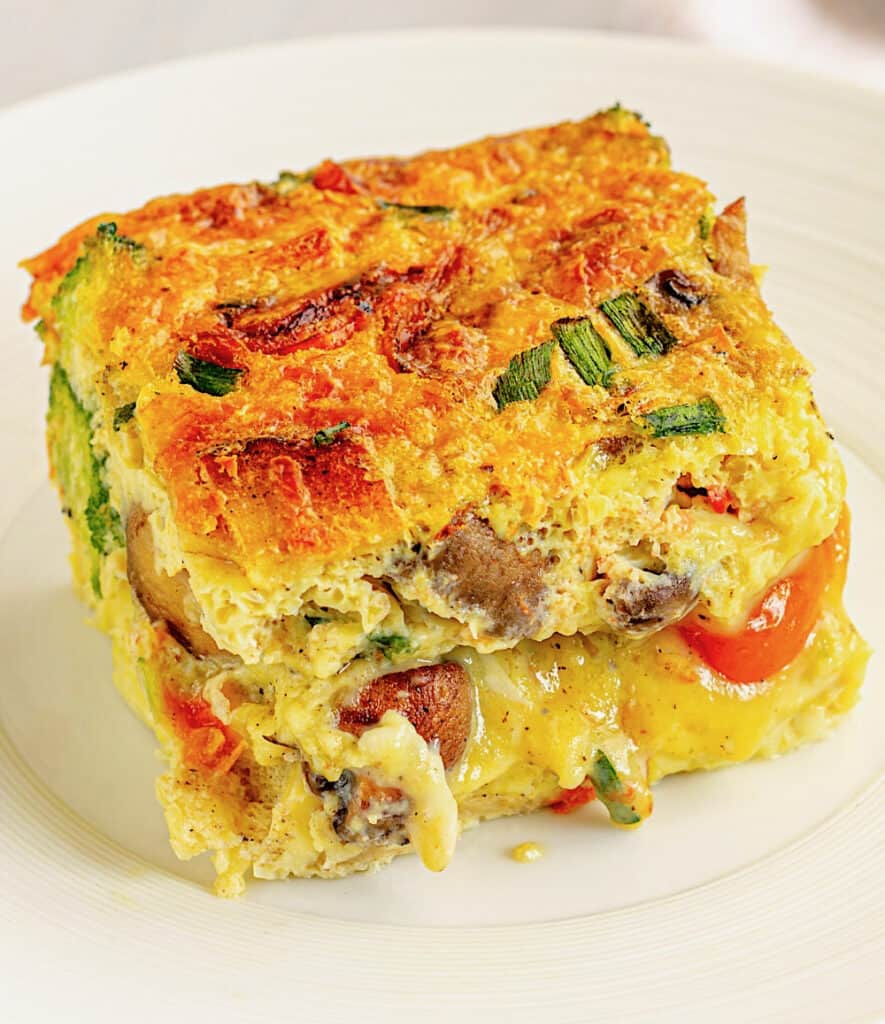 What you need for a delicious breakfast casserole!
Eggs – To me, free-range are the best eggs, but they are pricey. Use the eggs that you prefer that are really nice and fresh. My daughter raises chickens, so I'm lucky that she gives us eggs for free from 'her girls'.
Cheese – Cheddar is the dominant flavor used in most breakfast casseroles, but to make this more interesting, add Parmesan, Gruyere, Mozzarella, even goat cheese. Use Pepper Jack cheese for a nice kick in heat! The choice is limitless!
Milk and/or Cream – I use whole milk whenever I cook. My husband and I just don't like the watered down consistency of any other type of milk. Use lactose-free if necessary.
Meat Protein – We love our pork ingredients, so sausage and/or bacon are a protein must. Pancetta is also awesome too! You can also use ham. If you prefer more 'heat' in your protein, use Spicy Italian Sausage, or chorizo. Some casseroles even add salmon.
Veggies – Mushrooms, red or green peppers, broccoli, tomatoes, asparagus, sun-dried tomatoes, onions, and whole capers. For a more spicy-hot breakfast casserole, mix in diced pepperoncini, chopped up jalapeno peppers, sliced or chopped yellow banana peppers, and whole capers. Slices of avocados are great when serving the breakfast casserole, but not baked inside of it.
Herbs and Spices – Garlic, onion powder, basil, oregano, and sage are delightful in a breakfast casserole. For southwestern breakfast casseroles, offer salsa when serving.
For a more low-carb/Keto version, eliminate the potatoes.
Products that will help you in your kitchen with this recipe!
PIN FOR LATER!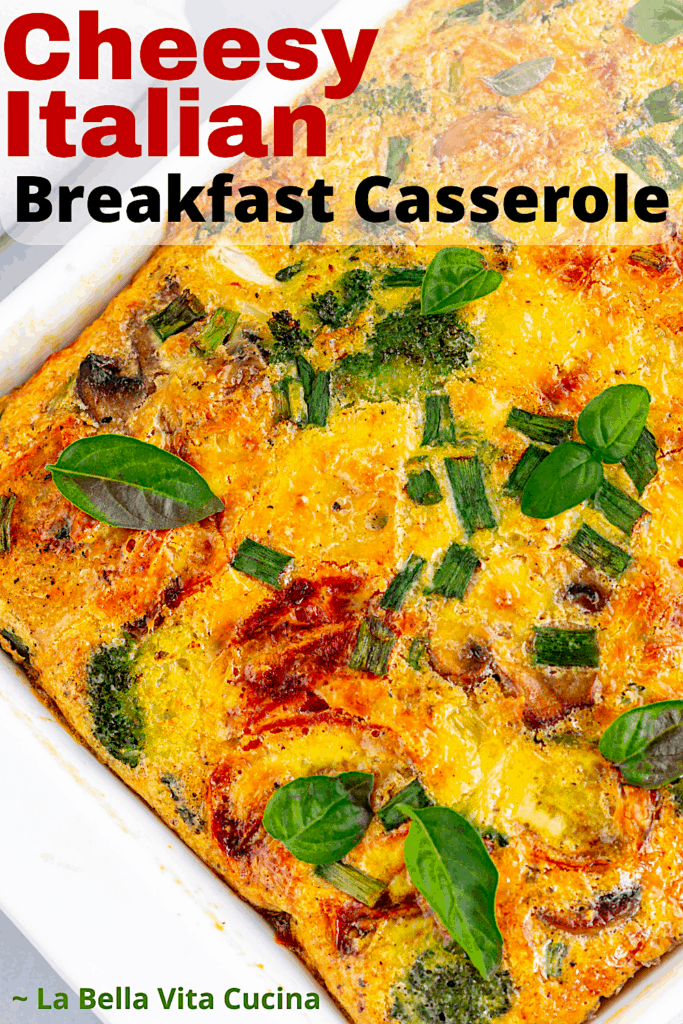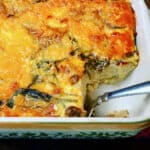 Cheesy Italian Breakfast Casserole
Author:
Prep Time: 30 minutes
Additional Time: 10 minutes
Cook Time: 1 hours
Total Time: 1 hour 40 minutes
Yield: 10 servings 1x
Category: Breakfast & Brunch
Cuisine: American and Italian
---
1 whole package of Jimmy Dean "Sage" Sausage
1 lb. Italian sausage (spicy is fine if you prefer it)
16 oz. cubed hash brown potatoes
1/2 stick butter
1 onion, chopped
2 baskets of sliced mushrooms
2 – 8 oz. jars roasted red peppers (use fresh/frozen if you have them), drained and chopped
1 small bag of baby spinach
10 jumbo eggs
2 cups whole milk
1 cup half and half, or heavy cream
3 cups mild cheddar cheese, grated (leave 1 cup to the side and use alone to top the casserole)
1 cup parmesan cheese, grated
1 cup mozzarella cheese, grated
2 tsp. garlic powder
1 tsp. onion powder
1 tsp. dried basil
1/2 tsp. dried oregano
1 tsp. salt (yes, this really needs some salt)
1 tsp. pepper
---
Instructions
Prepare/bake the potatoes in the oven according to package instructions until they are nice and golden brown and crispy.
While the potatoes are in the oven, in a large skillet, brown the ground Italian sausage and ground Jimmy Dean (Sage) sausage.
After a good, dark browning, remove the sausage and set aside.
Add the butter to the pan.
Add the mushrooms and onion, saute in the butter until done (about 5 – minutes).
Spray a large 9″ x 12″ baking pan.
Begin to layer the ingredients.
Lay the baked, crispy browned potatoes in first
Mix all of the cheeses together (leaving 1 cup of cheddar to the side) and layer ½ of the cheese on top of the potatoes.
Divide the sausage mixture in half. Spread half of the sausage on top of the cheese and potatoes.
Layer the roasted red peppers on top of the sausage.
Layer the sauteed mushrooms and onions on top of the red peppers.
If you like: sprinkle a layer of grated cheese on top of the mushrooms and onions.
Layer the second half of the sausage.
Layer the spinach on top of the sausage layer, leaving a lot of openings so milk/egg/cheese mixture in the next layer will be able to seep through to the potatoes on the bottom.
In a large mixing bowl, combine the milk, cream, eggs, herbs and spices, and all the remaining cheddar cheese (except for 1 cup of cheddar cheese).
Pour this mixture evenly all over the top of the spinach layer.
Sprinkle the saved cup of shredded cheddar cheese all over the top.
Bake at 350 degrees for 50 minutes with aluminum foil covering the baking pan.
After 50 minutes, remove the aluminum foil and bake for another 10 minutes, keeping a very good close eye on the casserole so no burning takes place. If it begins to burn, remove it immediately. If it looks like it needs more baking, then do so while watching it closely.
Let the casserole rest for 10 minutes to firm up a bit.
Serve and enjoy!
---
.
Do you enjoy La Bella Vita Cucina?
We'd love to have you as part of our community!
Subscribe below to receive a FREE e-Cookbook and all of the latest recipes, travel tips, and gardening ideas straight into your inbox!