How To Build a Bloody Mary Bar
One of the most welcome beverages for brunch (or any time of the day or evening) is a Bloody Mary! And if you're in luck, there will be a " build your own Bloody Mary bar "!
Everyone's tastes are so different. Some like them hot, others like them plain and simple, and then there are those of us who like a loaded Bloody Mary. So providing a Bloody Mary bar with lots of options for mixing and matching . . . well it just makes everyone happy, no matter how diverse their preferences.
Creating a Bloody Mary bar is very simple really. It just takes a little bit of creative ingenuity and some time to set things out in an enticing presentation. Take ingredients OUT of their jars and cans and into nice bowls, trays, and carafes. But if you don't have many of these, that's ok too. The point is to have lots of delicious options!
Let's start with the fun stuff to build a Bloody Mary bar!
The GARNISHES!!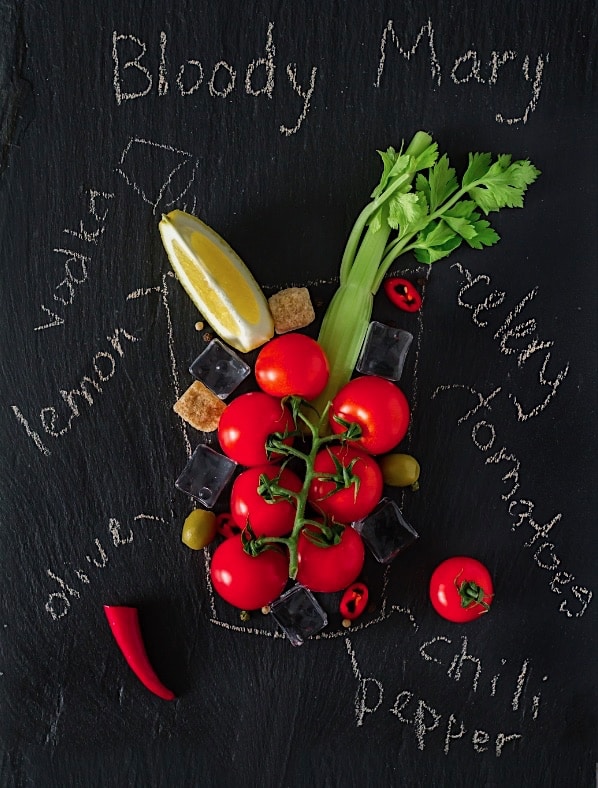 The BASIC Must-Haves :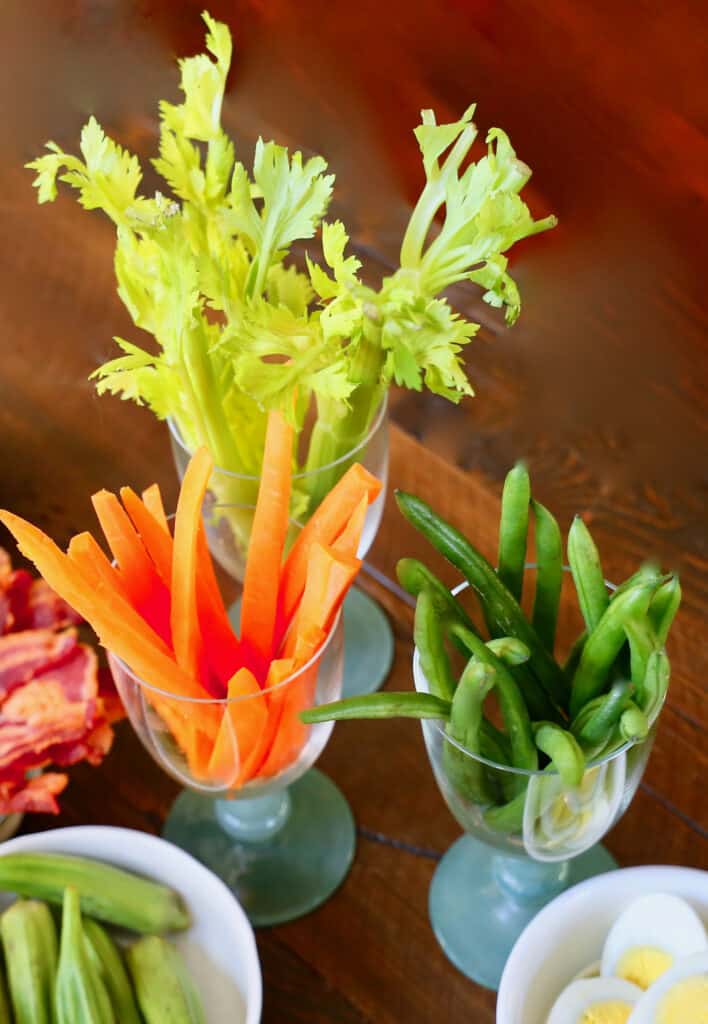 Celery stalks WITH the leaves ON
Carrot sticks
Limes
Lemons
Green olives
Then add the extra goodies on your Build a Bloody Mary Bar: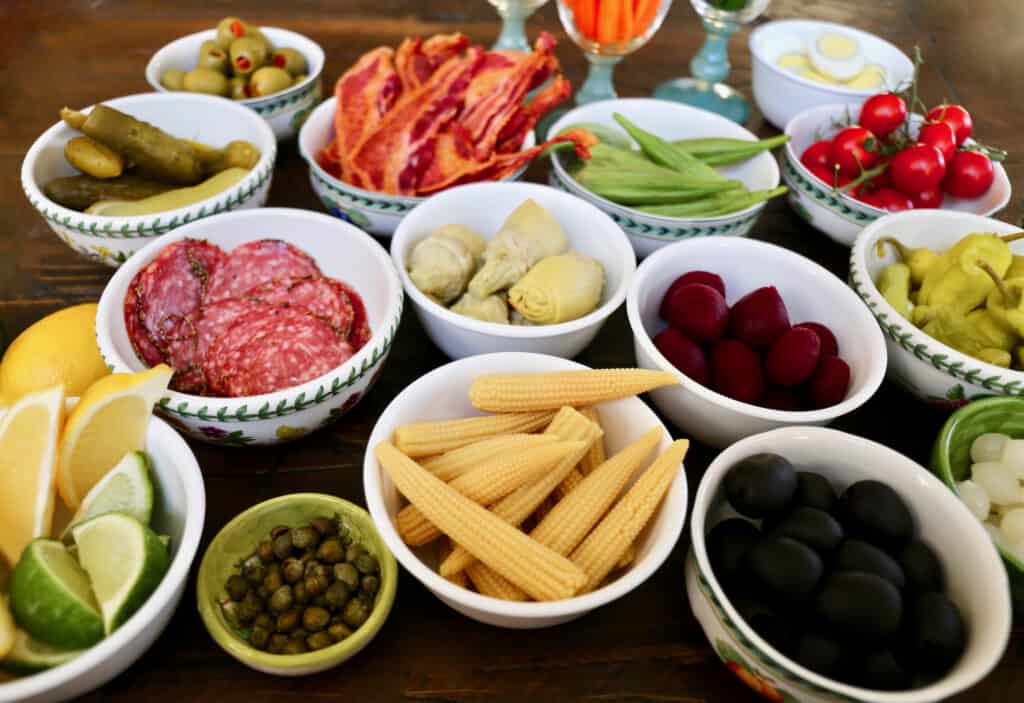 Pickle spears
Mini gherkin pickles
Pepperoncini
Cherry tomatoes
Black olives
Pickled asparagus
Fresh green beans
Pickled beets
Pickled jalapeños
Baby corn
Artichoke hearts
Large caper berries
Marinated cocktail pearl onions
Okra
Cucumber slices
Garlic cloves
Offer protein options: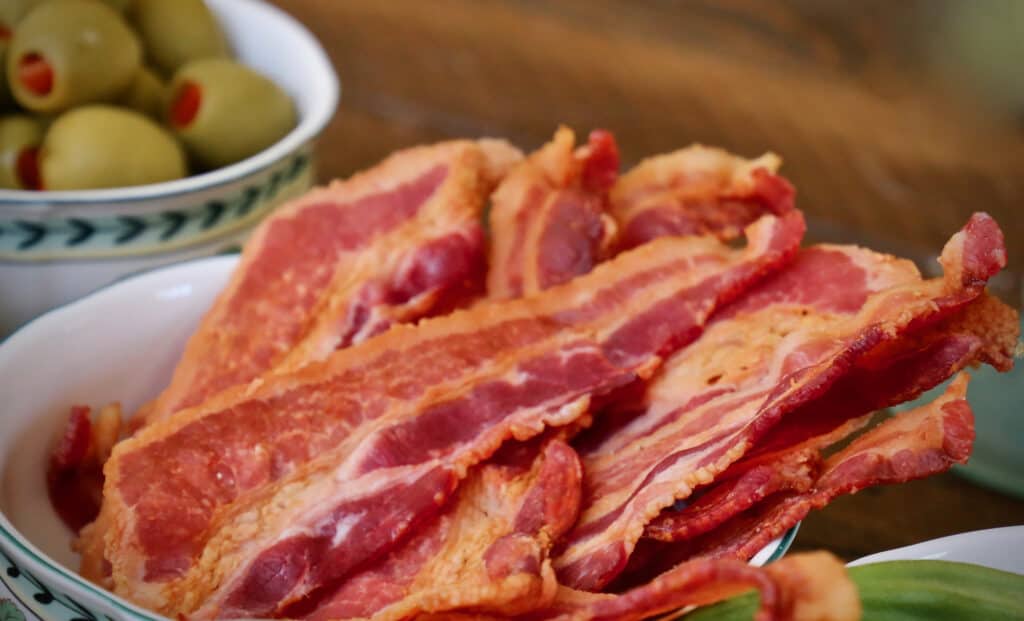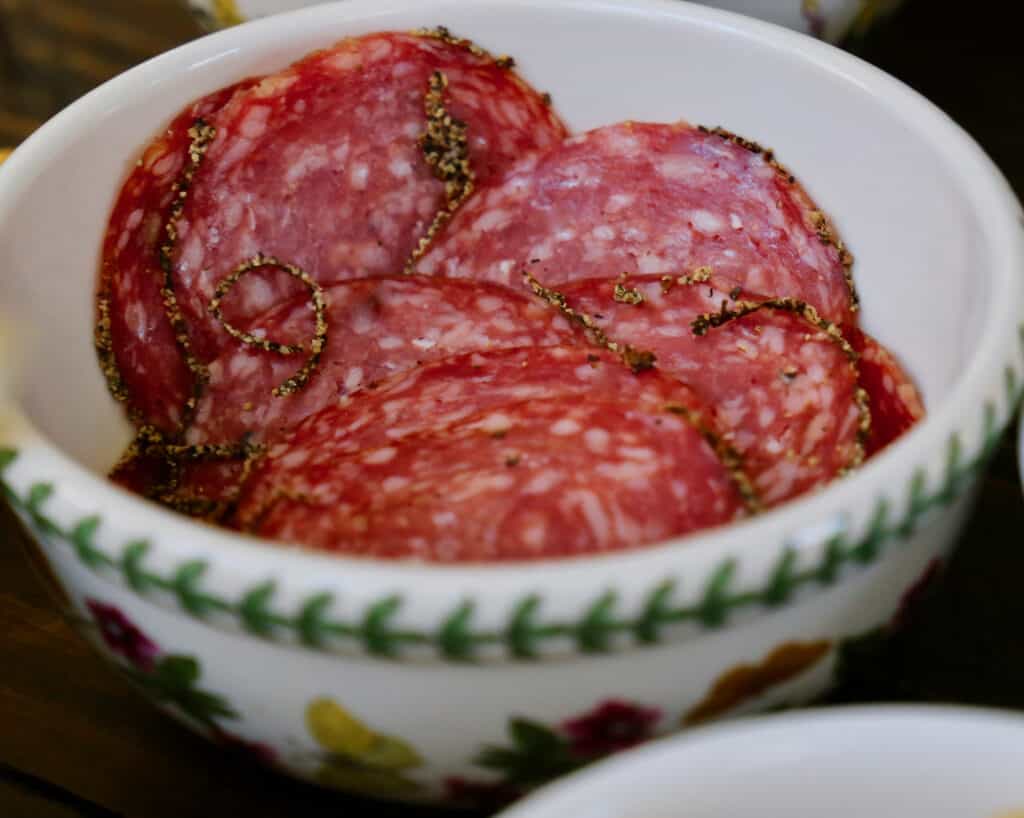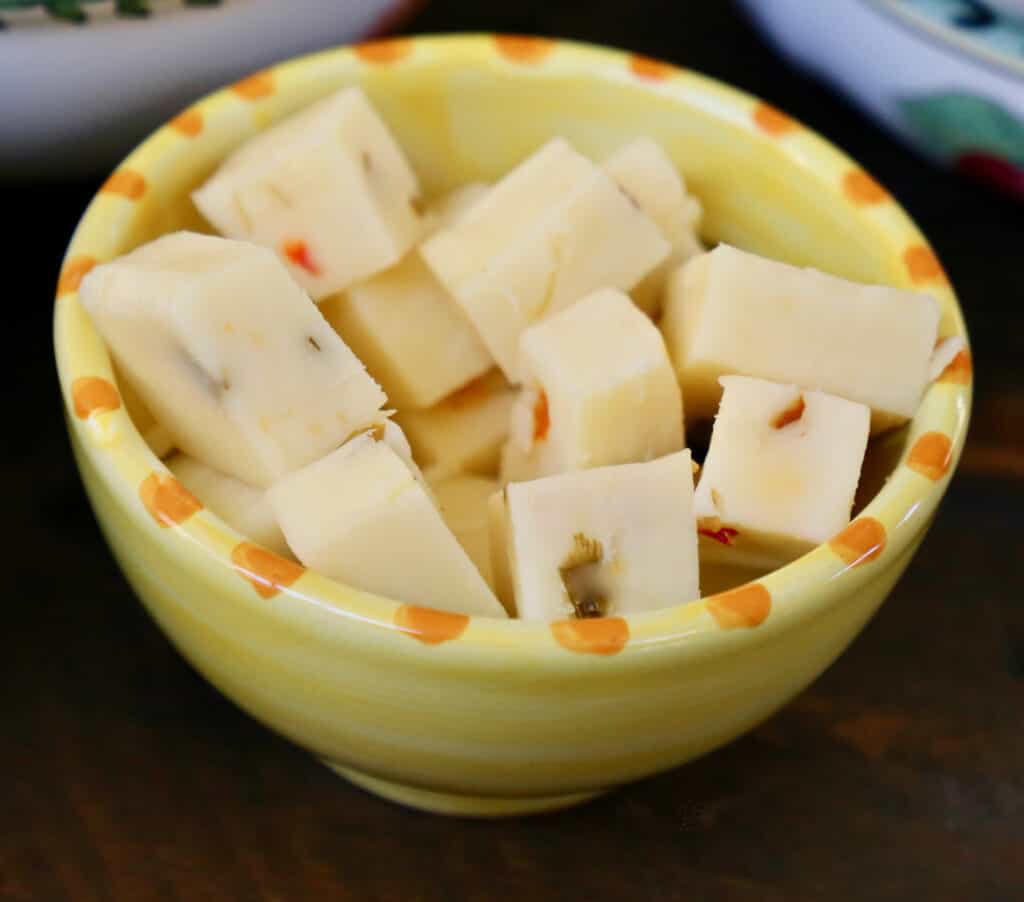 Cooked, THICK, smoked bacon
Cooked shrimp
Hard-boiled eggs
Sliced hot salami or soprassetta
Chunks of cheese (I use Pepper Jack)
Crumbled blue cheese or feta cheese
Cubes of cooked steak
Provide liquid flavor options on a Build a Bloody Mary Bar: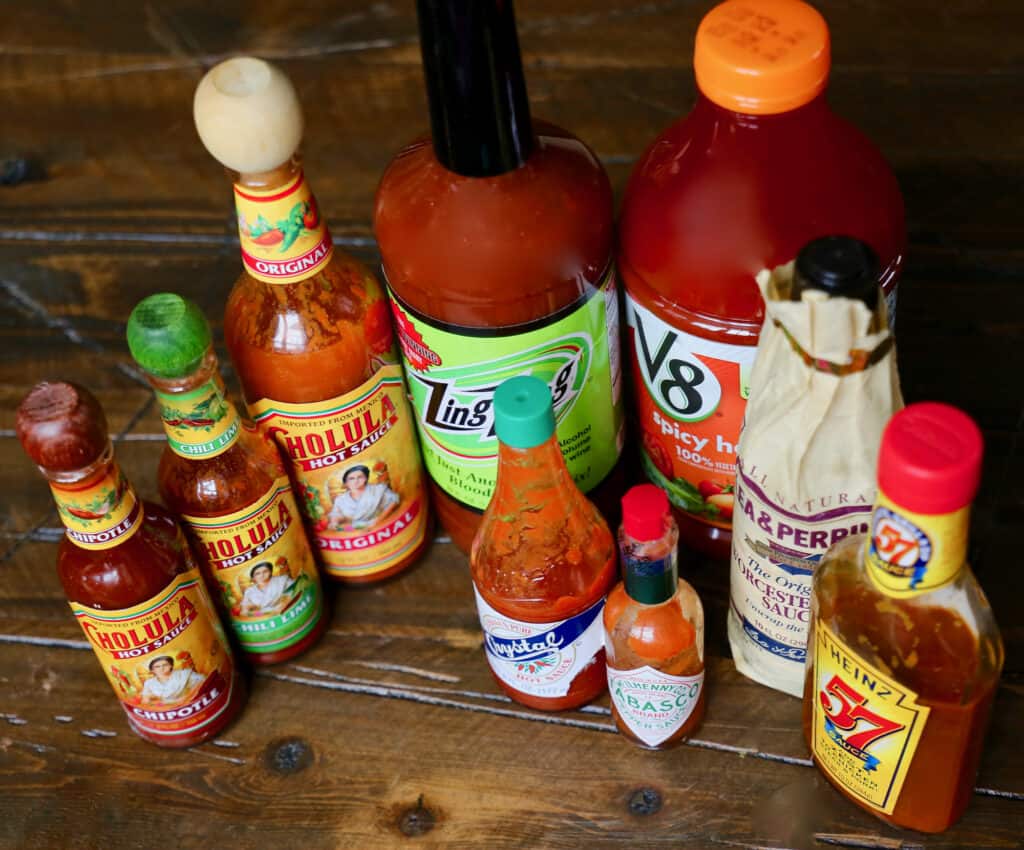 Tobasco Sauce
Frank's Hot Sauce
Worcestershire Sauce
Horseradish Sauce
57 Steak Sauce
Louisiana Hot Sauce
Siracha
Cholula
Pickle juice
Green Olive juice <—- Very difficult to find in stores!
Lime juice
Lemon juice
Don't forget an array of dry seasonings: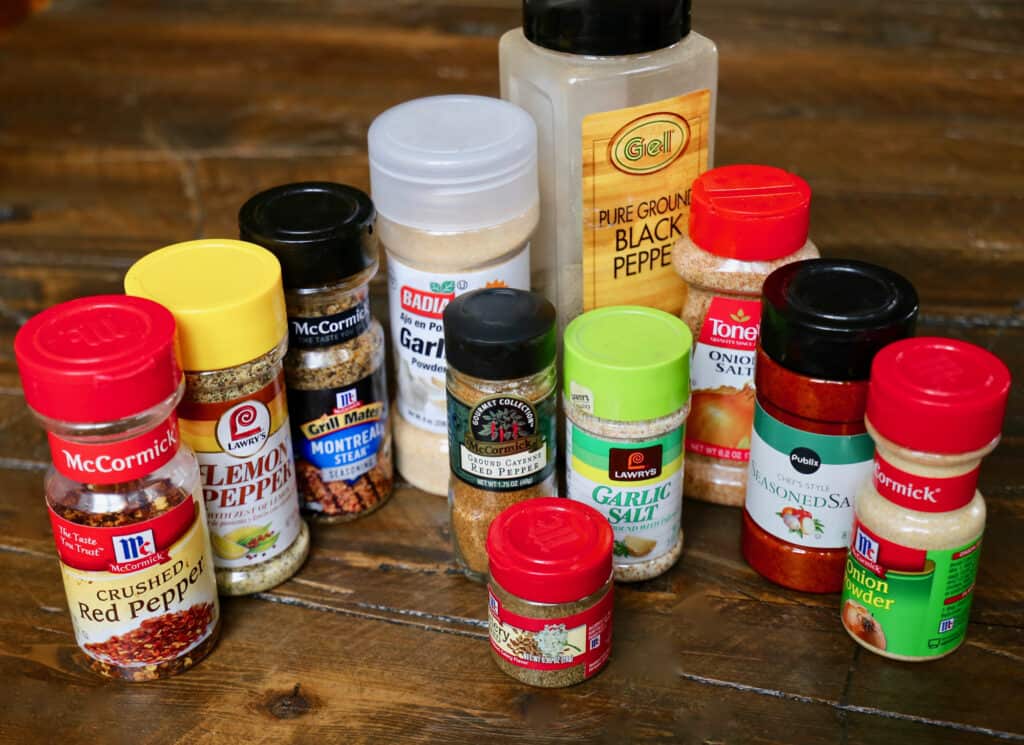 Celery salt
Garlic salt
Lemon pepper
Freshly ground black pepper
Seasoned salt
Coarse sea salt
Garlic powder
Onion powder
Paprika
Red pepper flakes
Include a variety of juices:
Regular unflavored tomato juice
V-8 Juice, both hot and spicy and unflavored
Here are some great products that you'll love when preparing your Bloody Marys!
PIN FOR LATER!
Print
Roz's ULTIMATE Bloody Mary
Author:
Total Time: 0 hours
Cuisine: American
---
8 oz. spicy Bloody Mary mix (Charleston Bold and Spicy or Zing Zang)
2 medium tomatoes, diced
1 cup crushed ice
1/2 tsp. creamy hot horseradish
1/2 Tbsp. Worcestershire sauce
1/4 tsp. Tabasco sauce
several dashes Cholula chili lime hot sauce
several dashes Cholula chipotle hot sauce
several dashes Sriracha hot chili sauce
pinch of celery salt
pinch of garlic salt
pinch of onion salt
1/4 tsp. freshly-cracked black pepper
Spicy Rim Mixture
Several pinches of wasabi powder
1 Tbsp. Mrs. Dash extra spicy seasoning blend
1/2 tsp. ground red pepper
Skewer Garnish options:
Large stuffed green olives
Large black olives
Pickled okra
Chunks of cheese
Pickled beets
Cooked shrimp
Hot pepperoncini
Celery stalks with leaves
Lime and Lemon wedges
Dill pickles
Pickle asparagus
Garnish: Crumbled Gorgonzola cheese
---
Instructions
Prepare garnishes first so that they are ready when the Bloody Mary is completely blended OR if using a Bloody Mary Bar, then allow guests to assemle their own garnish skewers.
Pour desired amount of vodka in each glass.
Add tomato juice of choice.
Add any garnish, season, spice preferred.
Taste and add more of your preferred ingredients.
Dip the rim of a glass into about a quarter-inch of water or olive oil poured on a small plate.
Then mix the rim mixture on a small plate.
Dip thew wet rim of the glass into the hot and spicy rim mixture and twist.
Pour the Bloody Mary mixutre into a glass and garnish with bacon slices, celery stalks with leaves, carrot sticks, and skewered olives, pickled okra, cherry tomatoes (whatever you like).
Sprinkle gorgonzola crumbles on top.
---
.
Do you enjoy La Bella Vita Cucina?
We'd love to have you as part of our community!
Subscribe below to receive a FREE e-Cookbook and all of the latest recipes, travel tips, and gardening ideas straight into your inbox!
PIN FOR LATER!