#4 Ranked U.S. Restaurant: Hall's Chophouse, Charleston PLUS RECIPE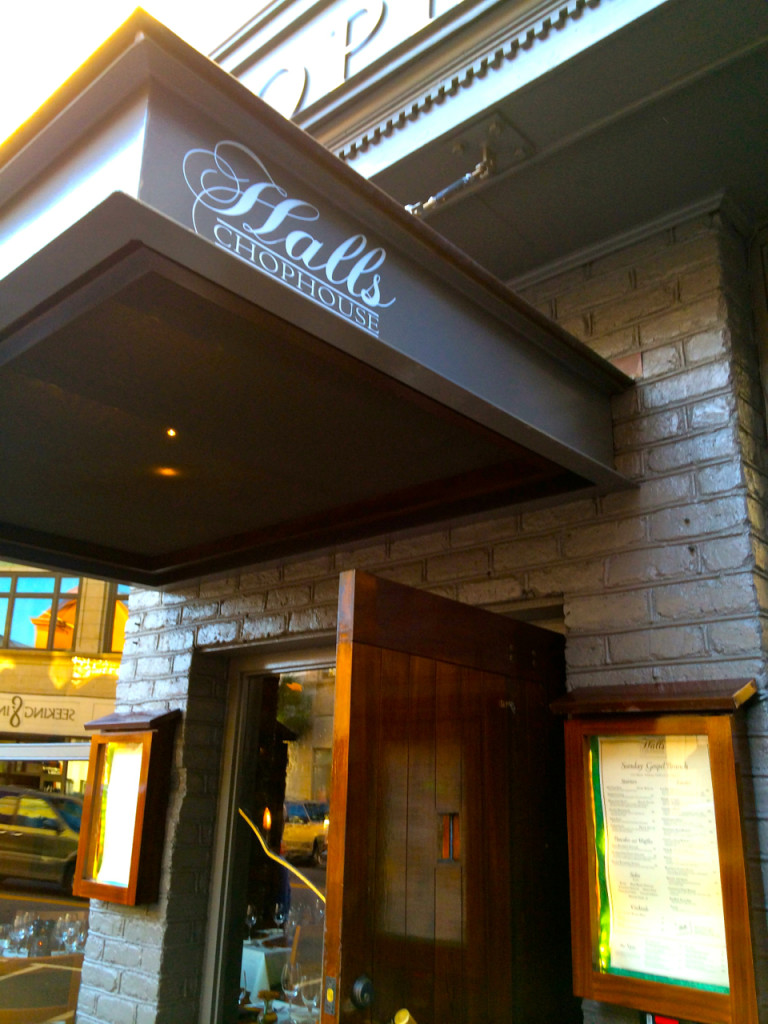 If you think the only top steak houses in the U.S. are in Chicago, Kansas City, or Las Vegas, you would be VERY remiss not to know that one of the elite top 4 U.S. steakhouses is in little, tiny, South Carolina (population less than the entire metro-area of Atlanta!). Small in size, but packed with food flavor, culture, and history, this small state knows how to do food very, VERY well.
And since it's my birthday, like any other birthday, anniversary, or Valentine's Day, my husband and I ALWAYS do steak. We splurge! We don't eat expensive, high-fat, and high-calorie steaks every day. We save the best steak dates for top-notch steak houses. Sorry, no family chain eateries from Australia, or anywhere like that . . . only local and only the best.
It's our gift to each other. We don't even do presents anymore at our age. Just great dining out experiences!
So, this post originally was shared in 2014 and since then we've dined at Hall's several more times. So it's time to do an update in 2021!
We're uber-picky when it comes to food and dining! It's our family's fault! So blame it on them! Coming from an Italian family who founded one of the best Italian restaurants in the Midwest, at a time when Italian food was relatively misunderstood other than failed imitations of rubbery pizza and spaghetti-O's from a can, I was raised to recognize quality recipes and dining experiences when they rarely presented themselves . . . especially in the Midwest (outside of Chicago) where I was raised in Iowa. So you've come to the right place if you're looking for a review of the #4 Ranked U.S. Restaurant: Hall's Chophouse, Charleston PLUS RECIPE !
Fast forward to our move to South Carolina 25 years ago!
One can easily and rightfully ask: "Just where is there to dine in South Carolina, other than in superb Southern BBQ joints, or 'cafeteria-style diners' boasting 'meat and 3 menus' and "fried fish camp" restaurants — all of which have predominated and achieved success in South Carolina (and all primarily offering cream of mushroom soup-based side dishes and unhealthy fatty entrees) . . . sorry, but I speak foodie-truth!
Don't get me wrong, when the mood is right, we are ALL FOR piggin' out at Southern football tailgates, fat-overload church casserole potlucks, or family and friend get-togethers during which calorie concerns are thrown to the Southern wind!!! And we have the extra muffin-top poundage to prove our love for Southern cuisine!!! It's' like no other! We love it, but it does not love our waistlines.
Well, to many fine diners, Charleston, South Carolina has certainly made its way into the top places to not only visit, move to and live in but also now to DINE in the entire United States!
Amazingly, in this little Southeastern state of South Carolina, there are now TWO restaurants that have made the top 25 eateries in the entire U.S.A., and that which are now included among the top recognized best eating destinations of this country: New York City, Chicago, and Los Angeles!
Now that's a BIG DEAL!
The city of Charleston is now ON THE MAP for foodies and those who enjoy great dining experiences! Those folks involved in this evolution deserve these accolades after years of hard work and dedication! Once home to the Johnson and Wales Culinary School, many of the chef-instructors never left Charleston and stayed in the city that they loved, making successful names for themselves in the highly competitive world of great dining!
And we, in South Carolina, are so glad that they stayed. In fact, in my humble opinion, I think it was an error on the part of Johnson & Wales to move to Charlotte, NC simply on the basis of population!
Small is sometimes BETTER! And Charleston has proved that the restaurants would not only survive but truly THRIVE AND FLOURISH without Johnson & Wales!
One of the best, most infamous places to enjoy a delicious dinner in Charleston, especially a steakhouse experience is at Hall's Chophouse! Seriously ranked #4 in the United States, we guarantee that this eatery truly lives all the way up to the reputation that it has been awarded among its loyal clientele!
And to much delight to those foodies who live in the "Upstate" region of South Carolina, Hall's of Charleston has recognized this high growth area in SC and opened up its second location in Greenville, SC! My husband and I have our next anniversary reservations already placed at Hall's of Greenville, to celebrate our special occasion!
What impressed us the most was the incredible attention given to ANY of Hall's clientele, including my husband and me, who are total 'unknowns' in the society of Charleston, despite being on the faculty at Clemson and the University of South Carolina. We were graciously greeted by the owner, Mr. Billy Hall, who welcomed us to his establishment, who later stopped by our table to ask how everything was to our satisfaction (the manager also did the same), who graciously shared complimentary glasses of champagne to students celebrating their college graduations, and finally, at the very end of the evening, who gave a hug prior to exiting the restaurant and thanking us for dining at Hall's.
Now if that isn't great customer attentiveness then spank me, silly folks!
Being a marketing professor and a child of the food and entertainment industry, don't think that these small touches go unnoticed! Nowhere in New York City, Maui, Hawaii, Los Angeles, Chicago or Rome, Italy have we EVER received such a touch of kindness, graciousness, and THANKFULNESS!!!!! And that is a BIG DEAL and certainly contributes to Hall's rise to its culinary fame.
But what about the food, you've just GOT to be asking? Well, if you love fine high-end steakhouses, as my husband and I do, then you'll appreciate the mouthwatering Midwestern corn-fed beef cuts offered at Hall's Chophouse. . . in addition to grass-fed bison steak and pork options as well as a few fish entrees. Portions are as large as 22-ounces for a whopping $85.00, but today our aging tummies need to settle on smaller cuts of 8 oz. filets . . . of which we enjoyed THOROUGHLY and still needed take-home containers for awesome left-overs that we simply could not leave for making delicious sammies the next day! There was no way that we'd allow that level of deliciousness to end up being discarded!
Their FAMOUS PEPPER JACK CHEESE CREAMED CORN was unbelievable and we normally don't eat creamed corn! This, however, is now a keeper recipe for us! I found the recipe online and am sharing it with all of you!
And for the ultimate dessert to end a perfect evening, a to-die-for bread pudding with Praline Whiskey Sauce . . . oh what I'd do to get my hands on this recipe! Your eyeballs are guaranteed to roll back into the back of their sockets once you tastebuds encounter this insanely delicious dessert! New Orleans, eat your heart out, you can't top this bread pudding!
So take it from us, two Midwesterners and discriminating foodies who moved to South Carolina: the wonderful places to dine when in historic Charleston, and Greenville, S.C. are truly 2 of the top-ranked dining establishments in the U.S.A., Hall's Chophouse (ranked #4) and Circa 1886 (ranked #12 . . . see photos and menu from a previous post).
Mangia e' Buon Appetito!
In the video above on "Friday Favorites", my husband and I completely agree with her recommendations to have breakfast at "Millers All Day" (outstanding breakfast served all day), to stop in for some great sweet cupcakes at "Sugar" (we bought one red velvet cupcake and one carrot cake cupcake — both sublime!), and of course to dine for the perfect steak dinner at Hall's Chophouse (drooling just thinking about their food)!
Print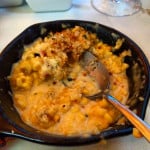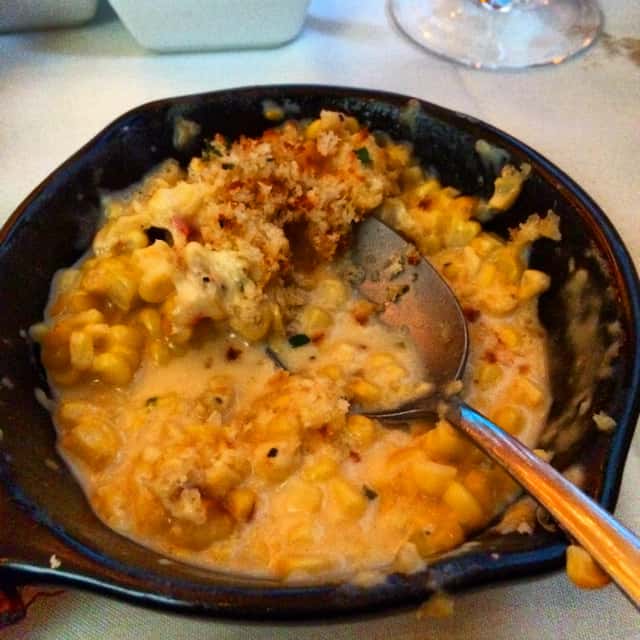 Pepper Jack Cheese Creamed Corn
Author:
Prep Time: 0 hours
Additional Time: 0 hours
Cook Time: 0 hours
Total Time: 0 hours
---
8 ears white corn, in husks
1/4 pound salted butter
1/2 cup all-purpose flour (substitute rice flour for gluten-free)
2 cups (1 quart) half and half
1.5 cups 2% milk
1/2 small onion, cut into small dice (approximately 1 cup)
1/2 red bell pepper, cut into small dice (approximately 1 cup)
2 cloves garlic, minced
1 cup grated pepper jack cheese
1 cup sharp yellow cheddar cheese
1 tablespoon Crystal hot sauce
1/2 teaspoon grated nutmeg
salt and pepper to taste
2 tablespoons salted butter
1/2 cup panko bread crumbs
1/4 cup chives, diced (optional)
---
Instructions
Arrange rack in oven to the center.
Preheat oven to 350 degrees; arrange corn in its husks in a single layer and roast corn for approximately 35-40 minutes.
While the corn is roasting, melt ¼ pound of butter in a large pot over medium-low heat.
Add red bell pepper, onion and garlic and saute for at least 10 minutes until onion is transluscent and red bell pepper is soft.
Whisk in flour until it is evenly distributed and incorporated into the pepper/onion/garlic mixture.
Slowly add milk and half and half, whisking vigorously to combine.
Reduce heat to low and simmer until sauce is thickened, approximately 45 minutes.
Add hot sauce and stir until combined.
Add grated cheeses slowly and nutmeg.
Season with salt and pepper.
Remove from heat and let cool slightly.
Remove corn from oven when done but do not turn off the oven.
Let corn cool slightly before removing from husks and cutting corn off of the cob.
Add corn to approximately 4 cups pepper jack sauce in a large bowl and stir gently to incorporate (add more to taste if necessary, and freeze remaining pepper jack sauce for later use).
Pour corn mixture into a greased ovenproof casserole dish.
In a small skillet, melt 2 tablespoons butter over medium-low heat and add panko bread crumbs, stirring continuously until bread crumbs are golden brown and toasted.
Sprinkle bread crumbs on top of corn mixture and place in oven an additional 10-15 minutes.
Garnish with diced chives, if desired.
Serve immediately.
---
Notes
Just amazing! This said from a non-fan of creamed corn!
We hope that you enjoyed this restaurant review #4 Ranked U.S. Restaurant: Hall's Chophouse, Charleston
PLUS RECIPE !