How to Make a Simple Strawberry Rhubarb Sauce
Spring in the South comes earlier in the U.S. so strawberries and rhubarb are ripe and ready to enjoy this very day! With all of the rain this year, they're sure to be extra juicy! So go pick up a couple of buckets and let's get pickin'. And then I'll show you how to make a simple strawberry rhubarb sauce!
So we're off to the local strawberry patch that just opened yesterday! The owners said that this year the berries took two weeks longer to ripen due to the colder and longer winter than normal in the South. But patience is a virtue, right?
I knew exactly what I was going to prepare with this oh-so tender batch of strawberries when I got back.
Our acreage is out in the country about 10 miles away from the strawberry patch farm. It's owned and run by several Mennonite families. People wait patiently every spring for the first berries to ripen and go up for sale.
We made it on opening day this year!
Strawberries peaking out from under their leafy roof, saying "pick me, pick me!"
So where's the rhubarb, you may be asking?
It's in our home garden! And they are just mammoth in size!
This is just one of the raised garden beds of rhubarb in our kitchen garden right outside the door to my cucina. Rhubarb plants are IMMENSE, to say the least, and take up tons of space. But look what's under those gigantic leaves?
Beautiful pinky-red stalks of sour rhubarb!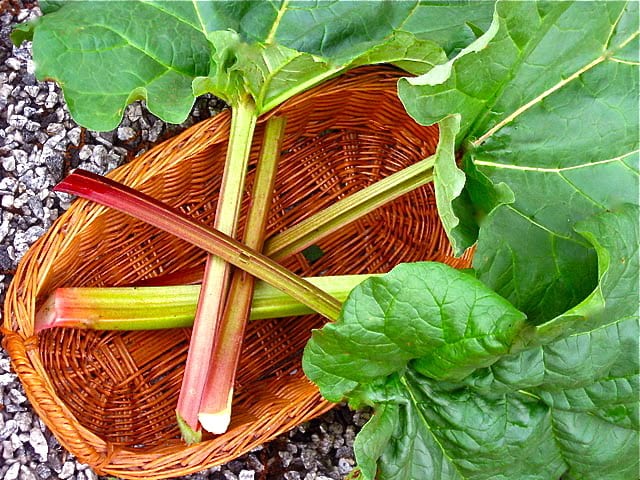 I have a favorite garden basket that I always use to fill with whatever is being harvested that day.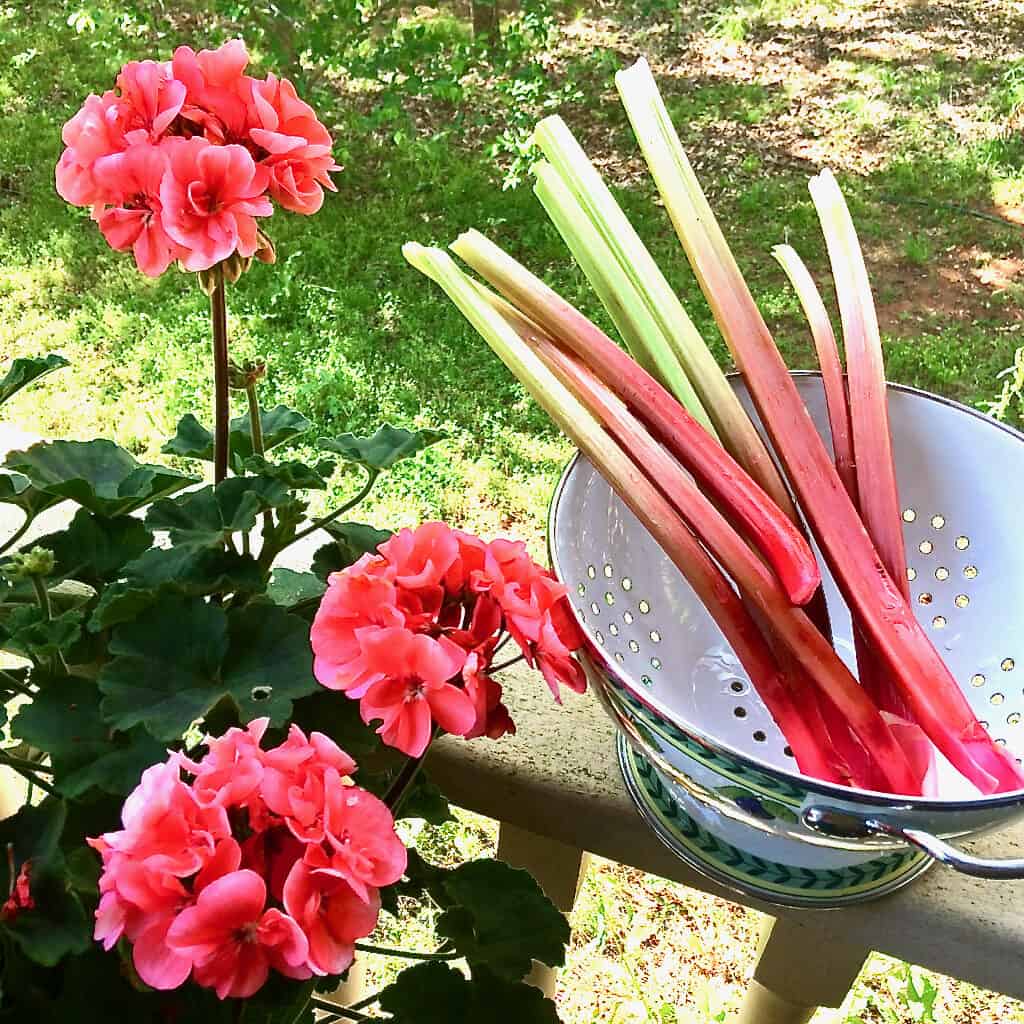 Now let's get back inside the kitchen and pour a cup of tea or a glass of wine
Just look at that vivid crimson red color! Eye candy!
Remember to cut off the leaves of the rhubarb, because they are poisonous. Don't forget to throw them away too.
Preparing Strawberry Rhubarb Sauce
Use about 50 – 50 (half each) of fresh strawberries and fresh rhubarb.
Use 1 cup of sugar per 16 oz. of fruit, and ALWAYS add more sugar if you prefer it sweeter. Don't feel guilty about it because rhubarb is extremely sour.
Add a half teaspoon of vanilla or almond extract.
Cook the rhubarb first and then add the strawberries because the rhubarb is tougher and needs more time to break down. So add the strawberries after the rhubarb has cooked on the stove for 10 minutes.
If you want a more smooth sauce, take an immersion blender and blend everything together after the cooking is over. If you like a more chunky sauce, then just take a large fork and press down randomly, but not entirely.
Some recipes call for either lemon or orange zest. I don't use either, but if you like it, add it.
How To Serve Strawberry Rhubarb Sauce
Served over ice cream
Served over buttermilk pound cake
Layered in a parfait!
Poured over pancakes along with maple syrup
Served over a strawberry bundt cake
Drizzled over a meringue pavlova!
Made into a beautifully layered strawberry, banana trifle with layers of strawberry rhubarb sauce
Poured onto a dessert plate with a slice of sweet strawberry pie placed on top of this 'pool' of sauce
Baked in an Italian crostata
Yield: 10 - 15 servings
Strawberry Rhubarb Sauce
Prep Time 15 minutes
Cook Time 15 minutes
Total Time 30 minutes
Ingredients
1 cup water
2 cups sugar
2 cups rhubarb, leaves removed and discarded, sliced into 1" slices
2 cups strawberries, hulled and sliced
1/2 tsp. vanilla or almond extract
Optional: 5 drops red food coloring
Optional: a teaspoon of lemon or orange zest
Instructions
Combine water, sugar, and vanilla (or almond extract) into a large saucepan.
Bring to a boil over medium heat.
Add rhubarb and cook for 10 minutes, stirring occasionally.
Add strawberries and cook for another 5 - 10 minutes until tender, stirring occasionally.
Add more sugar to your taste preference.
Remove the sauce from the stove.
For a smoother sauce, use an immersion blender and pulse the mixture until desired consistency.
For a chunkier sauce, use a fork to press down/mash the berries and rhubarb.
Allow to cool completely.
Serve using the ideas provided in this blog post.
Bon Appetito!
Do you enjoy La Bella Vita Cucina?
We'd love to have you as part of our community!
Subscribe below to receive a FREE e-Cookbook and all of the latest recipes, travel tips and gardening ideas straight into your inbox!