June is Mango Time – Delicious "How To" Recipes
Happy June! It's MANGO SEASON!
Alhough we enjoy mangoes year-round, they aren't quite as delicious as when they're perfectly at their peak when in season ~ ~ during the hot months of June and July. This delectably sweet, yet tangy and juicy fruit is truly the darling of the month!
Got mangos? Or . . . should I ask do you "want to cook with mangos?"
Look no further because here are some of the best recipes on the web! From sweet to savory, or savory to sweet, this collection of mango recipes will open your eyes (and your mouthes) on the various ways to enjoy this delightful fruit! Whether in a smoothie, in an entree, a salsa or a topping, mangoes work well in your seasonal summer recipes!
And of course, there's always a sweet tea bread that mango's flavor shines, or how about a milkshake or ice cream for a sweet summer treat? And don't forget to use mango creatively in your beverages! Mango pairs well with grilled fish and tacos and transforms boring, everyday snacks to another level of freshness and flavor!
Fun Facts About Mangos!
Fun Facts about Mangoes
~ Mango contains more sugar than most fruits
Now you don't have to wonder why they taste so amazing! One medium-sized mango contains 46 whopping grams of sugar and 200 calories. Whoaza! So if you're on a Keto or Low-Carb nutrition plan, well, you just might want to steer away from mangos . . . at least for awhile anyway.
That's because mangoes are full of natural fructose and fiber which don't have the same effects on our bodies as the empty calories of processed sugar have. Plus this super sweet tropical fruit contains huge amounts of Vitamins A and C, health benefits that are worth indulging on this delectable fruit.
~ India produces (and eats) more mangoes than any other country
Over 50% of global mango production comes from mangos' "native land" of India. Mango is also India's "national fruit" and often called "food of the gods" or "king of all fruit".
~ But Mexico is the leading exporter of mangoes around the world
Mexico grows a lot of mangos and is the global leader in exporting mangoes to the rest of the world, the bulk of which goes to the U.S.
~ The United States imports more mangoes than any other country in the world
We've got a serious culinary love affair going on with mangoes in this country! The U.S. imports 1/4th of the entire global mango production, whether fresh, dried, frozen, juiced or preserved.
~ Expert Tip: The outer skin of the mango is inedible!
Only eat the inner flesh, which is a yellow or deep orange color when ripe.
So you're in a food market and you see a display of mangoes . . .
HOW DO YOU KNOW WHEN MANGOES ARE RIPE?
Signs of Mango Ripeness:
Both ends of the mango are filled out.
Multicolored varieties will have a "blush" of color, changing from green to yellow.
The inner flesh next to the seed changes from white to yellow.
You can also pick mangos once they are mature but still firm. Bring them indoors and allow them to ripen out of the refrigerator. The skin becomes a bit softer and the mangos achieve full ripeness between a few days to one week. Once they become ripe, store the mangos in the refrigerator.
Here's a fabulous video on selecting ripe mangoes from Mango.org (even the background music is happy-happy!)
How to Cut Up a Mango
Another great video from Mango.org that's extremely helpful:
Let's get to our kitchens, shall we?
My #1 "go-to, never-fails-to-delight-tummies" mango recipe is simply MANGO SALSA! To whomever first created Mango salsa, we, all lovers of delicious recipes, are totally indebted to your imagination! Did mango salsa originate in Thailand where all recipes combine sweet, savory, and spicy together for a burst of flavor in every bite? Or India or the U.S.?
Who knows, but here's our top pick of all mango recipes: A delightful mango salsa that has endless ways to customize for your preferences. Whether served with tortilla chips or alongside an entree or as a topping for fish tacos, this salsa is simply the BEST!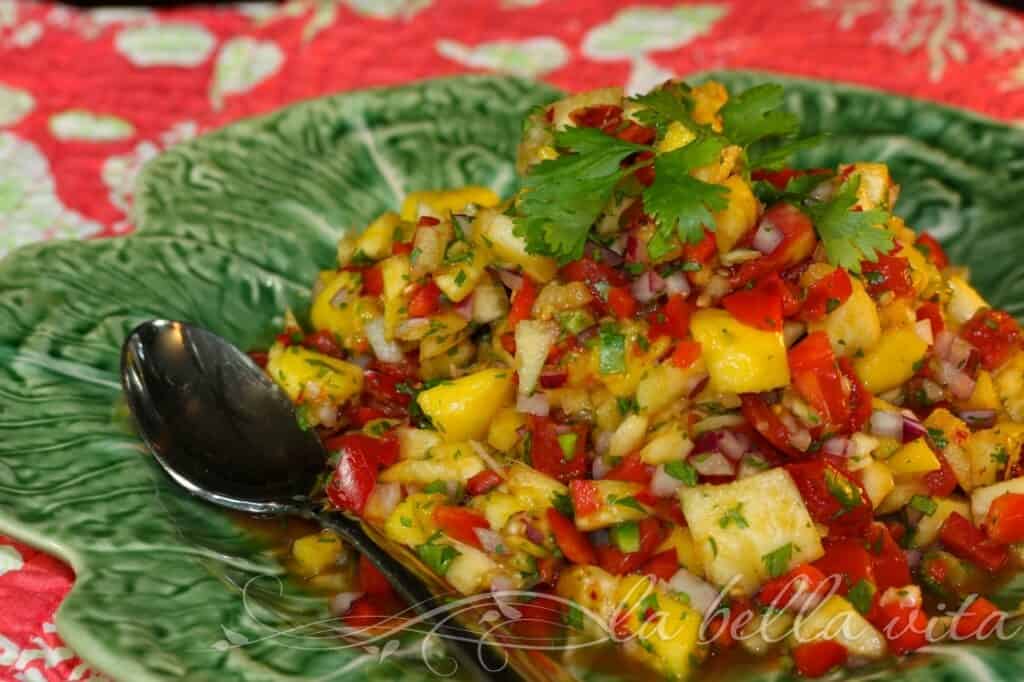 Get the recipe here -> Mango and Pineapple Salsa
Ways to Serve Mango Salsa
Oh my gosh, you must try this as a topping for grilled fish! It's out of this world, crazy-delicious. Even your pickiest eater will love this. It's just so fresh and chilled set on top or next to a fresh off the grill, hot filet of fish (salmon, swordfish, tuna, mahi mahi . . . whatever you enjoy).
If you have fish left over (or grill more than you need), then prepare some fish tacos and top each taco with mango salsa. Mmmm!
Serve mango salsa as an appetizer, either alone or alongside your other favorite salsas . . . and let your guests choose what they'd like. Have a good spread with a variety of tortilla chips, pita chips, and even mini-bell peppers cut in half to scoop up the mango salsa.
Pineapple, Mango and Ginger Smoothie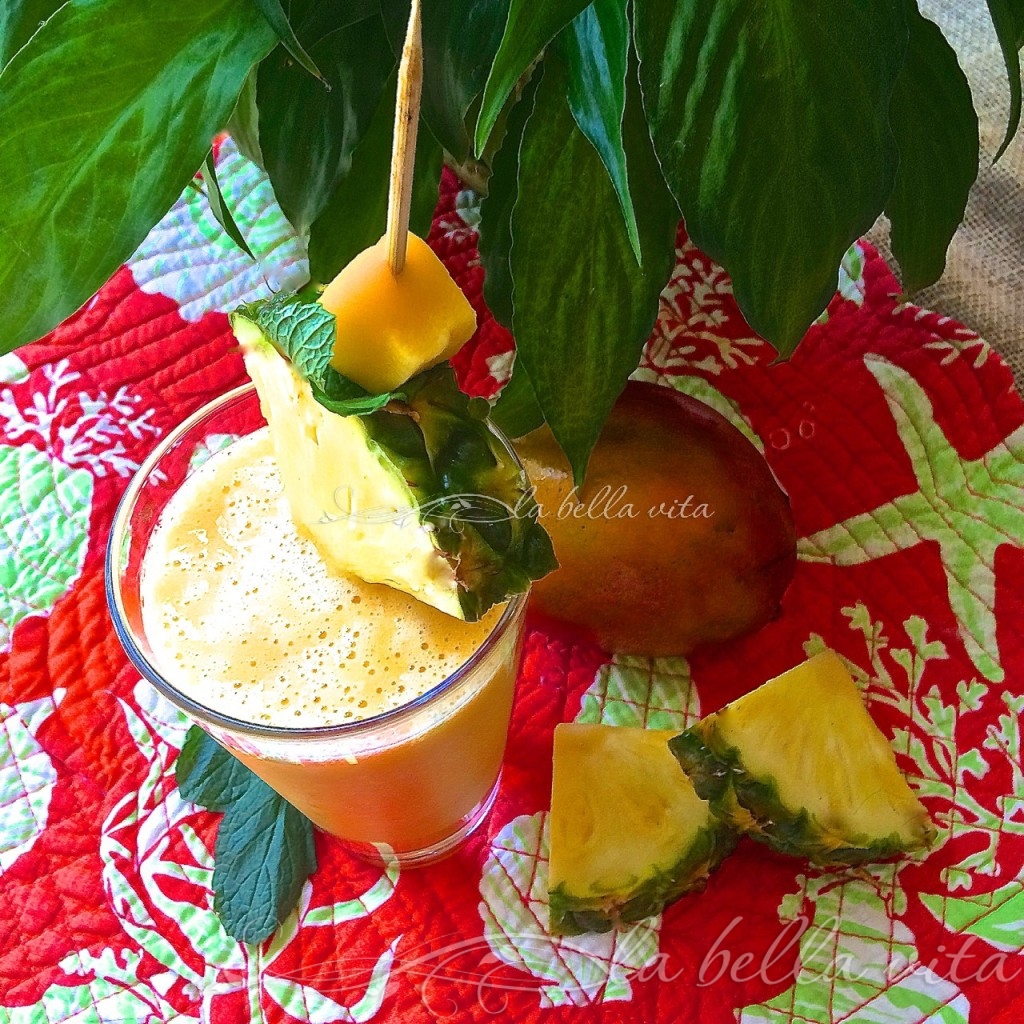 When sipping or slurping on this smoothie, you just might think that you're indulging on mango ice cream rather than a smoothie — how thick you make it with crushed ice will make all the difference. You might not be 'wow'ed' by the yellow puree color, but trust me, there's major flavor and creaminess going on in this smoothie! Don't let the plain color fool you.
Get the Recipe Here -> Mango and Pineapple Smoothie
Corn, Mango, and Black-Eyed Pea Salad with Lime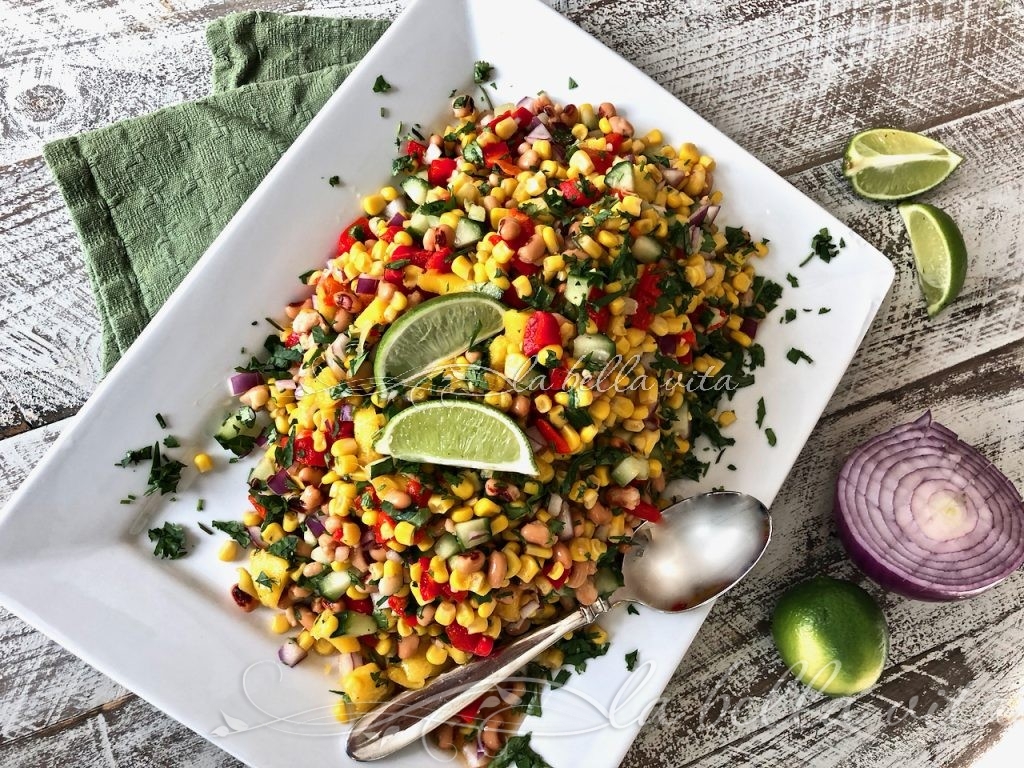 Who doesn't love a crunchy corn salad in the heat of summer? And only our creator would have thought to have corn, peppers, cilantro, and mango to be ripe and at the peak of their flavors at the very same time . . . and all to enjoy recipes such as this corn, mango, and black-eyed pea salad? Nature is a miracle isn't it (or she)?
Get the Recipe Here -> Corn, Mango, and Black-Eyed Peas Salad with Lime
When the weather heats up during the merry months of fresh mango, it's so wonderful to have a chilled salad that's also delicious and chock full of appetizing color. This mango salad was created by my blogging friend forever, MJ, from MJ's Kitchen , who has the most incredible feel for developing unique recipes that always delight (her chili is amazing!). Somehow mango just pairs so well with the bright colors of red, yellow, and green peppers!
Get the Recipe Here -> Mango and Jicama Salad
Thai Mango Sticky Rice with Creamy Coconut Milk
Sweet mango, sticky rice, coconut milk, and sugar come together to make this irresistible Thai dessert a dish that confirms how MANGOES just magically make recipes so much better! This recipe is from one of my all time favorite youTube foodies: Pailin Chongchitnant from "Hot Thai Kitchen", just one of the hands-down best youTube food videos on the planet. You'll love her and her recipes!
Get the Recipe Here -> Thai Mango Sticky Rice
One last note about mangoes:
Types of Mangoes & Their Availability
There are several types of mangos you can find in U.S. food markets, each with a slightly different flavor and texture. These are the most common types:
Tommy: Mildly sweet
Haden: Rich, with aromatic undertones
Francis: Rich, spicy and sweet
Honey: Sweet and creamy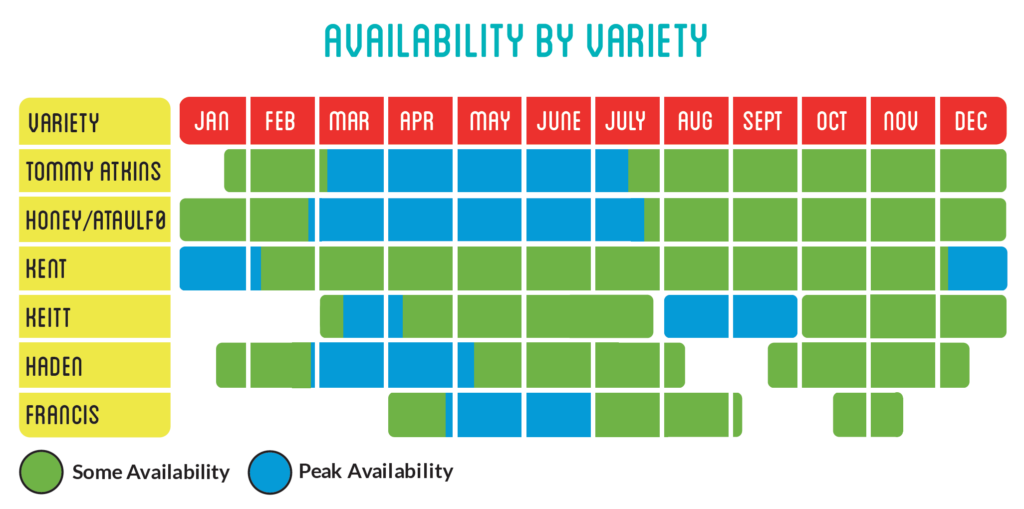 Do you cook with mango? Have a favorite unique spin using mangoes in a recipe? What's your favorite mango variety? Leave a comment, I'd love to hear from you and show your results on the blog (anonymity respected of course)!
Do you enjoy La Bella Vita Cucina?
We'd love to have you as part of our community!
Subscribe below to receive a FREE e-Cookbook and all of the latest recipes,
travel tips, and gardening ideas straight into your inbox!