Pizza Margherita: A Neopolitan Classic
SUMMERTIME! And the livin' is easy!
And so is the grillin' of a home-made Pizza Margherita with all of the ripe tomatoes from the garden.
Besides the infamous thin crust, the ingredients that distinguish this unique pizza include fresh tomatoes, fresh bufalo mozzarella and fresh basil, each representing the red, white, and green colors of the Italian flag.
Pizza Margherita originated in Naples somewhere around 1899. A guy named Raffaelle Esposito created it for Queen Margherita when she was in the area to escape a cholera epidemic that was taking place in Northern Italy. The chef named the pizza after the queen when he received a letter from her stating how much she enjoyed the pizza.
This traditional Neapolitan pizza's popularity has been steadily growing in the States. But for years you could only find this hallmark pizza in larger cities such as New York City. One difference that I noticed with the traditional New York pizzas, although they have thin crusts . . . is that they aren't as 'firm' as those prepared in Italy. You know how New Yorker's are infamous for folding those large slices of pizzas in half. . . the crust is more pliable! To me, the crust is yummy both ways.
This pizza truly rivals any of those offered in New York City and (some pizzas) in Italy! There's some bad pizza made everywhere, including Italy. I know that sounds sort of sacrilegious, but it's the truth. Just because you're eating pizza in Italy, doesn't mean that it's always going to be perfect everywhere.
The good news is that if made correctly, you can enjoy this delicious pizza at home!
If you have a pizza stone, that's great! But if not, use a perforated pizza pan to allow the oven's heat to come through and cook the bottom of the pizza dough better. Several keys to success for a Margherita Pizza is a super thin crust with minimal toppings . . . actually less is more, so remember not to overload toppings on this pizza. Always use the highest quality ingredients of mozzarella, tomatoes and basil too; this is so important to attain the level of taste and quality that this pizza is known for.
How to Grill Pizza
1) Preheat the grill.
Set the temperature between 400 to 500 F degrees. Be watchful to see if it is getting TOO hot for your grill. You're at risk of burning the pizza too. What a sad thing to happen after you've put the whole thing together!
Tip: If your grill doesn't have a built-in temperature gauge, simply use your hand to determine the correct heat. The grill is hot enough when you can hold your hand about five inches above the grates for just one second.
2) Roll out the pizza dough.
Simply roll out the dough on a lightly floured surface to help prevent it from sticking to the pizza pan.
3) Prepare the pizzas.
On a lightly floured surface, roll out the dough until ¼" thick. Ladel pizza sauce on top except for a 1″ edge around the crust should be left bare. Place ingredients on top. Place slices of cheese on top. Sprinkle with herbs.
4) Grill!
Place the pizza on a perforated aluminum pizza pan. Grill the pizza until the cheese is melted.
5) Serve your pizza and enjoy!
Here are some shots of the Pizza Margherita that I enjoyed in Naples:
and THIS Pizza Margherita is what we made at home!
Spread the tomato/basil/garlic sauce onto thinly rolled out pizza dough
.
Layer the sliced buffalo mozzarella, followed by
the sliced and dried tomatoes and basil on top of sauce and dough.
Sprinkle with oregano, sea salt, and black pepper.
.
Or you can put the tomatoes on after the sauce,
and then add the slices of cheese and basil leaves.
It's up to you.
After 5 minutes on a super-hot, 400 – 500 F degree grill, your cheese should begin to melt nicely
And there it is, the finished Pizza Margherita!
When you slice it, you'll notice that it has a THIN crust that is 'crispy-firm' and has a good bite.
YUM!
Here are two mini grilled pizza recipes you might enjoy!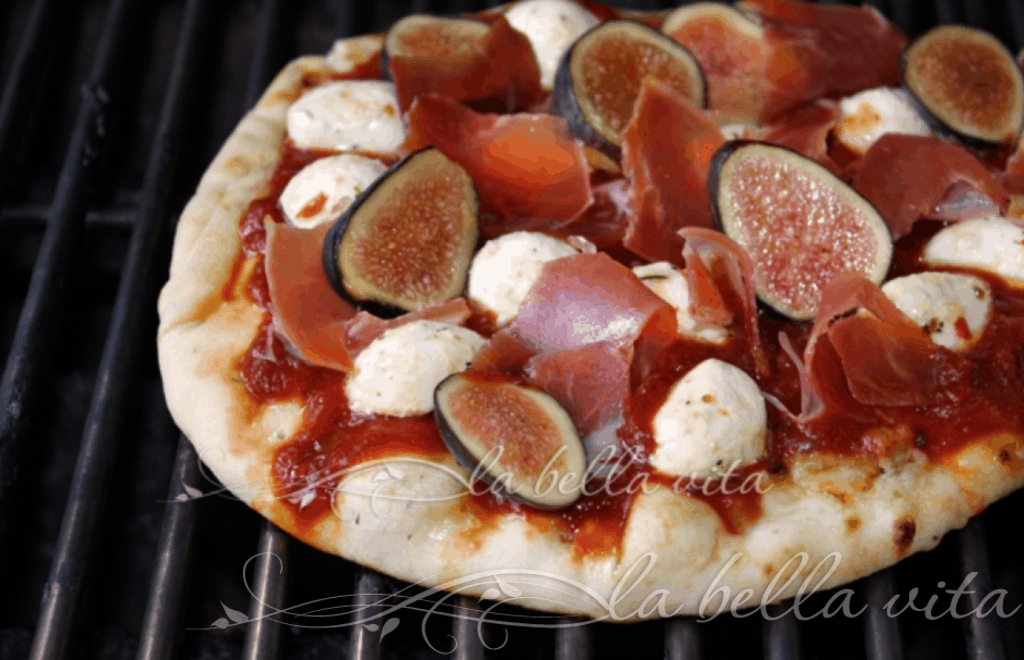 Grilled Prosciutto, Fig, and Marinated Mozzarella Pizza
Print Pizza Dough
Author:
Prep Time: 0 hours
Additional Time: 0 hours
Cook Time: 0 hours
Total Time: 0 hours
---
1–1/4 oz. package active dry yeast (2–1/4 tsp.); Use NEW dry yeast, not old
1–3/4 cup unbleached all-purpose flour, divided in half, plus more flour for dusting surfaces
3/4 cup warm water (105 – 115 degrees), divided in half
1 tsp. sea salt
1/2 Tbsp. extra-virgin olive oil
---
Instructions
Blend yeast, 1 Tbsp. flour and 1/4 cup warm water in a large bowl.
Let stand for about 5 minutes, until the surface looks slightly creamy.
Add 1-1/4 cups flour, 1/2 cup warm water, salt and oil.
Stir until smooth.
Add in enough more flour (1/4 to 1/2 cup) for dough to start to pull away from the sides of the bowl (it will be somewhat wet).
On a floured surface (wooden is best), knead the dough until smooth, soft and elastic for 10 minutes.
Add more flour dusting to surface if dough becomes too sticky.
Form dough into a ball, put in a dusted bowl, dust the top of the dough with flour and cover with plastic wrap or (non-terry cloth) kitchen towel.
Let dough rise in a draft-free, warm room until doubled in size, 1-1/4 hours.
---
.
Lastly, here is a testimonial post from an outstanding food blogger,
Larry, of Big Dude's Eclectic Ramblings
, about his experience with this Pizza Margherita recipe:
A Little Time With Roz — Pizza Margherita.
.
Larry's thoughts about my recipe: "We (my wife, Bev, and I) like both tomatoes and Italian food. This summer, Roz from La Bella Vita Cucina, has been posting some dishes we wanted to try, so I decided to just devote a week or so to hers – first up is Pizza Margherita. The pizza was outstanding and would make it again in a heartbeat – the dark sauce on the edges (due to the long oven time) tasted fine, as did the very dark basil (but both kept it from being pretty). If you are looking for a Pizza Margherita recipe, this one is hard to beat – thanks Roz for a fine supper! Tune back in for another offering during Roz week or so."
.
.
Before you go, here's a shot of Mount Vesuvius, the active volcano that sits right next to Naples, Italy. This shot was taken from the ruins of Pompeii, a few minute's ride from Naples. If you ever go to Italy, I highly recommend that you take a full day (wearing comfortable walking shoes) and visit this preserved ancient city.
.
Products that will help you enjoy cooking more:
Enjoy this recipe for Pizza Margherita!
This was first published in July 2011 and updated with more photos and information in September 2021