Cranberry Nut Crostini with Maple Balsamic Glaze
If you're looking for a delicious, seasonal appetizer OR dessert, then this is it! Cranberry Nut Crostini with Maple Balsamic Glaze! For Thanksgiving we took a brief getaway for a quiet and totally relaxing time on the coast. We stayed in a cottage that had a well-stocked kitchen of the basic cooking equipment so I was all set to prepare several easy recipes. And when on vacation, who wants a cooking challenge and/or a huge mess to clean up?
These Cranberry Nut Crostini are just so EASY!
But first let's get a little straightened out with the confusion of some Italian food terms!
What's The Difference Between "CROSTINI" and "BRUSCHETTA"?
Thank the Italians for totally messing up your head when it comes to names, all which sound so wonderful with the typical Italian tongue-rolling sounds! Most non-Italians are confused and even have the hardest time in the spelling department between the singular and plural versions of words that end in "i".
What Are CROSTINI?
pronounced [CROW'steeny], which mean "Little Toasts" in Italian. They are small in the hand and made of thin slices of bread that are toasted or grilled until crisp. They are then brushed with olive oil (or butter if you're Northern Italian and like my German-Scotch husband). Crostini usually have a savory topping such as cheese, anchovies, and pâté. Garlic is not rubbed into Crostini. Crostini are often served for dipping into soups or accompanying salads in place of croutons, in which case there would be no topping at all, just bread alone. In general, crostini do not have as much topping.
What Are BRUSCHETTA?
pronounced [brooshˈKETT-ta], which comes from the word "Bruscare" which translates "to roast over coals". Bruschetta is made from a crusty slab of grilled or toasted first and then rubbed with garlic cloves for that wonderful garlic essence. The garlic-rubbed bread slices are then drizzled with extra-virgin olive oil, salt and peppered, then heated warm with a heaping mound of a savory topping such as chopped tomatoes. Bruschetta is normally served as a snack or appetizer, and served warm.
When I shot these photos, the sky was grey . . . which is very typical of a Southern Thanksgiving Day, (imagine at the end of the movie "Gone With The Wind" and Scarlet O'Hara is running in the fog — well, that's typical here). I had very little natural light so the photos are not the top quality to be sure. You work with what you have, right?
At any rate, friends, these Cranberry Nut Crostini are super yummy and even passed the test of my husband who really hates just about anything except meat and potatoes. Cranberries are no where to be found on his 'like' list. But he gobbled these down.
These are perfect for a light dessert and a 'tapas' or cicchetti' party and a last minute dish if company stops by! Or if you want to take something to someone's home!
To make this more savory instead of sweet, substitute the mascarpone and use either goat cheese, cream cheese, or ricotta cheese and don't add any sugar. Then add a bit of minced garlic or garlic powder to the cheese and you're onto something very, very delicious!
Top-Rated Kitchen Gadgets to Help You with Crostini
A great cutting knife (now half price on Amazon at 12/11/2012)
Highly rated by over 12,000 customers!
(I received one similar to this for Christmas from my daughter and I absolutely LOVE it!)
Pin For Later!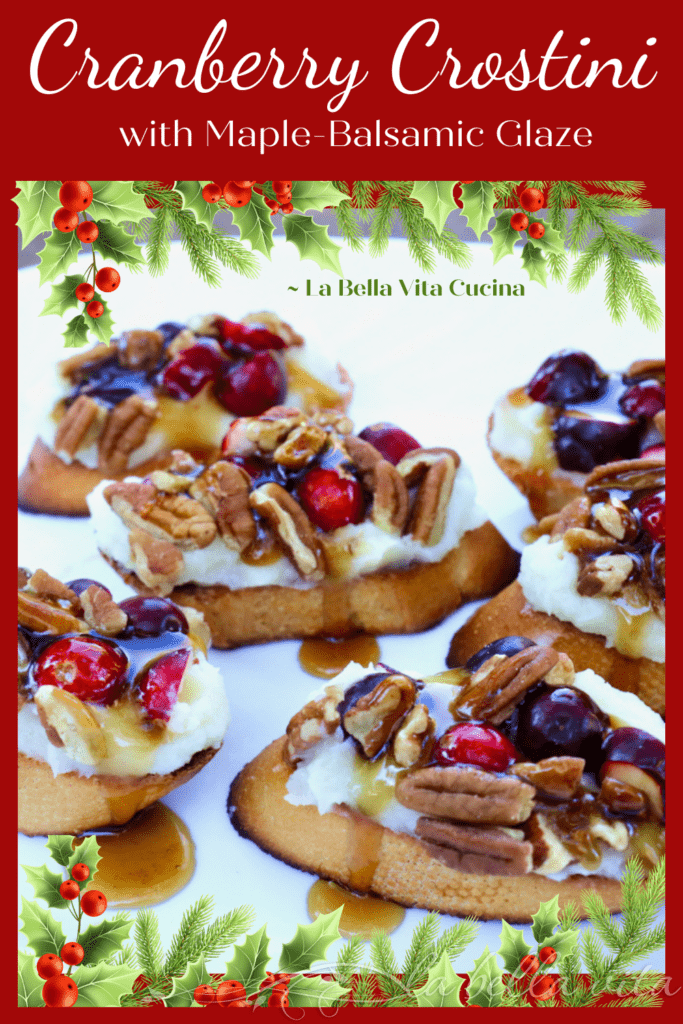 Print
Cranberry Nut Crostini with Maple Balsamic Glaze
Author:
Prep Time: 15 minutes
Additional Time: 15 minutes
Cook Time: 10 minutes
Total Time: 40 minutes
Yield: 12 crostini 1x
Cuisine: American and Italian
---
1 long, thin loaf of French or Italian bread, sliced on an angle, about 1/3" thick
12 oz. fresh cranberries (or frozen, thawed out)
Softened butter
1 small container of Mascarpone cheese, room temperature
Sugar (about 1/3 cup or to taste)
1/2 cup of your favorite nuts, chopped, I used pecans
1/2 cup of raisins
Maple Sugar Glaze
4 Tbsp. maple syrup
4 Tbsp. light brown sugar
1 Tbsp. Balsamic Vinegar
Garnish
1/3 cup brown sugar, for sprinkling over the top
mint leaves
---
Instructions
Slice the baguette of bread into 1/2″ slices on an angle. Spread some softened butter on top of each slice.
Using the broiler in your oven, broil the bread slices until golden in color . . . this happens fairly fast (in less than 5 minutes), so keep your eyes on these so thy don't burn. Remove from the oven when golden.
Set the mascarpone cheese out to come to room temperature. When that is finished, in a small bowl, add sugar to the mascarpone cheese to taste, and with a fork stir it up really good.
In a small sauce pan, bring the maple syrup, brown sugar, and balsamic vinegar to a boil. Then turn down the heat and simmer until foamy, about 2 minutes.
Spread the sweetened mascarpone cheese on top of each toasted bread slice.
Place each slice on a baking sheet and return to the oven on 350 dgrees (the oven should still be warm), and allow the cheese to melt for about a minute or two. Remove from the oven when the cheese is a warm, soft consistency and not runny melted.
Sprinkle cranberries, raisins, and nuts all over the mascarpone cheese.
Sprinkle some brown sugar and a mint leaf on top of each crostini.
Drizzle with maple sugar glaze.
Serve WARM and enjoy! Buon Appetito!
---
Keywords: crostini, cranberries, cranberry, Christmas, Thanksgiving, appetizer, dessert, finger food,
.
Do you enjoy La Bella Vita Cucina?
We'd love to have you as part of our community!
Subscribe below to receive a FREE e-Cookbook and all of the latest recipes, travel tips, and gardening ideas straight into your inbox!