KETO Italian Grilled Swordfish Skewers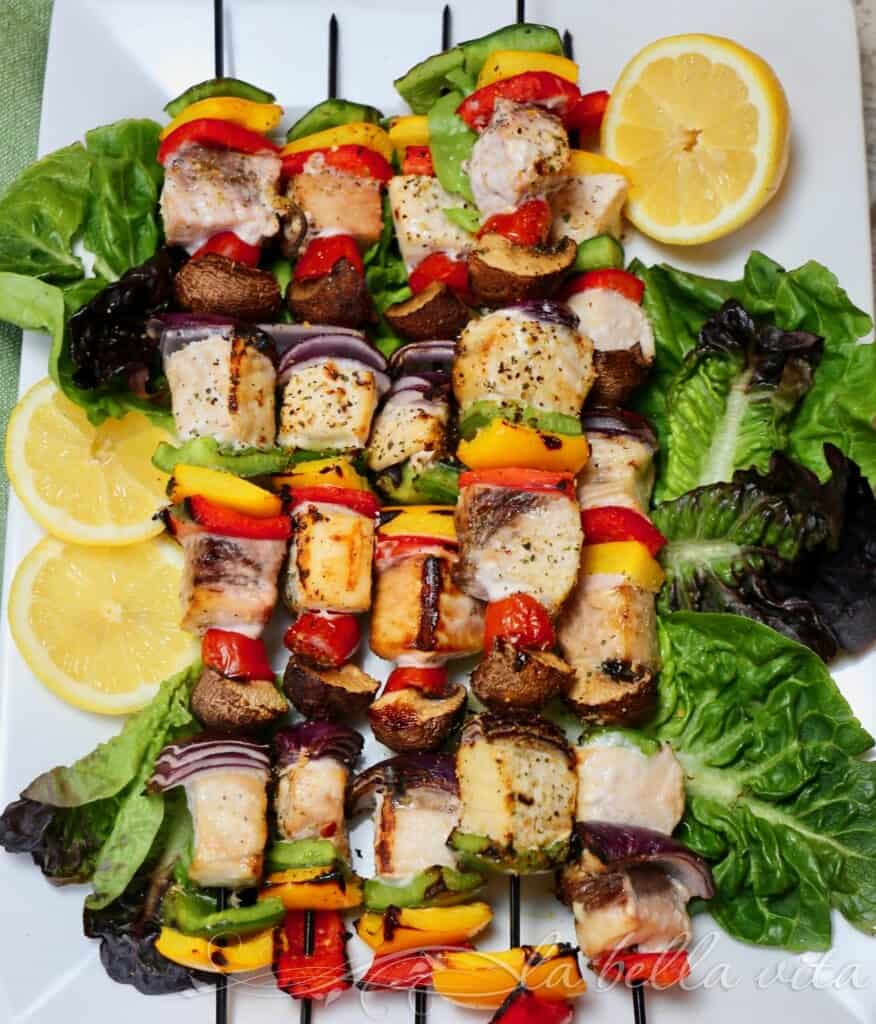 Keto Italian Grilled Swordfish Skewers
No need to worry about Italian food being nothing but fattening! Not with these flavor-packed KETO Italian Grilled Swordfish Skewers !
Seriously this is one of those "you-won't-believe-how-good-this-is" recipes!
The proof is when you have:
a "meat and potatoes ONLY" husband, who is
terribly picky and hard to please, and on top of that
doesn't even like to eat fish, but yet
gobbled up two of these Keto Italian Grilled Swordfish Skewers in minutes!
I've been a cook on a mission: To prepare an Italian entree bursting with flavor that's also great for those of us on the pound-blasting Keto lifestyle. No feeling of deprivation whatsoever with this recipe! My skinny husband, Mr. Super-Picky, nearly put me in a state of total shock when he told me how much he enjoyed this swordfish.
There it is . . . the endorsement!
This recipe is totally company-worthy . . . and SO EASY, that it is almost fool-proof!
The tangy salsa cruda of sun-dried tomatoes and olives adds an extra unexpected zing to your palate alongside the mild-flavored and delicate-textured swordfish. This recipe helps to really understand the true healthy flavors of the Mediterranean region: olives and olive oil, lemon and herbs, and sun-dried tomatoes, roasted peppers, and fresh fish!
There are hands-down no olives like the fresh green Castelvetrano Italian Olives to add the freshest olive flavor to any recipe! Once you plop one of these vivid green olives in your mouth, you'll never eat another 'regular' green olive!
The flavors just swift you away to the sun-kissed landscapes of Italia and any part of the Mediterranean! Delicious AND healthy! A combination that is so difficult to find!
So it's time to roll up your sleeves and get to work cooking. First, start by first setting out all of your ingredients. This way if you find that there's an ingredient missing, you can run out and pick that item up before starting to cook.
The board below includes:
the swordfish
lemons
greens to use for plating the final kabobs and for presentation
lemon extra virgin olive oil
herbs and seasonings
cherry tomatoes
salt and pepper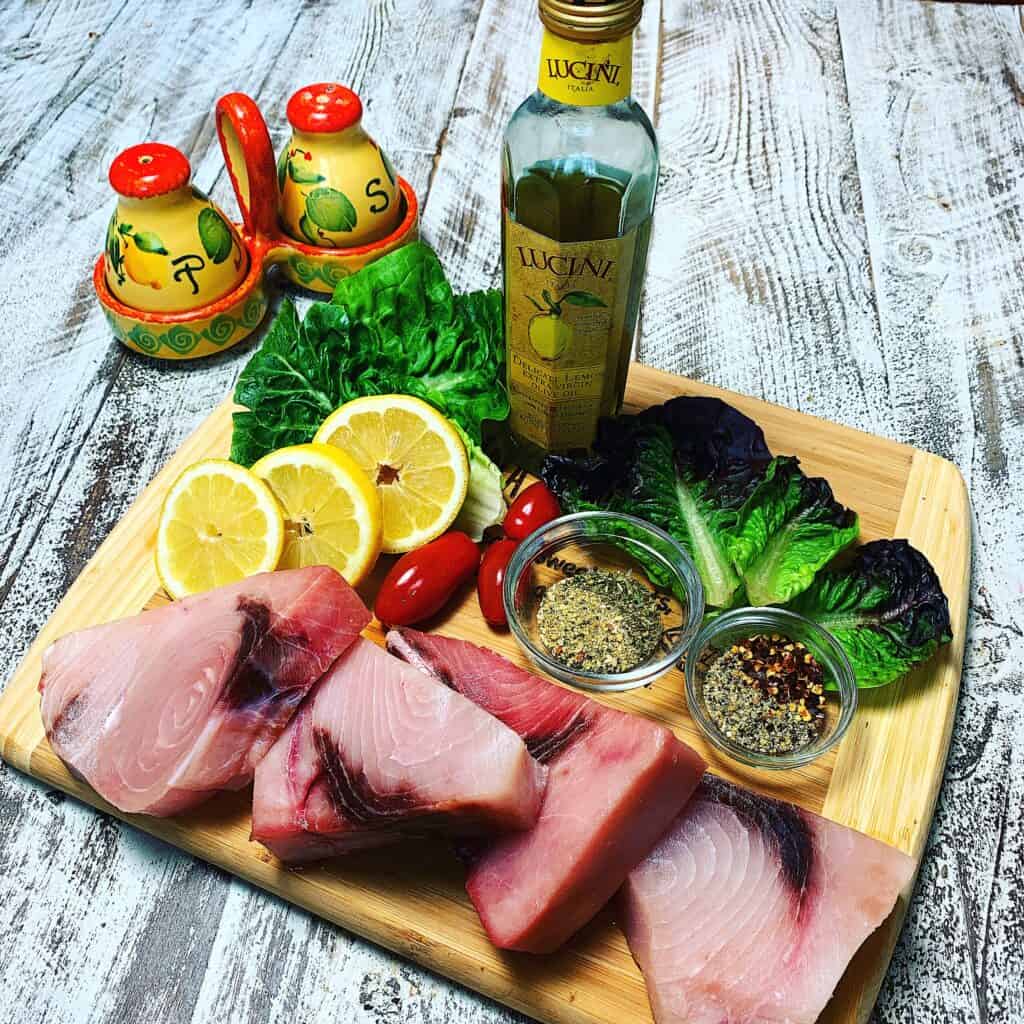 The board below includes:
green pepper, yellow pepper, and sweet red pepper
garlic
sun-dried tomatoes
red onions
small portobello mushrooms
cherry tomatoes
pimento-stuffed green olives
Castelvetrano Imported Italian green olives
pimentos
salt and pepper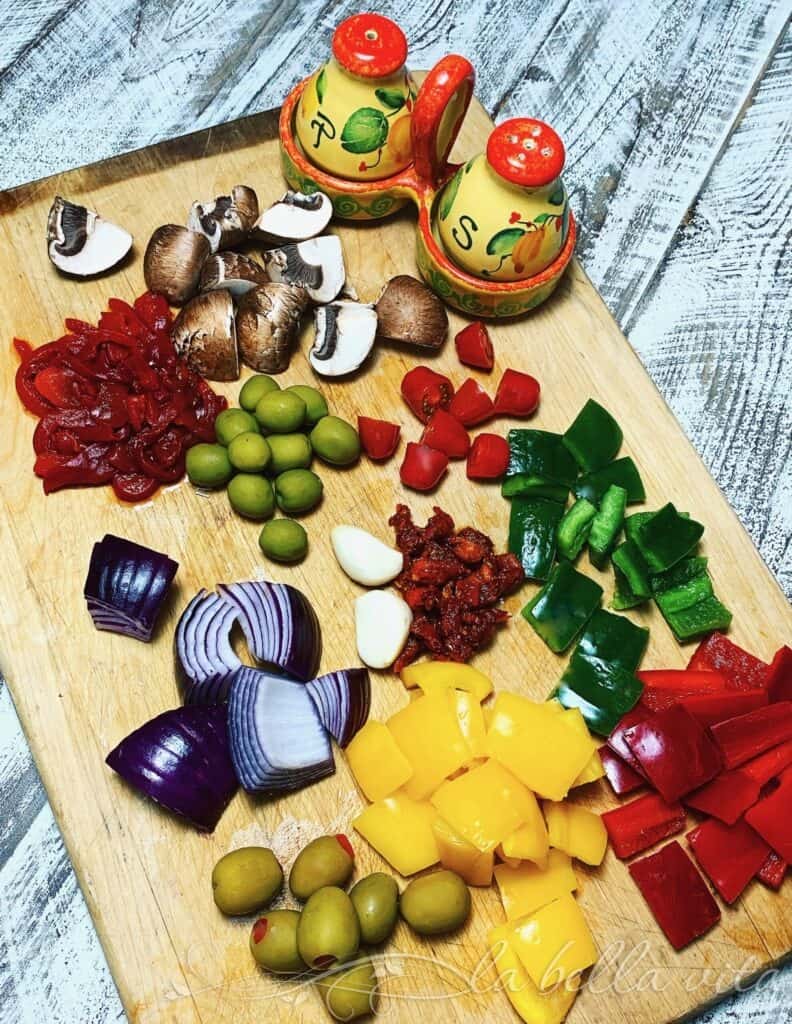 Prepare the salsa cruda first, ahead of time since it can be in the rerfrigerator while you create the skewers and then to be able to spend time grilling them with your full attention. Plus this gives the salsa cruda time for all of the ingredients to marry well.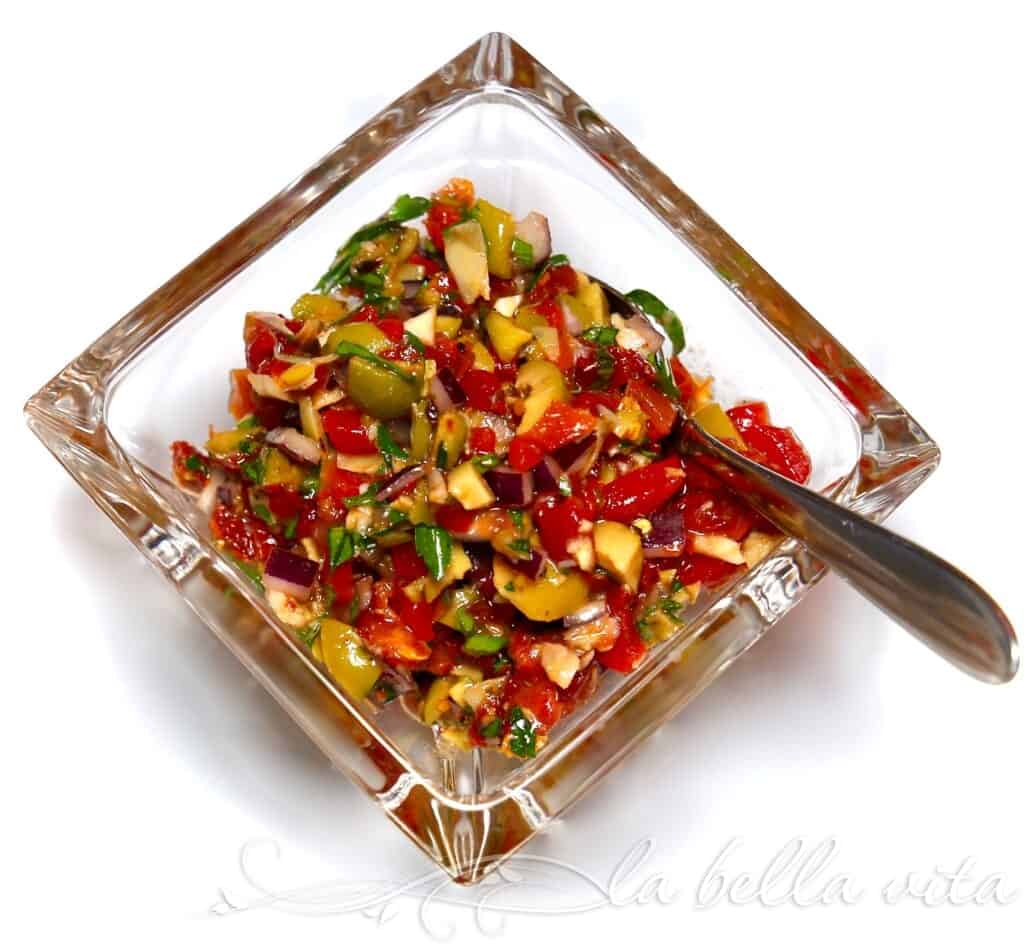 How to Grill Keto Italian Grilled Swordfish Skewers
Whether you choose meat, fish, seafood, vegetable skewers, or a combination, there are a few similarities, such as which skewers to use, how to thread the ingredients, and what coals to use.
Choose a meaty fish. Ideal fish for grilling include swordfish, salmon, tuna, or monkfish all work well. If you use a flakier fish, it will fall off the skewer and down into the grills of the barbeque and down into the coal.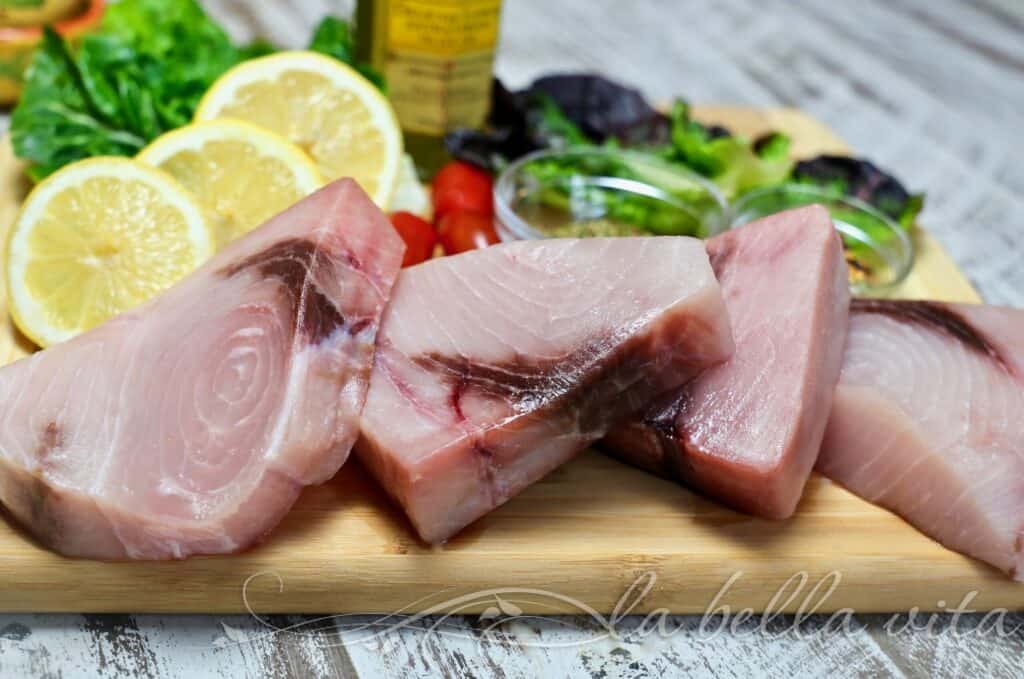 Cut the swordfish filets into 1-1/2″ square cubes.
Should Wood or Metal Skewers Be Used?
Either wood or metal skewers can be used. We prefer to use good quality metal skewers because they don't burn and are the most reliable in preventing the fish and vegetables from spinning round each time you turn them on the grill. Plus you can re-use metal skewers, thus making them a more eco-friendly choice.
On the other hand, wood skewers are very inexpensive, but they burn easily. With their throw-away nature, they aren't kind to our environment. To reduce their flammability, an extra step of soaking them in water for a minimum of thirty minutes is necessary and a little bit more work.
How Do You "Thread" Skewers?
I prefer to have matching colors at both ends and in the middle of each skewer.
Begin with brightly colored vegetables and then add the swordfish or meat of choice. Then place onions and another vegetable. Repeat this pattern until you reach the end of the skewer.
Stay consistent and balanced on every skewer to ensure that the ingredients cook evenly and in the same amount of time.
Add every ingredient so that they touch but are not squeezed tightly together.
Putting vegetables between the fish pieces not only adds color, but also helps the fish cook more quickly, and produces a much more flavorful fish that is less dried out.
Use fruits and vegetables that won't get mushy and that will stay on the skewers during the grilling process. Plus use those that will cook in just about the same amount of time. Bell peppers, onions, cherry tomatoes, mushrooms, zucchini, and yellow squash are great choices of vegetables. Pineapple, mango and peaches are nice choices for fruit.
If you want to include vegetables that need more time to cook, parboil them first and then add them to the skewers. This includes corn on the cob and potatoes.
Using vegetables and fruit that are in season will increase the flavor.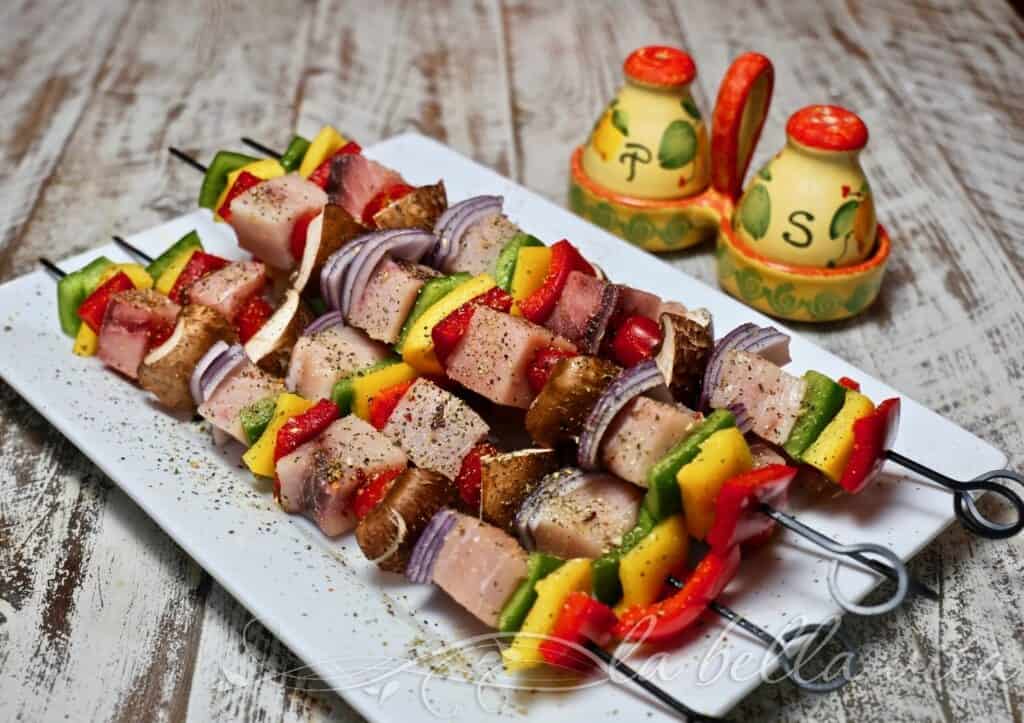 How To Cook Swordfish Skewers / Kabobs Indoors
There are several ways to cook swordfish skewers (and any skewer) indoors. Each method allows you to enjoy this recipe throughout the year:
Use an indoor grill that is either portable and small or use the grill of a cooktop if you have one.
My personal preference to prepare any fish is to cook fish on the stove using either a frying pan or a grilling pan. I like to use cooking spray with a little bit of butter to cook fish. This method results in the fish being moister along with having a beautiful, caramelized, and browned surface. I don't recommend using olive oil because it can easily burn and that would ruin the skewers/kabobs. Place the swordfish kabobs in one layer in a large frying pan and cook on medium heat for 5 minutes, turn over the skewers/kabobs and cook for another 5 minutes or until you are happy with the level of doneness. To speed up the cooking process, place a lid on the pan while cooking the skewers/kabobs.
I also like to bake fish in an oven. For these skewers/kabobs, use a baking sheet pan that has been sprayed with cooking spray. Preheat the oven to 350 degrees F. Place the fish skewers/kabobs on the pan and bake for about 10 minutes, turn over, and bake for another 10 minutes. I like a caramelized surface on fish, so before baking the fish skewers/kabobs simply brush some melted butter all over the fish to achieve this delicious finish.
With fish that was fresh when purchased and grilled immediately, then grilled fish can be kept for 2 days in the refrigerator in a sealed container.
A great way to enjoy these the next day is to remove all of the ingredients off of the skewers and mix them in a fresh green salad! You've got an instant meal and one that's perfect to pack for lunch too!
I hope that you'll try this recipe for Keto Italian Grilled Swordfish Skewers and that you thoroughly enjoy them and the compliments you'll receive from your guests. Remember, tweak all of my recipes to your preferred taste preferences! Need more lemon? More garlic? Less lemon or less garlic? Do what you enjoy and find the true joy of cooking!

Products that I use and highly recommend to help you prepare these grilled swordfish skewers:
Skewer Grilling Baskets (Set of 4)
12″ Metal Skewers with Storage Bags
Print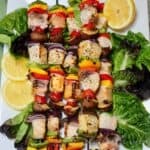 Keto Italian Grilled Swordfish Skewers
Author:
Prep Time: 30 minutes
Additional Time: 0 hours
Cook Time: 20 minutes
Total Time: 50 minutes
Yield: 4 – 6 skewers 1x
Category: Fish
Cuisine: Italian
Diet: LowCalorieDiet
---
Olive Salsa Cruda
1/4 cup Italian parsley, chopped
4 Tbsp. Sun-Dried Tomato & Olive Bruschetta Topping
8 jumbo-sized pitted green olives with pimento, chopped
8 – 12 Castelvetrano olives, pits (manually) removed, chopped
1/4 cup chopped pimentos
4 Tbsp. sun-dried tomatoes, chopped
1 large clove of garlic, minced
2 Tbsp. Extra Virgin olive oil
1/2 tsp. grated lemon zest
2 Tbsp. lemon juice
1/4 tsp. crushed red pepper flakes
Freshly ground sea salt and black pepper to taste
For the Swordfish Skewers
1 red onion, cut into quarters
1–1/2 pounds swordfish filets, skin removed, cut into 1-1/2″ chunks
1 – 2 of each: red, green, and yellow bell peppers
10 baby portobello mushrooms, wiped clean, stems removed
10 – 20 red cherry tomatoes
Olive oil – to brush on (or spray on)
Freshly ground sea salt and black pepper to taste
Mrs. Dash Salt-Free Italian Seasoning
Mrs. Dash Salt-Free Garlic and Herb Seasoning
Lemon Pepper Seasoning
Red-leaf lettuce for serving
Sliced lemons
---
Instructions
PREPARE the SALSA CRUDA FIRST: Combine all ingredients in a bowl. Set aside. Can be made ahead. If it is too tart for your preference, add sugar or Stevia to bring it to your preference. It can be tart.
Heat outdoor grill to medium heat.
PREPARE THE SKEWERS by alternately thread onto 12-inch metal the skewers: swordfish chunks with the vegetables.
Once assembled, GENEROUSLY brush skewers with olive oil.
Season the assembled skewers with your favorite seasonings on all sides (or use those recommended in the ingredient list above).
Salt and pepper the skewers to your preference level.
Grill skewers 10 – 15 minutes, turning every 3 – 4 minutes until swordfish is a bit golden on the edges and the vegetables are lightly charred.
For presentation: Place grilled swordfish skewers on a bed of red and green leafy lettuce.
Serve with salsa cruda and lemon slices.
BUON APPETITO!
---