The BEST Creamy, Loaded Eggnog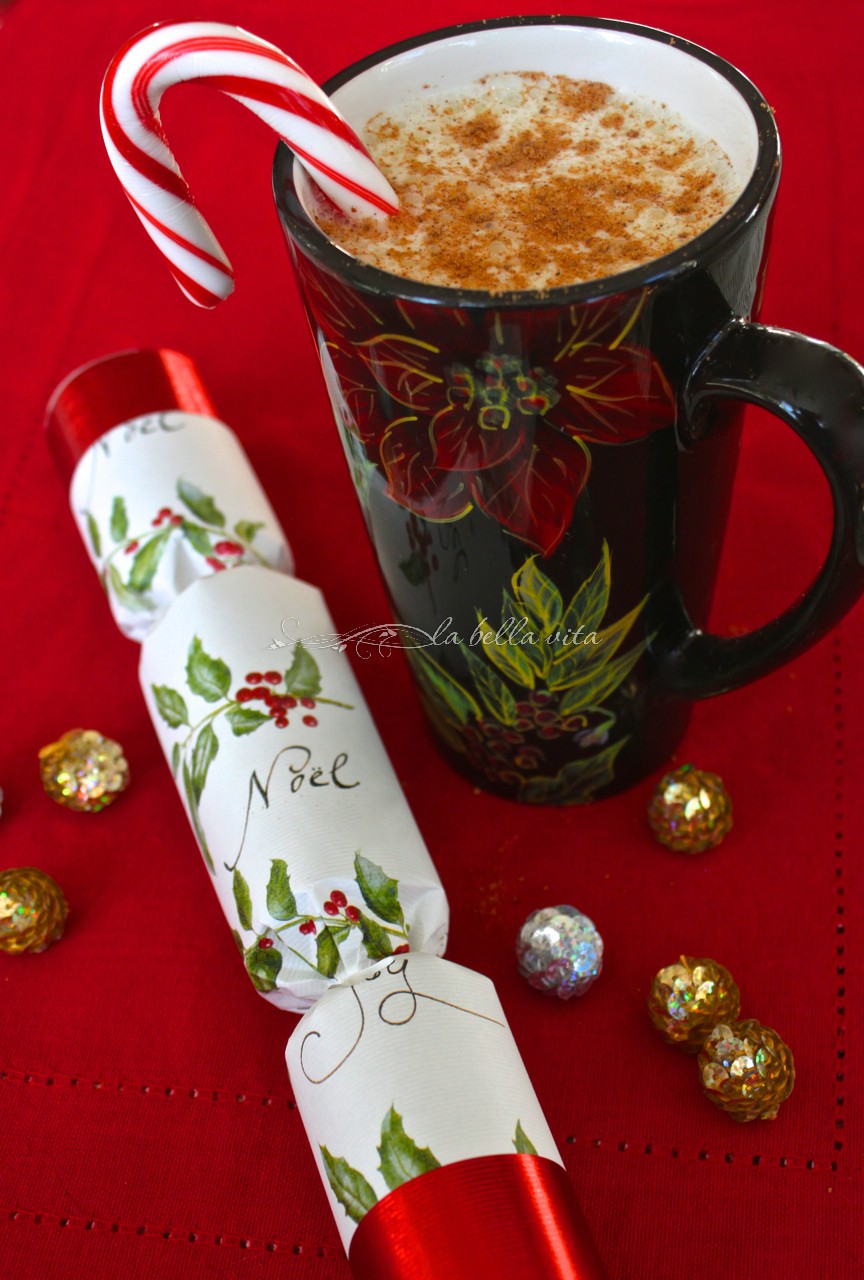 Ho Ho Ho!  It's time to break out the eggnog for some JOLLY GOOD old-fashioned holiday cheer! 
And this is the BEST eggnog you will ever taste.  It's creamy to the max!
You'll be the life of the party after a few cups of this super loaded nog!  Guaranteed to make you happy, happy, HAPPY and totally warm inside!
My kind of Christmas drink!
Our family began making homemade eggnog YEARS AGO after my sister and I went to college and were members of the Pi Beta Phi sorority where the recipe was shared in our chapter's cookbook.   Christmas Eve just isn't Christmas Eve at our house without a fresh batch of this egg nog.  I'm telling you that this is hands-down the BEST Creamy, Loaded Eggnog . . . ever!
We've never used any other recipe for eggnog in decades.  Doesn't that spell 'keeper' to you?
OK, so you're saying, "But what about all of those raw eggs?"  True, you don't want anyone to croak at any of your holiday festivities, so here's the deal:
There's so much booze in this eggnog that it nukes the contamination.  You have to use the freshest of pasteurized eggs of course . . . none that have been sitting around the back of your fridge that you may have forgotten about months ago!  When chilling this (it needs at least a week to 'age'), make sure that you use bottles that are cleaned and dried on the hottest setting of your dishwasher OR as in canning, you can boil the empty bottles for 10 minutes to sterilize them of any bacteria.
Cheers and Salute' . . . and as we say among all Pi Phi sisters:  "Ching Ching!"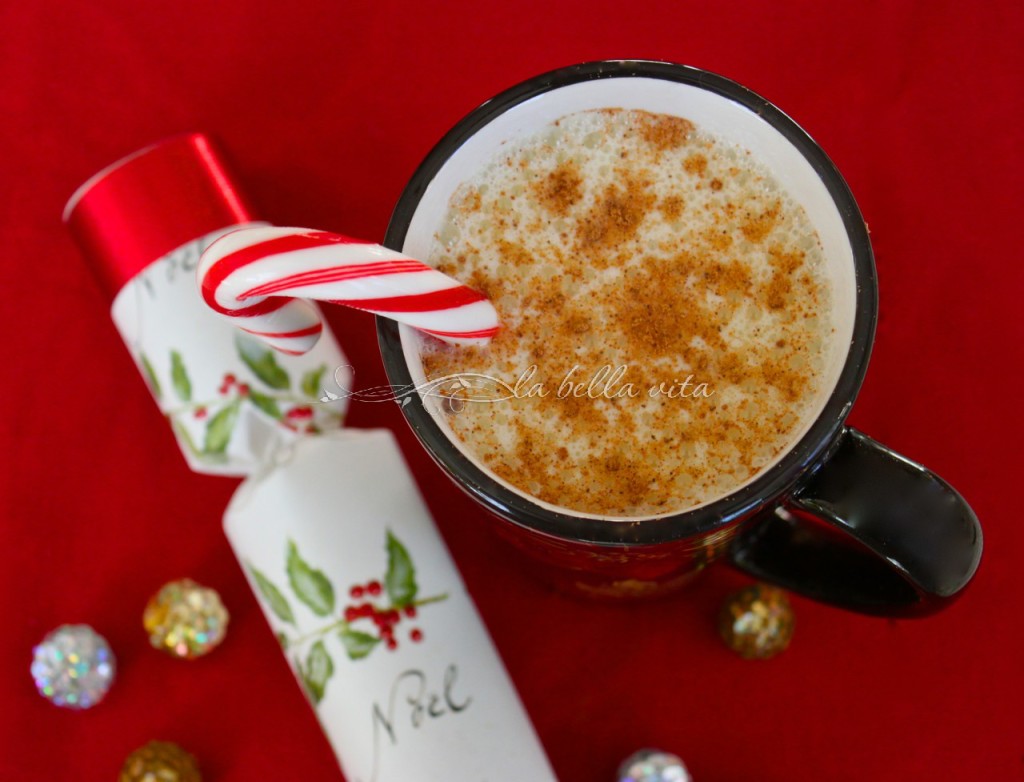 Tips for Making Eggnog
Eggnog can be dairy-free!  Even though it may taste a little bit different, you can substitute almond milk or coconut milk.  Using full fat versions gives a more creamy and thicker texture.  In place of whipped cream, use powdered sugar whipped up in the milk.
You don't have to add alchohol.  Perfect for the kids or adults who don't drink alcohol.  Simply make a different non-boozy batch!
If dark rum isn't for you, than you can swap it out for a dark brandy or whiskey.
Eggnog can be kept in the refrigerator in an airtight covered container for up to 1 week.  I prefer to use large glass jars instead of plastic which are better for the environment.
Eggnog can be frozen as well!  So you can definitely make it ahead!  Simply thaw it out in the refrigerator overnight though.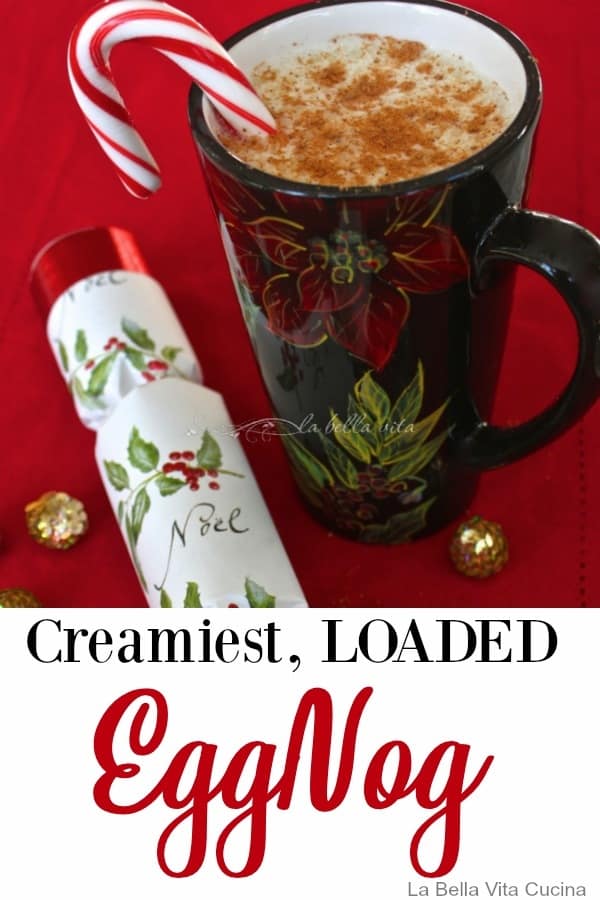 Print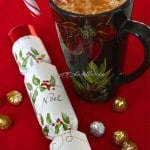 Creamiest, Loaded Eggnog
Author:
Prep Time: 0 hours
Additional Time: 0 hours
Cook Time: 0 hours
Total Time: 0 hours
Category: Beverages / Cocktails
---
12 jumbo eggs
2 cups granulated sugar
1–1/2 cup bourbon
4 cups whole milk
1 cup heavy cream
1/2 cup cognac (or brandy)
1/2 cup rum
1–1/2 cups heavy cream (cold)
cinnamon candy canes
cinnamon sticks
ground nutmeg
---
Instructions
Separate the eggs and save the whites for later.
Beat the yolks with the sugar in a large mixing bowl until the mixture lightens in color and falls off the whisk in a solid "ribbon" for 5 minutes.
Combine dairy and all of the booze in a second bowl or pitcher and then slowly beat into the egg mixture.
Move to a large glass jar (or a couple of smaller ones) and store it in the fridge or place of very cool storage, for a minimum of 3 weeks.  This time is necessary for the alcohol to kill any bacteria in the eggs. The more time that it has to 'brew' the more mellow the flavor becomes.
Serve in mugs or cups topped with a some nutmeg sprinkled on top.
---
Notes
Equipment Needed To Make Eggnog:
Large Mixing Bowl
Large Whisk
Measuring Cups
Large Clean Glass Jar
Canning Lid wing Ring that Seals Tight
Funnel
Blender
Micro-Gater
---
Nutrition
Serving Size: 1 cup
Calories: 405
Sugar: 37g
Sodium: 55mg
Fat: 135g
Saturated Fat: 8g
Unsaturated Fat: 1g
Trans Fat: 1g
Carbohydrates: 36g
Fiber: .01mg
Protein: 5g
Cholesterol: 46mg
Keywords: eggnog; egg drink; Christmas
Posted in 2014, Reposted Update in 2022