Cranberry Orange Shortbread Cookies with White Chocolate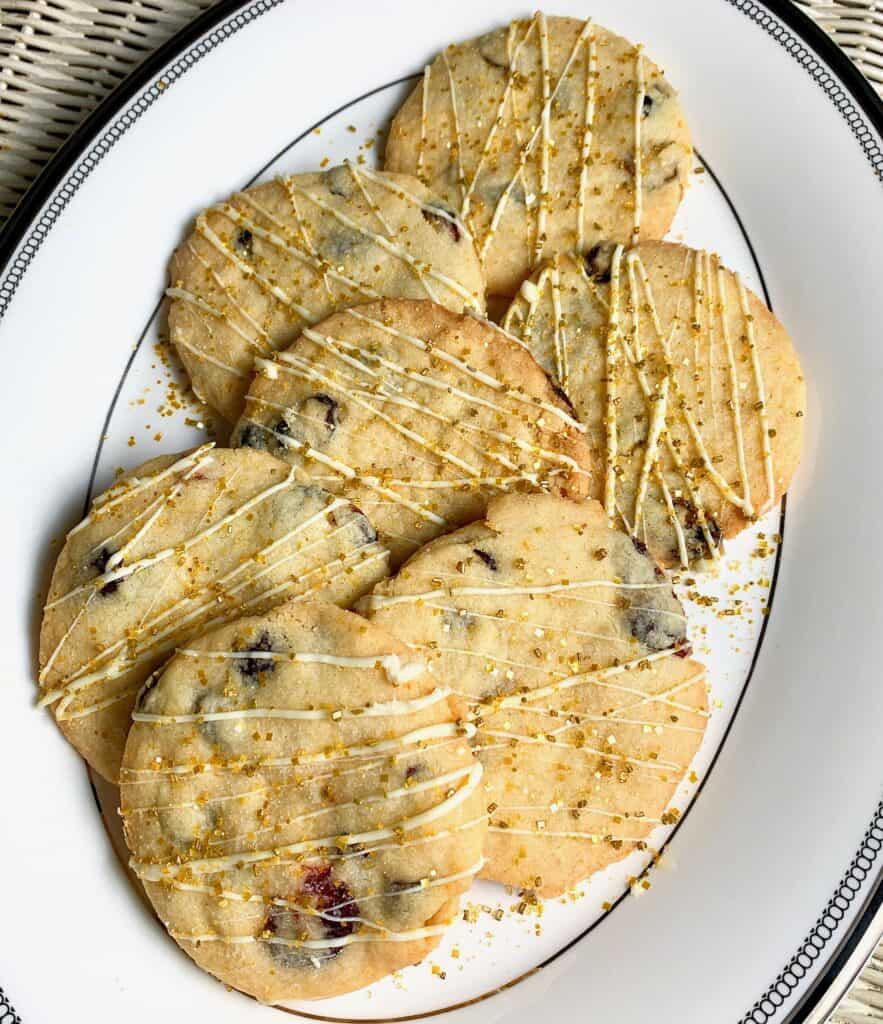 One of the most delicious foods to look forward to during the festive holiday season is Scottish shortbread. I must admit that my family nibbles on shortbread anytime of the year. But it's at Christmas when it's traditional to bake and give shortbread.
If you've never had shortbread before, just one bite into these delicious buttery, sweet treats will have you hooked! Shortbread shines in many flavor variations. And this recipe for Cranberry Orange Shortbread Cookies is utterly irresistible!
Shortbread goes way back to the 1700's in Scotland, and some say as far back as medieval times. Some say shortbread is a biscuit, but in Scotland, it's a 'specialty sweet confectionary food'. Did you know that the word 'short' in cooking lingo describes anything with a large butter content with a fragile, crumbly texture? That certainly describes shortbread! Shortbread is quite simply a rich, buttery sweet biscuit.
How's that for a great foodie trivia question? Well, now you know!
Only 3 ingredients in classic shortbread!
Scottish shortbread has always been reserved for Christmas and special occasions. And in its purest form, classic shortbread contains only three ingredients, butter, sugar, and flour. That's it! Shortbread has so few ingredients that it's essential to use the highest quality of butter. If you want to mix things up, add other flavors for interest, such as the cranberries and orange zest in this recipe.
The butter must be softened at room temperature and then mixed with the sugar until pale and creamy yellow. Flour is then added until the dough is finished.
Use a gentle touch with the dough
Be as gentle as possible with the dough, being careful not to overwork it which causes the shortbread to be tough. The dough is formed into logs, wrapped in plastic wrap and then chilled prior to cutting and baking.
Chill out!
The reason for chilling shortbread dough is so the softened butter doesn't melt in the oven and therefore cause the shortbread to spread. When the dough is chilled the shortbread cooks to the shape and size desired. Chill the dough in the refrigerator for 20 minutes.
Once chilled, some recipes state to use a pastry rolling pin and others say to gently pat shortbread into shape. I find using my hands is easiest and also I know how much pressure I'm putting on the dough before cutting out the shapes.
Shortbread cookies come in many different shapes and sizes: some are round such as in this recipe for Cranberry Orange Shortbread Cookies. Others are a slender rectangle wafer or biscuit shape such as what we find in the grocery store. Some are baked in a round cake pan and cut into little pie slices.
Scottish Shortbread cookies are often pricked with a fork before baking to help keep the shortbread in shape while cooking.
Shortbread bakes quickly
When baking, the dough softens from the oven heat. That's why shortbread is often made in a pan to help it hold its shape.
Baking is fast, about 15 minutes. Scottish shortbread cookies are not to be golden or brown, they are supposed to be a light, pale yellow color.
If baking in a pan, after a 5-minute cool-off in the pan, the shortbread must be cut immediately when soft before it becomes tough. If you wait too long to cut into a pan of shortbread, it will be a mess of crumbles.
Another great thing about shortbread is that the dough freezes like a dream and can even be eaten raw. Who doesn't love raw cookie dough?
I hope that you enjoy these Cranberry Orange Shortbread Cookies! Take a photo and I'll share it here with everyone!
.
.
More delicious cookie recipes:
White Chocolate Drizzled Cranberry Pistachio Biscotti
.
.
.
For baking shortbread, I recommend:
Brown Bag Shortbread Pan – British Isles Pattern
Nordic Ware Shortbread Pan – Sweet Snowflakes Pattern
Baking Parchment Paper Pre-Cut Sheets
.
Print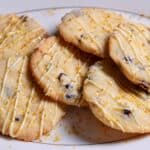 Cranberry Orange Shortbread Cookies with White Chocolate
Author:
Prep Time: 1 hour (including the chill time)
Cook Time: 15 minutes
Total Time: 1 hour 15 minutes
Yield: 12 cookies 1x
Category: Cookies
Method: Bake
Cuisine: Scottish
---
Description
If you love shortbread, and if you love cranberries and white chocolate, you will absolutely love these cookies.  The golden, glittery sprinkles on top with the drizzled white chocolate make them oh so holiday festive!
---
For the Cookies:
2/3 cup sugar
1 Tbsp fresh orange zest
3/4 cup unsalted butter, at room temperature
1/8 tsp salt
1 3/4 cups flour
1/2 cup dried cranberries, chopped
1 Tbsp sugar (for sprinkling)
For the Topping:
gold sprinkles
4 ounces white chocolate, chopped and melted
---
Instructions
INSTRUCTIONS
Combine sugar and orange zest in a food processor and pulse for 1 minute. Beat butter, orange-sugar mixture, and salt in a large mixer bowl at medium speed until combined, scraping the bowl where needed. 
Reduce speed to low and mix in flour just until incorporated and dough begins to come together in and in little nugget-sized pieces;  mix in dried cranberries.
Scrape dough out onto a piece of plastic cling wrap and shape into a log; wrap well.
Chill dough in the refrigerator until firm, about 20 – 30 minutes.
Preheat oven to 350°F and line two baking sheets with parchment paper.
Roll out dough to 1/4-inch thick on a lightly floured board. Use your hands like I do to form cookies (very gently).  Or use a round cookie or biscuit cutter about 2-½ inches wide to cut out the cookies. Gather scraps, re-roll, and cut until you have a total of 12 cookies.
Place cookies on baking sheets, and chill for ANOTHER 20 minutes in the refrigerator.
Sprinkle cookies with white granulated sugar and bake, rotating pans halfway through, for 15 minutes, until pale yellow.
Cool for 5 minutes on baking sheets, then transfer to a wire rack to cool completely.
Melt the white chocolate in a double boiler, microwave oven, or in a heat-proof bowl over a saucepan of gently simmering water. Slowly melt the chocolate, stirring occasionally until glossy and smooth.
Transfer chocolate to a small piping bag and drizzle over cookies.
Top with gold sprinkles and let chocolate set before serving.
Store at room temperature in an airtight container.
---
Notes
slightly adapted from Tutti Dolci
Keywords: cranberry orange shortbread cookies; christmas cookies, holiday cookies,
Posted December, 2019; updated post December, 2022
This post contains affiliate links
.